One of our long time members @itdo has published a book titled: John Wayne Was Here: The Film Locations and Favorite Places of an American Icon which is available online at Amazon.com. I would encourage anyone interested in John Wayne to check out this book. It's certain to be a fascinating read.

Quote from Roland Schaefli (itdo)

It's been right here, on Dukewayne.com, that I got the inspiration to put this book together. I found that a number of people share my love of actually scouting the original filming sites and traveling to movie locations. Over the years, I found quite a bit, including remote spots in Africa, even locating some that were not generally known yet (so far I left out Libya, however, I have a nice contact going there with the tourism department, so you never know). This website leads you on the Trail to the John Wayne Locations: The Trail to the John Wayne Locations
I hope this inspires the members of this board to travel - again!

John Wayne Was Here: The Film Locations and Favorite Places of an American Icon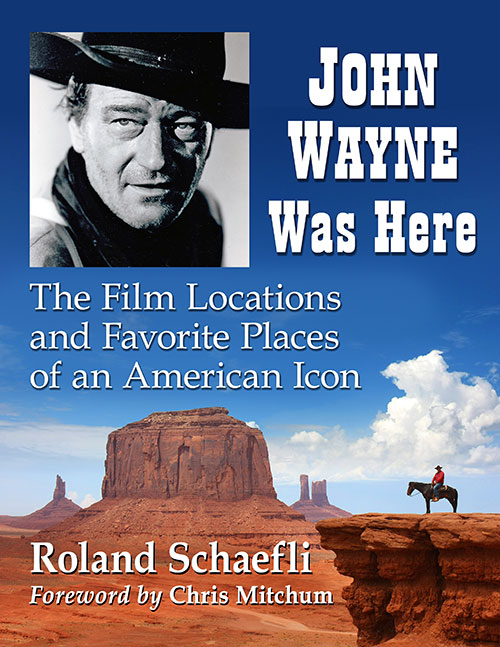 John Wayne worked on film sets around the globe. This book follows his big trail, from his humble beginnings on the Fox backlot in Hollywood to his final filming site in Lone Pine, California. Locations in Mexico, Normandy, Rome, Madrid, London, Ireland, Libya and Africa are covered, along with his favorite vacation spots in Hawaii, Acapulco, Greece, Monaco, and the hotspots he frequented in Tinsel town. Anecdotes revisit his most famous scenes, including Rooster Cogburn's charge and Davy Crockett's last stand. Production details describe how San Diego stood in for Iwo Jima, how Old Tucson was turned into El Dorado, and how Genghis Kahn ruled over the deserts of Utah. Never before published photos present then-and-now views of his filming sites, in this first of its kind guided tour for film location hunters and Wayne aficionados.