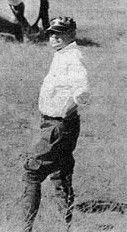 ROBERT NORTH BRADBURY
INFORMATION FROM IMDb
Date of birth
23 March 1886
Walla Walla, Washington, USA
Date of death
24 November 1949
Glendale, California, USA.
Trivia
Father of actor Bill Bradbury. (show more)
Sometimes Credited As:
R. N. Bradbury
R.N. Bradbury
Robert North Bradbury
Robert Bradbury
Mini-Biography
Prolific western producer, director and writer Robert N. Bradbury
was in films from1918.
Even in the silent period, Bradbury was none too selective about his assignments,
fluctuating from major-studio programmers
to the fly-by-night quickies produced by
Anthony J. Xydias and other entrepreneurs.
In the early 1930s, Bradbury directed
many of the now-famous Lone Star "B" westerns
( Riders of Destiny, Blue Steel etc.) starring John Wayne.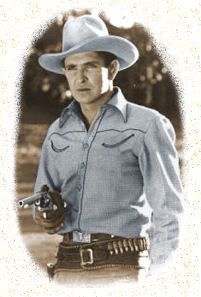 Bob Steele
Robert North Bradbury was the father of cowboy star Bob Steele,
who made his first appearances under his dad's direction in
Pathe's Adventures of Bill and Bob
semi-travelogues of the 1920s;
perhaps significantly, many of the Bob Steele vehicles
of the 1930s scripted by Bradbury
concerned the hero's search for the man who murdered his father
. ~ Hal Erickson, All Movie Guide
Filmography
Director
1. 'Neath Arizona Skies (1962) (original material)
2. Forbidden Trails (1941)
3. Romance of the Rockies (1937) (as R.N. Bradbury)
4. Danger Valley (1937) (as R.N. Bradbury)
5. Where Trails Divide (1937)
6. Stars Over Arizona (1937)
7. God's Country and the Man (1937)
... aka The Avenging Stranger (UK)
8. Riders of the Dawn (1937)
9. Riders of the Rockies (1937)
10. Sing, Cowboy, Sing (1937) (as R.N. Bradbury)
11. The Trusted Outlaw (1937)
12. Hittin' the Trail (1937) (as R.N. Bradbury)
13. Trouble in Texas (1937) (as R.N. Bradbury)
14. The Gun Ranger (1937)
15. Headin' for the Rio Grande (1936)
16. Cavalry (1936)
17. Brand of the Outlaws (1936)
... aka Brand of Outlaws
18. The Law Rides (1936)
19. Last of the Warrens (1936)
20. The Kid Ranger (1936)
21. Valley of the Lawless (1936)
22. Trail of Terror (1935)
... aka Gangster's Enemy Number One (UK)
23. The Courageous Avenger (1935)
24. Alias John Law (1935/I)
25. Lawless Range (1935) (as R.N. Bradbury)
26. Between Men (1935)
27. The Rider of the Law (1935)
28. Westward Ho (1935) (as R.N. Bradbury)
29. Sundown Saunders (1935)
30. The Dawn Rider (1935) (as R.N. Bradbury)
31. Tombstone Terror (1935)
32. Smokey Smith (1935)
33. Rainbow Valley (1935)
34. Big Calibre (1935)
35. Kid Courageous (1935)
36. Texas Terror (1935) (as R.N. Bradbury)
37. No Man's Range (1935)
... aka Non Man's Land
38. Western Justice (1934)
39. The Lawless Frontier (1934) (as R.N. Bradbury)
40. The Trail Beyond (1934) (as Robert Bradbury)
41. Happy Landing (1934) (as R.N. Bradbury)
... aka Air Patrol (UK)
42. The Star Packer (1934) (as R.N. Bradbury)
... aka He Wore a Star (UK)
43. The Man from Utah (1934) (as Robert Bradbury)
44. Blue Steel (1934) (as Robert Bradbury)
45. West of the Divide (1934)
46. The Lucky Texan (1934)
47. Riders of Destiny (1933)
48. Ranger's Code (1933)
49. Galloping Romeo (1933)
50. The Gallant Fool (1933)
51. Breed of the Border (1933)
... aka Speed Brent Wins
52. Texas Buddies (1932)
53. Hidden Valley (1932)
54. Son of Oklahoma (1932)
55. Man from Hell's Edges (1932)
56. Riders of the Desert (1932)
57. Law of the West (1932)
58. Son of the Plains (1931)
... aka Vultures of the Law (UK)
59. Dugan of the Badlands (1931)
60. Headin' for Danger (1928)
... aka Asking for Trouble (UK)
61. Lightning Speed (1928) (as Robert North Bradbury)
62. The Bantam Cowboy (1928)
63. The Mojave Kid (1927) (as Robert North Bradbury)
64. Sitting Bull at the Spirit Lake Massacre (1927) (as Robert North Bradbury)
... aka With Sitting Bull at the Spirit Lake Massacre
65. Davy Crockett at the Fall of the Alamo (1926) (as Robert North Bradbury)
... aka With Davy Crockett at the Fall of the Alamo
66. The Fighting Doctor (1926)
67. Looking for Trouble (1926)
68. Daniel Boone Through the Wilderness (1926)
... aka With Daniel Boone Through the Wilderness (USA)
69. The Border Sheriff (1926)
70. Things Men Do (1926) (as Robert North Bradbury)
... aka Into the Light (USA: première title)
71. The Danger Zone (1925/I)
72. Hidden Loot (1925)
73. The Battler (1925)
74. The Speed Demon (1925)
75. Moccasins (1925)
76. Riders of Mystery (1925) (as Robert North Bradbury)
77. In High Gear (1924) (as Robert North Bradbury)
78. Yankee Speed (1924)
79. Behind Two Guns (1924)
80. The Galloping Ace (1924) (as R.N. Bradbury)
81. Wanted by the Law (1924)
82. The Phantom Horseman (1924) (as Robert North Bradbury)
83. The Man From Wyoming (1924)
84. The Red Warning (1923) (as Robert North Bradbury)
85. What Love Will Do (1923) (as Robert North Bradbury)
86. The Wolf Trapper (1923)
87. Face to Face (1923)
88. Desert Rider (1923)
89. Wolf Tracks (1923)
90. Galloping Thru (1923)
91. The Forbidden Trail (1923) (as Robert North Bradbury)
92. Come Clean (1922)
93. At Large (1922)
94. A Guilty Cause (1922)
95. The Hour of Doom (1922)
96. Ridin' Through (1922)
97. Two Men (1922)
98. Daring Dangers (1922)
99. It Is the Law (1922)
100. The Civet Cat (1922)
101. Dangerous Trails (1922)
102. Riders of the Law (1922) (as Robert North Bradbury)
103. Trailing the Coyote (1921)
104. The Heart of Dorean (1921)
105. A Day in the Wilds (1921)
106. The Honor of Ramirez (1921)
107. Lorraine of the Timberlands (1921)
108. The American Badger (1921)
109. Catching a Coon (1921)
110. The Tempest (1921)
111. The Impostor (1921)
112. Into the Light (1920) (as Robert North Bradbury)
113. The Adventures of Bob and Bill (1920)
... aka The Adventures of Bill and Bob
114. The Last of His People (1919) (as Robert North Bradbury)
115. The Faith of the Strong (1919) (as Robert North Bradbury)
116. Perils of Thunder Mountain (1919)
117. The Iron Test (1918)
118. The Wooing of Riley (1918)
Writer,
1. West of the Brazos (1950) (screenplay) (uncredited)
... aka Rangeland Empire
2. God's Country and the Man (1937) (story) (uncredited)
... aka The Avenging Stranger (UK)
3. Cavalry (1936) (story)
4. Last of the Warrens (1936)
5. The Kid Ranger (1936) (story and screenplay)
6. Trail of Terror (1935) (story and adaptation)
... aka Gangster's Enemy Number One (UK)
7. Alias John Law (1935/I) (screenplay)
8. Between Men (1935) (story)
9. Sundown Saunders (1935)
10. The Dawn Rider (1935) (screenplay)
11. Tombstone Terror (1935)
12. Smokey Smith (1935)
13. Big Calibre (1935)
14. Kid Courageous (1935)
15. Texas Terror (1935) (story) (as R.N. Bradbury)
16. Western Justice (1934) (story and screenplay)
17. The Lawless Frontier (1934) (screenplay) (as R.N. Bradbury) (story) (as R.N. Bradbury)
18. The Star Packer (1934) (screenplay) (as R.N. Bradbury) (story) (as R.N. Bradbury)
... aka He Wore a Star (UK)
19. Blue Steel (1934) (screenplay) (as Robert Bradbury) (story) (as Robert Bradbury)
20. West of the Divide (1934) (story and screenplay)
21. The Lucky Texan (1934) (screenplay) (story)
22. Riders of Destiny (1933) (story and screenplay) (as R.N. Bradbury)
23. Galloping Romeo (1933) (story)
24. Texas Buddies (1932) (story and scenario)
25. Man from Hell's Edges (1932)
26. Law of the West (1932) (story and scenario)
27. Son of the Plains (1931) (story and scenario)
... aka Vultures of the Law (UK)
28. Dugan of the Badlands (1931) (also story)
29. Lightning Speed (1928) (as Robert North Bradbury) (also story)
30. The Border Sheriff (1926)
31. Things Men Do (1926) (as Robert North Bradbury)
... aka Into the Light (USA: première title)
32. The Battler (1925)
33. In High Gear (1924) (as Robert North Bradbury) (also story)
34. Yankee Speed (1924)
35. Behind Two Guns (1924) (story)
36. Wanted by the Law (1924)
37. The Forbidden Trail (1923) (as Robert North Bradbury) (also titles)
38. The Death Trap (1921/I) (story)
39. The Courage of Marge O'Doone (1920) (as Robert North Bradbury)
40. Into the Light (1920) (as Robert North Bradbury) (story)
41. The Last of His People (1919) (as Robert North Bradbury) (scenario) (as Robert North Bradbury) (story)
42. Jacques of the Silver North (1919) (as Robert North Bradbury) (scenario)
43. Nobody's Wife (1918) (story)
44. The Fighting Grin (1918) (story The Catamount)
45. Along the Malibu (1916) (story)
... aka The Guilty One (USA)
Producer
1. Romance of the Rockies (1937) (producer) (as R. N. Bradbury)
2. Danger Valley (1937) (producer) (as R. N. Bradbury)
3. Where Trails Divide (1937) (producer)
4. Stars Over Arizona (1937) (producer)
5. God's Country and the Man (1937) (producer)
... aka The Avenging Stranger (UK)
6. Riders of the Dawn (1937) (producer)
7. Orphan of the Sage (1928) (supervising producer)
8. Tyrant of Red Gulch (1928) (supervising producer)
... aka The Sorcerer (UK)
9. The Pinto Kid (1928) (supervising producer)
10. Phantom of the Range (1928) (supervising producer)
11. Red Riders of Canada (1928) (supervising producer)
12. The Little Buckaroo (1928) (supervising producer)
13. Driftin' Sands (1928) (supervising producer)
14. Cyclone of the Range (1927) (supervising producer)
15. Lightning Lariats (1927) (supervising producer)
Composer
1. Riders of the Dawn (1937) (song "White Clouds in the Moonlight")
2. Sing, Cowboy, Sing (1937) (songs) (as R.N. Bradbury)
3. Hittin' the Trail (1937) (song "I'm a Rippin' Snortin' Sheriff")
4. Westward Ho (1935) (song "The Girl I Loved Long Ago") (uncredited)
Actor
1. North of Nome (1925) .... Bruce McLaren
2. Behind Two Guns (1924) (uncredited) .... Bit part
Editor
1. The Forbidden Trail (1923) (as Robert North Bradbury)