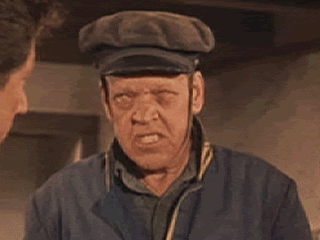 JACK PENNICK

INFORMATION FROM IMDb
Date of birth
7 December 1895
Portland, Oregon, USA
Date of death
16 August 1964
Manhattan Beach, California, USA.
Sometimes Credited As:
J. Ronald Pennick
Jake Pennick
Ronald J. Pennick
Jack Pennuck
Birth name
Robert Jack Pennick
Height
6' 4½" (1.94 m)
Spouse
Nona Lorraine (? - ?)
Trivia
Worked in nearly every sound picture directed by John Ford as part of Ford's "troop of players."
Originally a horse wrangler, he played small parts in many westerns.
Was known to be an expert in the "manual of arms" for existing and some extinct military units. May have been former Marine or military man. Can be seen marching as "right guard" at the very beginning of Stars and Stripes Forever (1952) uncredited.
Appears at the end of She Wore a Yellow Ribbon (at the party) choreographing the escort squad, in a scene that someone in Continuity should have caught. Clearly knew his military drill.
Veteran of both WWI and WWII. Enlisting at the age of nearly 50, he received a Silver Star after being wounded in WWII.
Mini Biography
From All Movie Guide:
WWI-veteran Jack Pennick was working as a horse wrangler when, in 1926, he was hired as a technical advisor for the big-budget war drama What Price Glory? Turning to acting in 1927, Pennick made his screen bow in Bronco Twister. His hulking frame, craggy face, and snaggle-toothed bridgework made him instantly recognizable to film buffs for the next 35 years. Beginning with 1928's Four Sons and ending with 1962's How the West Was Won, Pennick was prominently featured in nearly three dozen John Ford films. He also served as Ford's assistant director on How Green Was My Valley (1941) and Fort Apache (1947), and as technical advisor on The Alamo (1960), directed by another longtime professional associate and boon companion, John Wayne. Though pushing 50, Jack Pennick interrupted his film career to serve in WWII, earning a Silver Star after being wounded in combat. ~ Hal Erickson, All Movie Guide
AMG © 2006 All Media Guide, LLC Portions of content provided by All Movie Guide®, a trademark of All Media Guide, LLC
Filmography
Actor
1. How the West Was Won (1962) (uncredited) .... Cpl. Murphy
2. The Man Who Shot Liberty Valance (1962) (uncredited) .... Jack (barman)
3. Two Rode Together (1961) (uncredited) .... Sergeant
4. The Alamo (1960) (uncredited) .... Sgt. Lightfoot
5. Sergeant Rutledge (1960) (uncredited) .... Sergeant
6. The Horse Soldiers (1959) (uncredited) .... Sgt. Maj. 'Mitch' Mitchell
7. The Buccaneer (1958)
8. The Last Hurrah (1958) (uncredited) .... Police Sgt. Rafferty
9. The Wings of Eagles (1957) (uncredited) .... Joe McGuffey
10. The Searchers (1956) (uncredited) .... Sergeant at fort
11. The Last Frontier (1955) (uncredited) .... Sergeant
... aka Savage Wilderness (USA: TV title)
12. Mister Roberts (1955) .... Marine sergeant
13. The Long Gray Line (1955) (uncredited) .... Recruiting sergeant
14. 20000 Leagues Under the Sea (1954) (uncredited) .... Carson
... aka Jules Verne's 20,000 Leagues Under the Sea (USA: reissue title)
15. The Beast From 20,000 Fathoms (1953) .... Jacob Bowman
16. The Sun Shines Bright (1953) (uncredited) .... Beaker (Lynch-Party Member)
17. Stars and Stripes Forever (1952) (uncredited) .... Right guard in opening scene
... aka Marching Along (UK)
18. What Price Glory (1952) .... Sgt. Ferguson
19. Hoodlum Empire (1952) (scenes deleted) .... Tracey
20. The Sea Hornet (1951) .... Salty
21. Fighting Coast Guard (1951) .... Coast Guardsman
... aka Fighting U.S. Coast Guard
22. Operation Pacific (1951) .... The Chief
23. Rio Grande (1950) (uncredited) .... Sergeant
... aka John Ford and Merian C. Cooper's Rio Grande (USA: complete title)
24. Tripoli (1950) .... Busch
... aka The First Marines (USA: reissue title)
25. Rock Island Trail (1950) (uncredited) .... Sergeant
... aka Transcontinent Express (UK)
26. When Willie Comes Marching Home (1950) (uncredited) .... Sgt. Briggs' instructor
27. She Wore a Yellow Ribbon (1949) (uncredited) .... Sergeant Major
28. The Fighting Kentuckian (1949) .... Capt. Dan Carroll
... aka A Strange Caravan
29. Mighty Joe Young (1949) (uncredited) .... Truck driver
... aka Mr. Joseph Young of Africa
30. 3 Godfathers (1948) .... Luke (the conductor)
31. Fort Apache (1948) .... Sgt. Daniel Schattuck
... aka War Party
32. The Fugitive (1947) (uncredited) .... Man
... aka Fugitivo, El (Mexico)
33. Unconquered (1947) (uncredited) .... Joe Lavat
34. My Darling Clementine (1946) (uncredited) .... Stagecoach driver
... aka John Ford's My Darling Clementine (USA: complete title)
35. They Were Expendable (1945) .... Doc
36. Wild Geese Calling (1941) .... Mug
37. Sergeant York (1941) (uncredited) .... Cpl. Cutting
38. Lady from Louisiana (1941) .... Cuffy Brown
... aka Lady from New Orleans
39. Men of Boys Town (1941) (uncredited) .... Reform school guard
40. Tobacco Road (1941) (uncredited) .... Deputy sheriff
41. Charter Pilot (1940) (uncredited) .... Workman
42. North West Mounted Police (1940) .... Sgt. Field
... aka Northwest Mounted Police
... aka The Scarlet Riders
43. The Long Voyage Home (1940) .... Johnny Bergman
44. The Westerner (1940) (uncredited) .... Henry Williams
45. Buyer Beware (1940) (uncredited) .... Pill Spilling (warehouse worker)
... aka Crime Does Not Pay No. 30: Buyer Beware (USA: series title)
46. The Grapes of Wrath (1940) (uncredited) .... Camp helper
47. Drums Along the Mohawk (1939) (as J. Ronald Pennick) .... Amos Hartman
48. The Star Maker (1939) (uncredited)
49. Mountain Rhythm (1939) .... Rocky
50. Young Mr. Lincoln (1939) (uncredited) .... Big Buck Troop
51. Union Pacific (1939) (uncredited) .... Harmonica player
52. Sergeant Madden (1939) (uncredited) .... Prisoner
53. Tail Spin (1939) (uncredited)
54. Stagecoach (1939) (uncredited) .... Jerry (bartender)
55. Thanks for Everything (1938) (uncredited) .... Medical Sergeant
56. Submarine Patrol (1938) .... Bos'un 'Guns' McPeek
57. You and Me (1938) (uncredited) .... Gangster
58. Alexander's Ragtime Band (1938) (uncredited) .... Drill sergeant
... aka Irving Berlin's Alexander's Ragtime Band (USA: promotional title)
59. Cocoanut Grove (1938) (uncredited) .... Bus driver
60. Tip-Off Girls (1938) (uncredited) .... Truck driver
61. King of the Newsboys (1938) .... Lefty
62. The Buccaneer (1938) (uncredited) .... Buck-toothed private
63. Navy Blue and Gold (1937) (uncredited) .... Ship's fireman
64. The Last Gangster (1937) (uncredited) .... Convict in the mess hall riot
65. Live, Love and Learn (1937) (uncredited) .... Jonesie (marine)
66. Double or Nothing (1937) (uncredited) .... Taxi driver
67. Big City (1937) (uncredited) .... Ugly Comet Cab driver
... aka Skyscraper Wilderness (USA: TV title)
68. Wee Willie Winkie (1937) (uncredited) .... Soldier
69. It May Happen to You (1937) (uncredited) .... Truck driver
70. Quality Street (1937) (scenes deleted)
71. The Devil's Playground (1937) (uncredited) .... Gob
72. Great Guy (1936) (uncredited) .... Truck driver
... aka Pluck of the Irish (UK)
73. The Plough and the Stars (1936)
74. Banjo on My Knee (1936) (uncredited)
75. Come and Get It (1936) (uncredited) .... Foreman
... aka Roaring Timbers (USA: reissue title)
76. Private Number (1936) .... Gus Rilovitch
... aka Secret Interlude (UK)
77. Under Two Flags (1936) (uncredited) .... Cpl. Vaux
78. The Music Goes 'Round (1936) (uncredited)
79. Drift Fence (1936) .... Weary (camp cook)
... aka Texas Desperadoes
80. The Prisoner of Shark Island (1936) (uncredited) .... Corporal
81. Rose-Marie (1936) (uncredited) .... Brawler
... aka Indian Love Call (USA: TV title)
... aka Rose Marie (USA: poster title)
82. Hitch Hike Lady (1935) (uncredited) .... Mug
... aka Eventful Journey (UK)
83. Barbary Coast (1935) (uncredited) .... Miner Chasing Chinese Man
... aka Port of Wickedness (USA: reissue title)
84. Waterfront Lady (1935) (uncredited) .... Seaman gambler
85. Cappy Ricks Returns (1935) (uncredited) .... Sailor
86. Navy Wife (1935) (uncredited)
... aka Beauty's Daughter
87. Steamboat Round the Bend (1935) (uncredited) .... Ringleader
... aka Steamboat Bill
88. Don't Bet on Blondes (1935) (uncredited) .... Gangster #1
89. Public Hero #1 (1935) (uncredited) .... Bus Driver
90. Goin' to Town (1935) (uncredited) .... Cowboy
91. West Point of the Air (1935) (uncredited) .... Randolph Air Field mechanic
92. Romance in Manhattan (1935) (uncredited) .... Cab driver
93. The Notorious Sophie Lang (1934) (uncredited) .... Bystander
94. The World Moves On (1934) (uncredited) .... French orderly
95. Come on Marines (1934) (uncredited) .... Cpl. Spike
96. Son of a Sailor (1933) (uncredited) .... Sailor
97. Ace of Aces (1933) (uncredited) .... Pilot
98. A Man of Sentiment (1933)
99. Sensation Hunters (1933) (uncredited) .... Olaf Anderssen
100. Skyway (1933) .... Spike
101. Tugboat Annie (1933) .... Pete
102. Pilgrimage (1933) (uncredited) .... A Minute for Each Cedar soldier
103. Strange People (1933) .... The plumber
104. The Prizefighter and the Lady (1933) (uncredited) .... Bar Patron #6
... aka Every Woman's Man
105. Mister Mugg (1933)
106. Hello, Everybody! (1933) (uncredited)
107. If I Had a Million (1932) (uncredited) .... Sailor boyfriend
108. Renegades of the West (1932) .... Dave (tall tough guy at bar)
109. Wild Horse Mesa (1932) (uncredited)
110. Airmail (1932) (uncredited) .... Airport postal worker
111. Slightly Married (1932) (uncredited) .... Sailor
112. Heritage of the Desert (1932) (uncredited) .... Fred (cowboy)
... aka When the West Was Young (USA: reissue title)
113. The Phantom Express (1932) .... Ugly thug
114. Strangers of the Evening (1932) (uncredited) .... Policeman
... aka Case of the Missing Corpse
... aka The Hidden Corpse (USA: reissue title)
115. Sky Bride (1932) (uncredited) .... Tom, Pilot
116. The Beast of the City (1932) (uncredited) .... Policeman #2 on telephone
117. Emma (1932) (uncredited)
118. Hell Divers (1931) (uncredited) .... Mechanic socked by Windy for smoking while refueling
119. Possessed (1931) (uncredited) .... Parole for Convicts heckler
120. Min and Bill (1930) (uncredited) .... Merchant seaman checking in at hotel
121. Way Out West (1930) .... Pete
122. Born Reckless (1930) .... Soldier
123. Paramount on Parade (1930) .... Marine (The Montmartre Girl)
124. City Girl (1930) .... Reaper
... aka Our Daily Bread
125. His First Command (1929) (uncredited) .... Rookie
126. Navy Blues (1929) (uncredited) .... Kansas (sailor)
127. The Mighty (1929) (uncredited) .... Doughboy
128. The Virginian (1929) (uncredited) .... Slim (Box H hand)
129. Salute (1929) (uncredited) .... Football player
130. Lucky Star (1929) (uncredited) .... Bit part
131. The Black Watch (1929) (uncredited) .... Bit Part
... aka King of the Khyber Rifles (UK)
132. Strong Boy (1929) .... Baggage man
133. Plastered In Paris (1928) .... Bud Swenson
134. Hangman's House (1928) (uncredited) .... Man bringing Dermot to Hogan
135. Why Sailors Go Wrong (1928) .... First Mate
136. Four Sons (1928) .... The Iceman (Joseph's American friend)
137. Four A.M. (1928)
138. The Lone Eagle (1927) .... Sven Linder
139. Paid to Love (1927) (uncredited)
140. The Broncho Twister (1927) .... Jinx Johnson
141. The Blue Eagle (1926) (uncredited) .... Ship's crewman
Miscellaneous Crew
1. The Alamo (1960) (technical supervisor)
2. The Light in the Forest (1958) (technical advisor)
3. Oh! Susanna (1951) (technical advisor)
4. When Willie Comes Marching Home (1950) (technical advisor) (uncredited)
5. The Fugitive (1947) (executive assistant)
... aka Fugitivo, El (Mexico) 6. How Green Was My Valley (1941) (assistant: John Ford) (uncredited)
Second Unit Director or Assistant Director
1. Fort Apache (1948) (assistant director) (uncredited)
... aka War Party
Notable TV Guest Appearances
1. "Wagon Train" playing "Drill Sergeant" in episode: "The Colter Craven Story" (episode # 4.9) 23 November 1960