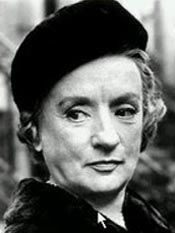 MILDRED NATWICK
INFORMATION FROM IMDb
Date of birth
19 June 1905
Baltimore, Maryland, USA
Date of death
25 October 1994
New York, New York, USA. (cancer)
Buried at Lorraine Cemetery in Baltimore, Maryland.
Mini Biography
From All Movie Guide:
Fresh out of Bryn Mawr college, American actress Mildred Natwick started the road to stage success in amateur shows in her native Baltimore. By 1932 Natwick was on Broadway in Carrie Nation; establishing what would become her standard operating procedure, the actress played a character much older than herself. In 1940, Natwick was introduced to movie audiences as the cockney "lady of the evening" in John Ford's The Long Voyage Home (1940) -- the first of several assignments for Ford, which included Three Godfathers (1948), She Wore a Yellow Ribbon (1948) and The Quiet Man (1952). Seldom starring in a film role, Natwick nonetheless made the most of what she was given, as in her one-scene part as an advocate of birth control who inadvertently pitches her program to the parents of 12 children in Cheaper By the Dozen (1950). And it was Natwick who, as skulking sorceress Grizelda in Danny Kaye's The Court Jester (1956), inaugurates the side-splitting "The pellet with the poison's in the vessel with the pestle" routine. A frequent visitor to TV, Natwick briefly settled down on the tube in the mystery series "The Snoop Sisters," which costarred Helen Hayes. In films until 1988, Natwick was honored with a long-overdue Oscar nomination for her work as Jane Fonda's martyr mama in 1967's Barefoot in the Park. ~ Hal Erickson, All Movie Guide
AMG © 2006 All Media Guide, LLC Portions of content provided by All Movie Guide®, a trademark of All Media Guide, LLC
Trivia
NicknameA devout Christian Scientist who lived in splendor first on Park Avenue and later on Sutton Place South, she turned down a role in the musical "On The Twentieth Century" because she found the role - of a dotty woman impersonating an evangelist - to be too tawdry. The role went to Imogene Coca.
First appeared on Broadway under the direction of Joshua Logan, who considered her one of America's finest character actresses. Natwick inspired great devotion among many: John Ford, who directed her in "The Long Voyage Home," "She Wore A Yellow Ribbon," and "The Quiet Man" adored her, as did both Truman Capote and Tennessee Williams. Katharine Cornell and her husband, director Guthrie McClintick, cast her in many of their plays.
Natwick was nominated for Tony Awards for her performances in "The Waltz of the Toreadors" in 1957 (Featured Actress) and in "70 Girls 70" (Lead Actress in a Musical).
Mildred Natwick and Angela Lansbury, both in The Court Jester (1956), were reunited in episode 2.16 of Lansbury's series, "Murder She Wrote" ("Murder in the Electric Cathedral"), 30 years later.
Was nominated for two Tony Awards: in 1957, as Best Supporting or Features Actress (Dramatic) for "The Waltz of the Toreadors," and in 1972, as Best Actress (Musical) for "70 Girls 70."
Milly
Filmography
Actress
1. Dangerous Liaisons (1988) .... Madame de Rosemonde
2. Deadly Deception (1987) (TV) .... Sarah Cleason
3. Kiss Me Goodbye (1982) .... Mrs. Reilly
4. Maid in America (1982) (TV) .... Mrs. Angstrom
5. You Can't Take It with You (1979) (TV) .... Grand Duchess Olga Katrina
6. "Little Women" (1979) TV Series .... Aunt March
7. Addie and the King of Hearts (1976) (TV) .... Grandma Mills
8. The Easter Promise (1975) (TV) .... Grandma
9. At Long Last Love (1975) .... Mabel Pritchard
10. Daisy Miller (1974) .... Mrs. Costello
11. Black Day for Bluebeard (1974) (TV) .... Gwendolin Snoop
12. "The Snoop Sisters" (1973) TV Series .... Gwendolyn Snoop Nicholson
13. The Holiday Treasure (1973) (TV) .... Grandma
14. Money to Burn (1973) (TV) .... Emily Finnegan
15. The Snoop Sisters (1972) (TV) .... Gwendolyn Snoop Nicholson
... aka Female Instinct (USA: reissue title)
16. The House Without a Christmas Tree (1972) (TV) .... Grandma Mills
17. Do Not Fold, Spindle, or Mutilate (1971) (TV) .... Shelby Saunders
18. Trilogy (1969) .... Miss Miller
... aka Truman Capote's Trilogy (USA)
19. The Maltese Bippy (1969) .... Molly Fletcher
20. If It's Tuesday, This Must Be Belgium (1969) .... Jenny Grant
21. Barefoot in the Park (1967) .... Ethel Banks
22. The Power and the Glory (1961) (TV)
23. The Waltz of the Toreadors (1959) (TV) .... Mme. St. Pé
... aka Play of the Week: The Waltz of the Toreadors (USA: series title)
24. Tammy and the Bachelor (1957) .... Aunt Renie
... aka Tammy (UK)
... aka Tammy and the Bachelor (UK)
25. Teenage Rebel (1956) .... Grace Hewitt
26. The Court Jester (1956) .... Griselda
27. Blithe Spirit (1956) (TV) .... Madame Arcati
28. The Trouble with Harry (1955) .... Miss Ivy Gravely
29. Against All Flags (1952) .... Molvina MacGregor
30. The Quiet Man (1952) .... The Widow Sarah Tillane
31. Cheaper by the Dozen (1950) .... Mrs. Mebane
32. She Wore a Yellow Ribbon (1949) .... Abby Allshard aka Old Iron Pants
33. 3 Godfathers (1948) .... The Mother
34. The Kissing Bandit (1948) .... Isabella
35. A Woman's Vengeance (1948) .... Nurse Braddock
... aka The Gioconda Smile
36. The Late George Apley (1947) .... Amelia Newcombe
37. Sorry, Wrong Number (1946) (TV)
38. Yolanda and the Thief (1945) .... Aunt Amarilla
39. The Enchanted Cottage (1945) .... Mrs. Abigail Minnett
40. The Long Voyage Home (1940) .... Freda
Archive Footage
1. The Trouble with Harry Isn't Over (2001) (V) .... Miss Ivy Gravely
Notable TV Guest Appearances
1. "Murder, She Wrote" playing "Carrie McKittrick" in episode: "Murder in the Electric Cathedral" (episode # 2.16) 16 February 1986
2. "Hardcastle and McCormick" playing "May Hardcastle" in episode: "Hardcastle, Hardcastle, Hardcastle and McCormick" (episode # 2.15) 4 February 1985
3. "Magnum, P.I." playing "Madge LaSalle" in episode: "Limited Engagement" (episode # 4.5) 3 November 1983
4. "Trapper John, M.D." playing "Grandma" in episode: "Is There a Doctor in the Big House?" (episode # 3.7) 29 November 1981
5. "Alice" playing "Aunt Agatha" in episode: "Vera's Aunt Agatha" (episode # 5.5) 23 November 1980
6. "The Love Boat" playing "Beatrice" in episode: "Caller, The/Marriage of Convenience/No Girls for Doc/Witness for the Prosecution" (episode # 3.28) 3 May 1980
7. "Hawaii Five-O" playing "Millicent Shand" in episode: "The Spirit is Willie" (episode # 11.15) 25 January 1979
8. "Hawaii Five-O" playing "Millicent Shand" in episode: "Frozen Assets" (episode # 10.21) 30 March 1978
9. "The Bob Newhart Show" playing "Grace Dubois" in episode: "A Girl in Her Twenties" (episode # 6.10) 3 December 1977
10. "Family" playing "Kate Lawrence's Mother" in episode: "A Right and Proper Goodbye" (episode # 1.4) 30 March 1976
11. "McMillan and Wife" playing "Beatrice" in episode: "The Deadly Inheritance" (episode # 5.1) 28 September 1975
12. "McMillan and Wife" playing "Beatice" in episode: "Love, Honor and Swindle" (episode # 4.6) 16 February 1975
13. "The Most Deadly Game" playing "Janet McLeod" in episode: "I, Said the Sparrow" (episode # 1.12) 16 January 1971
14. "Bonanza" playing "Mrs. Wharton" in episode: "Mrs. Wharton and the Lesser Breeds" (episode # 10.17) 19 January 1969
15. "Hallmark Hall of Fame" playing "Martha Brewster" in episode: "Arsenic and Old Lace" 1962
16. "Naked City" playing "Irma Mahoney" in episode: "Take and Put" (episode # 2.32) 21 June 1961
17. "Alfred Hitchcock Presents" playing "Millicent Bracegirdle" in episode: "Miss Bracegirdle Does Her Duty" (episode # 3.18) 2 February 1958
18. "Kraft Television Theatre" in episode: "The Big Heist" (episode # 11.8) 13 November 1957
19. "Playhouse 90" playing "Nanny" in episode: "Eloise" (episode # 1.8) 22 November 1956
20. "The Kaiser Aluminum Hour" playing "Nurse" in episode: "Antigone" (episode # 1.5) 11 September 1956
21. "Alfred Hitchcock Presents" playing "Aunt Rosalie" in episode: "The Perfect Murder" (episode # 1.24) 11 March 1956
22. "Ford Star Jubilee" in episode: "Blithe Spirit" (episode # 1.5) 14 January 1956
23. "Letter to Loretta" playing "Mrs. Redman" in episode: "Hapless Holiday" (episode # 3.30) 1956
24. "The 20th Century-Fox Hour" playing "Grace Hagget" in episode: "Christopher Bean" (episode # 1.5) 30 November 1955
25. "Studio One" playing "Kate" in episode: "Uncle Ed and Circumstances" (episode # 8.4) 10 October 1955
26. "The United States Steel Hour" playing "Aunt Juilana" in episode: "A Garden in the Sea" (episode # 1.20) 20 July 1954
27. "Suspense" in episode: "Conversations at an Inn" (episode # 6.41) 13 July 1954
28. "Kraft Television Theatre" in episode: "Mr. Simmons" (episode # 1.38) 1 July 1954
29. "Love Story" in episode: "The Orchard" (episode # 1.10) 22 June 1954
30. "Justice" in episode: "The Eight Alien Boys" (episode # 1.8) 3 June 1954
31. "Campbell Playhouse" in episode: "The Almighty Dollar" (episode # 2.28) 23 April 1954
32. "You Are There" in episode: "The Execution of Mary, Queen of Scots (February 8, 1587)" (episode # 2.33) 18 April 1954
33. "Armstrong Circle Theatre" in episode: "Tam O'Shanter" (episode # 4.27) 9 March 1954
34. "The Web" in episode: "The World My Cage" (episode # 4.10) 22 November 1953
35. "Goodyear Television Playhouse" in episode: "The Happy Rest" (episode # 3.1) 4 October 1953
36. "Medallion Theatre" in episode: "The Bartlett Desk" (episode # 1.11) 19 September 1953
37. "Tales of Tomorrow" in episode: "Ink" (episode # 2.37) 15 May 1953
38. "Suspense" in episode: "The Suitor" (episode # 5.28) 5 May 1953
39. "Lux Video Theatre" in episode: "The Brooch" (episode # 3.31) 2 April 1953
40. "Armstrong Circle Theatre" in episode: "The Marmalade Scandal" (episode # 3.17) 10 February 1953
41. "The Philco Television Playhouse" in episode: "Tempest of Tick Creek" (episode # 5.7) 14 December 1952
42. "Danger" in episode: "Buttons" (episode # 3.1) 14 October 1952
43. "Kraft Television Theatre" in episode: "The Grass Harp" (episode # 5.52) 17 September 1952
44. "Pulitzer Prize Playhouse" in episode: "The Skin of Our Teeth" (episode # 2.1) 19 December 1951
45. "Suspense" in episode: "High Street" (episode # 4.4) 9 October 1951
46. "Somerset Maugham TV Theatre" in episode: "The Mother" (episode # 3.1) 17 September 1951
47. "The Philco Television Playhouse" in episode: "A Secret Island" (episode # 3.34) 6 May 1951
48. "Suspense" in episode: "The Meeting" (episode # 3.35) 24 April 1951
49. "Suspense" in episode: "On a Country Road" (episode # 3.29) 13 March 1951
50. "Pulitzer Prize Playhouse" playing "Queen Elizabeth I" in episode: "Mary of Scotland" (episode # 1.20) 16 February 1951
51. "Suspense" in episode: "The Rose Garden" (episode # 3.23) 30 January 1951
52. "Studio One" in episode: "Mary Lou" (episode # 3.16) 11 December 1950
53. "The Ford Theatre Hour" in episode: "The White-Headed Boy" (episode # 3.11) 17 November 1950
54. "Somerset Maugham TV Theatre" in episode: "The Creative Impulse" (episode # 1.1) 18 October 1950
55. "Suspense" in episode: "The Monkey's Paw" (episode # 3.6) 3 October 1950
56. "Cameo Theatre" in episode: "Sarah Lee's Children" (episode # 1.13) 23 August 1950
57. "Studio One" in episode: "My Granny Van" (episode # 2.42) 26 June 1950
58. "Suspense" in episode: "Listen, Listen" (episode # 2.39) 30 May 1950
59. "Starlight Theatre" in episode: "Her Son" (episode # 1.8) 21 May 1950
60. "The Philco Television Playhouse" in episode: "The Feast" (episode # 2.36) 7 May 1950
61. "Starlight Theatre" in episode: "Night Before Sailing" (episode # 1.2) 9 April 1950
62. "Lights Out" in episode: "The Queen Is Dead" (episode # 2.30) 3 April 1950
63. "Kraft Television Theatre" in episode: "Ladies in Retirement" (episode # 3.26) 15 March 1950
64. "The Clock" in episode: "Woman in the Road" (episode # 1.26) 1 March 1950
65. "Kraft Television Theatre" in episode: "The Old Ladies" (episode # 3.20) 1 February 1950
66. "Suspense" in episode: "The Horizontal Man" (episode # 2.21) 24 January 1950
67. "Studio One" in episode: "At Mrs. Beam's" (episode # 2.12) 28 November 1949
68. "Starring Boris Karloff" in episode: "Five Golden Guineas" (episode # 1.1) 22 September 1949
69. "Suspense" in episode: "The Monkey's Paw" (episode # 1.10) 17 May 1949
70. "Suspense" in episode: "The Man Upstairs" (episode # 1.4) 5 April 1949