BRANNIGAN
DIRECTED BY DOUGLAS HICKOX
EXECUTIVE PRODUCER MICHAEL WAYNE
MUSIC BY DOMINIC FRONTIERE
WELLBORN/LEVY-GARDNER PRODUCTION
UNITED ARTISTS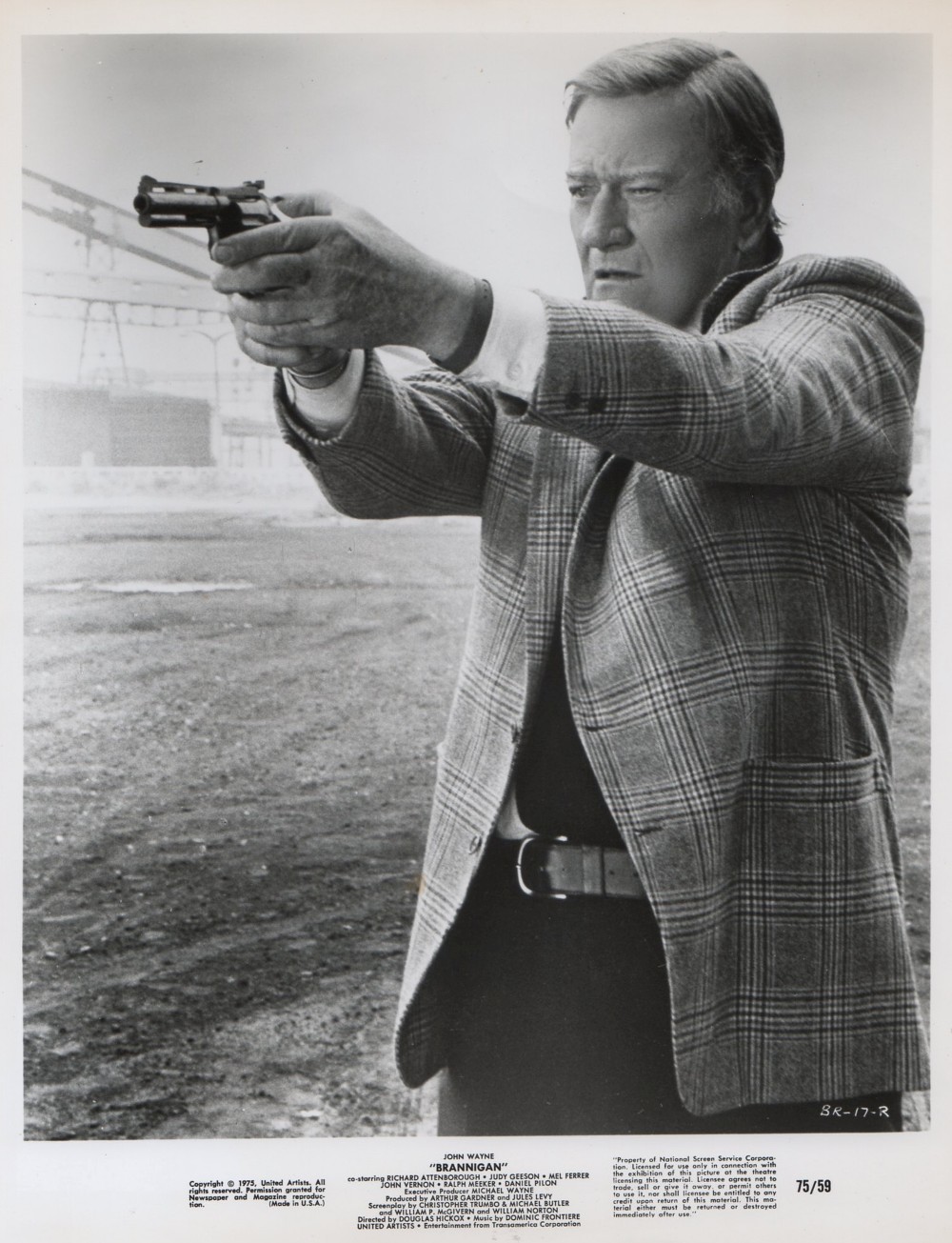 Photo with the courtesy of lasbugas

INFORMATION FROM IMDb
Plot summary
Jim Brannigan is sent to London to bring back an American mobster
who is being held for extradition but when he arrives he has been kidnapped
which was set up by his lawyer.
Brannigan in his American Irish way brings American law to the people
of Scotland Yard in order to recapture this mobster with both
A price tag on his head and a stuffy old London cop to contend with.
Full Cast
John Wayne ... Lt. Brannigan
Richard Attenborough ... Cmdr. Swann
Judy Geeson ... Jennifer
Mel Ferrer ... Fields
John Vernon ... Larkin
Daniel Pilon ... Gorman
John Stride ... Insp. Traven
James Booth ... Charlie 'The Handle' Kane
Arthur Batanides ... Angell
Ralph Meeker ... Capt. Moretti
Barry Dennen ... Julian
Lesley-Anne Down ... Luana (as Lesley Anne Down)
Pauline Delaney ... Mrs Cooper (as Pauline Delany)
Del Henney ... Drexel
Brian Glover ... Jimmy-the-Bet
Janette Legge
Stewart Bevan ... Alex
Anthony Booth ... Freddy
Tony Robinson ... Motorcycle Courier
Don Henderson ... Geef
Kathryn Leigh Scott ... Miss Allen
Enid Jaynes
Tim Barlow ... Customs Inspector (uncredited)
Mike Crane ... Boyle (uncredited)
Harry Fielder ... Passerby Near Tower Bridge (uncredited)
Alf Joint ... Man in Bar (uncredited)
Steve Kelly ... Gates (uncredited)
Raymond Mason ... Club Clerk (uncredited)
Michael Munn ... (uncredited)
Charles Pemberton ... Arthur (uncredited)
Peter Porteous ... Masseur (uncredited)
Nosher Powell ... Man in Bar (uncredited)
Writing Credits
Michael Butler screenplay
Michael Butler story
William P. McGivern
William W. Norton
Christopher Trumbo screenplay
Christopher Trumbo story
Produced
Arthur Gardner .... producer
Jules V. Levy .... producer
Michael Wayne .... executive producer
Original Music
Dominic Frontiere
Cinematography
Gerry Fisher
Stunts
Peter Brayham .... stunt coordinator
Jack Cooper .... stunt driver (uncredited)
Steve Emerson .... stunts (uncredited)
Alf Joint .... stunts (uncredited)
Nosher Powell .... stunts (uncredited)
Doug Robinson .... stunts (uncredited)
Trivia
Brannigan's revolver, as pointed out by Cmdr. Swann, is a Colt Diamondback .38 Special with a four-inch barrel. He carries the same handgun in McQ (1974).
Del Henney is dubbed.
The motorcycle dispatch courier, thrown into the Thames by John Wayne, is played by Tony Robinson who would later find fame as Baldrick in the TV series "The Black Adder" (1983).
Detective Lieutenant James Brannigan, played by 67-year-old John Wayne, was supposed to be in his late fifties.
The production was difficult for John Wayne since he had heart problems and had just recovered from a severe bout of pneumonia.
The film proved to be one of John Wayne's least successful movies at the box office. Wayne himself said he would not have made the film if he had known McQ (1974) was only going to be a moderate success.
In 1975, United Artists theatrically distributed this film in the USA on a double bill with Moonrunners (1975).
This film would be the second, and final, time that John Wayne would play a cop. The other time being in McQ (1974).
Goofs
* Audio/visual unsynchronized: Early in the movie, the informant picks tries to fire an empty Luger. He pulls the trigger twice, and each time there is a loud click. The Luger, as a single-action semi-automatic pistol, would not click when it's empty.
* Continuity: When Brannigan in the Ford Capri lands after jumping the open span of the Tower Bridge, the order of the cars stopped in the other direction is: 1 white unknown car, 2 red Mini, 3 black Mercedes sedan, with a green Mini several vehicles further back. (This is at 1:21:45 (US DVD) or 1:18:23 (UK DVD) of the movie.) When the Ford Capri ends up on top of the dumpster/skip and Brannigan kicks the door open, the order of the vehicles has changed to: 1 white unknown car, 2 red Mini, 3 green Mini. (This is at 1:21:53 (US DVD) or 1:18:31 (UK DVD) of the movie.)
* Continuity: During the film there is a sequence where a red Post Office van is being followed by the police through the streets in London, from the post-box in Picadilly Circus to a large post office. Although the van type appears to be similar in all three cases, the registration number of the van changes from scene to scene. Two vans (TJJ 855M and VLK 326M) have the newer (at that time) black characters on white or yellow background number plates, and one (EMM 497J) has old-style white characters on black background number plate from a totally different year!
* Continuity: During the bar room brawl, a woman wearing a blue skirt and striped top is first seen on the first floor of the bar, then on the balcony overlooking the bar, and then finally on the first floor again.
* Errors in geography: New Scotland Yard does not have a view of the Houses of Parliament or County Hall. The view is actually from the top floor of St Thomas's Hospital beside Westminster Bridge.
* Audio/visual unsynchronized: Late in the film, one of the villains says "your big...fat...rear!" But his lips are clearly saying "arse".
* Revealing mistakes: When one of Larkin's henchmen falls from a window, the dummy that takes his place for the impact shot lands head-first and crumples unrealistically.
* Errors in geography: Brannigan's apartment wall is blown apart, revealing the Albert Memorial head-on at eye level. This view would only be possible if his flat were in the Royal Albert Hall.
Several of the actors who played minor parts are listed by actor's name in the opening titles but are not listed by actor's name and character's name in the closing credits.
Filming Locations
Battersea, London, England, UK
Beckton Gasworks, Beckton, London, England, UK
(finale)
Beckton, London, England, UK
Broadgate, London, England, UK
Chicago, Illinois, USA
Covent Garden, London, England, UK
Dorchester Hotel, Park Lane, Mayfair, London, England, UK
Garrick Club, Covent Garden, London, England, UK
Hyde Park, London, England, UK
Lambeth, London, England, UK
London Heathrow Airport, London Borough of Hillingdon, London, England, UK
London, England, UK
Maida Vale, London, England, UK
(Jennifer's house)
Mayfair, London, England, UK
Paddington, London, England, UK
Pall Mall, St. James's, London, England, UK
Piccadilly Circus, Piccadilly, London, England, UK
Piccadilly, London, England, UK
RAC Club, Pall Mall, St. James's, London, England, UK
Shepperton Studios, Shepperton, Surrey, England, UK
(studio)
Soho, London, England, UK
St. James's, London, England, UK
St. Pancras Station, St. Pancras, London, England, UK
St. Pancras, London, England, UK
St. Thomas' Hospital, Lambeth, London, England, UK
(Sir Charles' offices)
The Lamb Tavern, Leadenhall Market, Lime Street, Broadgate, London, England, UK
(pub bar brawl)
Tower Bridge, London, England, UK
(car jumps over bridge)
West India Quay, Canary Wharf, Isle of Dogs, London, England, UK
Watch the Trailer
[extendedmedia]
[/extendedmedia]
Previous discussion:-
Brannigan