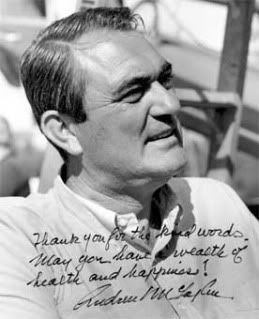 ANDREW McLAGLEN
INFORMATION FROM IMDb
Date of birth
28 July 1920
London, England, UK
Date of Death
August 31, 2014
Friday Harbor, Washington USA
Sometimes Credited As:
Andrew McLaglen
Andy McLaglen
Birth name
Andrew Victor McLaglen
Nickname
Big A
Height
6' 7" (2.01 m)
Spouse
Veda Ann Borg (11 May 1946 - 12 June 1958) (divorced)
Trivia
Father of Mary McLaglen and Josh McLaglen.
Son of actor Victor McLaglen.
Mini Biography
The son of actor Victor McLaglen, he grew up around movie people
and early on, developed an affinity for the business.
Briefly involved in production of industrial films, he entered Hollywood filmmaking i
n the late 1940s, initially working as an assistant director
(on such films as The Quiet Man which costarred his father
and gave him the opportunity to work with John Ford).
McLaglen made his solo directorial debut with Gun the Man Down (1956),
and worked steadily throughout the late 1950s, the 1960s,
and the 1970s before slowing up somewhat.
He specialized in Westerns and adventure films-especially
those of his father's frequent costar John Wayne and,
while lacking any specific visual "trademark," turned out consistently
entertaining and commercial movies.
He also became a prolific TV director, helming episodes of "Perry Mason,"
"Rawhide," and "Have Gun-Will Travel," among others.
He was the principal director of "Gunsmoke" during its
first years on the air.
OTHER FILMS INCLUDE:
1956:Man in the Vault 1957:The Abductors (starring his dad);
1960:Freckles 1961:The Little Shepherd of Kingdom Come 1963:
McLintock! 1965:Shenandoah 1966:The Rare Breed 1967:
The Way West 1968:Bandolero!, The Devil's Brigade 1969:
The Undefeated 1970:Chisum 1971:
Fools' Parade, One More Train to Rob, something big 1973:
Cahill-United States Marshal 1975:Mitchell 1976:The Last Hard Men 1978:
The Wild Geese 1980:The Sea Wolves, ffolkes 1984:
Sahara 1989:Return to the River Kwai 1991:
Eye of the Widow
Copyright © 1994 Leonard Maltin,
used by arrangement with Signet,
a division of Penguin Putnam, Inc.
Filmography
Director
1. Return from the River Kwai (1989)
2. Eye of the Widow (1989)
3. "On Wings of Eagles" (1986) (mini) TV Series
4. The Dirty Dozen: The Next Mission (1985) (TV)
5. Sahara (1983)
6. Travis McGee (1983) (TV)
... aka Travis McGee: The Empty Copper Sea
7. "The Blue and the Gray" (1982) (mini) TV Series
8. The Shadow Riders (1982) (TV)
... aka Louis L'Amour's The Shadow Riders
9. The Sea Wolves: The Last Charge of the Calcutta Light Horse (1980)
... aka The Sea Wolves
10. North Sea Hijack (1980)
... aka Assault Force (USA: TV title)
... aka ffolkes (USA)
11. Steiner - Das eiserne Kreuz, 2. Teil (1979)
... aka Breakthrough (USA)
... aka Sergeant Steiner
12. The Wild Geese (1978)
13. Murder at the World Series (1977) (TV)
... aka The Woman in Box 359
14. "The Fantastic Journey" (1977) TV Series
15. "Code R" (1977) TV Series
16. Trail of Danger (1977) (TV)
17. The Last Hard Men (1976)
18. Banjo Hackett: Roamin' Free (1976) (TV)
... aka Banjo Hackett
19. Mitchell (1975)
20. Stowaway to the Moon (1975) (TV)
21. The Log of the Black Pearl (1975) (TV)
22. Cahill U.S. Marshal (1973)
... aka Cahill (UK)
... aka Wednesday Morning
23. "Hec Ramsey" (1972) TV Series
24. "Banacek" (1972) TV Series
25. Fools' Parade (1971)
... aka Dynamite Man from Glory Jail (UK)
26. One More Train to Rob (1971)
27. Something Big (1971)
28. Chisum (1970)
29. The Undefeated (1969)
30. Hellfighters (1968)
31. Bandolero! (1968)
32. The Devil's Brigade (1968)
33. The Way West (1967)
34. Monkeys, Go Home! (1967)
35. The Ballad of Josie (1967)
36. The Rare Breed (1966)
37. Shenandoah (1965)
38. McLintock! (1963)
39. "The Virginian" (1962) TV Series
... aka The Men from Shiloh (new title)
40. The Little Shepherd of Kingdom Come (1961)
41. Freckles (1960)
42. "Rawhide" (1959) TV Series
43. "Hotel de Paree" (1959) TV Series
44. "Perry Mason" (1957) TV Series
45. "Have Gun - Will Travel" (1957) TV Series (116 episodes)
46. The Abductors (1957) (as Andrew McLaglen)
47. "Gunsmoke" (1955) TV Series (1956-1965)
... aka Gun Law (UK)
... aka Marshal Dillon (USA: rerun title)
48. Man in the Vault (1956)
49. Gun the Man Down (1956)
... aka Arizona Mission (USA: reissue title)
Second Unit Director or Assistant Director
1. Blood Alley (1955) (assistant director)
... aka William A. Wellman's Blood Alley (USA: complete title)
2. Track of the Cat (1954) (assistant director)
3. The High and the Mighty (1954) (assistant director)
4. Island in the Sky (1953) (assistant director) (as Andrew McLaglen)
5. Plunder of the Sun (1953) (assistant director)
6. Fort Vengeance (1953) (assistant director) (as Andrew McLaglen)
7. Kansas Pacific (1953) (assistant director) (as Andrew McLaglen)
8. Big Jim McLain (1952) (assistant director) (as Andrew McLaglen)
... aka Jim McLain
9. The Quiet Man (1952) (second assistant director)
10. Here Come the Marines (1952) (assistant director) (as Andrew McLaglen)
... aka Tell It to the Marines
11. Wild Stallion (1952/I) (assistant director) (uncredited)
12. Bullfighter and the Lady (1951) (assistant director) (as Andy McLaglen)
... aka Torero (USA)
13. Love, Honor and Goodbye (1945) (assistant director)
Producer
1. Fools' Parade (1971) (producer)
... aka Dynamite Man from Glory Jail (UK)
2. Something Big (1971) (producer)
3. Seven Men from Now (1956) (producer)
Miscellaneous Crew
1. The Making of 'The Quiet Man' (1992) (V) (thanks: photos)
2. Dakota (1945) (production assistant) (uncredited)
Actor
1. Paris Underground (1945) (as Andrew McLaglen) .... Sgt. McNair
... aka Madame Pimpernel (UK)
2. Since You Went Away (1944) (uncredited) .... Former Plowboy
Production Manager
1. Hondo (1953) (unit production manager)
Himself
1. The Quiet Man: The Joy of Ireland (2002) (V) .... Himself
2. The Making of 'The Quiet Man' (1992) (V) .... Himself
Notable TV Guest Appearances
1. "This Is Your Life" playing "Himself" in episode: "Ken Curtis" 1 March 1972
2. "This Is Your Life" playing "Himself" in episode: "Victor McLaglen" 28 October 1953