THE UNDEFEATED
DIRECTED BY ANDREW McLAGLEN
PRODUCED BY ROBERT L. JACKS
MUSIC BY HUGO MONTENEGRO
20th. CENTURY FOX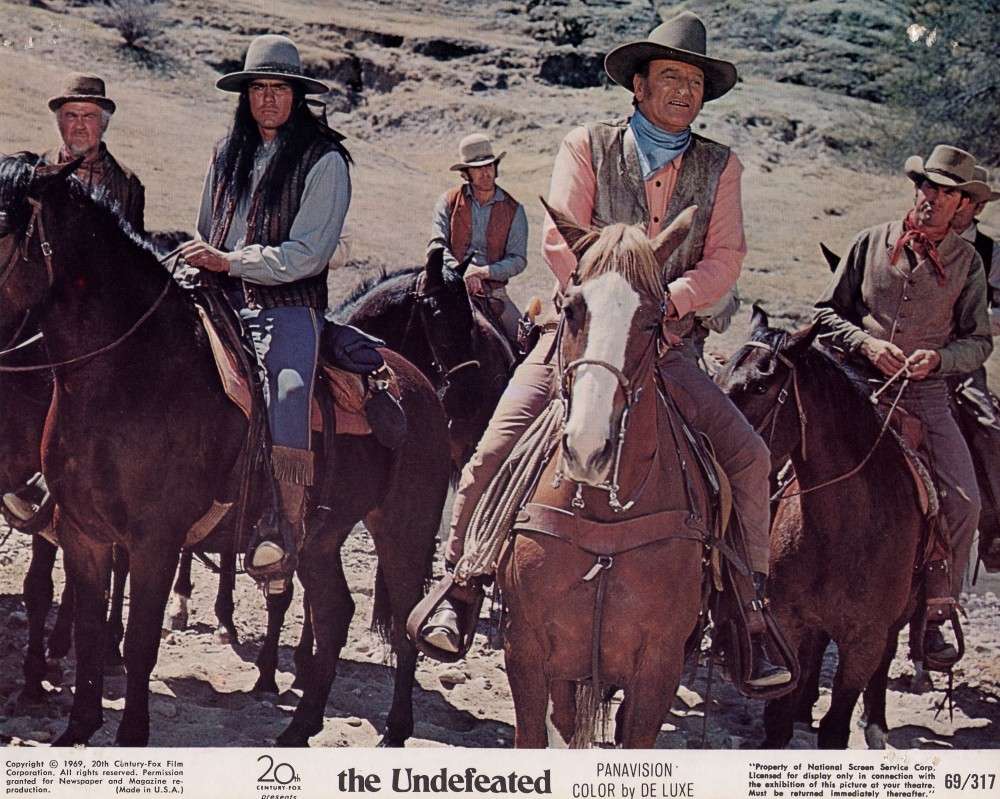 Photo with the courtesy of lasbugas

INFORMATION FROM IMDb
Plot Summary
After the Civil War, ex-Union Colonel John Henry Thomas and ex-Confederate Colonel James Langdon are leading two disparate groups of people through strife-torn Mexico. John Henry and company are bringing horses to the unpopular Mexican government for $35 a head while Langdon is leading a contingent of displaced southerners, who are looking for a new life in Mexico after losing their property to carpetbaggers. The two men are eventually forced to mend their differences in order to fight off both bandits and revolutionaries, as they try to lead their friends and kin to safety.
Full Cast
John Wayne .... Col. John Henry Thomas
Rock Hudson .... Col. James Langdon
Antonio Aguilar .... Juarista Gen. Rojas
Roman Gabriel .... Blue Boy (John Henry's Cherokee Indian adopted son)
Marian McCargo .... Ann Langdon
Lee Meriwether .... Margaret Langdon
Merlin Olsen .... Cpl. Little George, CSA
Melissa Newman .... Charlotte Langdon
Bruce Cabot .... Sgt. Jeff Newby CSA
Jan-Michael Vincent .... Lt. Bubba Wilkes CSA (as Michael Vincent)
Ben Johnson .... Short Grub
Edward Faulkner .... Capt. Anderson, CSA (Col. Langdon's aide)
Harry Carey Jr. .... Soloman Webster (Thomas rider)
Paul Fix .... Gen. Joe Masters
Royal Dano .... Maj. Sanders, CSA (one-armed major)
Richard Mulligan .... Dan Morse
Carlos Rivas .... Diaz
John Agar .... Christian
Guy Raymond .... D.J. Giles (government purchasing agent)
Don Collier .... Goodyear (Thomas rider)
Big John Hamilton .... July Mudlow (cowardly Langdon party member)
Dub Taylor .... McCartney (Thomas outfit cook)
Henry Beckman .... Thad Benedict (carpetbagger who tries to buy Langdon plantation)
Víctor Junco .... Maj. Tapia
Robert Donner .... Judd Mailer
Pedro Armendáriz Jr. .... Escalante
James Dobson .... Cpl. Jamison, CSA
Rudy Diaz .... Sanchez
Richard Angarola .... Mr. Petain (Maximilian's representative)
James McEachin .... Jimmy Collins (black carpetbagger with Benedict)
Gregg Palmer .... Ezra Parker (government purchasing agent)
Juan García .... Col. Gomez
Kiel Martin .... Union corporal who brings message that the war is over
Bob Gravage .... Bobby Jo Hicks (Thomas rider)
Hal Needham .... Yankee corporal at river crossing (uncredited)
Chuck Roberson .... Yankee sergeant at river (uncredited)
Writing Credits
James Lee Barrett
Stanley Hough story (as Stanley L. Hough)
Lewis B. Patten novel (uncredited)
Cinematography
William H. Clothier
Stunts
Hal Needham .... stunt coordinator
Denny Arnold .... stunts (uncredited)
Stan Barrett .... stunts (uncredited)
Dick Bullock .... stunts (uncredited)
Jim Burk .... stunts (uncredited)
William H. Burton .... stunts (uncredited)
Tap Canutt .... stunts (uncredited)
Roydon Clark .... stunts (uncredited)
Bill Couch .... stunts (uncredited)
Chuck Couch .... stunts (uncredited)
Jerry Gatlin .... stunts (uncredited)
Alan Gibbs .... stunts (uncredited)
Mickey Gilbert .... stunts (uncredited)
Kent Hays .... stunts (uncredited)
John Hudkins .... stunts (uncredited)
Gary McLarty .... stunts (uncredited)
Hal Needham .... stunts (uncredited)
Paul Nuckles .... stunts (uncredited)
Bob Orrison .... stunts (uncredited)
Gil Perkins .... stunts (uncredited)
Chuck Roberson .... stunts (uncredited)
J.N. Roberts .... stunts (uncredited)
George Robotham .... stunts (uncredited)
Wally Rose .... stunts (uncredited)
Danny Sands .... stunts (uncredited)
Fred M. Waugh .... stunts (uncredited)
Walter Wyatt .... stunts (uncredited)
Dick Ziker .... stunts (uncredited)
Trivia
During filming John Wayne fell from his horse and fractured three ribs. He couldn't work for almost two weeks. Then he tore a ligament in his shoulder and couldn't use one arm at all. The director, Andrew V. McLaglen, could only film him from an angle for the rest of the picture. His only concern throughout was not to disappoint his fans, despite being in terrible pain.
According to director Andrew V. McLaglen, his first choice for the role of Colonel James Langdon was James Arness, who was willing to do it but backed out just before shooting began. Rock Hudson was brought in as his replacement.
Rock Hudson admitted in a 1980 interview that he thought the movie was "crap", and attributed its box office success only to the fact that it immediately followed True Grit (1969). However, he had fond memories of the filming because he became a close friend of John Wayne and Roman Gabriel.
Before filming began, John Wayne had to lose most of the weight he had put on in order to play Rooster Cogburn in True Grit (1969).
Despite his numerous anti-gay remarks in interviews over the years, John Wayne co-starred with Rock Hudson in The Undefeated (1969), even though he knew of the actor's homosexuality. In this Civil War epic, the champion of right-wing political conservatism worked well with and even became good friends with Hudson, Hollywood's gayest (although it wasn't publicly known at the time) leading man.
Film debut of Merlin Olsen.
Goofs
* Crew or equipment visible: During the opening titles, as refugees file past the camera, its shadow is visible during the whole shot.
* Anachronisms: At the end of the film, as everyone rides slowly toward the camera, a red pickup truck enters from the right and casually drives alongside the river in the background.
* Anachronisms: The cavalry uniforms are Indian Wars vintage, not Civil War uniforms.
* Anachronisms: After the Civil War (1861-65) when the cowboys are around the campfire, Webster talks of sending a letter and that it could go Pony Express. The Pony Express dissolved in October of 1861. It also did not go into South Texas where the cowboys apparently where traveling.
* Anachronisms: In the opening scene, Union soldiers are marching past the screen carrying a flag with 48 stars on it. During the Civil War the Union flag only had either 34 or 35 stars.
* Anachronisms: The movie is set in 1865. The Confederates are using 1873 Springfield Trapdoor rifles, The Mexican bandit leader is using a 1873 Trapdoor Carbine, John Wayne is using his 1873 Colt Peacemaker and an 1892 Winchester 30-30 rifle.
* Factual errors: Looking closely, you can see the rifle of the tenth member of the firing squad. Also you can plainly see his shadow on the ground at a 10 o' clock position. There are several other shots that confirm the number.
* Anachronisms: At the end of the last close up shot of John Wayne in the movie, a green pickup truck can be seen entering the frame in the background on the opposite side of the river.
* Factual errors: When Mrs. Langdon wants to break up the brawl that broke out in the Fourth of July celebration, she grabs a rifle and fires three shots into the air in quick succession. The rifle she used was a single-shot carbine, which requires that the shooter manually eject the shell and reload between each shot. It would have been impossible to fire three shots as quickly as she did without ejecting and reloading.
* Revealing mistakes: When Colonel Langdon leaves to go ask John Henry to give up his horses to save the Colonels men, he leaves and the sun is still up. He is shown riding at a full gallop at sunset and arrives at John Henry's camp sometime around daybreak. John Henry and his men take the herd back at a walk and still arrive just before noon, covering the same amount of ground at a walk in less than 6 hours, that the Colonel travelled all night to cover.
Filming Locations
Baton Rouge, Louisiana, USA
(Horse stampede)
Durango, Mexico