THE COWBOYS
DIRECTED BY MARK RYDELL
PRODUCED BY MARK RYDELL /TIM ZINNERMAN
MUSIC BY JOHN WILLIAMS
UNIVERSAL PICTURES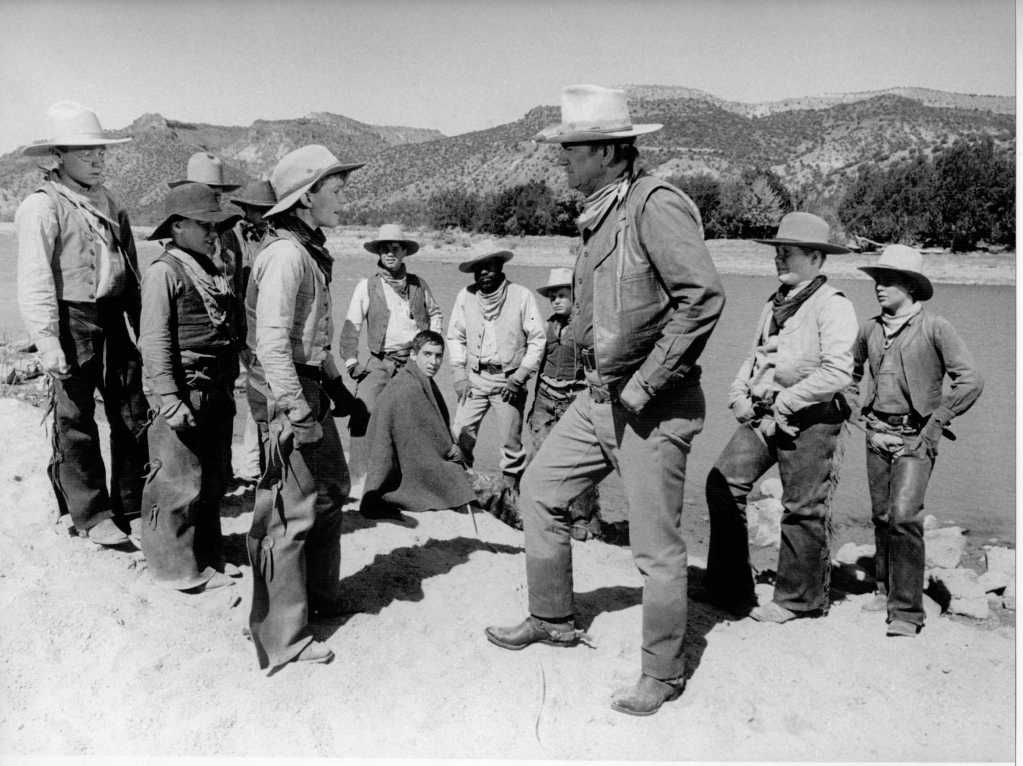 Photo with the courtesy of Gorch
INFORMATION FROM IMDb

Plot Summary
When his cattle drivers abandon him for the gold fields, rancher Wil Andersen is forced to take on a collection of young boys
as his drivers in order to get his herd to market in time to avoid financial disaster.
The boys learn to do a man's job under Andersen's tutelage, however, neither Andersen nor the boys know that a gang of cattle thieves is stalking them.
Summary written by Jim Beaver
Full Cast
John Wayne .... Wil Andersen
Roscoe Lee Browne .... Jedediah Nightlinger
Bruce Dern .... Asa Watts (segment "Long Hair")
Colleen Dewhurst .... Mrs. Kate Collingwood
Alfred Barker Jr. .... Clyde 'Singing Fats' Potter
Nicolas Beauvy .... Dan/Four Eyes
Steve Benedict .... Steve
Robert Carradine .... Charles 'Slim' Honeycutt
Norman Howell .... Cowboy #1 (Weedy) (as Norman Howell Jr.)
Stephen R. Hudis .... Charlie Schwartz (as Stephen Hudis)
Sean Kelly .... Stuttering Bob Wilson
A Martinez .... Cimarron
Clay O'Brien .... Hardy Fimps
Sam O'Brien .... Jimmy Phillips
Mike Pyeatt .... Homer Weems
Slim Pickens .... Anse Petersen
Lonny Chapman .... Preacher
Charles Tyner .... Mr. Jenkins
Sarah Cunningham .... Annie Andersen
Allyn Ann McLerie .... Ellen Price
Maggie Costain .... Phoebe
Matt Clark .... Smiley
Jerry Gatlin .... Howard
Walter Scott .... Okay
Richard Farnsworth .... Henry Williams
Wallace Brooks .... Red Tucker
Charise Cullin .... Elizabeth
Collette Poeppel .... Rosemary
Norman Howell Sr. .... Jim's father
Rita Hudis .... Charlie's mother
Margaret Kelly .... Stuttering Bob's mother
Larry Randles .... Ben
Larry Finley .... Jake
Jim Burk .... Pete
Fred Brookfield .... Rustler
Tap Canutt .... Rustler
Chuck Courtney .... Rustler
Gary Epper .... Rustler
Tony Epper .... Rustler
Kent Hays .... Rustler
J.R. Randall .... Rustler
Henry Wills .... Rustler
Joe Yrigoyen .... Rustler
Writing Credits
William Dale Jennings (novel)
Irving Ravetch (screenplay) &
Harriet Frank Jr. (screenplay) and
William Dale Jennings (screenplay)
Original Music
John Williams
Cinematography
Robert Surtees (director of photography)
Stunts
Floyd Baze .... stunt double (uncredited)
Fred Brookfield .... stunts (uncredited)
Jim Burk .... stunts (uncredited)
Tap Canutt .... stunts (uncredited)
Bill Catching .... stunts (uncredited)
Chuck Courtney .... stunts (uncredited)
Gary Epper .... stunts (uncredited)
Tony Epper .... stunts (uncredited)
Jerry Gatlin .... stunts (uncredited)
Kent Hays .... stunts (uncredited)
Robert 'Buzz' Henry .... stunts (uncredited)
Walt La Rue .... stunts (uncredited)
Glenn Randall Jr. .... stunts (uncredited)
J.R. Randall .... stunts (uncredited)
Larry Randles .... stunts (uncredited)
Chuck Roberson .... stunt double: John Wayne (uncredited)
Chuck Roberson .... stunts (uncredited)
Walter Scott .... stunts (uncredited)
Casey Tibbs .... stunts (uncredited)
Buddy Van Horn .... stunts (uncredited)
Henry Wills .... stunts (uncredited)
Walter Wyatt .... stunts (uncredited)
Joe Yrigoyen .... stunts (uncredited)
Trivia
Mark Rydell originally sought George C. Scott for the role of Wil Andersen because he despised John Wayne's views on the Vietnam War and other aspects of U.S. foreign policy. Ironically, some critics in 1972 believed that the way in which Wayne's character drafts the children out of school was a pro-war allegory for Vietnam.
John Wayne actually pleaded with the director Mark Rydell to allow him to play Wil Anderson.
Roscoe Lee Browne was urged by his friends not to work with the right-wing John Wayne. He ignored them and the two actors refrained from discussing politics during filming.
Richard Farnsworth plays a member of Asa Watts's gang, one of the first roles in which his face is actually seen on screen. Farnsworth had been a stuntman and extra since the 1930s.
The film debut of Robert Carradine.
The poem read in the school, starting 'Hail to thee blithe spirit/ Bird thou never wert/ ...', is 'To A Skylark' by Percy Bysshe Shelley
SPOILER: Shortly after the film's release, Bruce Dern received death threats for his character killing John Wayne by shooting him in the back.
SPOILER: When John Wayne informed Bruce Dern that Dern's character would shoot Wayne's, he told Dern that audiences would hate him for it. Dern responded by saying, "Yeah, but they'll sure love me in Berkeley."
Goofs
* Revealing mistakes: After burying Charlie Schwartz, he walks by in the next scene on his horse while Cimmaron and Mr. Anderson talk.
* Factual errors: On the DVD special features, images of Sarah Cunningham (as Annie Anderson) are used in the "Cast & Crew" information for Colleen Dewhurst.
* Revealing mistakes: When Mr. Anderson is tying up Crazy Alice for the cowboys to ride, the horse changes from a dark-maned horse to one with a lighter brown mane.
* Revealing mistakes: When Mr. Anderson is branding the calf during roundup, he only touches the iron to the calf once even though the brand on other livestock clearly shows two distinct O's. Before he brands the calf, one can clearly see that the iron is a single O.
* Revealing mistakes: It appears that the Double O ranch has two different brands. During roundup and later in the film, the cattle wear a brand of two distinct O's separated by about 12 inches. In the scene before they start the drive, one of the horses appears to have a brand consisting of two Os connected horizontally. This brand should be the same as the brand the cattle wear. In addition, the connected Os might be called a lazy 8.
* Continuity: In the scene where Anderson sends one of the boys back to find Mr. Nightlinger, Anderson is riding a pale Appaloosa. He rides ahead to talk to another boy, but is now riding a red sorrel.
* Continuity: In the schoolroom, John Wayne wipes the blackboard with his right jacket sleeve. When he leaves the schoolroom, there is no chalk on his sleeve.
* Plot holes: When Mr. Andersen is in the school, he puts a mark for Belle Fouche, SD on the board. He states his ranch is here, 400 miles away, and he draws a line headed NW of Belle Fouche. This would place him about Lewistown, MT. It is doubtful that Mr. Andersen would travel 400 miles to Belle Fouche, when Bozeman and Billings are both much closer, and in dire need of beef. The first big herd of cattle didn't come to MT until after the war (1866) so there was no way that they would have taken them east to send them further east.
Filming Locations
Bonanza Creek Ranch - 15 Bonanza Creek Lane, Santa Fe, New Mexico, USA
Buckskin Joe Frontier Town & Railway - 1193 Fremont County Road 3A, Canon City, Colorado, USA
Castle Rock, Colorado, USA
Chama, New Mexico, USA
Eaves Movie Ranch - 105 Rancho Alegre Road, Santa Fe, New Mexico, USA
Galisteo, New Mexico, USA
Laramie Street, Warner Brothers Burbank Studios - 4000 Warner Boulevard, Burbank, California, USA
Pagosa Springs, Colorado, USA
San Cristobal Ranch - 90 San Cristobal Ranch Road, Lamy, New Mexico, USA
Stages 12,18 & 19 Warner Brothers Burbank Studios - 4000 Warner Boulevard, Burbank, California
Watch this Trailer
[extendedmedia]
[/extendedmedia]