DIRECTED BY ROBERT NORTH BRADBURY
PRODUCED BY PAUL MALVERN
LONE STAR PRODUCTIONS
MONOGRAM PICTURES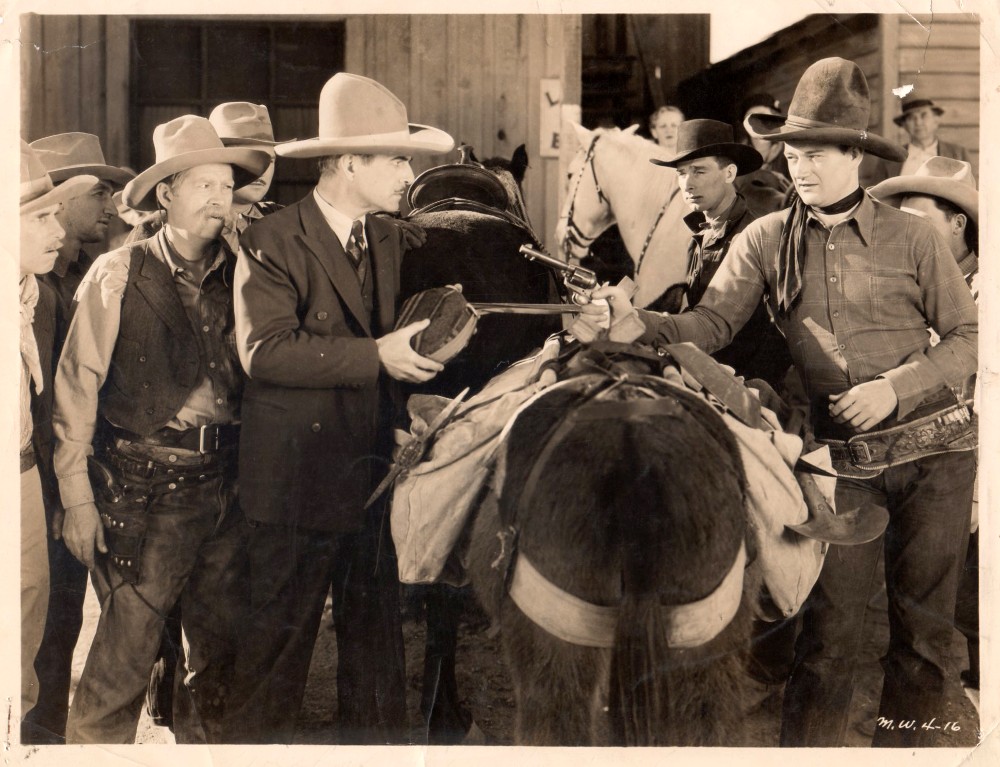 Photo with the courtesy of lasbugas

INFORMATION FROM IMDb
Plot Summary
Jerry Mason (John Wayne),graduates from college and goes out west, compling with his dying father's last wishes, to live with his father's old partner in the cattle business, Jake Benson(George Hayes.) Jerry finds Jake penniless, his cattle stolen by rustlers, with but one thing to live for, his grand-daughter, Betty (Barbara Sheldon),whom Jake is sending to college. Jerry and Jake open a blacksmith shop in the neighboring town and through a stroke of good luck, a piece of quartz-bearing-gold is removed from the hoof of one of the horses brought in. They find the mine and are successful, but when Jake sells some gold and after depositing the money he is arrested for the attempted murder of banker Williams(Gordon DeMain.)Betty arrives to live with Jake, but before she learns of his whereabouts, Jerry locates the guilty party and Jake is freed. Unwittingly, Jakes signs away his ranch to the man, Harris(Lloyd Whitlock), to whom he is selling his gold and when he refuses to tell the location of the gold mine, he is shot and left to die in the desert. Jerry finds Jake, rescues him and hides him, but Jerry is arrested for the murder of the missing Jake.In order to trap Harris and his men, Jerry says nothing about Jake being alive, as he and Jake have a plan in mind to be sprung at Jerry's trial.
Summary written by Les Adams
Writing Credits
Robert N. Bradbury (story)(screenplay)
Full Cast
John Wayne .... Jerry Mason
Barbara Sheldon .... Betty Benson
Lloyd Whitlock .... Harris
George 'Gabby' Hayes .... Jake 'Grandy' Benson (as George Hayes)
Yakima Canutt .... Joe Cole
Eddie Parker .... Al Miller (sheriff's son) (as Ed Parker)
Gordon De Main .... Banker Williams (as Gordon Demaine)
Earl Dwire .... Sheriff Miller
Tommy Coats .... Henchman (uncredited)
Phil Dunham .... Judge McGill (uncredited)
John Ince .... Townsman (uncredited)
Julie Kingdon .... Young girl (uncredited)
George Morrell .... Townsman (uncredited)
Artie Ortego .... Deputy (uncredited)
Tex Palmer .... Townsman (uncredited)
Tex Phelps .... Prospector (uncredited)
Jack Rockwell ... Townsman (uncredited)
Hal Taliaferro ... Henchman (uncredited)
Cinematography
Archie Stout
Stunts
Yakima Canutt .... stunt double: John Wayne (uncredited)
Tommy Coats .... stunt double (uncredited)
Trivia
In October of 1996 when a fire broke out on a late Saturday afternoon
in the New York studios of WNBC-TV, a station staffer quickly put a cassette
of "Lucky Texan" in the tape player on his way out of the building.
The film played on Ch. 4 uninterrupted twice, much to the confusion of viewers.
Filming Locations
Kernville, California, USA
Trem Carr Ranch, Newhall, California, USA
Watch the Full Movie