HAUNTED GOLD
DIRECTED BY MACK V. WRIGHT
PRODUCED BY LEONARD SCHLESINGER/ SID ROGELL
WARNER BROS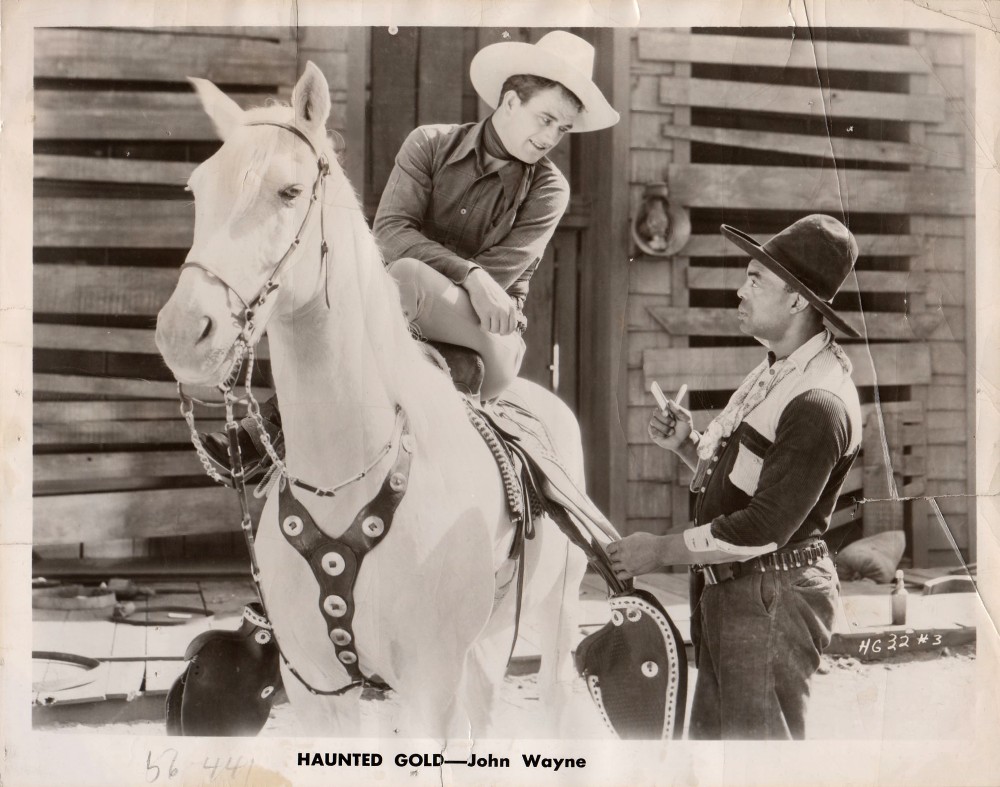 Photo with the courtesy of lasbugas

INFORMATION FROM IMDb
Plot Summary
John Mason returns to the Sally Ann mine to claim his half share.
Janet Cater also returns although her father lost his half share to Joe Ryan.
Ryan and his gang are also there to get the gold.
A mysterious Phantom is also present.
Mason's plan to expose Ryan as an outlaw and to force him
to turn his share to Janet works.
But when distracted by the Phantom, John is made a prisoner by the gang.
Summary written by Maurice VanAuken
Full Cast
John Wayne .... John Mason
Sheila Terry .... Janet Carter
Harry Woods .... Joe Ryan
Erville Alderson .... Tom Benedict
Otto Hoffman .... Simon, Benedict's Servant
Martha Mattox .... Mrs. Herman
Blue Washington .... Clarence Washington Brown
Duke the Horse .... Duke, John's Horse (as Duke the Miracle Horse)
Tom Bay .... Tom (uncredited)
Bob Burns .... Bob (uncredited)
Ben Corbett .... Henchman Ben (uncredited)
Jim Corey .... Henchman Ed (uncredited)
Charles Le Moyne .... Cowhand (uncredited)
Ken Maynard .... (archive footage) (uncredited)
Bud Osborne .... Henchman Bud (uncredited)
Tarzan .... (archive footage) (uncredited)
Blackjack Ward .... Henchman (uncredited)
Slim Whitaker .... Henchman Slim (uncredited)
Mack V. Wright .... Henchman Mack (uncredited)
Writing Credits
Adele S. Buffington story and continuity
Cinematography
Nicholas Musuraca
Trivia
* The statue of the Maltese Falcon, later used in the Humphrey Bogart classic The Maltese Falcon (1941)
can be seen in a scene where the film's heroine Sheila Terry is playing the organ.
* Warner Bros. salvaged long shots of silent Ken Maynard films and used them in this film. Thus, many of the long shots of John Wayne are actually shots of Maynard from earlier films.
Filming Locations
Iverson Ranch, Chatsworth, Los Angeles, California, USA
Lasky Mesa, West Hills, Los Angeles, California, USA
Sonora, California, USA
Warner Ranch, Calabasas, California, USA
Yuma, Arizona, USA

Watch the Movie

Haunted Gold