WEST OF THE DIVIDE
DIRECTED AND WRITTEN BY ROBERT NORTH BRADBURY
PRODUCED BY PAUL MALVERN
LONE STAR PRODUCTIONS
MONOGRAM PICTURES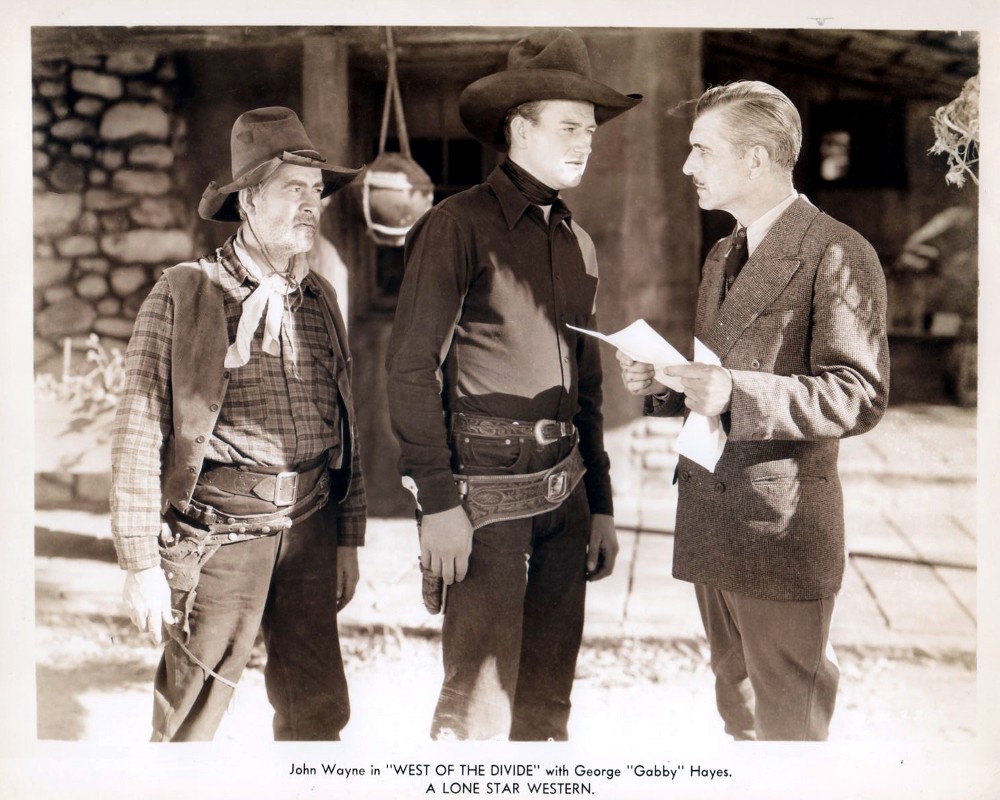 Photo with the courtesy of lasbugas

INFORMATION FROM IMDb
Plot Summary
Ted Hayden impersonates a wanted man and joins Gentry's gang only to learn later that Gentry was the one who killed his father. He saves Virginia Winters' dad's ranch from Gentry and also rescues his long-lost brother Spud.
Summary written by Ed Stephan
Full Cast
John Wayne .... Ted Hayden, posing as Gat Ganns
Virginia Brown Faire .... Fay Winters (as Virginia Faire Brown)
George 'Gabby' Hayes .... 'Dusty' Rhodes (as George Hayes)
Lloyd Whitlock .... Mr. Gentry (as Loyd Whitlock)
Yakima Canutt .... Hank (Gentry Henchman)
Lafe McKee .... Mr. Winters
Billy O'Brien .... Spuds (later Jim Hayden) (as Billie O'Brien)
Dick Dickinson .... Henchman Joe
Earl Dwire .... Sheriff
Horace B. Carpenter .... Cattle Buyer Hornsby (uncredited)
Artie Ortego .... Henchman (uncredited)
Tex Palmer .... Henchman (uncredited)
Hal Price .... Doctor Silsby (uncredited)
Archie Ricks .... Henchman (uncredited)
Wally Wales .... Henchman (uncredited)
Blackie Whiteford .... Henchman Butch (uncredited)
Writing Credits
Robert N. Bradbury story and screenplay
Oliver Drake story (uncredited)
Cinematography
Archie Stout
Stunts
Yakima Canutt .... stunt double: John Wayne (uncredited)
Jack Jones .... stunts (uncredited)
Eddie Parker .... stunts (uncredited)
Goofs
* Errors made by characters (possibly deliberate errors by the filmmakers): During a fight between Ted Hayden and Butch, Spuds shouts, "Come on, Ted!" Actually, Ted has been introduced to him and all others at the gangsters' hide-out as Gat Ganns. His real identity is in fact revealed later.
* Continuity: When Ted Hayden first introduces himself to Gentry, the shadow on his shirt changes depending upon the camera angle.
* Continuity: When Gentry introduces 'Gat Ganns' to the boys, his arms are by his side and his hands are empty. The next shot shows him with arms folded and holding a cigarette. When he instructs the boys to show Gat and Rusty to the sleeping quarters the cigarette has disappeared.
* Continuity: When the dog spooks the team that Spud is driving, there are fences and buildings in the background. However the close shots of Spud show open fields behind him.
Filming Location
Kernville, California, USA
Watch the Full Movie:-