THE STAR PACKER
DIRECTED BY ROBERT NORTH BRADBURY
PRODUCED BY PAIL MALVERN
LONE STAR PRODUCTIONS
MONOGRAM PICTURES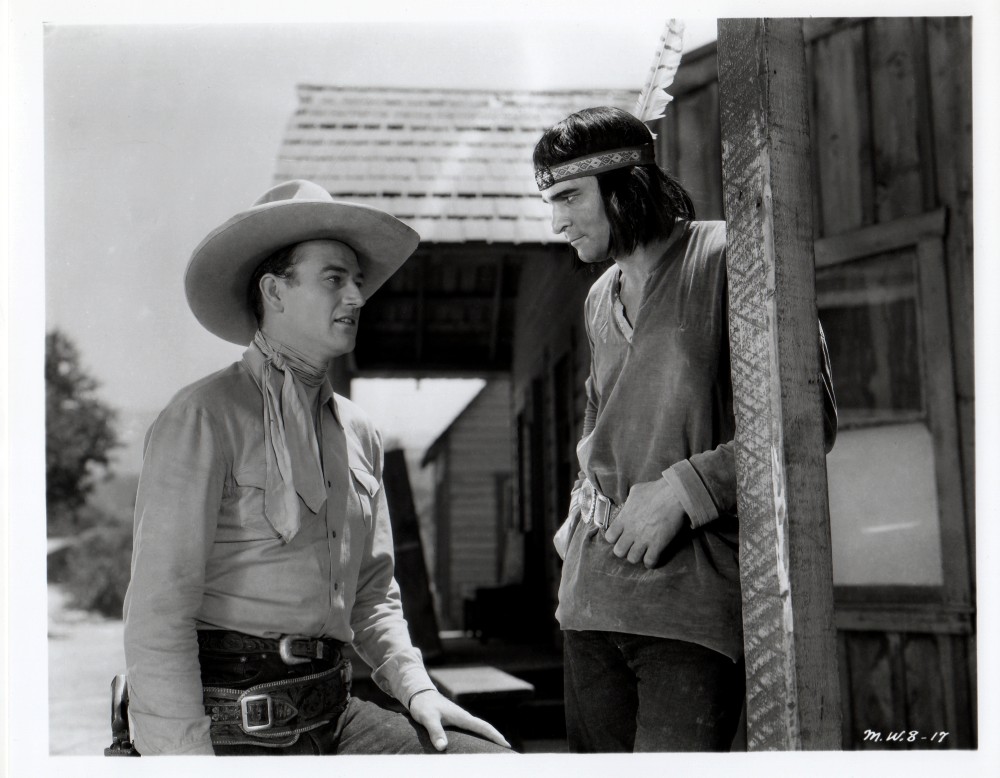 Photo with the courtesy of lasbugas

INFORMATION FROM IMDb
Plot Summary
John Travers and his Indian companion Yak are after the mysterious Shadow and his gang. When Sheriff Davis is killed, Travers becomes Sheriff. Catching two gang members, he learns of the room where the gang gets their orders from behind a fake wall safe and makes plans to trap the Shadow.
Summary written by Maurice VanAuken
Full Cast
John Wayne .... U.S. Marshal John Travers
Verna Hillie .... Anita Matlock, Matt Matlock's Niece
George 'Gabby' Hayes .... Matt Matlock (as George Hayes)
Yakima Canutt .... Yak, Travers' Indian Sidekick
Earl Dwire .... Henchman Mason
Eddie Parker .... Henchman Parker (as Ed Parker)
George Cleveland .... Jake, the Cook
Thomas G. Lingham .... Sheriff Al Davis (as Tom Lingham)
Artie Ortego .... Henchman Pat (as Arthur Ortego)
Davie Aldrich .... Young Boy
Frank Ball .... Townsman (uncredited)
Billy Franey .... Henchman Sniper in Tree Stump (uncredited)
Arthur Millett .... Townsman (uncredited)
Tex Palmer .... Joe, Stagecoach Driver (uncredited)
Glenn Strange .... Henchman (uncredited)

Writing Credits
Robert N. Bradbury (story and screenplay)
Cinematography
Archie Stout
Stunts
Yakima Canutt .... stunts (uncredited)
Eddie Parker .... stunts (uncredited)
Trivia
The Matlock ranch-house is the same house as Juanita's house in The Desert Trail (1935) and as Malgrove's house in Blue Steel (1934)
Goofs
* Continuity: When Travers is recovering the saddle bags, he is followed by two men. They observe him from a distance under the shade of a tree, but in the close shot they are in full sun.
* Continuity: Travers rides from town to recover the saddlebags riding a grey horse, and swaps horses with Yak for a bay or chestnut one. Yet the two men who follow him make no comment about this obvious change.
* Continuity: When Travers is at the Matlock ranch on his initial visit, the tails on his neckerchief vary in position between shots.
* Continuity: There are at least three chase sequences where the close shots show a different background to the long shots - Anita leaving the ranch, Travers and Yak pursuing the wagon with Anita and Matlock, and when Travers pursues the man who tried to ambush him as he left the Matlock ranch.
* Continuity: When Travers jumps into the river to rescue Anita, it is at a noticeably different point to where the wagon went in.
* Continuity: The countryside changes markedly in shots when the wagon goes into the river. The wagon is seen on a flat road in a valley and then the next shot shows it on a road on a steep hill beside a river.
* Continuity: Matlock clambers out of the river completely drenched but his clothes are dry when he steals the canoe. Similarly Travers' clothes are completely dry when he captures Matlock.
* Plot holes: Despite the title "The Star Packer", Travers never wears a badge at any time in the film.
Filming Locations
General Service Studios - 1040 N. Las Palmas, Hollywood, Los Angeles, California, USA
(studio)
Kernville, California, USA
Newhall, California, USA
Watch the Full Movie:-