THE FIGHTING KENTUCKIAN
DIRECTED and WRITTEN BY GEORGE WAGGNER
PRODUCED BY JOHN WAYNE
REPUBLIC PICTURES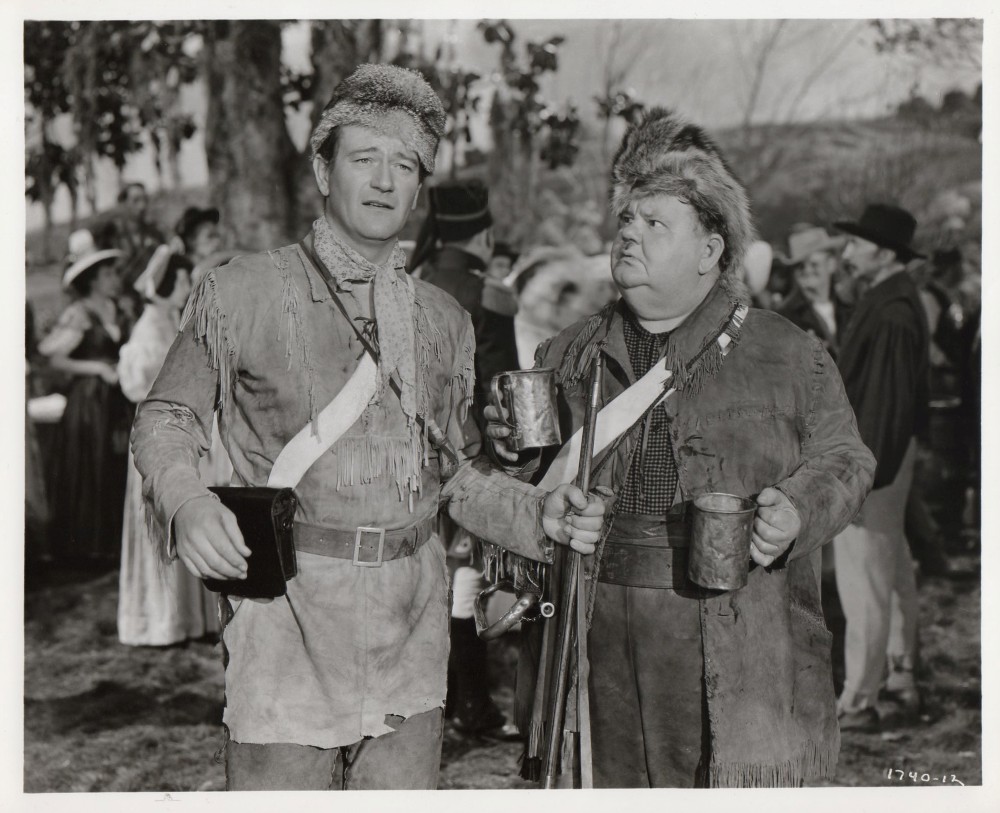 Photo with the courtesy of lasbugas

INFORMATION FROM IMDb
Plot Summary
In Alabama in 1818, Kentucky militiaman John Breen falls in love with a French exile
and discovers a plot to steal the land her fellow exiles plan to settle on.
Summary written by Jim Beaver
Full Cast
John Wayne .... John Breen
Vera Ralston .... Fleurette De Marchand
Philip Dorn .... Col. Georges Geraud
Oliver Hardy .... Willie Paine
Marie Windsor .... Ann Logan
John Howard .... Blake Randolph
Hugo Haas .... Gen. Paul De Marchand
Grant Withers .... George Hayden
Odette Myrtil .... Madame De Marchand
Paul Fix .... Beau Merritt
Mae Marsh .... Sister Hattie
Jack Pennick .... Capt. Dan Carroll
Mickey Simpson .... Jacques (wrestler/Marie's father)
Fred Graham .... Carter Ward
Mabelle Koenig .... Marie
Shy Waggner .... Friend
Crystal White .... Friend
Fred Aldrich .... Townsman (uncredited)
Richard Alexander .... Militiaman at festival (uncredited)
Dave Anderson .... Giles (uncredited)
Charles Andre .... DeMarchand's servant (uncredited)
Hank Bell .... Militiaman at festival (uncredited)
Ralph Bucko .... Buck (uncredited)
Charles Cane .... Knox Brown (head fiddler) (uncredited)
Tex Cooper .... Man leaning against tree (uncredited)
Gino Corrado .... French soldier (uncredited)
Steve Darrell .... Gen. Jackson (uncredited)
Ralph Dunn .... River man (uncredited)
Franklyn Farnum .... DeMarchand party guest (uncredited)
Billy Green .... Bartender (uncredited)
William Hawes .... Bit part (uncredited)
Fred Libby .... Bit part (uncredited)
Cliff Lyons .... Kentuckian driver (uncredited)
Alberto Morin .... Pierre Le Brun (uncredited)
Al Murphy .... Buckskin (uncredited)
Jack O'Shea .... Militiaman (uncredited)
Jack Perry .... Demopolis citizen at festival (uncredited)
Chuck Roberson .... Militiaman (uncredited)
Michael Ross .... Sheriff (uncredited)
David Sharpe .... French soldier with Run (uncredited)
Brick Sullivan .... Militiaman at festival (uncredited)
Tony Travers .... Frenchman (uncredited)
Dale Van Sickel .... Brawler (uncredited)
Blackie Whiteford .... Demopolis citizen at festival (uncredited)
Bud Wolfe .... Militiaman at festival (uncredited)
Hank Worden .... Abner Todd (militiaman announcing wrestling) (uncredited)
Stunts
Jerry Brown .... stunts (uncredited)
Bob Bryant .... stunts (uncredited)
Roydon Clark .... stunts (uncredited)
Fred Graham .... stunts (uncredited)
Chuck Hayward .... stunts (uncredited)
John Hudkins .... stunts (uncredited)
Cliff Lyons .... stunt coordinator (uncredited)
Cliff Lyons .... stunts (uncredited)
Bob Morgan .... stunts (uncredited)
Chuck Roberson .... stunts (uncredited)
David Sharpe .... stunts (uncredited)
Henry Wills .... stunts (uncredited)
Bud Wolfe .... stunts (uncredited)
Original Music
George Antheil
Cinematography
Lee Garmes
Second Unit Director or Assistant Director
Lee Lukather .... assistant director (uncredited)
Robert E. Morrison .... assistant director (uncredited)
Trivia
Although Oliver Hardy was a good friend of John Wayne's,
he initially balked at acting in this movie, for fear that it would make people
think that he and Stan Laurel had broken up as a team.
When Laurel insisted that Hardy take the role, he acquiesced.
John Wayne later blamed the failure of the movie on co-star Vera Ralston.
One of two movies that Oliver Hardy acted in during the 23 year period
he made comedies with his partner Stan Laurel.
Goofs
* Anachronisms: Auto tire tracks visible in dust during wagon and horse chase scene.
* Anachronisms: After Oliver Hardy sits down on and flattens his trumpet making it useless,
the final scene shows him walking away with the rest of the happy group
and a brand new trumpet on his back. Where did he get it?
* Anachronisms: The "2nd Kentucky Regiment" is shown marching in step.
Frontier militia units of that day were rarely trained in formal marching,
being raised in response to a specific, short-term need, and disbanded
as soon as possible to save money.
Also, no unit would march in step unnecessarily, as it was tiring to the men.
* Anachronisms: Willie talks of Kentucky and says
"Ma is baking bread and you can smell it all through the house."
He is referencing an early-to-mid 20th Century stereotype.
At that time of the movie the typical house in Kentucky would have had only one or two rooms
with an exterior kitchen under a lean-to. As almost all work was done outside the house,
the smell in the house would not have been noticed.
* Anachronisms: A number of times the background music uses pieces of "La Marseillaise".
Although associated with revolutionary and modern France, the song was banned by Emperor Napoleon.
* Continuity: At the beginning of the final battle, Fleurette runs out to give a weapon to John Breen.
She brings neither a shot pouch or powder horn.
Breen is also carrying neither of these items.
However, he is somehow able to reload and fire the musket a number of times thereafter.
Filming Location[/U][/B]
CBS Studio Center - 4024 Radford Avenue, Studio City, Los Angeles, California, USA