PITTSBURGH
DIRECTED BY LEWIS SEILER
PRODUCED BY CHARLES K FELDMAN/ ROBERT FELLOWS
CHARLES K FELDMAN PRODUCTIONS
UNIVERSAL PICTURES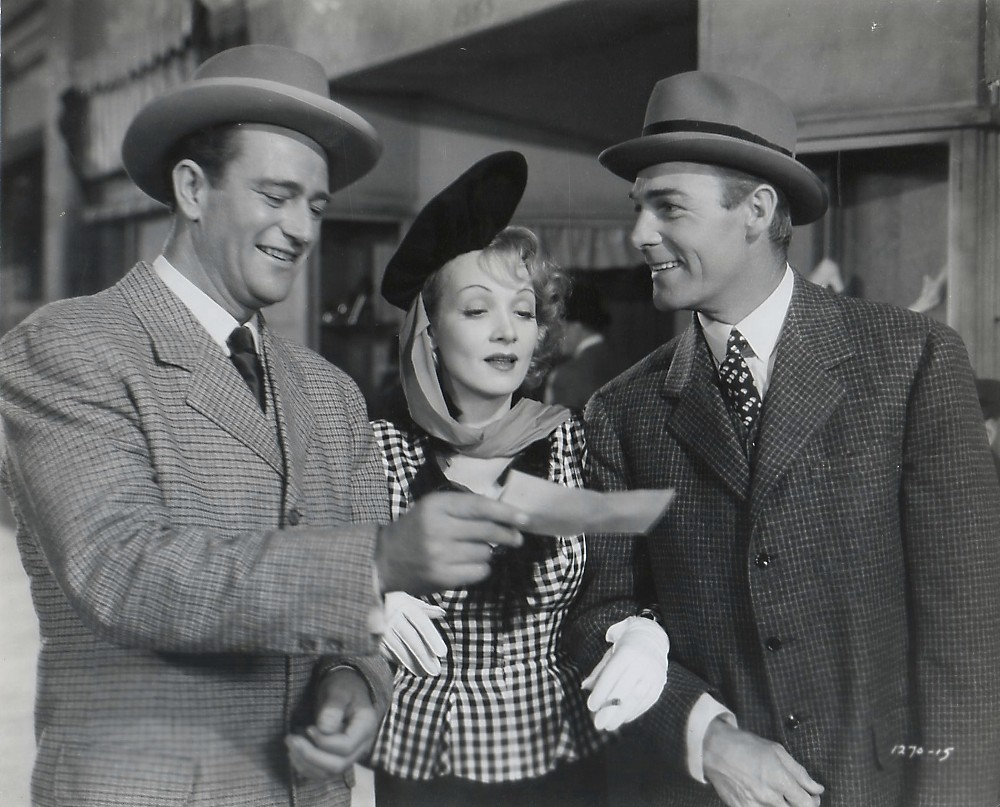 Photo with the courtesy of lasbugas
INFORMATION FROM IMDb
Plot Summary
Charles 'Pittsburgh' Markham rides roughshod over his friends, his lovers,
and his ideals in his trek toward financial success in the Pittsburgh steel industry,
only to find himself deserted and lonely at the top.
When his crash comes, he finds that fate has dealt him a second chance.
Summary written by Jim Beaver
Full Cast
Marlene Dietrich .... Josie 'Hunky' Winters
Randolph Scott .... John 'Cash' Evans
John Wayne .... Charles 'Pittsburgh' Markham/Charles Ellis
Frank Craven .... J.M. 'Doc' Powers
Louise Allbritton .... Shannon Prentiss (Markham)
Shemp Howard .... Shorty (the tailor)
Thomas Gomez .... Joe Malneck (miners union president)
Ludwig Stössel .... Dr. Grazlich (Doc Powers' partner)
Samuel S. Hinds .... Morgan Prestiss (president, Prentiss Steel)
Paul Fix .... Burnside (mine operator)
William Haade .... Johnny (miner)
Charles Coleman .... Mike (Markham's Butler)
Nestor Paiva .... Barney, Cafe Proprietor
Charles Arnt .... Building site laborer (uncredited)
Lois Austin .... Bit (uncredited)
Don Barclay .... Drunk (uncredited)
Robert Barron .... Foreman (uncredited)
Brooks Benedict .... Mr. Cooper, Wedding Guest (uncredited)
Ted Billings .... Miner/Fight Extra (uncredited)
Wade Boteler .... Mine superintendent (uncredited)
Hobart Cavanaugh .... Derelict (uncredited)
Jack Chefe .... Barber (uncredited)
James Conaty .... Wedding Guest (uncredited)
Harry Cording .... Miner (uncredited)
Hal Craig .... Mr. Carney, Accountant (uncredited)
Grace Cunard .... Bit (uncredited)
Sayre Dearing .... Dance Extra (uncredited)
John Dilson .... Wilson, Partner in Colliery (uncredited)
Ed Emerson .... Reporter (uncredited)
Bess Flowers .... Wedding Reception Guest (uncredited)
Douglas Fowley .... Mort Frawley (Josie's escort) (uncredited)
Jack Gardner .... Clerk (uncredited)
Jack Gargan .... Officer at Ceremony (uncredited)
Gus Glassmire .... Chemist (uncredited)
William Gould .... Burns (production manager) (uncredited)
Eddie Hall .... Photographer at war rally (uncredited)
Chuck Hamilton .... Fight Extra (uncredited)
Sam Harris .... Scientist (uncredited)
Winifred Harris .... Bit (uncredited)
Edward Keane .... Headwaiter (uncredited)
Joe Kirk .... Nightclub Extra (uncredited)
Ethan Laidlaw .... Bit (uncredited)
Nolan Leary .... Smith, Accountant (uncredited)
Kay Linaker .... Sdecretary (uncredited)
Frank Marlowe .... Bit (uncredited)
Alphonse Martell .... Carlos (uncredited)
Johnny Marvin .... Jones (uncredited)
Larry McGrath .... Waiter (uncredited)
Mira McKinney .... Tilda (uncredited)
Paul McVey .... Thornton (uncredited)
Irving Mitchell .... Bit (uncredited)
Sandra Morgan .... Bit (uncredited)
Frances Morris .... Secretary (uncredited)
Edmund Mortimer .... Mr. Simons, Wedding Reception Guest (uncredited)
Broderick O'Farrell .... Doorman (uncredited)
Bob Perry .... Referee (uncredited)
Lorin Raker .... Milgraine, Tailor (uncredited)
Cyril Ring .... Mr. Wilcox (uncredited)
William Ruhl .... Stretcher Bearer (uncredited)
Virginia Sale .... Mrs. Higgins (uncredited)
Paul Scott .... Doctor (uncredited)
Harry Seymour .... Vaudeville MC (uncredited)
John Sheehan .... Bill (uncredited)
Charles Sherlock .... Chauffeur (uncredited)
Jack C. Smith .... Officer O'Toole (uncredited)
Sammy Stein .... Killer Kane (prizefighter) (uncredited)
Charles Sullivan .... Miner (uncredited)
Ben Taggart .... Police Sergeant (uncredited)
Ray Walker .... Sutcliffe, Wise-guy reporter (uncredited)
Anthony Warde .... Attendant (uncredited)
Phil Warren .... Party Guest (uncredited)
Writing Credits
Kenneth Gamet screenplay
George Owen story
Tom Reed original story and screenplay
John Twist additional dialogue
Original Music
Hans J. Salter (as H.J. Salter)
Frank Skinner
Cinematography
Robert De Grasse
Trivia
"The Screen Guild Theater" broadcast a 30 minute radio adaptation of the movie on April 12, 1943
with Marlene Dietrich, John Wayne and Randolph Scott reprising their film roles.
Goofs
# Anachronisms: Although the bulk of the picture takes place in the 1920s,
clothes and hair styles are strictly up-to-the-minute 1942, when the picture was made.
Early in the film, when the participants are supposedly racing to a mine disaster
in the Pittsburgh area circa 1920, stock footage
of a chase through downtown Los Angeles circa 1942 is used.
# Boom mic visible: In the scene when Cash promises the workers
they would get what was promised to them, the boom mic is reflected in the
left upper corner of the window behind Cash.
Filming Location
Pittsburgh, Pennsylvania, USA