THE GREATEST STORY EVER TOLD
PRODUCED AND DIRECTED BY GEORGE STEVENS
GEORGE STEVENS PRODUCTIONS
UNITED ARTISTS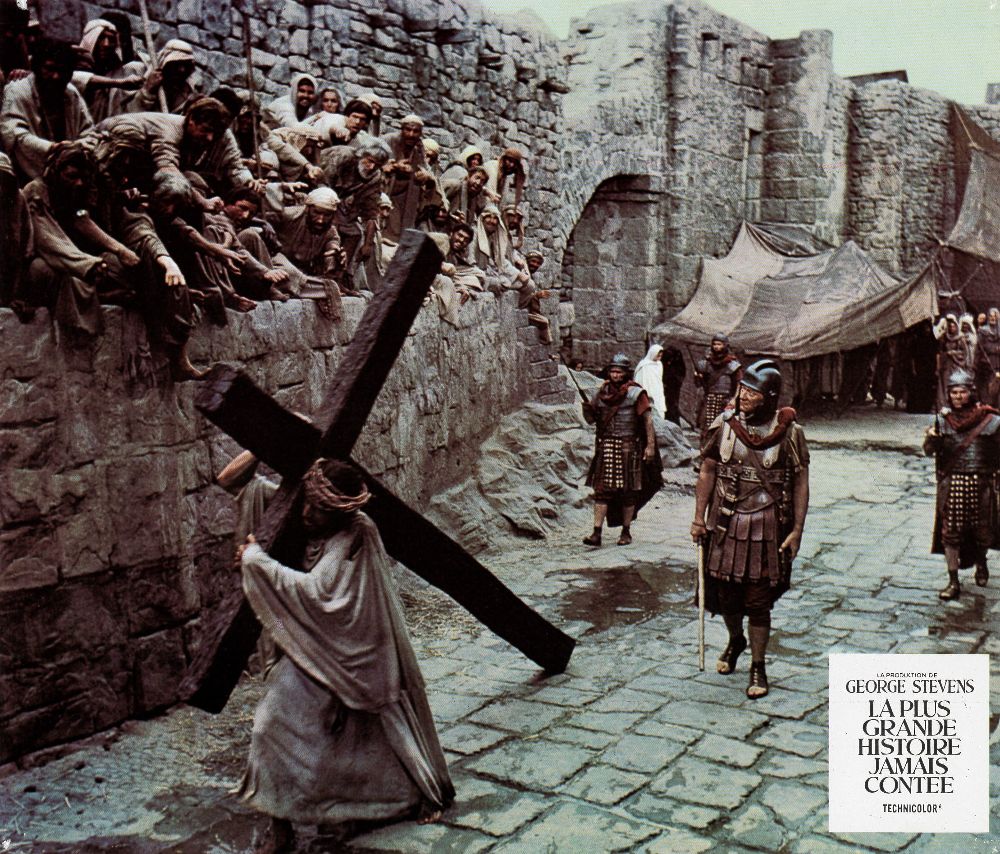 INFORMATION FROM IMDb
Plot Summary
The life of Jesus Christ.
Full Cast
Max von Sydow .... Jesus
Michael Anderson Jr. .... James the Younger
Carroll Baker .... Veronica
Ina Balin .... Martha of Bethany
Pat Boone .... The figure in the tomb
Victor Buono .... Sorak
Richard Conte .... Barabbas
Joanna Dunham .... Mary Magdalene
José Ferrer .... Herod Antipas
Van Heflin .... Bar Amand
Charlton Heston .... John the Baptist
Martin Landau .... Caiaphas
Angela Lansbury .... Claudia
Janet Margolin .... Mary of Bethany
David McCallum .... Judas Iscariot
Roddy McDowall .... Matthew
Dorothy McGuire .... The Virgin Mary
Sal Mineo .... Uriah
Nehemiah Persoff .... Shemiah
Donald Pleasence .... The Dark Hermit - Satan
Sidney Poitier .... Simon of Cyrene
Claude Rains .... King Herod
Gary Raymond .... Peter
Telly Savalas .... Pontius Pilate
Joseph Schildkraut .... Nicodemus
Paul Stewart .... Questor
John Wayne .... Centurion at crucifixion
Shelley Winters .... Woman who is healed
Ed Wynn .... Old Aram
John Abbott .... Aben
Rodolfo Acosta .... Captain of lancers
Michael Ansara .... Herod's commander
Robert Blake .... Simon the Zealot
Burt Brinckerhoff .... Andrew
Robert Busch .... Emissary
John Considine .... John
Philip Coolidge .... Chuza
John Crawford .... Alexander
Frank DeKova .... The tormentor (as Frank de Kova)
Cyril Delevanti .... Melchior
Jamie Farr .... Thaddaeus
David Hedison .... Philip
Russell Johnson .... Scribe
Mark Lenard .... Balthazar
Robert Loggia .... Joseph
John Lupton .... Speaker of Capernaum
Peter Mann .... Nathanael
Tom Reese .... Thomas
Marian Seldes .... Herodias
David Sheiner .... James the Elder
Frank Silvera .... Caspar
Joseph Sirola .... Dumah
Abraham Sofaer .... Joseph of Arimathaea
Harold Stone .... Gen. Varus (as Harold J. Stone)
Chet Stratton .... Theophilus
Michael Tolan .... Lazarus
Ron Whelan .... Annas
Gene Roth
Richard Bakalyan .... Good thief on cross (uncredited)
Nesdon Booth .... (uncredited)
Marc Cavell .... Bad thief on cross (uncredited)
Jay C. Flippen .... Drunken soldier (Herod Antipas' court) (uncredited)
Kay Hammond .... (uncredited)
Dal Jenkins .... Philip (uncredited)
Celia Lovsky .... Woman behind railings (uncredited)
Victor Lundin .... Centurion guard (uncredited)
Dorothy Neumann .... (uncredited)
Gil Perkins .... Jacob of Bethlehem (uncredited)
Joseph V. Perry .... Archelaus (uncredited)
John Pickard .... Peter's accuser #2 (uncredited)
Frank Richards .... (uncredited)
Johnny Seven .... Pilate's aide (uncredited)
Mickey Simpson .... Rabble rouser (uncredited)
Norm Taylor .... Roman Soldier at Crucifixion (uncredited)
Randall Taylor .... Male Baby Extra (uncredited)
Renata Vanni .... Weeping woman (uncredited)
Ronald Walkshorse .... Male Child Extra (uncredited)
Harry Wilson .... (uncredited)
Jimmy Yates .... Herodian Guard (uncredited)
Directed
George Stevens
David Lean (uncredited)
Jean Negulesco (uncredited)
Produced
Frank I. Davis .... executive producer
George Stevens Jr. .... associate producer
George Stevens .... producer
Antonio Vellani .... associate producer
Writing Credits
Fulton Oursler (book)
Henry Denker (source writings)
James Lee Barrett (screenplay) andGeorge Stevens (screenplay)
Carl Sandburg uncredited
Original Music
Alfred Newman
Hugo Friedhofer (uncredited)
Fred Steiner (uncredited)
Cinematography
Loyal Griggs
William C. Mellor
Stunts
Henry Wills .... stunt coordinator
Carol Daniels .... stunts (uncredited)
Johnny Hagner .... stunts (uncredited)
Loren Janes .... stunts (uncredited)
Neil Summers .... stunts (uncredited)
Norm Taylor .... stunts (uncredited)
Bob Terhune .... stunt double: John Wayne (uncredited)
Henry Wills .... stunts (uncredited)
Trivia
Cinematographer William C. Mellor suffered a heart attack, collapsed and died on the set.
Telly Savalas shaved his head bald for his role as Pontius Pilate. He kept his head shaved for the rest of his life.
During filming, the first snowstorm to strike Arizona in decades buried the whole Jerusalem set. Several hundred cast and crew members, including director George Stevens, went out with snow shovels, wheelbarrows, bulldozers, and butane flame throwers to clear the snow from the set. Just as they were done, it snowed again, even harder than before - forcing the production to close and move to Desilu Studios in Hollywood.
Joanna Dunham, who played Mary Magdalene, became pregnant during filming. The director worked around this by shooting her from the chest up as much as possible, making her later scenes markedly unlike the earlier ones.
Director George Stevens originally hired 550 Navajos from a local reservation to be Roman legionnaires, but they couldn't stay on the set for very long and eventually went back home to participate in a tribal election. Stevens replaced them with ROTC cadets.
George Stevens originally wanted Richard Burton to play Jesus.
While between his films Lawrence of Arabia (1962) and Doctor Zhivago (1965), David Lean directed some interior scenes with Claude Rains and José Ferrer as a favor for George Stevens, who was bogged down with the production in Nevada. Jean Negulesco, meanwhile, directed the Nativity scene.
Filming began using 3-strip Cinerama process. After three days of filming with the 3-strip camera, the production switched to 70mm Ultra Panavision 70.
This film was slightly over 30 days in production using the original 3-panel Cinerama process when orders were given to abandon the Cinerama camera in favor of Ultra-Panavision 70; thus ending forever the cumbersome 3-panel Cinerama process in Hollywood. Numerous scenes had to be re-shot in the new single-lens Ultra-Panavision 70 process.
Alec Guinness was sought for a cameo.
Being a perfectionist, George Stevens did many takes of John Wayne's single line, "Truly, this man was the son of God." A rumor has long persisted that at one stage Stevens pleaded with Wayne to show more emotion, an overwhelming sense of awe. During the next take, Wayne changed the line to, "Aw, truly this man was the son of God."
Martin Landau has said in interviews that half of his part was deleted in the editing stage.
During an interview on "The Mike Douglas Show" (1961), Jamie Farr related the story of how he was so desperate for work when he auditioned for the picture that he prayed to St. Jude, the patron saint of hopeless causes, that he would get the job. He was ironically cast as the apostle Thaddeus, an alternate name for St. Jude (possibly used to avoid confusion with Judas Iscariot).
Final film of Claude Rains.
Filming began in 1962 and was completed in 1963, but the movie went unreleased for another two years.
Max von Sydow said that the hardest part about playing Christ was the expectations people had of him to remain in character at all times. He couldn't smoke between takes, have a drink after work, or be affectionate with his wife on the set.
Goofs
* Incorrectly regarded as goofs: As always, differences between the film and its source material are not considered goofs. Nor are historical inaccuracies, especially when connected to heavily debated religious traditions.
* Incorrectly regarded as goofs: SPOILER: In the film Judas Iscariot kills himself by jumping into a fire, but the Gospel accounts of this story say he hung himself. Also, after the Gospels, at the beginning of the Book of Acts, it is reported that Judas also died when he fell and his body split open, perhaps in the act of hanging himself. No where is his death associated with a fire. However, the director certainly was aware of these reports. As in other scenes in the movie, he may have decided to use a theatrical device to suggest something to the audience. Because Hell is popularly linked with fire, the implication may be that Judas sent himself to Hell, as if he literally jumped into it.
Filming Locations
Arches National Park, Moab, Utah, USA
Arizona, USA
California, USA
Canyonlands National Park, Moab, Utah, USA
Crazy Canyon, Page, Arizona, USA
Culver City, California, USA
(studio)
Dead Horse Point State Park - State Highway 313, Moab, Utah, USA
Death Valley National Park, California, USA
Desilu Studios - 9336 W. Washington Blvd., Culver City, California, USA
(studio)
Glen Canyon, Utah, USA
Green River Overlook, Canyonlands National Park, Moab, Utah, USA
(Sermon on the Mount scene)
Illinois, USA
(Holy Land)
Kanab, Utah, USA
Lake Moab, Utah, USA
Lake Powell, Utah, USA
Metro-Goldwyn-Mayer Studios - 10202 W. Washington Blvd., Culver City, California, USA
(studio) (crucifixion)
Moab, Utah, USA
(Bethlehem)
Nevada, USA
Page, Arizona, USA
Pyramid Lake Indian Reservation, Nevada, USA
(Sea of Galilee - Capernaum)
Pyramid Lake, Pyramid Lake Indian Reservation, Nevada, USA
Utah, USA
(southern border: Holy Land)
Watch the Clip
[extendedmedia]
[/extendedmedia]
Here is a link to previous discussion:-