THE OREGON TRAIL
DIRECTED BY SCOTT PEMBROKE
PRODUCED BY TREM CARR
REPUBLIC PICTURES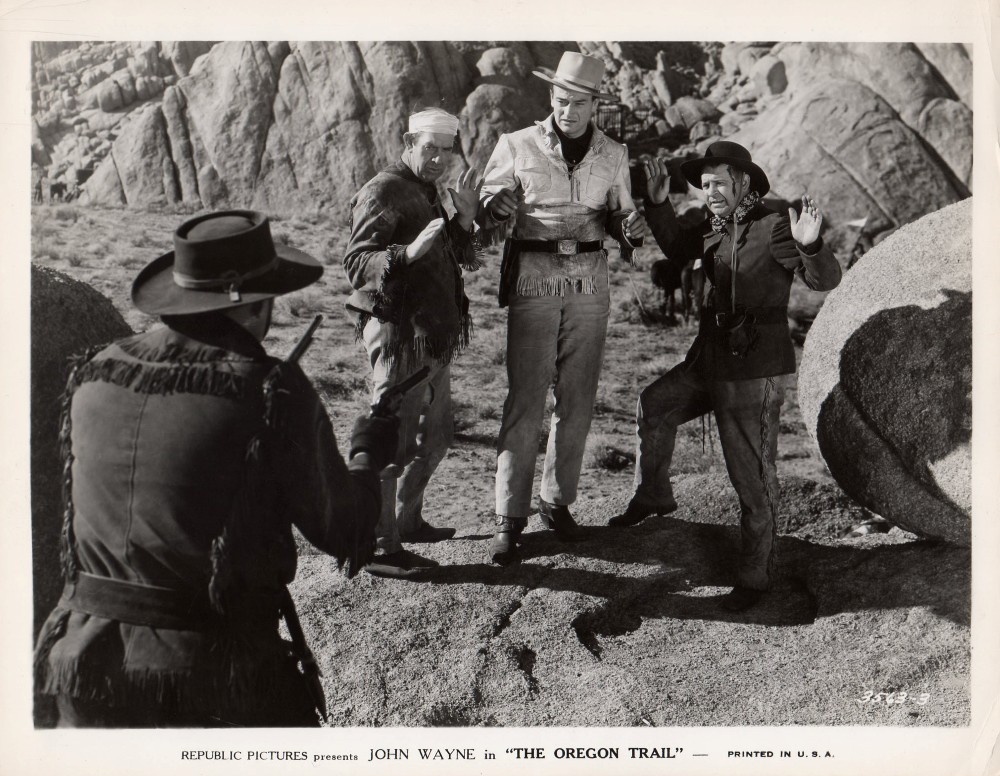 Photo with the courtesy of lasbugas

INFORMATION FROM IMDb
Plot Summary
U. S. Army Captain John Delmont takes a leave of absence to find out
what happened to his missing father. Later he leads a wagon train to California
and goes after the bad guys involved in his father's disappearance.
Full Cast
John Wayne .... Capt John Delmont
Ann Rutherford .... Anne Ridgeley
Joseph W. Girard .... Col. Delmont (as Joe Girard)
Yakima Canutt .... Tom Richards
Frank Rice .... Red
E.H. Calvert .... Jim Ridgeley
Ben Hendricks Jr. .... Maj. Harris
Harry Harvey .... Tim
Fern Emmett .... Minnie
Jack Rutherford .... Benton
Marian Ferrell .... Sis
Roland Ray .... Markey
Gino Corrado .... Forrenza
Edward LeSaint .... Gen. Ferguson
Octavio Giraud .... Don Miguel
Frances Grant .... Settler girl (uncredited)
Dave O'Brien .... Settler (uncredited)
James Sheridan .... Henchman (uncredited)
Writing Credits
Jack Natteford screenplay
Lindsley Parsons story and screenplay
Robert Emmett Tansey story and screenplay
Cinematography
Gus Peterson
Stunts
Yakima Canutt .... stunt double (uncredited)
Trivia
This film is believed lost. Please check your attic.
Filming Locations
Alabama Hills, Lone Pine, California, USA