THE TRAIL BEYOND
DIRECTED BY ROBERT NORTH BRADBURY
PRODUCED BY PAUL MALVERN
LONE STAR PRODUCTIONS
MONOGRAM PICTURES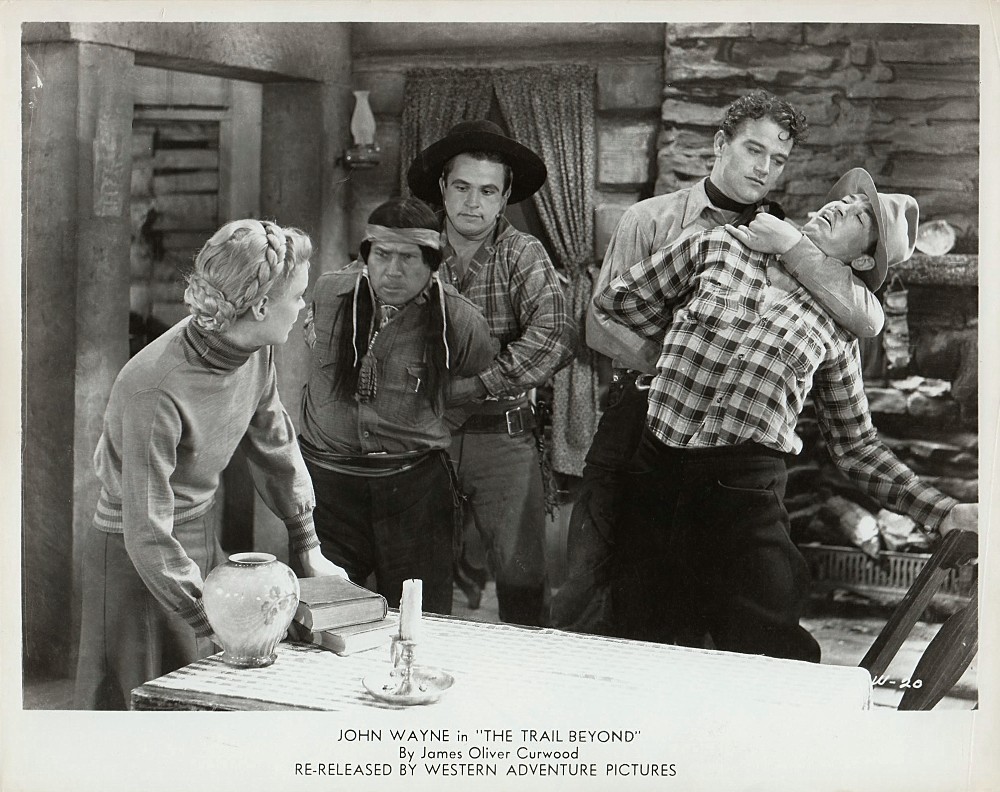 Photo with the courtesy of lasbugas

INFORMATION FROM IMDb
Plot Summary
Rod Drew has been sent to find a missing miner and his daughter. He is joined by old friend Wabi whom he has to rescue from card cheats that framed him for murder. Later they find a skeleton and a map to a mine. When they put the map into a safe, a LaRocque henchman sees them. LaRocque wants the map and captures the Mountie sent to get Wabi. His man then dressed as the Mountie captures Rod and Wabi.
Summary written by Maurice VanAuken
Writing Credits
James Oliver Curwood novel The Wolf Hunters
Lindsley Parsons screenplay
Full Cast
John Wayne .... Rod Drew
Verna Hillie .... Felice Newsome
Noah Beery .... George Newsome
Noah Beery Jr. .... Wabi
Robert Frazer .... Jules LaRocque
Iris Lancaster .... Marie LaFleur
James A. Marcus .... John Ball (as James Marcus)
Eddie Parker .... Ryan, the Mountie
Earl Dwire .... Henchman Benoit
Reed Howes .... Fake RCMP Constable (uncredited)
Artie Ortego .... Henchman Towanga (uncredited)
Tex Palmer .... R.C . Mounted Policeman (uncredited)
Original Music
Lee Zahler (uncredited)
Cinematography
Archie Stout
Stunts
Yakima Canutt .... stunts (uncredited)
Eddie Parker .... stunts (uncredited)
Goof
* Continuity: In the canoe scene when Drew and Wabi
leave the cabin with the rescued Mountie, when the Mountie
is shot by one of the villains, he falls backwards toward Wabi.
In the very next scene he's lying in the other direction toward Drew.
Filming Locations
Big Bear Lake, Big Bear Valley, San Bernardino National Forest, California, USA
Grant's Grove, King's Canyon National Park, Three Rivers, California, USA
Mammoth Lakes, California, USA
Railroad Station, Chatsworth, Los Angeles, California, USA
Trem Carr Ranch, Newhall, California, USA.
Watch the Full Movie:-