BORN TO THE WEST
also known as HELLTOWN
DIRECTED BY CHARLES BARTON
PRODUCED BY WILLIAM LeBARON/ WILIAM T. LACKEY
PARAMOUNT PICTURES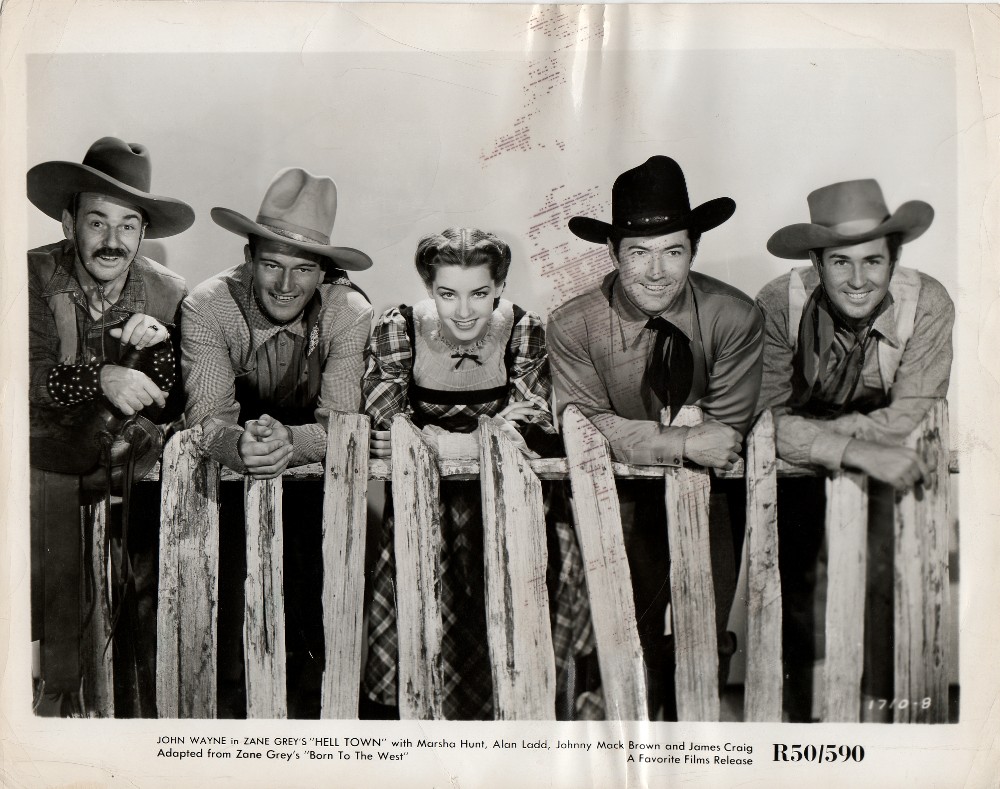 Photo with the courtesy of lasbugas

INFORMATION FROM IMDb
Plot Summary
Dare Rudd takes a shine to his cattleman cousin Tom's girlfriend who asks
Tom to hire Dare to head the big cattle drive.
Dare loses the money for the drive to cardsharps, but Tom wins it back,
but Dare must save Tom's life.
Summary written by Ed Stephan
Full Cast
John Wayne .... Dare Rudd
Marsha Hunt .... Judy Rustoe
Johnny Mack Brown .... Tom Fillmore (as John Mack Brown)
John Patterson .... Lyn Hardy
Monte Blue .... Bart Hammond
Lucien Littlefield .... John, cattle buyer
Jennie Boyle .... Sam (uncredited)
James Craig .... Brady, card sharp (uncredited)
Jack Daley .... Card player (uncredited)
Al Ferguson .... Bartender #1 (uncredited)
Jack Kennedy .... Sheriff (uncredited)
Nick Lukats .... Jim Fallon, henchman-rustler (uncredited)
Vester Pegg .... Bartender #2 (uncredited)
Lee Prather .... Lightning-rod salesman (uncredited)
Syd Saylor .... Dink Hooley (uncredited)
Jim Thorpe .... (uncredited)
Writing Credits
Stuart Anthony (screenplay) and
Robert Yost (screenplay)
Zane Grey novel (uncredited)
Jack Natteford additional dialogue (uncredited)
Cinematography
Devereaux Jennings
Trivia
* Due to a studio clerical error, Alan Ladd was credited for an appearance in this film.
He does not, in fact, appear in it.
* On its first reissue, the company added random stock footage of cattle drives, chases, and stampedes to bring the running time to over an hour.
* The player-piano version of "You're the One I Need" heard during the poker game, is the same recording heard in the speakeasy scene of the Marx Brothers' Horse Feathers (1932)
* The opening theme music can also be heard in the Harold Lloyd picture The Milky Way (1936).
Goofs
* Continuity: As Tom tells Lyn that Dare is the new manager, the portrait of George Washington on the wall behind, appears and disappears between shots.
* Continuity: Tom throws his pen on the desk twice between shots.
* Continuity: Hammond raises his knife and fork twice between shots.
* Anachronisms: The cards of the pack used in the poker game have modern numerals on each corner, unlike of the cards from the Old West.
Filming Location
Alabama Hills, Lone Pine, California, USA.
Watch The Full Movie
(Poor quality)
[extendedmedia]
[/extendedmedia]