DIRECTED BY COLIN LEWIS
PRODUCED BY PAUL MALVERN
LONE STAR PRODUCTIONS
MONOGRAM PICTURES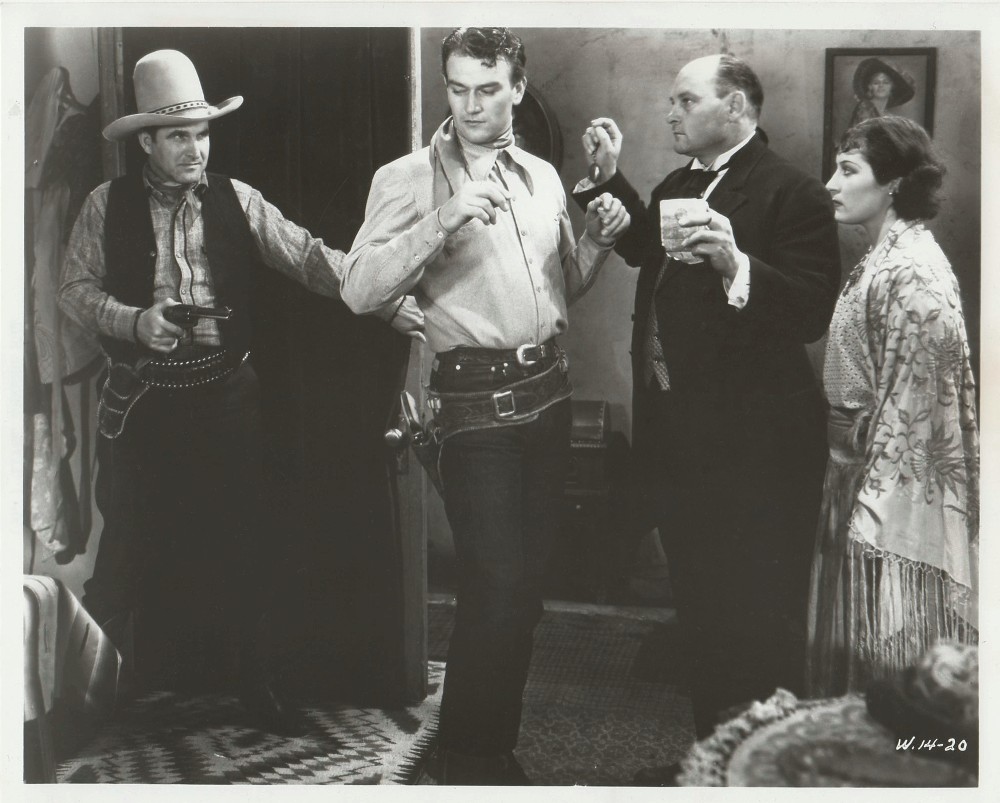 Photo with courtesy of lasbugas

INFORMATION IMDb
Plot Summary
Rodeo star John Scott and his gambler friend Kansas Charlie are wrongly
accused of armed robbery.
They leave town as fast as they can to go looking for
their own suspects in Poker City.
Written by Ed Stephan
Full Cast
John Wayne .... John Scott, aka John Jones
Mary Kornman .... Anne
Paul Fix .... Jim
Eddy Chandler .... Kansas Charlie, aka Rev. Harry Smith
Carmen Laroux .... Juanita LaRoux (as Carmen LaRoux)
Lafe McKee .... Sheriff Barker
Al Ferguson .... Pete
Henry Hall .... Farnsworth (Rodeo Promoter)
Silver Tip Baker .... Poker Player (uncredited)
Frank Ball .... Jake (Banker) (uncredited)
Frank Brownlee .... Sheriff of Rattlesnake Gulch (uncredited)
Tommy Coats .... Deputy Tommy (uncredited)
Gordon De Main .... Stage Passenger (uncredited)
Dick Dickinson .... Observer at Poker Game (uncredited)
Frank Ellis .... Poker Player (uncredited)
Jack Evans .... Townsman (uncredited)
Herman Hack .... Posse Rider (uncredited)
Ray Henderson .... Townsman (uncredited)
Theodore Lorch .... Robbed Stage Passenger (uncredited)
Lew Meehan .... Posse Rider (uncredited)
Artie Ortego .... Deputy (uncredited)
Tex Palmer .... Deputy (uncredited)
Fred Parker .... Doctor (uncredited)
Archie Ricks .... Stage Driver (uncredited)
Wally West .... Poker Player (uncredited)
Writing credits
Lindsley Parsons (story) (screenplay)
Original Music
Billy Barber (1985) (as William Barber)
Lee Zahler
Cinematography
Archie Stout
Stunts
Yakima Canutt .... stunts (archive footage) (uncredited)
Jack Jones .... stunts (uncredited)
Wally West .... stunts (uncredited)
Trivia
The rodeo shots are the same as the ones used in The Man from Utah (1934).
Juanita's house is the same house as used as the Matlock ranch-house in He Wore a Star (1934)
and as Malgrove's house in Blue Steel (1934).
Goofs
* Continuity: After Scott stops the stage, he agrees to drive it into town.
He jumps on the driver's seat and heads off, leaving his own horse behind.
However, as the stage arrives in town, his horse can be seen tied on behind the stage.
* Continuity: When dressing to see Juanita, Scott changes hats.
However the hat is on a hook on the wall when he arrives, but when he leaves he picks it up from the dresser near the door.
* Continuity: When Scott and Kansas escape from the gaol,
Scott was unarmed but was wearing his gun-belt. As he runs across to the horses,
he now has a gun in his holster.
Filming Locations
Kernville, California, USA
Trem Carr Ranch, Newhall, California, USA
Watch the Full Movie:-