.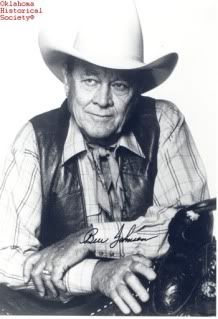 BEN JOHNSON
INFORMATION FROM IMDb
Date of Birth
13 June 1918
Foraker, Shidler, Oklahoma, USA
Date of Death
8 April 1996
Mesa, Arizona, USA. (apparent heart attack)
Height
6' 3" (1.91 m)
Spouse
Carol Elaine Jones (1941 - 1994) (her death)
Trivia
Died while visiting his mother in the 'retirement community' where not only she but he himself lived.
Received a star on the Hollywood Walk of Fame in 1994
A prize belt buckle that he won for calf roping was stolen from his car when he visited Houston in 1976; on a repeat visit a decade later he was an on-air guest on radio station KIKK when a caller returned the buckle to him.
He initially turned down the role in The Last Picture Show (1971) for which he won the Academy Award because the script contained too many curse words; with permission of the director, Peter Bogdanovich he rewrote his part with the offensive words removed.
As he was, his father, Ben Johnson, Sr., was a champion steer roper. The senior Johnson was also a cattleman and rancher who was inducted into the Hall of Great Westerners of the National Cowboy and Western Heritage Museum in 1961.
Inducted into the Hall of Great Western Performers of the National Cowboy and Western Heritage Museum in 1982.
His father, Ben Johnson, Sr., was inducted into the Rodeo Hall of Fame of the Rodeo Historical Society (a support group of the National Cowboy and Western Heritage Museum) in 1961. The Ben Johnson Memorial Award, in honor of his father, is awarded annually to prominent representatives of the western character and spirit (since 1998).
Johnson, his father, and nephew have Belt-Buckle awards for team roping.
Had Osage and Irish blood.
He turned down the role of Sam the Lion in "The Last Picture Show" when it was first offered to him by Peter Bogdanovich because he thought the script was "dirty" and he did not approve of swearing and nudity in motion pictures. Bogdanovich appealed to John Ford, who got Johnson to change his mind as a favor to him. Johnson won a Best Supporting Actor Oscar playing the role.
Johnson got his first big break as a member of John Ford's stock company in the late 40s. However, during the making of Rio Grande, Johnson and Ford had a brief verbal argument. All seemed well afterward, and nothing further was said of it, so Ben assumed it was completely blown over. However, Ford declined to use Johnson in any of his films after that for another 14 years, when Ben played a small part in the director's Cheyenne Autumn. They did manage to maintain a friendly relationship nonetheless.
Mini Biography-1
Born in Oklahoma, Ben Johnson was a ranch hand and rodeo preformer when, in 1940, Howard Hughes hired him to take a load of horses to California. He decided to stick around (the pay was good), and for some years was a stunt man, horse wrangler, and double for such stars as John Wayne, Gary Cooper and James Stewart. His break came when John Ford noticed him and gave him a part in an upcoming film, and eventually a star part in Wagon Master (1950). He left Hollywood in 1953 to return to rodeo, where he won a world roping championship, but at the end of the year he had barely cleared expenses. The movies paid better, and were less risky, so he returned to the west coast and a career that saw him in over 300 movies.
Written Bruce Cameron
Mini-Biography-2
Former rodeo star Johnson broke into the movie business in 1940, first as a horse wrangler and later as a double for cowboy star Wild Bill Elliott. After years of stuntwork, he was "discovered" by director John Ford, who may have seen another John Wayne in the tall, good-looking, slow-drawling Oklahoman. Johnson eased into acting with supporting roles in She Wore a Yellow Ribbon, Mighty Joe Young (both 1949), and Rio Grande (1950), and Ford starred him with Harry Carey, Jr., in Wagon Master (1950), but the likable Johnson just didn't seem to be star material. He returned to character parts, mostly in Westerns (including Shane, One-Eyed Jacks and Hang 'em High and matured into a fine, if limited, actor. (He never forsook his roots; in 1953 he was the World's Champion Steer Roper.) He was a favorite of director Sam Peckinpah, and appeared in his Major Dundee (1965), The Wild Bunch (1969), Junior Bonner and The Getaway (both 1972). Johnson's career took a major leap forward when he won an Oscar for his performance as Sam the Lion, the theater owner in The Last Picture Show (1971). He subsequently appeared in Dillinger (1973, as Melvin Purvis), The Sugarland Express (1974), Bite the Bullet (1975), Breakheart Pass (1976), The Town That Dreaded Sundown (1977), The Swarm (1978), Tex (1982), Red Dawn (1984), My Heroes Have Always Been Cowboys (1991), and Radio Flyer (1992), among others. More recently, he appeared in Angels in the Outfield (1994) and Outlaws (1995). Johnson's weather-beaten features make him an icon for any filmmaker chronicling the American West-past or present.
Copyright © 1994 Leonard Maltin, used by arrangement with Signet, a division of Penguin Putnam, Inc.
Personal quotes
"Everybody in town's a better actor than I am, but none of them can play Ben Johnson."
"You know, I'd say that aside from Mr. Ford's help in my career, I'd lay any success I've had to not expecting too much. I never expected to become a star and was always content to stay two or three rungs down the ladder and last awhile. When I do get a little ahead, I see what I can do to help others."
[On leaving Oklahoma for Hollywood, where he became a horse wrangler for Howard Hawks on
'The Outlaw' (1943)] "I'd been making a dollar a day as a cowboy, and my first check in Hollywood was for $300.
After that, you couldn't have driven me back to Oklahoma with a club."
Filmography
Actor
1. The Evening Star (1996) .... Arthur Cotton
2. Ruby Jean and Joe (1996) (TV) .... Big Man
3. Bonanza: Under Attack (1995) (TV) .... Bronc Evans
4. Angels in the Outfield (1994) .... Hank Murphy
... aka Angels (UK)
5. The Outlaws: Legend of O.B. Taggart (1994)
6. Bonanza: The Return (1993) (TV) .... Bronc Evans
7. Radio Flyer (1992) .... Geronimo Bill
8. My Heroes Have Always Been Cowboys (1991) .... Jesse Dalton
9. The Chase (1991) (TV) .... Laurienti
10. Back to Back (1990) .... Eli Hix
11. The Last Ride (1989)
12. Dark Before Dawn (1988) .... The Sheriff
13. Stranger on My Land (1988) (TV) .... Vern Whitman
14. Cherry 2000 (1987) .... Six-Fingered Jake, Tracker
15. Let's Get Harry (1986) .... Harry Burck Sr.
... aka The Rescue
16. "Dream West" (1986) (mini) TV Series .... Jim Bridger
17. Trespasses (1986) .... August Klein
18. Wild Horses (1985) (TV) .... Bill Ward
19. Red Dawn (1984) .... Mr. Mason
20. Champions (1984) .... Burly Cocks
21. The Shadow Riders (1982) (TV) .... Uncle 'Black Jack' Traven
... aka Louis L'Amour's The Shadow Riders
22. Tex (1982) .... Cole Collins
23. Ruckus (1981) .... Mr. Sam Bellows
24. Terror Train (1980) .... Carne, Train Conductor
25. The Hunter (1980) .... Sheriff Strong
26. Wild Times (1980) (TV) .... Doc Bogardus
27. Soggy Bottom, USA (1980) .... Isum Gorch
28. The Sacketts (1979) (TV) .... Cap Roundtree
29. The Swarm (1978) .... Felix
30. Grayeagle (1978) .... John Colter
31. The Greatest (1977) .... Hollis
32. The Town That Dreaded Sundown (1977) .... Captain J.D. Morales
33. The Savage Bees (1976) (TV) .... Sheriff Donald McKew
34. Hustle (1975) .... Marty Hollinger
35. Breakheart Pass (1975) .... Deputy U.S. Marshal Nathan Pearce
36. Bite the Bullet (1975) .... Mister
37. Locusts (1974) (TV) .... Amos Fletcher
38. The Sugarland Express (1974) .... Captain Harlin Tanner
39. Blood Sport (1973) (TV) .... Dwayne Birdsong
40. Kid Blue (1973) .... Sheriff 'Mean John' Simpson
41. Runaway! (1973) (TV) .... Holly Gibson
... aka The Frozen Passage (UK: theatrical title)
... aka The Runaway Train (UK)
42. Dillinger (1973) .... Melvin Purvis
43. The Red Pony (1973) (TV) .... Jess Taylor
44. The Train Robbers (1973) .... Jesse
45. The Getaway (1972) .... Jack Beynon
46. Junior Bonner (1972) .... Buck Roan
47. Corky (1972) .... Boland
48. "Gunsmoke"
... aka Gun Law (UK)
- Drago (1971) TV Episode .... Hannon
- Quaker Girl (1966) TV Episode .... Vern Morland
- Quint-Cident (1963) TV Episode .... Ben Crown
49. The Last Picture Show (1971) .... Sam the Lion
50. "Bonanza"
... aka Ponderosa (USA: rerun title)
- Top Hand (1971) TV Episode .... Kelly James
- Deserter, the (II) (1969) TV Episode .... Sgt. Samuel Bellis
- The Gamble (1962) TV Episode .... Deputy Sheriff Stan Mace
51. The Bull of the West (1971) (TV) .... Spinner
... aka Hot Lead
... aka Vengeance Is the Spur (USA)
52. Something Big (1971) .... Jesse Bookbinder
53. Chisum (1970) .... James Pepper
54. The Undefeated (1969) .... Short Grub
55. The Wild Bunch (1969) .... Tector Gorch
56. "Disneyland"
... aka Disney's Wonderful World (USA: new title)
... aka The Disney Sunday Movie (USA: new title)
... aka The Magical World of Disney (USA: new title)
... aka The Wonderful World of Disney (USA: new title)
... aka Walt Disney (USA: new title)
... aka Walt Disney Presents (USA: new title)
... aka Walt Disney's Wonderful World of Color (USA: new title)
- Ride a Northbound Horse: Part 2 (1969) TV Episode
- Ride a Northbound Horse: Part 1 (1969) TV Episode
- Ten Who Dared (1968) TV Episode .... George Bradley
57. Ride a Northbound Horse (1969) (TV)
58. "The Virginian"
... aka The Men from Shiloh (new title)
- Vision of Blindness (1968) TV Episode .... Jed Cooper
- Johnny Moon (1967) TV Episode .... Joe Hogan
- Dangerous Road (1965) TV Episode .... Jim Brandt
- Duel at Shiloh (1963) TV Episode .... Spinner
59. Hang 'Em High (1968) .... Marshal Dave Bliss
60. Will Penny (1968) .... Alex (Flat Iron Ranch foreman)
61. "The Monroes" (1966) TV Series .... Sleeve (1966-1967)
62. "ABC Stage 67"
- Noon Wine (1966) TV Episode .... Sheriff Barbee
63. The Rare Breed (1966) .... Jeff Harter
64. "Branded"
- McCord's Way (1966) TV Episode .... Bill Latigo
65. "Bob Hope Presents the Chrysler Theatre"
... aka The Chrysler Theater
... aka Universal Star Time (syndication title)
- March from Camp Tyler (1965) TV Episode .... Burt Wade
66. Major Dundee (1965) .... Sgt. Chillum
67. "Perry Mason"
- The Case of the Reckless Rock Hound (1964) TV Episode .... Kelly
68. Cheyenne Autumn (1964) (uncredited) .... Trooper Plumtree
... aka John Ford's Cheyenne Autumn (USA: complete title)
69. "Stoney Burke"
- Point of Honor (1962) TV Episode .... Rex Donally
70. "Have Gun - Will Travel"
- The Fifth Bullet (1962) TV Episode .... John Bartlett
- The Race (1961) TV Episode .... Sam Crabbe
- A Head of Hair (1960) TV Episode
71. "Route 66"
- A Long Piece of Mischief (1962) TV Episode .... Del
72. "Laramie"
- Widow in White (1961) TV Episode .... Tarp
- A Sound of Bells (1960) TV Episode .... Driver
- Hour After Dawn (1960) TV Episode
73. Tomboy and the Champ (1961) .... Uncle Jim
74. One-Eyed Jacks (1961) .... Bob Amory
75. Ten Who Dared (1960) .... George Bradley
76. "Border Patrol"
... aka U.S. Border Patrol (USA)
- Everglades Story (1959) TV Episode
77. "Alfred Hitchcock Presents"
- And the Desert Shall Blossom (1958) TV Episode .... Sheriff
78. "The Restless Gun"
- No Way to Kill (1958) TV Episode .... Sheriff Tim Malachy
79. "Navy Log"
- Florida Weekend (1958) TV Episode .... Border Patrol Officer
80. "The Adventures of Ozzie & Harriet"
... aka Ozzie and Harriet
- Top Gun (1958) TV Episode .... Tex Barton
81. Fort Bowie (1958) .... Capt. Thomas Thompson
82. Slim Carter (1957) .... Montana Burriss
83. War Drums (1957) .... Luke Fargo
84. "Cavalcade of America"
... aka DuPont Presents the Cavalcade Theatre (USA: fourth season title)
... aka DuPont Theater (USA: fifth season title)
- Once a Hero (1956) TV Episode
85. Rebel in Town (1956) .... Frank Mason
86. Oklahoma! (1955) (uncredited) .... Wrangler
87. Simba (1955) .... Kimani
... aka Simba - Mark of Mau Mau!
88. Shane (1953) .... Chris Calloway
89. Wild Stallion (1952/I) .... Dan Light
90. Fort Defiance (1951) .... Ben Shelby
91. Rio Grande (1950) .... Trooper Travis Tyree
... aka John Ford and Merian C. Cooper's Rio Grande (USA: complete title)
92. Wagon Master (1950) .... Travis Blue
93. She Wore a Yellow Ribbon (1949) .... Sgt. Tyree
94. Mighty Joe Young (1949) .... Gregg
... aka Mr. Joseph Young of Africa
95. 3 Godfathers (1948) .... Posse man #1
96. The Gallant Legion (1948) (uncredited)
97. Badman's Territory (1946) (uncredited) .... Deputy
98. The Naughty Nineties (1945) (uncredited) .... Coach driver
99. Nevada (1944) (uncredited) .... Saloon Patron
100. Tall in the Saddle (1944) (uncredited) .... Townsman
101. Bordertown Gun Fighters (1943) (uncredited) .... Messenger
102. The Outlaw (1943) (uncredited)
103. The Fighting Gringo (1939) (uncredited) .... Mexican Barfly
Stunts
1. Oklahoma! (1955) (stunt double) (uncredited)
2. 3 Godfathers (1948) (stunts) (uncredited)
3. The Kissing Bandit (1948) (stunts) (uncredited)
4. Red River (1948) (stunts) (uncredited)
5. The Gallant Legion (1948) (stunts) (uncredited)
6. Fort Apache (1948) (stunts) (uncredited)
... aka War Party
7. Wyoming (1947) (stunts) (uncredited)
8. Ramrod (1947) (stunts) (uncredited)
9. Angel and the Badman (1947) (stunt double) (uncredited)
... aka The Angel and the Outlaw
10. Out California Way (1946) (stunt double: Monte Hale) (uncredited)
11. Smoky (1946) (stunts) (uncredited)
12. Badman's Territory (1946) (stunts) (uncredited)
13. California Gold Rush (1946) (stunt double) (uncredited)
14. Santa Fe Saddlemates (1945) (stunt double) (uncredited)
15. Nevada (1944) (stunts) (uncredited)
16. The Old Texas Trail (1944) (stunts) (uncredited)
... aka Stagecoach Line (UK)
17. Tall in the Saddle (1944) (stunts) (uncredited)
18. Tarzan's Desert Mystery (1943) (stunt double) (uncredited)
19. Blazing Guns (1943) (stunts) (uncredited)
20. Bordertown Gun Fighters (1943) (stunts) (uncredited)
21. Arizona Trail (1943) (stunt double) (uncredited)
22. Riders of the Rio Grande (1943) (stunts) (uncredited)
23. The Outlaw (1943) (stunts) (uncredited)
24. The Durango Kid (1940) (stunt double) (uncredited)
... aka The Masked Stranger (UK)
25. The Fighting Gringo (1939) (stunts) (uncredited)
Himself
1. Ben Johnson: Third Cowboy on the Right (1996) .... Himself
2. 100 Years of the Hollywood Western (1994) (TV) .... Himself
3. Warren Oates: Across the Border (1993) .... Himself
4. Picture This: The Times of Peter Bogdanovich in Archer City, Texas (1991) .... Himself
5. Thank Ya, Thank Ya Kindly (1991) (TV) .... Himself
6. John Ford (1990) (TV) .... Himself
7. Hollywood on Horses (1989) (V) .... Himself
8. "Oklahoma Passage" (1989) (mini) TV Series .... Himself
9. "Étoiles et toiles"
- Episode dated 14 April 1986 (1986) TV Episode .... Himself
10. Inside 'The Swarm' (1978) (TV) .... Himself
11. The 48th Annual Academy Awards (1976) (TV) .... Himself - Co-presenter: Best Supporting Actor
12. The 44th Annual Academy Awards (1972) (TV) .... Himself - Best Supporting Actor Winner
13. "The Tonight Show Starring Johnny Carson"
... aka The Best of Carson (USA: rerun title)
- Episode dated 17 February 1972 (1972) TV Episode .... Himself
Archive Footage
1. Sam Peckinpah's West: Legacy of a Hollywood Renegade (2004) (TV) .... Himself
2. AFI's 100 Years, 100 Thrills: America's Most Heart-Pounding Movies (2001) (TV) .... Himself
3. The 69th Annual Academy Awards (1997) (TV) .... Himself (Memorial Tribute)
Watch Ben Johnson Trailers:-