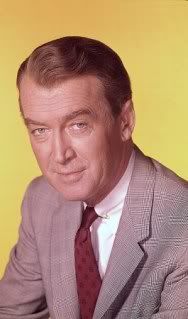 JAMES STEWART
INFORMATION FROM IMDb
Date of birth
20 May 1908
Indiana, Pennsylvania, USA
Date of death
2 July 1997
Los Angeles, California, USA. (pulmonary embolism following respiratory problems)
Birth name
James Maitland Stewart
Nickname
Jimmy Stewart
Height
6' 3½" (1.92 m)
Birth name
James Maitland Stewart
Nickname
Jimmy Stewart
Height
6' 3½" (1.92 m)
Sometimes Credited As:
Jimmy Stewart / Lt. James Stewart
Spouse
Gloria Stewart (9 August 1949 - 16 February 1994) (her death) 2 children
Trade mark
Soft-spoken, extremely polite and shy manner, with a very recognizable drawl in his voice.
Often played honest, average middle class individuals who are unwittingly drawn into some kind of crisis.
Trivia
Ranked #10 in Empire (UK) magazine's "The Top 100 Movie Stars of All Time" list. [October 1997]
He was the first movie star to enter the service for World War II, joining a year before Pearl Harbor was bombed. He was initially refused entry into the Air Force because he weighed 5 pounds less than the required 148 pounds, but he talked the recruitment officer into ignoring the test. He eventually became a Colonel, and earned the Air Medal, the Distinguished Flying Cross, the Croix de Guerre and 7 battle stars. In 1959, he served in the Air Force Reserve, before retiring as a brigadier general.
The James Stewart Museum was dedicated in Indiana, Pennsylvania on 20 May 1995
Recipient of an American Film Institute Life Achievement Award. [1980]
Attended Princeton University. Graduated in 1932.
When Stewart won the Best Actor Oscar in 1940, he sent it to his father in Indiana, Pennsylvania, who set it in his hardware shop. The trophy remained there for 25 years.
The word "Philadelphia" on the Oscar that Jimmy received in 1941 for The Philadelphia Story (1940) is misspelled. Ironically, the Oscar was kept in the window of Jimmy's father's hardware store located on Philadelphia Street in Indiana, Pennsylvania.
Interred at Forest Lawn, Glendale, California, USA, in the Wee Kirk O' the Heathers Churchyard , on the left side, up the huge slope, to the left of the Taylor Monument, space 2, lot 8.
James was named Best Classic Actor of the 20th Century in an Entertainment Weekly on-line poll. [September 1999]
Besides Ronald Reagan, who served as Commander-In-Chief as the President of the United States, Stewart has the highest military ranking of any actor in history.
Never took an acting lesson, and felt that people could learn more when actually working rather than studying the craft.
His adopted son, Ronald Stewart, was killed in action while serving in the Vietnam War.
When he left to serve in WWII, his father gave him a letter which he kept in his pocket everyday until the war ended.
Played the Accordian.
Often incorrectly noted as having achieved the highest rank in Boy Scouting, Eagle Scout, while in his youth in Indiana, Pennsylvania; he was a scout for four years, attaining Second Class. He appeared in a series of award-winning commercials promoting the Boys Scouts, and served as a volunteer with the Orange County and Los Angeles Area Councils. He was awarded the Silver Buffalo, the highest adult award.
Appeared on "Password" (1961) in 1964 with his wife Gloria Stewart's daughter and their twin daughters.
He had four children: Kelly and Judy (twin daughters) and his wife's sons from a previous marriage, Ronald and Michael, whom he adopted as his own.
Was a regular on the "Dean Martin Celebrity Roasts." He was even a guest of honor in 1978.
Introduced the Cole Porter standard "Easy to Love" in 1936's Born to Dance (1936). His undubbed, reedy tenor voice was actually not so bad. He would later say of the experience, "the song had become such a big hit that they felt even my singing couldn't ruin it." He would later sing a few bars of "Over the Rainbow" as part of his Oscar-winning performance in The Philadelphia Story (1940).
Recipient of Kennedy Center Honors in 1983.
Starred in the NBC Radio series "The Six Shooter" (1953-54).
Many of his works were donated to Brigham Young University in 1983, including his personal copy of It's a Wonderful Life (1946).
He was Alfred Hitchcock's original choice to play the lead in North by Northwest (1959).
Hit #133 on the Billboard Singles Charts in 1965 with "The Legend of Shenandoah" (Decca 31795), a narration backed up with the Charles "Bud" Dant Orchestra
Was of Northern Irish heritage from County Antrim.
Inducted into the Hall of Great Western Performers of the National Cowboy and Western Heritage Museum in 1972.
When Stewart served as an officer and a pilot in the Army Air Corps in WWII, one of the sergeants in his unit was Walter Matthau.
He once said the the public was his biggest critic, and if they didn't like his performance, neither did he.
His two natural children, twin daughters Judy and Kelly, were born May 7, 1951. His wife, Gloria Stewart (the former Gloria Hatrick McLean), a former model from Larchmount, New York, also brought two sons to the marriage: Ronald and Michael (aged 5 and 2 at the time of the wedding in 1949), whom he adopted. Ronald later died on active service, as a Marine officer on June 8, 1969 in Vietnam.
Over 3,000 people, mostly Hollywood celebrities, attended his funeral to pay their respects.
President Harry S. Truman was an admirer of Stewart's work, and even commented that if he'd had a son, he'd have wanted him to be "just like Jimmy Stewart."
Despite having been a decorated war hero in WWII, he declined to talk about this, in part because of the traumatic experiences he had in killing others and watching friends die. The roles he chose after returning from the war were generally darker, some say because he was hardened by combat.
A true "regular guy," he genuinely disliked the glamour often basked in by Hollywood stars, avoiding expensive clothes and fancy cars.
He was voted the 3rd Greatest Movie Star of all time by Entertainment Weekly.
He remained faithful to his wife Gloria Stewart throughout their marriage. While this may seem ordinary, it was rare in Hollywood for male stars to stay devoted to their wives, with many of his colleagues, such as Gary Cooper, John Wayne, and Henry Fonda, having had a series of infidelities.
His mother's maiden name is McGowen.
One of the first (if not the first) stars to receive a percentage of the gross of his movies.
He was of Scottish and Irish heritage.
His best friend was probably Henry Fonda, whom he meet while at acting camp. Early on, they got into a fist-fight over politics (Stewart was a staunch Republican, Fonda a very liberal Democrat) that was won by Fonda, but they apparently never discussed politics again. When Fonda moved to Hollywood, he lived with Stewart and the two gained a reputation as some of the playboys in Hollywood. Once married, both men's children noted that their favorite activity when not working seemed to be silently painting model airplanes together.
By the 1950s, he was wearing a toupee for his movie roles, though he often went without it in public. His baldness was made less obvious by wearing a gray toupee for many movie roles.
He was voted the 9th Greatest Movie Star of all time by Premiere Magazine.
Was named #3 on The 50 Greatest Screen Legends Actor list by the American Film Institute
According to the March 31, 1941 issue of 'Time' Magazine, Stewart was drafted into the Army. Prior to induction, he flew in a private plane to California and the next day braved a large crowd of female admirers to board a Los Angeles trolley car that took him and other draftees off to be inducted for a year hitch in the Army. 'Time' said that Stewart's salary would drop from $21 a month from $6,000.
He has a star on the Hollywood Walk of Fame located at 1708 Vine Street.
Was very good friends with Ronald Reagan, Henry Fonda, John Wayne and Gary Cooper.
Accepted his friend Gary Cooper's honorary Oscar for Lifetime Achievement in 1961, because Cooper was dying of cancer.
Died one day after Robert Mitchum.
While always gracious with his fans, he was always very protective of his privacy. A notable example of this occurred when a nervy family of tourists set up a picnic on his front lawn. Stewart came out of his house and, without uttering a word, turned on the sprinklers.
Hosted the Academy Awards in 1946 (alongside Bob Hope), 1958 (alongside David Niven, Jack Lemmon, Rosalind Russell,Bob Hope' and "Donald Duck")
Upon accepting his Honorary Oscar in 1985, he stated that "this was the greatest award he received, to know that, after all these years, I haven't been forgotten." The audience gave him a 10 minute standing ovation, making the show run long. Steven Spielberg, who was in attendance, stated that he was so humbled to even be in the same room as Jimmy, because he respected him so much.
While filming The Big Sleep (1978) in August 1977, Stewart appeared much older than his sixty-nine years as the rich, wheelchair-bound General Sternwood. He had a hearing and possible memory impairment which caused him to keep flubbing his lines. It is believed that these health problems necessitated Stewart's gradual retirement from movies shortly afterwards, although he was also concerned by the violence and explicit sexual content of modern films and saw no future for himself in the movie industry.
He was a hawk on the Vietnam War and was active in promoting a number of right-wing political causes. His final mission was a bombing run over North Vietnam in a B-52 in 1968 that he specifically requested as a close for his military career.
Upon his death in July of 1997, a small group of fans and admirers placed a few items on his Hollywood star, not the least of which was a rather tall (although not 6' tall) plush rabbit wearing overalls. (It was reportedly stolen later in the night.)
Awarded the Presidential Medal of Freedom, America's highest civilian award, by his friend President Ronald Reagan at the White House in 1985.
Stewart very much wanted the role of Roger Thornhill in North By Northwest (1959) and he was the original choice for it, but after the financial failure of Vertigo (1958), director Alfred Hitchcock, unfairly blamed the film's box office woes on Stewart, claiming Stewart had looked too old to still attract audiences and cast Cary Grant instead, even though Grant was actually four years older than Stewart. Previously one of the director's favorite collaborators, Stewart and Hitchcock never worked together again.
Of all the movies he has done It's a Wonderful Life (1946) was his favourite.
Replaced Cary Grant as Rupert Cadell in Rope (1946). Ironically, Grant replaced him as Roger Thornhill in North By Northwest (1959).
Personal quotes
Sometimes I wonder if I'm doing a Jimmy Stewart imitation myself.
"I'd like people to remember me as someone who was good at his job and seemed to mean what he said." (in 1983)
"There ought to be a law against any man who doesn't want to marry Myrna Loy."
Salary
Winchester '73 (1950) $600,000
Rope (1948) $300,000
Personal quotes
Sometimes I wonder if I'm doing a Jimmy Stewart imitation myself.
"I'd like people to remember me as someone who was good at his job and seemed to mean what he said." (in 1983)
"There ought to be a law against any man who doesn't want to marry Myrna Loy."
Biography
from Leonard Maltin's Movie Encyclopedia:
One of America's most beloved actors, Stewart today is less movie star than cultural icon, a gracefully aged embodiment of values and traditions our nation holds dear, as we are continually reminded by endless broadcasts of his best-remembered film, It's a Wonderful Life The tall, gangly, soft-spoken youth who endeared himself to moviegoers by virtue of his appealing diffidence, boyish earnestness, and innate kindness is the Stewart most film lovers cherish, although he certainly proved that he was much more, especially in his films of the 1950s and 1960s.
In his youth Stewart aspired to be an architect, and he applied himself to that goal during his stay at Princeton, but in 1932 fellow classmate Joshua Logan convinced him to join the newly formed University Players group in Massachusetts, where he first met Henry Fonda (who was to become a lifelong friend) and Margaret Sullavan, among others. Stewart was already a Broadway veteran when Hollywood beckoned in 1935. He made his MGM debut in a short subject, Important News and then appeared in his first feature film, The Murder Man later that year (as a reporter named Shorty). Contracted to MGM, he was assigned supporting roles in Wife vs. Secretary, Small Town Girl, The Gorgeous Hussy, Rose Marie and After the Thin Man (all 1936, memorably if unconvincingly cast in the last-named as a maniacal killer!). On loan to Universal, he played the male lead in a glossy soap opera, Next Time We Love (also 1936), opposite old friend Margaret Sullavan, who'd specifically requested him.
Back at his home studio, Stewart finally got a lead in Speed an entertaining but unimportant B, and Born to Dance (both 1936), in which he romanced Eleanor Powell and even warbled (tentatively) Cole Porter's "Easy to Love." From then on, his rise to stardom was steady if not meteoric, helped along by well-received stints in Seventh Heaven (20th CenturyFox's tepid remake of a silent classic), The Last Gangster, Navy Blue and Gold (all 1937), Of Human Hearts, Vivacious Lady (on loan to RKO, opposite Ginger Rogers), The Shopworn Angel (again opposite Sullavan), and You Can't Take It With You (all 1938), that year's Academy Award winner for Best Picture. In the last-named film, third-billed behind Jean Arthur and Lionel Barrymore, Stewart began his fruitful association with director Frank Capra, who saw in Stewart's shy, stammering, sincere screen character the ideal incarnation of his American Everyman.
Capra played on that persona by casting Stewart as the idealistic young senator in Mr. Smith Goes to Washington (1939), a box-office blockbuster that earned the actor his first Academy Award nomination. He followed it up that same year with a well-remembered turn as the seemingly gun-shy sheriff in Destry Rides Again (opposite Marlene Dietrich), then the firstrate soaper Made for Each Other (opposite Carole Lombard), the screwball comedy-mystery It's a Wonderful World (opposite Claudette Colbert), and two more collaborations with Margaret Sullavan (1940's The Shop Around the Corner a charming, gentle romance directed by Ernst Lubitsch, and 1940's The Mortal Storm a Frank Borzagedirected drama of Nazi Germany) before winning an Oscar for his surprising portrayal of a fast-talking reporter who falls for Katharine Hepburn in The Philadelphia Story (also 1940).
Stewart's next new films-1941's Come Live With Me, Pot o' Gold and Ziegfeld Girl-weren't nearly as impressive as their immediate predecessors, and it's interesting to speculate what might have happened to his career if World War 2 hadn't intervened. Stewart enlisted in the Army Air Corps as a private and worked his way up to colonel, flying in many missions over enemy territory and winning both the Air Medal and the Distinguished Flying Cross. (Stewart remained in the Air Force Reserves after the war, and had attained the rank of brigadier general by the time he retired in 1968.)
He returned to Hollywood in 1946, teaming up once again with Frank Capra for It's a Wonderful Life As George Bailey, the small-town dreamer who reaches rock bottom-the literal depths of despair-before learning how many lives he's touched, Stewart delivered what may be his best performance, and picked up another Oscar nomination. No longer the gawky, stammering youth, he tried a wide variety of roles over the next several decades, adapting himself to the more naturalistic screen style of the post-WW2 era. He played a crusading reporter in Call Northside 777 an intellectual detective (of sorts) in Rope (both 1948, the latter a fascinating if ultimately unsuccessful thriller directed by Alfred Hitchcock, who generally used Stewart's talents wisely), a disabled ballplayer in The Stratton Story (1949), and an ex-Cavalry officer in Broken Arrow (1950).
Stewart adopted a lighter, breezier tone for his portrayal of kindly, eccentric Elwood P. Dowd, a man befriended (so he says) by a six-foot-tall white rabbit in Harvey (1950). He'd had plenty of practice in the role, having played it for a brief time on Broadway; he snagged another, much deserved Academy Award nomination for his delightful performance. But then it was on to sterner stuff. The 1950s saw Stewart in several extremely tough Westerns, occasionally showing a harshness hitherto unsuspected by his fans. Winchester '73 and the aforementioned Broken Arrow (both 1950) kicked off the cycle, which really went into high gear when Stewart negotiated an unprecedented contract with Universal that would entitle him to a cut of his films' profits. His most frequent collaborator behind the camera was director Anthony Mann, with whom he did Bend of the River (1952), Thunder Bay (1953), The Naked Spur (also 1953, but made for MGM; probably the best of the bunch), The Far Country (1955), and The Man From Laramie (also 1955, for Columbia).
Stewart didn't confine his efforts to Westerns in this decade. He had a memorable role as a mercy-killing doctor who hides with a circus in Cecil B. DeMille's The Greatest Show on Earth (1952, his face always hidden beneath clown makeup), and worked for Hitchcock in three of the director's best 1950s films: Rear Window (1954, playing a wheelchair- bound voyeur who spots a murder through the window of an adjoining building), The Man Who Knew Too Much (1956, as the husband of Doris Day in this updated remake of Hitch's 1934 thriller), and, perhaps best of all, Vertigo (1958, giving an edgy performance as a fearful detective obsessed by two Kim Novaks). He also played the famous swing-era bandleader in The Glenn Miller Story (1954), and finished out the decade with a masterful turn as a cagey country lawyer for the defense in a sensational trial in Anatomy of a Murder (1959), a characterization for which he was again Oscar-nominated.
Stewart made the best of his starring roles in two John Ford Westerns, Two Rode Together (1961, as a cynical lawman) and The Man Who Shot Liberty Valance (1962, as a tenderfoot lawyer aided by gunman John Wayne), but increasingly, as the 1960s progressed, he fell back on his well-established persona to carry him through uninspired, undistinguished films such as Mr. Hobbs Takes a Vacation (1962), Take Her, She's Mine (1963), Cheyenne Autumn (1964, one of Ford's more uneven films, an overlong, episodic drama with Stewart superfluous as Wyatt Earp), Shenandoah (1965), The Rare Breed (1966), Firecreek (1968), Bandolero! (1968), and, in the 1970s, The Cheyenne Social Club (1970), Fools' Parade (1971), Airport '77 (1977), The Big Sleep and The Magic of Lassie (both 1978). Two meritorious exceptions: Flight of the Phoenix (1966), which starred him as a pilot struggling to save his passengers after a crash in the Arabian desert, and The Shootist (1976), which gave him a small but juicy supporting role as the doctor who tells aging gunfighter John Wayne that he's terminally ill.
Active in radio (with a fine 1950s series, "The Six Shooter," to his credit), Stewart was a longtime TV holdout, though he did appear in a 1962 episode of the "Alcoa Premiere" anthology series, "Flashing Spikes," directed by John Ford. His attempts to find a suitable starring TV series in the 1970s were ill-fated however; neither "The Jimmy Stewart Show" (1971-72) nor "Hawkins (on Murder)" (1973-74) lasted very long. In 1983 he costarred with Bette Davis in a mediocre made-for-cable movie, Right of Way Since then he has appeared in several Hollywood-themed documentaries, done considerable voiceover work (including a delightful turn as Wylie Burp, an aged sheriff, in the 1991 animated film An American Tail: Fievel Goes West become a favorite talk-show guest on TV, and authored a bestselling collection of poems.
Copyright © 1994 Leonard Maltin, used by arrangement with Signet, a division of Penguin Putnam, Inc.
Filmography
Actor
1. "Alcoa Presents: One Step Beyond - Flashing Spikes (2002) TV Episode .... Slim Conway
2. "Goof Troop" ... aka Disney's Goof Troop - E=MC Goof (1992) TV Episode (voice) .... Chief Rocket-Science Professor
3. An American Tail: Fievel Goes West (1991) (voice) .... Wylie Burp
4. "My Secret Identity" - The Invisible Dr. J (1991) TV Episode
5. "North and South, Book II" (1986) (mini) TV Series .... Miles Colbert
6. Right of Way (1983) (TV) .... Teddy Dwyer
7. Afurika monogatari (1981) .... Old man
8. Mr. Krueger's Christmas (1980) (TV) .... Mr. Krueger
9. The Magic of Lassie (1978) .... Clovis Mitchell
10. The Big Sleep (1978) .... General Sternwood
11. Airport '77 (1977) .... Philip Stevens
12. The Shootist (1976) .... Dr. E.W. Hostetler
13. "Hawkins" (1973) TV Series .... Billy Jim Hawkins (1973-1974)
14. Hawkins on Murder (1973) (TV) .... Billy Jim Hawkins
15. Harvey (1972) (TV) .... Elwood P. Dowd
16. "The Jimmy Stewart Show" (1971) TV Series .... Prof. James K. Howard (1971-1972)
17. Fools' Parade (1971) .... Mattie Appleyard
18. The Cheyenne Social Club (1970) .... John O'Hanlan
19. Bandolero! (1968) .... Mace Bishop
20. Firecreek (1968) .... Johnny Cobb
21. The Rare Breed (1966) .... Sam Burnett
22. The Flight of the Phoenix (1965) .... Capt. Frank Towns
23. Shenandoah (1965) .... Charlie Anderson
24. Dear Brigitte (1965) .... Prof. Robert Leaf
25. Cheyenne Autumn (1964) .... Wyatt Earp.. aka John Ford's Cheyenne Autumn (USA: complete title)
26. Take Her, She's Mine (1963) .... Frank Michaelson/Narrator
27. "The Dick Powell Show". aka The Dick Powell Theatre (new title)- Luxury Liner (1963) TV Episode .... Host
28. How the West Was Won (1962) .... Linus Rawlings
29. "Alcoa Premiere"- Flashing Spikes (1962) TV Episode .... Slim Conway
30. Mr. Hobbs Takes a Vacation (1962) .... Roger Hobbs
31. The Man Who Shot Liberty Valance (1962) .... Ransom Stoddard
32. X-15 (1961) (voice) .... Narrator
33. Two Rode Together (1961) .... Marshal Guthrie McCabe
34. The Mountain Road (1960) .... Maj. Baldwin
35. "Startime".. aka Ford Startime- Cindy's Fella (1959) TV Episode .... Azel Dorsey
36. The FBI Story (1959) .... John Michael ('Chip') Hardesty
37. "Lux Playhouse" - Cowboy Five Seven (1959) TV Episode .... Narrator
38. Anatomy of a Murder (1959) .... Paul Biegler
39. Bell Book and Candle (1958) .... Shepherd 'Shep' Henderson. aka Bell, Book and Candle (USA: poster title)
40. Vertigo (1958) .... Det. John 'Scottie' Ferguson
41. "General Electric Theater"
- The Trail to Christmas (1957) TV Episode .... Bart
- The Town with a Past (1957) TV Episode .... Britt
- The Windmill (1955) TV Episode .... Joe Newman
42. Night Passage (1957) .... Grant McLaine
43. The Spirit of St. Louis (1957) .... Charles Augustus 'Slim' Lindbergh
44. The Heart of Show Business (1957) .... Narrator
45. The Man Who Knew Too Much (1956) .... Dr. Ben McKenna
46. The Man from Laramie (1955) .... Will Lockhart
47. "Arthur Godfrey and His Friends" - Episode dated 20 April 1955 (1955) TV Episode
48. Strategic Air Command (1955) .... Lt. Col. Robert 'Dutch' Holland
49. The Far Country (1954) .... Jeff Webster
50. Rear Window (1954) .... L. B. Jefferies. aka Alfred Hitchcock's Rear Window (USA: complete title)
51. Tomorrow's Drivers (1954) .... The Story Teller
52. The Glenn Miller Story (1953) .... Glenn Miller
53. Thunder Bay (1953) .... Steve Martin
54. The Naked Spur (1953) .... Howard Kemp
55. Carbine Williams (1952) .... David Marshall 'Marsh' Williams
56. Bend of the River (1952) .... Glyn McLyntock, Wagon train guide ... aka Where the River Bends (UK)
57. The Greatest Show on Earth (1952) .... Buttons.. aka Cecil B. DeMille's The Greatest Show on Earth (USA: complete title)
58. No Highway (1951) .... Theodore Honey. aka No Highway in the Sky (USA)
59. The Jackpot (1950) .... Bill Lawrence
60. Harvey (1950) .... Elwood P. Dowd
61. Broken Arrow (1950) .... Tom Jeffords
62. Winchester '73 (1950) .... Lin McAdam
63. Malaya (1949) .... John Royer. aka East of the Rising Sun (UK)
64. The Stratton Story (1949) .... Monty Stratton
65. You Gotta Stay Happy (1948) .... Marvin Payne
66. Rope (1948) .... Rupert Cadell. aka Alfred Hitchcock's Rope (USA: complete title)
67. On Our Merry Way (1948) .... Slim.. aka A Miracle Can Happen (USA)
68. Call Northside 777 (1948) .... P.J. McNeal. aka Calling Northside 777
69. Magic Town (1947) .... Lawrence 'Rip' Smith
70. It's a Wonderful Life (1946) .... George Bailey.. aka Frank Capra's It's a Wonderful Life (USA: complete title)
71. American Creed (1946)
72. Ziegfeld Girl (1941) .... Gilbert 'Gil' Young
73. Pot o' Gold (1941) .... James Hamilton 'Jimmy' Haskel.. aka The Golden Hour (UK)
74. Come Live with Me (1941) .... Bill Smith
75. The Philadelphia Story (1940) .... Macaulay Connor
76. No Time for Comedy (1940) .... Gaylord 'Gay' Esterbrook. aka Guy with a Grin
77. The Mortal Storm (1940) .... Martin Breitner
78. The Shop Around the Corner (1940) .... Alfred Kralik
79. Destry Rides Again (1939) .... Thomas Jefferson Destry Jr.
80. Mr. Smith Goes to Washington (1939) .... Jefferson Smith. aka Frank Capra's Mr. Smith Goes to Washington (USA: complete title)
81. It's a Wonderful World (1939) .... Guy Johnson
82. The Ice Follies of 1939 (1939) .... Larry Hall
83. Made for Each Other (1939) .... John Horace 'Johnny' Mason
84. You Can't Take It with You (1938) .... Tony Kirby
85. The Shopworn Angel (1938) .... Pvt. William 'Texas' Pettigrew
86. Vivacious Lady (1938) .... Prof. Peter Morgan Jr.
87. Of Human Hearts (1938) .... Jason Wilkins
88. Navy Blue and Gold (1937) .... John 'Truck' Cross (alias of John Cross Carter)
89. The Last Gangster (1937) .... Paul North Sr.
90. Seventh Heaven (1937) .... Chico
91. After the Thin Man (1936) .... David Graham
92. Born to Dance (1936) .... Ted Barker
93. The Gorgeous Hussy (1936) .... Roderick 'Rowdy' Dow
94. Speed (1936) .... Terry Martin
95. Small Town Girl (1936) .... Elmer. aka One Horse Town (USA: TV title)
96. Important News (1936) (uncredited) .... Cornelius 'Corn' Stevens, Scoop's Nephew
97. Wife vs. Secretary (1936) .... Dave
98. Next Time We Love (1936) .... Christopher Tyler.. aka Next Time We Live (UK)
99. Rose-Marie (1936) .... John Flower. aka Indian Love Call (USA: TV title).. aka Rose Marie (USA: poster title)
100. The Murder Man (1935) .... Shorty, reporter
101. Art Trouble (1934) (uncredited) .... Mr. Burton
Miscellaneous Crew
1. Vertigo (1958) (thanks) (1996 restoration)
2. Manufacturing Consent: Noam Chomsky and the Media (1992) (archive source: artwork)
3. Grace Kelly: The American Princess (1991) (V) (thanks)
4. Directed by John Ford (1971) (thanks)
Director
1. "Lux Playhouse"
- Cowboy Five Seven (1959) TV Episode
2. "General Electric Theater"
... aka G.E. Theatre (USA)
- The Trail to Christmas (1957) TV Episode
Producer
1. "Lux Playhouse"
- Cowboy Five Seven (1959) TV Episode (producer)
Himself
1. Marlene Dietrich: Shadow and Light (1996) (TV) .... Himself
... aka Marlene Dietrich: Her Life and Legend
2. The First 100 Years: A Celebration of American Movies (1995) (TV) .... Himself
3. A Century of Cinema (1994) .... Himself
4. Glenn Miller: America's Musical Hero (1992) (TV) .... Himself
5. Helen Hayes: First Lady of the American Theatre (1991) (TV) .... Himself
... aka American Masters: Helen Hayes - First Lady of the American Theatre (USA: series title)
6. Yellow Ribbon Party (1991) (TV) .... Himself
... aka Bob Hope's Yellow Ribbon Celebration (USA: complete title)
7. Grace Kelly: The American Princess (1991) (V) .... Himself
8. Preminger: Anatomy of a Filmmaker (1991) .... Himself
9. Frank Capra's 'It's a Wonderful Life': A Personal Remembrance (1991) (V) .... Himself
10. John Ford (1990) (TV) .... Himself
11. The Making of 'It's a Wonderful Life' (1990) (TV) .... Himself
12. The Disney-MGM Studios Theme Park Grand Opening (1989) (TV) .... Himself
13. The 61st Annual Academy Awards (1989) (TV) .... Himself - Co-Presenter: Best Sound & Best Sound Effects Editing
14. The Kennedy Center Honors: A Celebration of the Performing Arts (1987) (TV) .... Himself
15. Happy 100th Birthday Hollywood (1987) (TV) .... Himself
16. James Stewart: A Wonderful Life (1987) (TV) .... Himself
17. The American Film Institute Salute to Billy Wilder (1986) (TV) .... Himself
18. The Kennedy Center Honors: A Celebration of the Performing Arts (1985) (TV) .... Himself
19. The American Film Institute Salute to Gene Kelly (1985) (TV) .... Himself
... aka The Best of Gene Kelly (UK: video box title)
20. The 57th Annual Academy Awards (1985) (TV) .... Himself - Honorary Award Recipient
21. Olympic Gala (1984) (TV) .... Guest
22. The Kennedy Center Honors: A Celebration of the Performing Arts (1983) (TV) .... Himself - Honoree
23. The American Film Institute Salute to Frank Capra (1982) (TV) .... Himself - Host
24. Night of 100 Stars (1982) (TV) .... Himself
25. "Parkinson"
- Episode #11.36 (1982) TV Episode .... Himself
- Episode #2.37 (1973) TV Episode .... Himself
26. "The Tonight Show Starring Johnny Carson"
... aka The Best of Carson (USA: rerun title)
- Episode dated 29 December 1981 (1981) TV Episode .... Himself
- Episode dated 15 March 1977 (1977) TV Episode .... Himself
- Episode dated 21 July 1976 (1976) TV Episode .... Himself
- Episode dated 7 February 1973 (1973) TV Episode .... Himself
- Episode dated 27 July 1972 (1972) TV Episode .... Himself
(3 more)
27. The Kennedy Center Honors: A Celebration of the Performing Arts (1981) (TV) .... Himself
28. High Hopes: The Capra Years (1981) (TV)
29. The American Film Institute Salute to Fred Astaire (1981) (TV) .... Himself
30. The American Film Institute Salute to James Stewart (1980) (TV) .... Himself - Honoree
31. Bob Hope's Overseas Christmas Tours: Around the World with the Troops - 1941-1972 (1980) (TV) .... Himself
32. The American Film Institute Salute to Alfred Hitchcock (1979) (TV) .... Himself
33. "The Mike Douglas Show"
- Episode dated 6 October 1978 (1978) TV Episode .... Himself
34. General Electric's All-Star Anniversary (1978) (TV) .... Mark Twain
35. "The Carol Burnett Show"
... aka Carol Burnett and Friends (USA: repeat compilations title)
- Episode #11.24 (1978) TV Episode .... Himself
36. NBC: The First Fifty Years - A Closer Look, Part Two (1978) (TV) .... Host
37. The American Film Institute Salute to Henry Fonda (1978) (TV) .... Himself
38. The Dean Martin Celebrity Roast: Frank Sinatra (1977) (TV) .... Himself
39. An All-Star Tribute to John Wayne (1976) (TV) .... Himself
40. The American Film Institute Presents a Salute to William Wyler (1976) (TV) .... Himself
... aka The 4th American Film Institute Life Achievement Award: A Salute to William Wyler (USA: complete title)
41. CBS Salutes Lucy: The First 25 Years (1976) (TV) .... Himself
42. That's Entertainment! (1974) .... Himself - Co-host/Narrator
43. "The Dean Martin Show"
... aka The Dean Martin Comedy Hour (new title)
- Celebrity Roast: Jack Benny (1974) TV Episode .... Himself
- Episode dated 22 March 1973 (1973) TV Episode .... Himself
- Episode dated 2 March 1972 (1972) TV Episode .... Himself
- Episode dated 8 April 1971 (1971) TV Episode .... Himself
- Episode dated 24 April 1969 (1969) TV Episode .... Himself
(1 more)
44. "The World at War" (1974) (mini) TV Series .... Himself
45. Just One More Time (1974) (uncredited) .... Himself
46. The American Film Institute Salute to John Ford (1973) (TV) .... Himself
47. "The Julie Andrews Hour"
- Episode dated 20 December 1972 (1972) TV Episode .... Himself
48. The American West of John Ford (1971) (TV) .... Himself - Narrator
... aka The Great American West of John Ford
49. Directed by John Ford (1971) (uncredited) .... Himself
50. The 39th Annual Academy Awards (1967) (TV) .... Himself - Co-Presenter: Best Film Editing
51. "The Jack Benny Program"
... aka The Jack Benny Show
- The Income Tax Show (1964) TV Episode .... Himself
- Jack Directs Film (1963) TV Episode .... Himself
- Jack Gives a Dinner Party (1962) TV Episode .... Himself
- Jack Takes the Stewarts to a Play (1961) TV Episode .... Himself
- Jack Goes to Concert (1960) TV Episode .... Himself
(3 more)
52. "Password"
... aka Password All-Stars (USA: new title)
- James Stewart vs. Gloria Stewart (1964) TV Episode .... Panelist
- Gloria Stewart vs. James Stewart (1963) TV Episode .... Himself
53. The 36th Annual Academy Awards (1964) (TV) .... Himself - Presenter: Cinematography Awards
54. The World's Greatest Showman: The Legend of Cecil B. DeMille (1963) (TV) .... Himself
55. "What's My Line?"
- Episode dated 10 November 1963 (1963) TV Episode .... Himself
56. The 33rd Annual Academy Awards (1961) (TV) .... Himself - accepting Honorary Award for Gary Cooper
57. "Toast of the Town"
... aka The Ed Sullivan Show (new title)
- Episode #12.28 (1959) TV Episode .... Himself
- Episode #8.32 (1955) TV Episode .... Himself
- Episode #6.36 (1953) TV Episode .... Himself
58. The 30th Annual Academy Awards (1958) (TV) .... Himself - Co-host
59. Screen Snapshots: Hollywood, City of Stars (1956) .... Himself
60. The 25th Annual Academy Awards (1953) (TV) .... Himself - Co-Presenter: Art Direction-Set Decoration Awards
61. 10,000 Kids and a Cop (1948) .... Himself - Introductory Narration
62. Thunderbolt (1947)
63. Screen Snapshots Series 23, No. 1: Hollywood in Uniform (1943) .... Himself
... aka Screen Snapshots, No. 1, Series 23 (USA)
64. Winning Your Wings (1942) (as Lt. James Stewart) .... Himself
65. Fellow Americans (1942) (voice) .... Narrator
66. Hollywood Hobbies (1939) (uncredited) .... Himself
67. Hollywood Goes to Town (1938) (uncredited) .... Himself
Archive Footage
1. Premio Donostia a Ben Gazzara (2005) (TV) (uncredited) .... Paul Biegler
2. Imaginary Witness: Hollywood and the Holocaust (2004)
3. The Award Show Awards Show (2003) (TV) .... Himself
4. Christmas from Hollywood (2003) (V) .... Himself
5. The True Story of Seabiscuit (2003) (TV) .... Himself
6. Frank Capra and James Stewart (2001) (TV) .... Himself
7. Screenwriter John Michael Hayes on 'Rear Window' (2000) (V)
8. 'Rear Window' Ethics: Remembering and Restoring a Hitchcock Classic (2000) (V)
9. The Making of 'The Man Who Knew Too Much' (2000) (V) .... Himself
10. Sasquatch Odyssey: The Hunt for Bigfoot (1999) (TV) (as Jimmy Stewart) .... Conveyor of Yeti Finger
11. The 71st Annual Academy Awards (1999) (TV) (uncredited) .... George Bailey
12. Hitchcock, Selznick and the End of Hollywood (1998) (TV)
13. The 70th Annual Academy Awards (1998) (TV) .... Himself (Memorial Tribute)
14. Off the Menu: The Last Days of Chasen's (1997) (uncredited) .... Himself
15. Hollywood Commandos (1997) (TV) .... Himself
16. Christmas Unwrapped: The History of Christmas (1997) (TV) .... George Bailey
17. Escape from It's a Wonderful Life (1996) (TV) .... George
18. Classe américaine, La (1993) .... Jacques
19. Legend to Legend Night: A Celebrity Cavalcade (1993) (TV) .... Himself
20. The Carol Burnett Show: A Reunion (1993) (TV) .... Himself
21. Oscar's Greatest Moments (1992) (V) .... Himself
22. The Wonderful Wizard of Oz: 50 Years of Magic (1990) (TV) .... Himself
23. Mort Sahl: The Loyal Opposition (1989) (TV) .... Himself
24. The 1940's: Music, Memories & Milestones (1988) (V) .... Himself
25. That's Dancing! (1985)
26. Hollywood Outtakes (1984) .... Himself
27. Margret Dünser, auf der Suche nach den Besonderen (1981) (TV) .... Himself
28. Has Anybody Here Seen Canada? A History of Canadian Movies 1939-1953 (1979) (TV) (uncredited) .... Himself, at Oscar dinner, 1942
29. That's Entertainment, Part II (1976) .... Appearance
30. Brother, Can You Spare a Dime? (1975)
31. Hollywood My Home Town (1965) .... Himself
32. Screen Snapshots: Memories in Uniform (1954) .... Himself
33. Screen Snapshots: Hollywood Laugh Parade (1953) .... Himself
34. Land of Liberty (1939)
Watch James Stewart Full Movies and Trailers in:-
Watch the Full Movie
The Far Country
[extendedmedia]
[/extendedmedia]
Also Watch the Full Movie