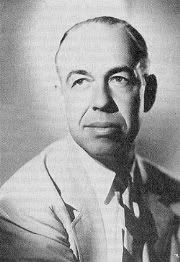 ROY WEBB
INFORMATION FROM IMDb
Date of birth
3 October 1888
New York, New York, USA
Date of death
10 December 1982
Santa Monica, California, USA. (heart attack)
Mini Biography
Roy Webb was born in New York City on 3 October, 1888, three years after his brother Kenneth, who also had a long career in show business and was a distinct influence on his younger sibling. The boys shared a creative urge that would lead them to careers in the theater, radio, film and television.
Webb studied drawing and painting at the Art Student's League in Manhattan for five years, and after high school he studied at Columbia University where, according to Christopher Palmer, Webb "was fed a diet of Bach and Beethoven: his teacher used the Bach fugues as a basis for his instruction, and Webb would later have cause to be grateful for the rigour of this early training."
Webb graduated from Columbia in 1910. He and Kenneth were both active musically by 1914, when they signed the original charter that formed ASCAP. Webb wrote popular songs in this period (none survive) before enlisting in the Navy during World War I. He was attending officers school when the Armistice was signed in 1918. Following an honorable discharge from the Navy he went to work for Kenneth as an assistant director in motion pictures.
Columbia undergraduate Richard Rodgers got to know the Webbs as the brothers retained active alumni ties with their alma mater, returning to the university in the early 1920s to help stage the annual undergraduate Varsity Show.
In 1925 Webb authored the official football fight song for Columbia University, which won him the Alumni Federation of Colleges Prize. Current recordings by the University of Michigan Band and the Mormon Tabernacle Choir reveal Webb's penchant for bitonal harmony even at this early date. For the next three years he was part of producer Herbert Fields' theatrical "family" of Richard Rodgers, Lorenz Hart, choreographer Busby Berkeley and director Alexander Leftwich. Beginning with the second edition of the Garrick Gaieties in 1926, Webb consecutively orchestrated and conducted the Rodgers and Hart musicals Peggy-Ann, A Connecticut Yankee, Present Arms, and Chee-Chee.
Webb made an important friend at this time. Born the same year but half a world apart, Max Steiner had arrived on Broadway ahead of Webb but by 1927 they were both wielding batons for Herbert Fields, with Webb conducting A Connecticut Yankee at the Vanderbilt while Steiner was conducting Hit the Deck at the Belasco. Steiner and Webb were elaborating the silent, foreign versions of Side Street and The Delightful Rogue.
Soon, however, RKO management decided that they didn't want any music in their dramatic films and closed the music department. the backlash against film musicals had begun. "Baravelle was let go," said Steiner, "and Webb sent back to New York," still on RKO's payroll to oversee unit shows. RKO offered to buy our Steiner's contract, but at the last minute gave him a month-to month deal to head the music department, just in case. Almost the first thing Steiner did was recall Webb from New York as his assistant. By 1931 Steiner demonstrated forcefully to management the value of underscoring, and for the next five years Steiner and Webb worked hand-in-glove.
By 1933 Webb was awarded his first screen credit as musical director for Professional Sweetheart. He became a charter member and treasurer of the Screen Composers Association. In 1935 Webb was handed the epic The Last Days of Pompeii to compose (his screen credit had to be fought for by Steiner and producer Merian C. Cooper). Steiner's defection to Selznick International in 1936 (shortly after Val Lewton's arrival there) left Webb as the musical signature of RKO, a position he would hold for the next twenty years.
Webb's easy familiarity with popular, light music and his innate ear for melody made him well suited for journeyman scores like Bringing Up Baby but, unexpectedly, this composer schooled in upbeat show tunes discovered his own voice with the brooding psychological thrillers that were RKO's specially in the 1940s, endowing them with very advanced harmonies and a melancholy fatalism. Stranger on the Third Floor, Murder My Sweet, Out of the Past, Notorious, The Window, The Spiral Staircase and The Locket, in addition to the Val Lewton thrillers represented in this recording, contain some of Webb's finest and most typical scoring.
Though he never won an Oscar, Webb was nominated for an Academy Award seven times between 1937 and 1945 for Quality Street, My Favorite Wife, Joan of Paris, I Married a Witch, The Fallen Sparrow, The Fighting Seabees and The Enchanted Cottage. One of Webb's proudest moments was a contemporary performance at the Hollywood Bowl of his Piano Concerto from 1945's The Enchanted Cottage.
Fully pensioned at age 67, Webb "retired" when RKO dissolved in 1955, taking occasional freelance features like Track of the Cat and Marty, television assignments including Wagon Train and 77 Sunset Strip.
Tragedy struck in 1961. Though Webb and his wife Jean escaped, their home burned to the ground. They lost everything, including all of Webb's film scores and unpublished concert music. Stunned and disheartened by the destruction of his life's work, Webb ceased composing. With no children, Webb and Jean regrouped their lives into a placid retirement. The family ranks diminished with Kenneth Webb's death in 1966. In the 1970s, ill health and failing memory encroached on Webb's final years. On 10 December 1982, he died of a heart attack at St. John's Hospital in Santa Monica at the age of 94.
Biography from [NAXOS.COM]
Filmography
Composer
1958-1960 Wagon Train (TV series)
– The Maggie Hamilton Story (1960)
– The C.L. Harding Story (1959)
– The Mary Ellen Thomas Story (1958)
– The Millie Davis Story (1958)
– The Liam Fitzmorgan Story (1958)
all 6 episodes »
1958 Teacher's Pet
1957 Shoot-Out at Medicine Bend
1957 Their Secret Affair
1956 The Girl He Left Behind
1956 The Search for Bridey Murphy (uncredited)
1956 The First Texan
1956 Our Miss Brooks
1956 The River Changes
1955 Blood Alley
1955 Bengazi
1955 The Kentuckian
1955 The Sea Chase
1955 Marty
1955 Underwater!
1955 The Americano
1954 Track of the Cat
1954 The Raid
1954 Dangerous Mission
1954 Beautiful But Dangerous
1954 Alaska Seas (uncredited)
1953 Second Chance
1953 Houdini
1953 Affair with a Stranger
1953 Split Second
1952 Operation Secret
1952 The Lusty Men
1952 This Is Cinerama (documentary) (uncredited)
1952 Clash by Night
1952 Sons of the Musketeers
1952 A Girl in Every Port
1951 Fixed Bayonets!
1951 Flying Leathernecks
1951 Hard, Fast and Beautiful
1951 Sealed Cargo
1950 Gambling House
1950 Vendetta
1950 Branded
1950 Where Danger Lives
1950 The White Tower
1950 The Secret Fury
1949 Holiday Affair
1949 Easy Living
1949 My Friend Irma
1949 Make Mine Laughs (uncredited)
1949 Mighty Joe Young
1949 The Window
1949 Roughshod
1949 Bad Men of Tombstone
1948 Blood on the Moon
1948 Rachel and the Stranger
1948 Race Street
1948 Fighting Father Dunne
1948 I Remember Mama
1947 Out of the Past
1947 Cass Timberlane
1947 Magic Town
1947 Crossfire
1947 They Won't Believe Me
1947 Riffraff
1947 The Devil Thumbs a Ride (uncredited)
1947 Easy Come, Easy Go
1947 The Perfect Marriage (uncredited)
1947 Sinbad, the Sailor
1947 Ladies' Man (uncredited)
1946 The Locket
1946 Genius at Work (uncredited)
1946 Notorious
1946 Without Reservations
1946 The Well-Groomed Bride
1946 Bedlam
1946 Badman's Territory
1946 Riverboat Rhythm (uncredited)
1945 The Spiral Staircase
1945 Cornered
1945 Splitface
1945 Sing Your Way Home
1945 George White's Scandals (uncredited)
1945 Love, Honor and Goodbye
1945 Radio Stars on Parade (uncredited)
1945 Back to Bataan
1945 The Body Snatcher
1945 Those Endearing Young Charms
1945 Zombies on Broadway
1945 Two O'Clock Courage
1945 Betrayal from the East
1945 The Enchanted Cottage
1944 Nevada (uncredited)
1944 Experiment Perilous
1944 Farewell My Lovely
1944 Tall in the Saddle
1944 The Master Race
1944 Rainbow Island
1944 Bride by Mistake
1944 The Seventh Cross
1944 Marine Raiders
1944 The Falcon Out West
1944 The Curse of the Cat People
1944 Action in Arabia
1944 Passport to Destiny
1943 The Ghost Ship
1943 Gangway for Tomorrow
1943 The Iron Major
1943 The Adventures of a Rookie (uncredited)
1943 The Seventh Victim
1943 A Lady Takes a Chance
1943 The Fallen Sparrow
1943 Behind the Rising Sun
1943 Petticoat Larceny
1943 The Falcon in Danger
1943 Mr. Lucky
1943 Bombardier
1943 The Leopard Man
1943 I Walked with a Zombie
1943 The Falcon Strikes Back
1943 Ladies' Day
1943 Flight for Freedom
1943 Journey Into Fear
1943 Hitler's Children
1943 The Nazis Strike (documentary short) (uncredited)
1942 Cat People
1942 Seven Days' Leave (uncredited)
1942 I Married a Witch
1942 The Navy Comes Through
1942 Army Surgeon
1942 Here We Go Again
1942 Highways by Night
1942 The Falcon's Brother
1942 The Big Street
1942 My Favorite Spy
1942 The Tuttles of Tahiti
1942 Obliging Young Lady
1942 Joan of Paris
1941 Playmates (uncredited)
1941 Look Who's Laughing
1941 Weekend for Three
1941 Father Takes a Wife
1941 Parachute Battalion
1941 Tom Dick and Harry
1941 The Navy Steps Out
1941 The Saint in Palm Springs
1940 Kitty Foyle
1940 You'll Find Out (uncredited)
1940 Mexican Spitfire Out West
1940 I'm Still Alive
1940 Men Against the Sky (uncredited)
1940 Wildcat Bus (uncredited)
1940 Stranger on the Third Floor
1940 Millionaires in Prison
1940 Bill of Divorcement
1940 You Can't Fool Your Wife
1940 My Favorite Wife
1940 Irene (uncredited)
1940 Curtain Call
1940 The Saint's Double Trouble (uncredited)
1940 Spirit of the People
1940 Laddie
1939 Two Thoroughbreds
1939 Reno (uncredited)
1939 That's Right - You're Wrong (uncredited)
1939 Sued for Libel (uncredited)
1939 Three Sons
1939 Full Confession
1939 Bad Lands
1939 In Name Only
1939 Career
1939 Timber Stampede (uncredited)
1939 Bachelor Mother
1939 Five Came Back
1939 The Girl from Mexico (uncredited)
1939 Panama Lady (uncredited)
1939 That Girl from College
1939 Swift Vengeance (uncredited)
1939 Double Daring (uncredited)
1939 The Flying Irishman
1939 They Made Her a Spy (uncredited)
1939 Trouble in Sundown (uncredited)
1939 Love Affair
1939 The Saint Strikes Back (uncredited)
1939 Beauty for the Asking (uncredited)
1939 Boy Slaves (uncredited)
1939 Arizona Legion (uncredited)
1939 The Great Man Votes
1938 Next Time I Marry (uncredited)
1938 The Law West of Tombstone (uncredited)
1938 Lawless Valley (uncredited)
1938 A Man to Remember
1938 The Mad Miss Manton
1938 Fugitives for a Night (uncredited)
1938 I'm from the City (uncredited)
1938 Mother Carey's Chickens (uncredited)
1938 Sky Giant (uncredited)
1938 Having Wonderful Time (uncredited)
1938 Blond Cheat (uncredited)
1938 The Saint in New York (uncredited)
1938 Gun Law (uncredited)
1938 Go Chase Yourself (uncredited)
1938 This Marriage Business (uncredited)
1938 Condemned Women (uncredited)
1938 Bringing Up Baby (uncredited)
1937 She's Got That Swing (uncredited)
1937 Wise Girl (uncredited)
1937 High Flyers (uncredited)
1937 Saturday's Heroes (uncredited)
1937 Stage Door (uncredited)
1937 The Life of the Party (uncredited)
1937 Forty Naughty Girls (uncredited)
1937 On Again-Off Again (uncredited)
1937 New Faces of 1937 (uncredited)
1937 Meet the Missus
1937 You Can't Buy Luck
1937 The Outcasts of Poker Flat (uncredited)
1937 Quality Street
1937 We're on the Jury (uncredited)
1937 They Wanted to Marry (uncredited)
1937 Racing Lady (uncredited)
1936 The Plough and the Stars
1936 Night Waitress (uncredited)
1936 Wanted: Jane Turner (uncredited)
1936 Make Way for a Lady (uncredited)
1936 A Woman Rebels (uncredited)
1936 Mummy's Boys (uncredited)
1936 The Last of the Mohicans (uncredited)
1936 Silly Billies (uncredited)
1936 Two in the Dark (uncredited)
1935 We're Only Human (uncredited)
1935 Sylvia Scarlett (uncredited)
1935 In Person (uncredited)
1935 The Rainmakers (uncredited)
1935 The Last Days of Pompeii
1935 Alice Adams (uncredited)
1935 The Arizonian (uncredited)
1935 Becky Sharp (uncredited)
1935 The Nitwits (uncredited)
1934 By Your Leave (uncredited)
1934 Triple Trouble (uncredited)
1934 Hawaiian Nights (uncredited)
1934 Cockeyed Cavaliers (uncredited)
1934 The Marriage Symphony (uncredited)
1934 Strictly Dynamite (uncredited)
1934 Cracked Shots (short) (uncredited)
1934 This Man Is Mine (uncredited)
1934 Autobuyography (short) (uncredited)
1934 Hips, Hips, Hooray! (uncredited)
1933 Behold We Live (uncredited)
1933 The Right to Romance (uncredited)
1933 Cupid in the Rough (uncredited)
1933 A Preferred List (short) (uncredited)
1933 Ann Vickers (uncredited)
1933 Blind Adventure
1933 Emergency Call (uncredited)
1933 Diplomaniacs (uncredited)
1933 Our Betters (uncredited)
1933/I Topaze (uncredited)
1930 Conspiracy (uncredited)
1930 Shooting Straight (uncredited)
1930 Inside the Lines (uncredited)
1930 Love Finds a Way (uncredited)
1930 Girl of the Port (uncredited)
1929 Sporting Life (foreign version - uncredited)
1929 The Delightful Rogue (silent foreign version - uncredited)
1929 The Three Brothers (silent foreign version - uncredited)