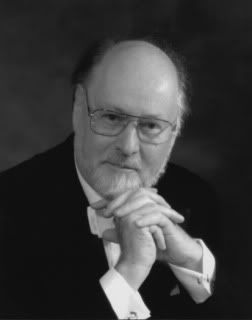 JOHN WILLIAMS
INFORMATION FROM IMDb
Date of birth
8 February 1932
Floral Park, Long Island, New York, USA
Sometimes Credited As:
John Williams Jr. / John T. Williams / Johnny T. Williams / Johnny Williams
Birth name
John Towner Williams
Spouse
Samantha Winslow (9 June 1980 - present)
Barbara Ruick (1956 - 3 March 1974) (her death) 3 children
Trade mark
Thundering theme pieces for major science fiction and fantasy films.
Extensive use of leitmotifs in scores.
Trivia
Conductor of the Boston Pops for 12 years.
Composed for all but two of Steven Spielberg's feature films.
Composed his first symphony at the urging of fellow film composer Bernard Herrmann.
Performed the famous piano riff on the original recording of Henry Mancini's theme to "Peter Gunn" (1958).
Father of composer Joseph Williams. The two worked together on Return of the Jedi, collaborating on the song performed by the alien band in Jabba's Palace. However, the song was replaced for the Special Edition.
Worked extensively with the London Symphony Orchestra
Son of jazz musician Johnny Williams, who was best known as the drummer in The Raymond Scott Quintette.
His son, Joseph Williams, became a member of the band Toto in 1986.
2002 distinguished him as the most Oscar-nominated living individual, with an astounding 41 nominations. In 2003 his total increased to 42, after receiving a nomination for Catch Me If You Can (2002). In 2004, he received his 43rd nomination, for "Harry Potter and the Prisoner of Azkaban".
In 2006, he tied Alfred Newman for the most number of Oscar nominations (45) received by a composer-conductor, when he was nominated for "Memoirs of a Geisha" and "Munich".
Son-in-law of actors Mel Ruick and Lurene Tuttle
Is a recipient of the prestigious Connor Award given by the Phi Alpha Tau brotherhood of Emerson College located in Boston, Massachusetts.
Composer of the biggest-selling instrumental single of all-time, and the only one to be officially awarded Platinum status - 2 million units by the RIAA, Meco's recording of "Star Wars Theme and Cantina Band". And, according to the Recording Industry Association of America, Meco's "Star Wars and Other Galactic Funk" album also outsold Williams' soundtrack by 300,000 units.
Grand marshal, Tournament of Roses parade [2004]
Recipient of the Kennedy Center Honors in 2004, along with Elton John, Joan Sutherland, Warren Beatty, and Ossie Davis and Ruby Dee.
Attended UCLA, Los Angeles City College & Juilliard
Composed the score to Alfred Hitchcock's final film.
Honorary Member of Kappa Kappa Psi National Honrary Band Fraternity. Member of Boston University Chapter Theta Beta, Brother # 93, Nickname: "Pops"
Personal quotes
"His chameleon adaptability was a prerequisite to longevity and success in Hollywood. We used to call him Gorgeous. He was the golden boy, a beautiful presence. His music had a freshness, and he had a freshness." - about his friend Jerry Goldsmith.
Salary
Close Encounters of the Third Kind (1977) $100,000
Mini Biography
As one of the best known, awarded, and financially successful composers in US history, John Williams is as easy to recall as John Philip Sousa, Aaron Copland or Leonard Bernstein, illustrating why he is "America's composer" time again. With a massive list of awards that includes over 41 Oscar nominations (five wins), twenty-odd Gold and Platinum Records, and a slew of Emmy (two wins), Golden Globe (three wins), Grammy (18 wins), National Board of Review (including a Career Achievement Award), Saturn (six wins), and BAFTA (seven wins) citations, along with honorary doctorate degrees numbering in the teens, Williams is undoubtedly one of the most respected composers for Cinema. He's led countless national and international orchestras, most notably as the nineteenth conductor of the Boston Pops Orchestra from 1980-1993, helming three Pops tours of the US and Japan during his tenure. He currently serves as the Pop's Conductor Laureate. Also to his credit is a parallel career as an author of serious, and some not-so-serious, concert works - performed by the likes of Mstislav Rostropovich, André Previn, Itzhak Perlman, Yo-Yo Ma, Gil Shaham, Leonard Slatkin, James Ingram, Dale Clevenger, and Joshua Bell. Of particular interests are his Essay for Strings, a jazzy Prelude & Fugue, the multimedia presentation American Journey (aka The Unfinished Journey (1999)), a Sinfonietta for Winds, a song cycle featuring poems by Rita Dove, concerti for flute, violin, clarinet, trumpet, tuba, cello, bassoon and horn, fanfares for the 1984, 1988 and 1996 Summer Olympics, the 2002 Winter Olympics, and a song co-written with Alan & Marilyn Bergman for the Special Olympics! But such a list probably warrants a more detailed background...
Born in Long Island, New York on February 8, 1932, John Towner Williams discovered music almost immediately, due in no small measure to being the son of a percussionist for CBS Radio and the Raymond Scott Quintet. After moving to Los Angeles in 1948, the young pianist and leader of his own jazz band started experimenting with arranging tunes; at age 15, he determined he was going to become a concert pianist; at 19, he premiered his first original composition, a piano sonata.
He attended both UCLA and the Los Angeles City College, studying orchestration under MGM musical associate Robert van Eps and being privately tutored by composer Mario Castelnuovo-Tedesco, until conducting for the first time during three years with the U.S. Air Force. His return to the states brought him to Julliard, where renowned piano pedagogue Madame Rosina Lhevinne helped Williams hone his performance skills. He played in jazz clubs to pay his way; still, she encouraged him to focus on composing. So it was back to L.A., with the future maestro ready to break into the Hollywood scene.
Williams found work with the Hollywood studios as a piano player, eventually accompanying such fare such as the TV series "Peter Gunn" (1958), South Pacific (1958), Some Like It Hot (1959), The Apartment (1960), and To Kill a Mockingbird (1962), as well as forming a surprising friendship with Bernard Herrmann. At age 24, 'Johnny Williams' became a staff arranger at Columbia and then at 20th Century-Fox, orchestrating for Alfred Newman and Lionel Newman, Dimitri Tiomkin, Franz Waxman, and other Golden Age notables. In the field of popular music, he performed and arranged for the likes of Vic Damone, Doris Day, and Mahalia Jackson... all while courting actress/singer Barbara Ruick, who became his wife until her death in 1974. John & Barbara had three children; their daughter is now a doctor, and their two sons, Joseph and Mark, are rock musicians.
The orchestrating gigs led to serious composing jobs for television, notably "Alcoa Premiere" (1961), "Checkmate" (1960), "Gilligan's Island" (1964), "Lost in Space" (1965), "Land of the Giants" (1968), and his Emmy-winning scores for Heidi (1968) (TV) and _Jane Eyre (1970)_ . _Daddy-O (1959)_ and Because They're Young (1960) brought his original music to the big theatres, but he was soon typecast doing comedies. His efforts in the genre helped guarantee his work on William Wyler's How to Steal a Million (1966), however, a major picture that immediately led to larger projects. Of course, his arrangements continued to garner attention, and he won his first Oscar for adapting Fiddler on the Roof (1971).
During the '70s, he was King of Disaster Scores with The Poseidon Adventure (1972), Earthquake (1974) and The Towering Inferno (1974). His psychological score for Images (1972/I) remains one of the most innovative works in soundtrack history. But his Americana - particularly The Reivers (1969) - is what caught the ear of director Steven Spielberg, then preparing for his first feature, The Sugarland Express (1974). When Spielberg reunited with Williams on Jaws (1975), they established themselves as a blockbuster team, the composer gained his first Academy Award for Original Score, and Spielberg promptly recommended Williams to a friend, George Lucas. In 1977, John Williams re-popularized the epic cinema sound of Erich Wolfgang Korngold, Franz Waxman, and other composers from the Hollywood Golden Age: Star Wars (1977) became the best selling score-only soundtrack of all time, and spawned countless musical imitators. For the next five years, though the music in Hollywood changed, John Williams wrote big, brassy scores for big, brassy films - The Fury (1978), Superman (1978), 1941 (1979), Raiders of the Lost Ark (1981) ... An experiment during this period, Heartbeeps (1981), flopped. There was a long-term change of pace, nonetheless, as Williams fell in love with an interior designer and married once more.
E.T. the Extra-Terrestrial (1982) brought about his third Oscar, and The River (1984), Empire of the Sun (1987), The Accidental Tourist (1988), and Born on the Fourth of July (1989) added variety to the 1980s, as he returned to television with work on Amazing Stories and themes for NBC, including NBC Nightly News. The '80s also brought the only exceptions to the composer's collaboration with Steven Spielberg - others scored both Spielberg's segment of Twilight Zone: The Movie (1983) and The Color Purple (1985).
Intending to retire, the composer's output became sporadic during the 1990s, particularly after the exciting Jurassic Park (1993) and the masterful, Oscar-winning Schindler's List (1993). This lighter workload, coupled with a number of hilarious references on "The Simpsons" (1989) actually seemed to renew interest in his music. Two Home Alone films (1990, 1992), JFK (1991), Nixon (1995), Sleepers (1996), Seven Years in Tibet (1997), Saving Private Ryan (1998), Angela's Ashes (1999), and a return to familiar territory with Star Wars: Episode I - The Phantom Menace (1999) recalled his creative diversity of the '70s.
In this millennium, the artist shows no interest in slowing down. His relationships with Spielberg and Lucas continue in Artificial Intelligence: AI (2001), the remaining Star Wars prequels (2002, 2005), Minority Report (2002), Catch Me If You Can (2002), and a promised fourth Indiana Jones film. There is a more focused effort on concert works, as well, including a theme for the new Walt Disney Concert Hall and a rumored light opera. But one certain highlight is his musical magic for the world of Harry Potter (2001, 2002, 2004, etc.), which he also arranged into a concert suite geared toward teaching children about the symphony orchestra. His music remains on the whistling lips of people around the globe, in the concert halls, on the promenades, in album collections, sports arenas, and parades, and, this writer hopes, touching some place in ourselves. So keep those ears ready wherever you go, 'cause you will likely hear a bit of John Williams on your way.
IMDb mini-biography by Jeffrey Wheeler
Mini Biography-2
from Leonard Maltin's Movie Encyclopedia:
It's impossible to think of Star Wars-or many other megahit movies-without calling to mind the stirring musical score crafted by this talented, prolific, award-winning composer. A Juilliard-trained musician who recorded several albums as a jazz pianist in the late 1950s, arranged albums for various pop stars, and worked as a studio musician (he's the one playing the piano vamp for Henry Mancini's memorable "Peter Gunn" theme), he took up scoring films and TV shows shortly thereafter. As "Johnny" Williams, he composed the memorable theme songs and musical backgrounds for "Voyage to the Bottom of the Sea" and "Lost in Space," among other 1960s TV shows. While his early scores-for Because They're Young (1960), Bachelor Flat (1962), Gidget Goes to Rome (1963), and John Goldfarb, Please Come Home! (1965), among others-weren't particularly noteworthy, Williams came into his own with The Killers (1964), None But the Brave (1965), and especially Valley of the Dolls (1967), for which he earned the first of many Academy Award nominations. He won an Oscar for adapting Fiddler on the Roof (1971), while Goodbye, Mr. Chips, The Reivers (both 1969), Images, The Poseidon Adventure (both 1972), Cinderella Liberty (1973), and The Towering Inferno (1974) all got Academy Award nods, but it was his throbbing, much-imitated score for Steven Spielberg's Jaws (1975) that won Williams his second Oscar and began a long and fruitful association with Spielberg which continues today.
His scores for Star Wars (and its sequels), Close Encounters of the Third Kind (1977), Superman (1978), and E. T. the Extra-Terrestrial (1982) were inexorably linked with those films' success, and their very identities (Star Wars and E. T won Oscars). Many of his soundtrack albums became best-sellers, and Williams' name became arguably the best known in movie music history. What's more, he al most singlehandedly returned the "big" orchestral film score to favor in the late 1970s. From 1980 to 1993 he conducted the Boston Pops Orchestra, and frequently integrated his film music into the orchestra's concerts.
Copyright © 1994 Leonard Maltin, used by arrangement with Signet, a
division of Penguin Putnam, Inc.
Filmography
Composer
Indiana Jones 5 (announced)
2015 Inside Out (pre-production)
???? Robopocalypse (pre-production)
2013 Ice Boy (short)
2012 Lincoln
2011 War Horse
2011 The Adventures of Tintin: The Secret of the Unicorn
2010 Harry Potter and the Forbidden Journey (short)
2010/II The Dream (short)
2008 A Timeless Call (documentary short)
2008 Indiana Jones and the Kingdom of the Crystal Skull
2005 Munich
2005 Memoirs of a Geisha
2005 War of the Worlds
2005 Star Wars: Episode III - Revenge of the Sith
2004 The Terminal
2004 Harry Potter and the Prisoner of Azkaban
2002 Catch Me If You Can
2002 Harry Potter and the Chamber of Secrets
2002 Minority Report
2002 Star Wars: Episode II - Attack of the Clones
2001 Harry Potter and the Philosopher's Stone
2001 A.I. Artificial Intelligence
2000 The Patriot
1999 The Unfinished Journey (documentary short)
1999 Angela's Ashes
1999 Star Wars: Episode I - The Phantom Menace
1999 America's Millennium (TV special)
1998 Stepmom
1998 Saving Private Ryan
1997 Amistad
1997 Seven Years in Tibet
1997 The Lost World: Jurassic Park
1997 Rosewood
1996 Sleepers
1995 Nixon
1995 Sabrina
1993 Schindler's List
1993 Jurassic Park
1992 Home Alone 2: Lost in New York
1992 Far and Away
1991 JFK
1991 Hook
1990 Home Alone
1990 Presumed Innocent
1989 Always
1989 Born on the Fourth of July
1989 Indiana Jones and the Last Crusade
1989 Stanley & Iris
1988 The Accidental Tourist
1987 Empire of the Sun
1987 The Witches of Eastwick
1986 SpaceCamp
1985 Amazing Stories (TV series)
– The Mission (1985)
– Ghost Train (1985)
1984 The River
1984 Indiana Jones and the Temple of Doom
1983 Star Wars: Episode VI - Return of the Jedi
1982 Monsignor
1982 E.T. the Extra-Terrestrial
1981 Heartbeeps
1981 Raiders of the Lost Ark
1980 Star Wars: Episode V - The Empire Strikes Back
1979 1941
1979 Dracula
1978 Superman
1978 Jaws 2
1978 The Fury
1977 Close Encounters of the Third Kind
1977 Star Wars: Episode IV - A New Hope
1977 Black Sunday
1976 Battle of Midway
1976 The Missouri Breaks
1976 Family Plot
1975 Jaws
1975 The Eiger Sanction
1974 The Towering Inferno
1974 Earthquake
1974 The Sugarland Express
1974 Conrack
1974 The Cowboys (TV series)
1973 Cinderella Liberty
1973 The Paper Chase
1973 The Man Who Loved Cat Dancing
1973 Tom Sawyer
1973 The Long Goodbye
1972 Pete 'n' Tillie (as John T. Williams)
1972 The Poseidon Adventure
1972 Images
1972 The Screaming Woman (TV movie)
1972 The Cowboys
1971 Fiddler on the Roof (score)
1970 Jane Eyre (TV movie)
1970 Storia di una donna
1969 The Reivers
1969 Goodbye, Mr. Chips (uncredited)
1969 Daddy's Gone A-Hunting
1968 CBS Playhouse (TV series)– Saturday Adoption (1968)
1968 Heidi (TV movie)
1968 Land of the Giants (TV series)– The Crash (1968)
1968 Sergeant Ryker
1967 Fitzwilly Strikes Back (as Johnny Williams)
1967 Ghostbreakers (TV movie)
1967 A Guide for the Married Man (as Johnny Williams)
1964-1967 Theatre of Stars (TV series)
– Verdict for Terror (1967)
– The Lady Is My Wife (1967)
– Dear Deductible (1966) (as Johnny Williams)
– The Sister and the Savage (1966)
– The Crime (1965)
all 6 episodes »
1966 Penelope (as Johnny Williams)
1966 Not with My Wife, You Don't! (as Johnny Williams)
1966 The Time Tunnel (TV series)
– Rendezvous with Yesterday (1966) (as Johnny Williams)
1966 The Plainsman (as Johnny Williams)
1966 How to Steal a Million (as Johnny Williams)
1966 The Kraft Summer Music Hall (TV series)
1966 The Rare Breed (as Johnny Williams)
1965-1966 Wayne and Shuster Take an Affectionate Look At... (TV series documentary)
– Bob Hope & Bing Crosby (1966) (as Johnny Williams)
– Jack Benny (1965) (as Johnny Williams)
– The Marx Brothers (1965) (as Johnny Williams)
– The Monsters (1965) (as Johnny Williams)
– The Westerns (1965) (as Johnny Williams)
all 6 episodes »
1965 Lost in Space (TV series)
– My Friend, Mr. Nobody (1965) (as Johnny Williams)
– The Hungry Sea (1965) (as Johnny Williams)
– Island in the Sky (1965) (as Johnny Williams)
– The Reluctant Stowaway (1965) (as Johnny Williams)
1964-1965 Gilligan's Island (TV series)
– Three to Get Ready (1965)
– They're Off and Running (1965)
– The Matchmaker (1965)
– The Return of Wrongway Feldman (1965)
– Diamonds Are an Ape's Best Friend (1965)
all 20 episodes »
1965 John Goldfarb, Please Come Home! (as Johnny Williams)
1965 None But the Brave (as Johnny Williams)
1963-1965 Kraft Suspense Theatre (TV series)
– Four into Zero (1965) (as Johnny Williams)
– The World I Want (1964) (as Johnny Williams)
– The Robrioz Ring (1964) (as Johnny Williams)
– Once Upon a Savage Night (1964) (as Johnny Williams)
– Knight's Gambit (1964) (as Johnny Williams)
all 19 episodes »
1965 The Katherine Reed Story (short)
1964 The Killers (as Johnny Williams)
1964 Nightmare in Chicago (TV movie)
1958-1963 Wagon Train (TV series)
– The Kitty Pryer Story (1963) (as Johnny Williams)
– The Jenny Tannen Story (1959) (as Johnny Williams)
– The Swift Cloud Story (1959) (as Johnny Williams)
– The Kitty Angel Story (1959) (as Johnny Williams)
– The Beauty Jamison Story (1958) (as Johnny Williams)
1963 Gidget Goes to Rome (as Johnny Williams)
1963 Diamond Head (as Johnny Williams)
1961-1962 Alcoa Premiere (TV series)
– Flashing Spikes (1962)
– Second Chance (1962) (as Johnny Williams)
– Moment of Decision (1961) (as Johnny Williams)
1962 Big G (TV series)
1960-1962 Checkmate (TV series)
– Death Beyond Recall (1962) (uncredited)
– The Two of Us (1961) (as Johnny Williams)
– The Crimson Pool (1961) (as Johnny Williams)
– Kill the Sound (1961) (as Johnny Williams)
– The Heat of Passion (1961) (as Johnny Williams)
all 41 episodes »
1962 Bachelor Flat
1961 The Secret Ways (as Johnny Williams)
1959-1960 Bachelor Father (TV series)
– Bentley's Birthday Gift (1960) (as Johnny Williams)
– Where There's a Will (1960) (as Johnny Williams)
– Bentley and the Beach Bum (1960) (as Johnny Williams)
– A Man of Importance (1960) (as Johnny Williams)
– Bentley and the Blood Bank (1960) (as Johnny Williams)
all 44 episodes »
1960 Because They're Young (as Johnny Williams)
1960 I Passed for White (as Johnny Williams)
1960 Kraft Mystery Theater (TV series)
1958-1959 M Squad (TV series)
– Death Is a Clock (1959) (as Johnny Williams)
– The Harpies (1959) (as Johnny Williams)
– The Star Witness (1959) (as Johnny Williams)
– One Man's Life (1959) (as Johnny Williams)
– The Teacher (1959) (as Johnny Williams)
all 8 episodes »
1958 Downbeat
1957 Tales of Wells Fargo (TV series)
1956 Playhouse 90 (TV series)
1985 Today (TV series)
Actor
1. The Contest Kid and the Big Prize (1978) (TV)
2. "A Taste for Blue Ribbons" (1973) TV Series
3. "Johnny Staccato"
... aka Staccato (USA: short title)
- The Shop of the Four Winds (1959) TV Episode (as Johnny Williams) .... Piano Player
- The Naked Truth (1959) TV Episode (as Johnny Williams) .... Piano Player