HOW GREEN WAS MY VALLEY
DIRECTED BY JOHN FORD
PRODUCED BY DARRYL F.ZANUCK
MUSIC BY ALFRED NEWMAN
TWENTIETH CENTURY FOX FILM CORPORATION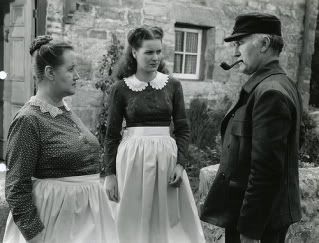 For continuity this movie can still be discussed here:-
John Ford- How Green Was My Valley (1941)
Information from IMDb
Plot Summary
Life is hard in a Welsh mining town and no less so for the Morgan family.
Seen through the eyes of the family's youngest,
Huw, we learn of the family's trials and tribulations.
Family patriarch Gwyllim and his older sons work in the mines,
dangerous and unhealthy as it is.
Gwyllim has greater hopes for younger son how to honor
his hard working parents.
Huw who has his own ideas on how to honor his father.
Daughter Angharad is the most beautiful girl in the valley
and is very much in love with Mr. Gruffydd who isn't sure
he can provide her the life she deserves.
Times are hard and good men find themselves
out of work and exploited by unseen mine owners.
Written by garykmcd
Full Cast
Walter Pidgeon .... Mr. Gruffydd
Maureen O'Hara .... Angharad Morgan
Anna Lee .... Bronwyn
Donald Crisp .... Gwilym Morgan
Roddy McDowall .... Huw Morgan
John Loder .... Ianto Morgan
Sara Allgood .... Beth Morgan
Barry Fitzgerald .... Cyfartha
Patric Knowles .... Ivor Morgan
Welsh Singers .... Choral Group
Morton Lowry .... Mr. Jonas
Arthur Shields .... Mr. Parry
Ann E. Todd .... Ceinwen (as Ann Todd)
Frederick Worlock .... Dr. Richards
Richard Fraser .... Davy Morgan
Evan S. Evans .... Gwilym Morgan Jr.
James Monks .... Owen Morgan
Rhys Williams .... Dai Bando
Lionel Pape .... C. Evans
Ethel Griffies .... Mrs. Nicholas
Marten Lamont .... Iestyn Evans
Dennis Hoey .... Motschell (scenes deleted)
Una O'Connor .... Undetermined Role (scenes deleted)
Frank Baker .... (uncredited)
Ruth Clifford .... Village Woman (uncredited)
Minta Durfee .... Bit Part (uncredited)
Herbert Evans .... Postman (uncredited)
Mary Field .... Eve (uncredited)
Pauline Garon .... Bit Part (uncredited)
Mary Gordon .... Gossiper (uncredited)
Gibson Gowland .... Bit Part (uncredited)
Ben Hall .... Bit Part (uncredited)
Louis Jean Heydt .... Miner (uncredited)
Tiny Jones .... Mrs. Tossel (uncredited)
Eve March .... Meillyn Lewis (uncredited)
Mae Marsh .... Miner's Wife (uncredited)
Harry McKim .... Child (uncredited)
Lydia McKim .... Child (uncredited)
Peggy McKim .... Child (uncredited)
Irving Pichel .... Huw Morgan as an adult (voice) (uncredited)
Clifford Severn .... Mervyn (uncredited)
Tudor Williams .... Singer (uncredited)
Writing Credits
Richard Llewellyn (novel)
Philip Dunne (screenplay)
Cinematography
Arthur C. Miller
Trivia
This film was selected to the National Film Registry, Library of Congress, in 1990.
Plans to film in Wales were abandoned due to WWII; an 80-acre set was built in the Santa Monica Mountains at Brent's Crags, near Malibu. The design of the village was based on the real Cerrig Ceinnen and nearby Clyddach-cum Tawe in Wales.
The film was shot in black and white because the color of flowers in Southern California did not match those found in Wales.
Darryl F. Zanuck originally intended the film to be a four-hour epic to rival Gone with the Wind.
William Wyler was all set to direct on location in Wales, and Laurence Olivier, Katharine Hepburn and Tyrone Power were all being courted for parts in the film.
Two major factors entered into the decision to shoot the film in Southern California: (1) the continuous bombing of Britain by the Nazis; (2) the nervousness of Fox executives about the film's pro-union storyline. These factors, and William Wyler's reputation for perfectionism, swayed Fox to keep the filming done in the U.S.
William Wyler went off to make The Little Foxes instead.
It only took two months to make the film.
Donald Crisp and Sara Allgood were always first choice to play the father and mother.
Alexander Knox was Fox's first choice for the part of Dr Gruffyd, later played by Walter Pidgeon.
John Ford referred to Philip Dunne's script as "nearly perfect a script as could be possible".
For the scene where the miners greet their women by putting their earnings in baskets, actress Maureen O'Hara stopped the scene's filming once she noticed that her basket was a modern Kraft basket and not a basket of the movie's period. Director John Ford was so upset by being corrected in front of the cast and crew that he closed down the set and told O'Hara to wait on a nearby hill until he called for her. Fuming, O'Hara waited an hour before an assistant came to retrieve her but was satisfied to see that the basket had been changed upon her return.
The songs sung by the male voices are all authentic Welsh. The song sung at the opening is "Men of Harlech".
Darryl F. Zanuck paid $300,000 for the rights to the novel.
Cyfartha's final line, "'Tis a coward I am, but I will hold your coat," was added by Ford himself over the objections of screenwriter Philip Dunne.
When the movie was intended to be a four-hour epic Tyrone Power was going to play Huw as an adult.
"Lux Radio Theater" broadcast a 60 minute radio adaptation of the movie on September 21, 1942 with Walter Pidgeon, Donald Crisp, Maureen O'Hara, Roddy McDowall and Sara Allgood reprising their film roles.
"Lux Radio Theater" broadcast a 60 minute radio adaptation of the movie on March 31, 1947 with Donald Crisp again reprising his film role.
"Lux Radio Theater" broadcast a 60 minute radio adaptation of the movie on September 28, 1954 with Donald Crisp again reprising his film role.
"The Screen Guild Theater" broadcast a 30 minute radio adaptation of the movie on March 22, 1942 with Sara Allgood, Donald Crisp, 'Roddy McDowall', Maureen O'Hara and Walter Pidgeon reprising their film roles performing with Rhys Williams.
The author of the novel, Richard Llewellyn had claimed to have based the book on his own knowledge of the Gilfach Goch area, but this was proven false, as Llewellyn was English-born and spent little time in Wales. As it turned out, he had actually gathered his facts from conversations with local mining families.
The title of the novel appears in two sentences. It is first used in Chapter XXX, after the narrator has just had his first sexual experience. He sits up to "look down in the valley." He then reflects: "How green was my Valley that day, too, green and bright in the sun." Needless to say, this sexual experience was cut out of the film. The phrase is used again in the novel's last sentence: "How green was my Valley then, and the Valley of them that have gone."
The author continued the story about Huw Morgan's life in 3 sequels. 'Up into the Singing Mountain' (1960) in which Huw emigrates to Argentina; 'Down Where the Moon is Small' (1966), Huw's life in Welsh-speaking parts of Argentina; and 'Green, Green My Valley Now' (1975), in which Huw returns to Wales. None of these have been made into films, and 'How Green Was My Valley' is still the most consistently popular novel of the series.
As well as this film, the book has twice been adapted by the BBC as a serial for television, in 1960 and 1975. The 1975 production - scripted by Elaine Morgan - starred Stanley Baker, Siân Phillips, and Nerys Hughes. It was also adapted as a Broadway musical, called A Time for Singing, which opened at the Broadway Theatre, New York, on May 21, 1966. The music was by John Morris; book and lyrics were by Gerald Freedman and John Morris. The production was directed by Mr. Freedman, and it starred Ivor Emmanuel, Tessie O'Shea, Shani Wallis, and Laurence Naismith.
"How Green Was My Valley" famously beat Orson Welles 'Citizen Kane' to an Oscar.
Goofs
Continuity: When Roddy McDowall's character comes home after being beaten by his teacher, there is no blood or marks on his back.
Errors in geography: Although a good effort is putting into making the locations look Welsh, the mountains sometimes seen in the background are too high for South Wales.
Revealing mistakes: SPOILER: Gwilym Morgan's dead body is plainly breathing.
Filming Locations
20th Century Fox Ranch, Malibu Creek State Park - 1925 Las Virgenes Road, Calabasas, California, USA (village set)
Brent's Crags, California, USA
Malibu, California, USA
Santa Monica Mountains, Los Angeles, California, USA
Stage 15, 20th Century Fox Studios - 10201 Pico Blvd., Century City, Los Angeles, California, USA (studio)
For continuity this movie can still be discussed here:-
John Ford- How Green Was My Valley (1941)