AGAINST ALL FLAGS
DIRECTED BY GEORGE SHERMAN
PRODUCED BY HOWARD CHRISTIE
ORIGINAL MUSIC BY HANS J. SLATER
UNIVERSAL INTERNATIONAL PICTURES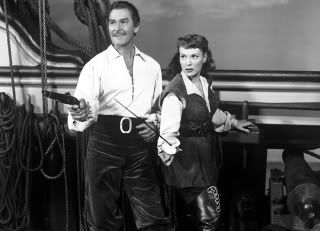 Information from IMDb
Plot Summary
In 1700, the pirates of Madagascar menace the India trade;
British officer Brian Hawke has himself cashiered, flogged,
and set adrift to infiltrate the pirate "republic."
There, Hawke meets lovely Spitfire Stevens, a pirate captain in her own right,
and the sparks begin to fly; but wooing a pirate poses unique problems.
Especially after he rescues adoring young Princess Patma from a captured ship.
Meanwhile, Hawke's secret mission proceeds to an action-packed climax.
Written by Rod Crawford
Full Cast
Errol Flynn .... Brian Hawke
Maureen O'Hara .... Prudence 'Spitfire' Stevens
Anthony Quinn .... Capt. Roc Brasiliano
Alice Kelley .... Princess Patma
Mildred Natwick .... Molvina MacGregor
Robert Warwick .... Captain Kidd
Harry Cording .... Gow
John Alderson .... Jonathan Harris
Phil Tully .... Jones
Lester Matthews .... Sir Cloudsley
Tudor Owen .... William the armourer
Maurice Marsac .... Captain Moisson
James Craven .... Captain Hornsby
James Fairfax .... Cruikshank the barber
John Anderson .... (uncredited)
Rene Beard .... Archimedes (uncredited)
Larry Chance .... The Lookout (uncredited)
Michael Ferris .... Quartermaster (uncredited)
Charles B. Fitzsimons .... Flag Lieutenant (uncredited)
Arthur Gould-Porter .... Lord Portland (uncredited)
Maralou Gray .... Harem girl (uncredited)
Chuck Hamilton .... Pirate (uncredited)
Robert 'Buzz' Henry .... Pirate raider (uncredited)
Olaf Hytten .... King William (uncredited)
Dave Kashner .... Flogger (uncredited)
Ethan Laidlaw .... Townsman (uncredited)
Mike Lally .... Pirate (uncredited)
James Logan .... Captain Robert (uncredited)
Keith McConnell .... Quartermaster (uncredited)
Paul Newlan .... Crop-ear Collins (uncredited)
Bill Radovich .... Hassan (uncredited)
Michael Ross .... Swaine (uncredited)
Lewis L. Russell .... Oxford (uncredited)
Carl Saxe .... Pirate (uncredited)
Emmett Smith .... Captain Black Death (uncredited)
Writing Credits
Æneas MacKenzie (story) (as Aeneas MacKenzie)
and Joseph Hoffman
Cinematography
Russell Metty
Trivia
Though Errol Flynn did most of his own stunts, he balked at the one involving sliding down through a sail on a rapier blade, which was originated by Douglas Fairbanks in The Black Pirate. The stunt was performed by a double.
In her autobiography "'Tis Herself", Maureen O'Hara says that Errol Flynn was always prepared, always knew his lines, and was a pleasure to work with in the mornings. But he drank and by 4pm was in no shape to continue. Even after director George Sherman banned alcohol on the set, O'Hara recalled, Flynn would inject oranges with booze and eat them in the morning, so that he was drunk by afternoon. O'Hara did all the romantic closeups at the end of the day with a black flag marked "X" to represent Flynn.
Flynn suffered a broken ankle during filming, and while he was recovering, Universal took advantage of the unused sets by scripting and shooting a hastily assembled B picture, Yankee Buccaneer with Jeff Chandler.
Goofs
Anachronisms: In the last battle aboard the ship Hawke climbs one of the masts. The crow's nest at the top has a modern looking wire mesh guard around it, instead of the rope netting one would expect in an 18th century vessel.
Factual errors: Captain Kidd is shown as one of the pirate captains in 1700. However, in 1699 Captain Kidd was arrested in Boston, sent to England in 1700, and executed in 1701.
Revealing mistakes: At the beginning of the movie, it is obvious that the "scars" are simply painted on Error Flynn's back, and in no way resemble the deep gashes a flogging would cause.
Incorrectly regarded as goofs: Throughout the movie the pirate ships are shown as major warships, including two-deck ships-of-the-line; though most pirate ships were smaller vessels (usually converted from merchant ships) and this might be considered a Goof, pirates would 'trade up' when they captured better ships; successful pirates, such as Bartholomew Roberts, would often end up with such formidable ships; it was pirates such as these who formed the Pirate Republics like the fictional Libertatia, so it is not at all unlikely to see pirate ships like that there.
Continuity: In the final battle aboard the Scorpion, Harris kills the same pirate twice.