KANGAROO
aka The Australian Story
DIRECTED BY LEWIS MILESTONE
PRODUCED BY ROBERT BASSLER
ORIGINAL MUSIC BY SOL KAPLAN
TWENTIETH CENTURY FOX FILM CORPORATION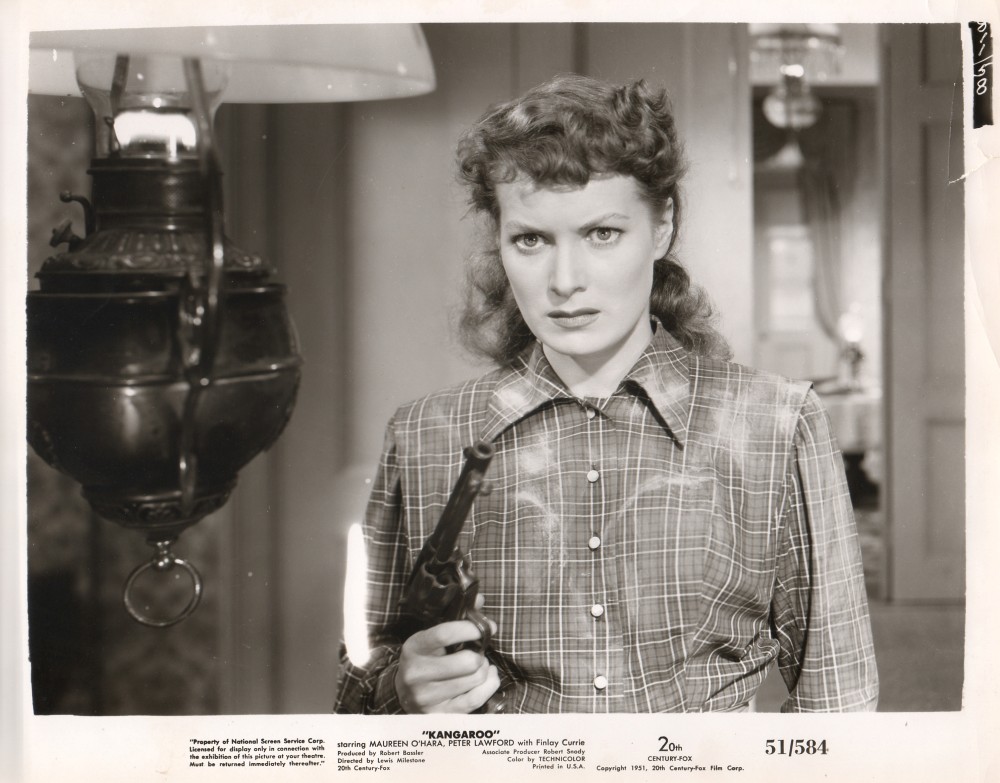 Photo with the courtesy of lasbugas

Information from IMDb
Plot Summary
Besotted by alcohol, Australian cattle-station owner Michael McGuire (Finlay Currie)
is led to believe that crooked gambler Richard Connor (Peter Lawford) is his long-lost son.
Connor and his partner-in-crime...
Full Cast
Maureen O'Hara .... Dell McGuire
Peter Lawford .... Richard Connor
Finlay Currie .... Michael McGuire
Richard Boone .... John W. Gamble
Chips Rafferty .... Trooper Leonard
Letty Craydon .... Kathleen, McGuire's Housekeeper
Charles 'Bud' Tingwell .... Matt
Ron Whelan .... Fenner the Gambler
John Fegan .... Burke
Guy Doleman .... Pleader
Reg Collins .... Ship's Officer
Frank Ransome .... Burton, Station Foreman
Clyde Combo .... Aborigine Stockman
Henry Murdoch .... Black Tracker
Marshall Crosby .... Gambler (as Marshal Crosby)
Eve Abdullah .... Woman Servant (uncredited)
Alan Bardsley .... Cook on Cattle Drive (uncredited)
Billy Bray .... Sailor (uncredited)
Frank Catchlove .... Walter the Publican (uncredited)
Syd Chambers .... Sailor (uncredited)
John Clark .... Ferret Face (uncredited)
Kleber Claux .... Sailor (uncredited)
Alexander Cross .... Sailor (uncredited)
Larry Crowhurst .... Cockatoo at Door (uncredited)
James Doogue .... Sailor (uncredited)
Dennis Glenny .... Well-Dressed Cockatoo (uncredited)
Archie Hull .... Sailor (uncredited)
Douglas Ramsey .... Kelly-Station Foreman (uncredited)
Stan Tolhurst .... Policeman (uncredited)
Joe Tomal .... Sailor (uncredited)
Ossie Wenban .... Sailor (uncredited)
Writing Credits
Martin Berkeley story
Harry Kleiner
Non-Original Music
Alfred Newman (stock music) (uncredited)
Cinematography
Charles G. Clarke
Trivia
The film is also known as The Australian Story (American subtitle).
The first Technicolor movie filmed on-location in Australia.
Strong winds on location forced director Lewis Milestone to re-dub much of the exterior dialogue.
The housing settlement outside Port Augusta established to house 150 crew was nicknamed "Zanuckville" after the then head of 20th Century Fox, Darryl F. Zanuck
Filming Locations
All Saints Catholic Church, 49-51 Flinders Terrace, Port Augusta, South Australia, Australia
Buckaringa Gorge, South Australia, Australia
Catninga, South Australia, Australia
Flinders Ranges, South Australia, Australia
Flinders Terrace, Port Augusta, South Australia, Australia
Loudon Road, Port Augusta West, South Australia, Australia
New South Wales, Australia
Pagewood Studios, Sydney, New South Wales, Australia
(interiors)
Port Augusta West, South Australia, Australia
Port Augusta, South Australia, Australia
Quorn, South Australia, Australia
Sandy Creek, South Australia, Australia
South Australia, Australia
Sydney, New South Wales, Australia
The Rocks, Sydney, New South Wales, Australia
Woolundunga Station, South Australia, Australia
(as Rooloora)