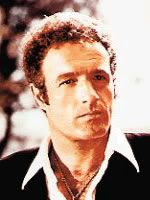 JAMES CAAN
Information from IMDb
Date of birth
26 March 1940
The Bronx, New York, USA
Sometimes Credited As:
Jimmy Caan
Birth name
James Edmund Caan
Nickname
Jimmy
Height
5' 11½" (1.82 m)
Spouse
Linda Stokes (7 October 1995 - present) 2 children
Ingrid Hajek (9 September 1990 - March 1995) (divorced) 1 child
Sheila Ryan (1976 - 1977) (divorced) 1 child
Dee Jay Mathis (1960 - 1966) (divorced) 1 child
Trivia
Played football for Michigan State University.
Born at 10:31pm-EST.
Father of actor Scott Caan.
Was offered the role of McMurphy in One Flew Over the Cuckoo's Nest (1975).
In the 1990s, he kicked a cocaine habit of some 20 years.
States that Thief (1981) is one of his favorite films.
Son of Arthur & Sophie Caan. His father was a kosher butcher.
Turned down plum roles in MASH (1970) & Apocalypse Now (1979).
Briefly lived at the Playboy Mansion in the 1970s.
One brother, Ronnie Caan, and one sister, Barbara (deceased c. 1981--leukemia).
Some sources give his birth year as 1939.
Was originally tested for the role of Sonny (director Francis Ford Coppola had worked with him and Robert Duvall in The Rain People (1969) and wanted them in the movie), but then was slated to play Michael Corleone in The Godfather (1972) after Paramount's initial choices (which included Warren Beatty, Robert Redford and Ryan O'Neal) did not pan out. When Al Pacino came on board, he was switched back to Sonny.
Spent 9 years on the pro rodeo circuit.
Has a black belt in karate.
Was a drama major at Hofstra University on Long Island, New York.
Sons, James Arthur Caan (b. 6 November 1995) and Jacob Caan (b. 1998).
After being turned down by Jack Nicholson and Al Pacino, Julia Phillips inquired of Caan's agent if he would be interested in taking the lead role of Roy Neary in Close Encounters of the Third Kind (1977). Caan's agent responded that he would read the script for a guarantee of $1 million plus 10% of the gross if he accepted the role. Phillips went with the original choice, Richard Dreyfuss.
Was considered by George Lucas for the role of Han Solo in Star Wars (1977).
Two generations of his family and the Coppola family have worked together. He worked with Francis Ford Coppola most memorably in the first two Godfather films (The Godfather (1972) and The Godfather: Part II (1974)) and in Gardens of Stone (1987). His son, Scott Caan, appeared in Sonny (2002), which was directed by Nicolas Cage and featured Cage and his brother, Marc Coppola. Sonny was also the name of Caan's "Godfather" character.
Appears in Misery (1990), which was directed by Rob Reiner. His son, Scott Caan, appeared in Ocean's Eleven (2001) and Ocean's Twelve (2004), opposite Reiner's father, Carl Reiner.
In the Godfather trilogy, Andy Garcia plays the son of Caan's character, Sonny Corleone. In Ocean's Eleven (2001) and Ocean's Twelve (2004), Caan's son, Scott Caan, works with Garcia.
Grew up in Sunnyside, Queens, New York City.
In his youth, his nicknames were "Shoulders" and "Killer Caan".
While on sabbatical from acting he coached a little league baseball team, specifically there was one incident where his team's weakest player hit a home run that won a game, this incident is claimed by Caan as one of the greatest moments of his life.
His film contracts during his rodeo days had written in them that he could not compete in rodeos during filming. This was for fear he would injury himself or be killed.
According to the British documentary The Godfather and the Mob (2006) (TV), Caan was regularly seen with Gambino family underboss Carmine "Junior" Persico during the filming of The Godfather (1972). As Persico was under surveillance by the FBI at the time, Caan came under almost equal scrutiny.
Salary
The Godfather: Part II (1974) $35,000
The Godfather (1972) $35,000
Personal Quotes
[On being voted 'Italian of the Year' in New York twice, after his role as Sonny Corleone in The Godfather (1972)]: I'm a Jew from the Bronx. I feel guilty about accepting these awards, but they wouldn't let me turn them down.
I have an agent I trust professionally more than anybody else, but with the best intentions he could put me in the shit-house just as fast as somebody who wanted to ruin me.
I'd rather get sloshed than stoned.
Anyone of my generation who tells you he hasn't "done" Brando (Marlon Brando) is lying.
Mini Biography
A masculine and enigmatic actor whose life and movie career have had more ups and downs than the average rollercoaster and whose selection of roles has arguably derailed him from achieving true superstar status, James Caan is New York born and bred (the son of a butcher). The athletically gifted Caan played football at Michigan State University while studying economics, holds a black belt in karate and for several years was even a regular on the rodeo circuit, where he was nicknamed "The Jewish Cowboy". However, while studying at Hofstra University, he became intrigued by acting and was interviewed and accepted at Sanford Meisner's Neighborhood Playhouse. He then won a scholarship to study under acting coach Wynn Handman and began to appear in several off-Broadway productions, including "I Roam" and "Mandingo".
He made his screen debut as a sailor in Irma la Douce (1963) and began to impress audiences with his work in Red Line 7000 (1965) and the western El Dorado (1966) alongside John Wayne and Robert Mitchum. Further work followed in Journey to Shiloh (1968) and in the sensitive The Rain People (1969). However, audiences were moved to tears as he put in a heart-rending performance as cancer-stricken Chicago Bears running back Brian Piccolo in the highly rated made-for-TV film Brian's Song (1971) (TV).
With these strong performances under his belt, Francis Ford Coppola then cast him as hot-tempered gangster Santino "Sonny" Corleone in the Mafia epic The Godfather (1972). The film was an enormous success, Caan scored a Best Supporting Actor nomination and, in the years since, the role has proven to be the one most fondly remembered by his legion of fans. He reprised the role for several flashback scenes in the sequel The Godfather: Part II (1974) and then moved on to several very diverse projects. These included a cop-buddy crime partnership with Alan Arkin in the uneven Freebie and the Bean (1974), a superb performance as a man playing for his life in The Gambler (1974) alongside Lauren Hutton, and pairing with Barbra Streisand in Funny Lady (1975). Two further strong lead roles came up for him in 1975, first as futuristic sports star "Jonathon E" questioning the moral fiber of a sterile society in Rollerball (1975) and teaming up with Robert Duvall in the Sam Peckinpah spy thriller The Killer Elite (1975).
Unfortunately, Caan's rising star sputtered badly at this stage of his career, and several film projects failed to find fire with either critics or audiences. These included such failures as the hokey Harry and Walter Go to New York (1976), the quasi-western Comes a Horseman (1978) and the saccharine Chapter Two (1979). However, he did score again with the stylish Michael Mann-directed heist movie Thief (1981). He followed this with a supernatural romantic comedy titled Kiss Me Goodbye (1982) and then, due to personal conflicts, dropped out of the spotlight for several years before returning with a stellar performance under old friend Francis Ford Coppola in the moving Gardens of Stone (1987).
Caan appeared back in favor with fans and critics alike and raised his visibility with the sci-fi hit Alien Nation (1988) and Dick Tracy (1990), then surprised everyone by playing a meek romance novelist held captive after a car accident by a deranged fan in the dynamic Misery (1990). The 1990s were kind to him and he notched up roles as a band leader in For the Boys (1991), another gangster in Honeymoon in Vegas (1992), appeared in the indie hit Bottle Rocket (1996) and pursued Arnold Schwarzenegger in Eraser (1996).
The demand on Caan's talents seems to have increased steadily over the past few years as he is making himself known to a new generation of fans. Recent hot onscreen roles have included The Yards (2000), City of Ghosts (2002) and Dogville (2003). In addition, he finds himself at the helm of the hit TV series "Las Vegas" (2003) as casino security chief "Big Ed" Deline. An actor of undeniably manly appeal, James Caan continues to surprise and delight audiences with his invigorating performances.
IMDb mini-biography by firehouse44
Filmography
Actor
1. "Las Vegas" .... Ed Deline
- Delinda's Box (2006) TV Episode .... Ed Deline
- Father of the Bride (2006) TV Episode .... Ed Deline
- Fidelity, Security, Delivery (2006) TV Episode .... Ed Deline
- Chaos Theory (2006) TV Episode .... Ed Deline
- All Quiet on the Montecito Front (2006) TV Episode .... Ed Deline
(65 more)
2. The Godfather: Mob Wars (2006) (VG) (voice) .... Santino 'Sonny' Corleone
3. The Godfather: The Game (2006) (VG) (voice) .... Santino 'Sonny' Corleone
4. Santa's Slay (2005) (uncredited) .... Darren Mason
5. "Crossing Jordan"
- What Happens in Vegas Dies in Boston (2004) TV Episode .... Ed Deline
6. Elf (2003) .... Walter
7. This Thing of Ours (2003) .... Jimmy 'the con'
8. The Incredible Mrs. Ritchie (2003) (TV) .... Mr. Harry Dewitt
... aka Incroyable Mme Richie, L' (Canada: French title)
9. Dogville (2003) .... The Big Man
... aka Dogville (France)
... aka U - Der Film 'Dogville' erzählt in neun Kapiteln und einem Prolog. (Germany)
10. Jericho Mansions (2003) .... Leonard Grey
11. Blood Crime (2002) (TV) .... Sheriff Morgan McKenna
12. City of Ghosts (2002) .... Marvin
13. Lathe of Heaven (2002) (TV) .... Dr. William Haber
14. Night at the Golden Eagle (2002) (uncredited) .... Prison Warden
15. Untitled Eric Gilliland Project (2002) (TV)
16. In the Shadows (2001) .... Lance Huston
17. Viva Las Nowhere (2001) .... Roy Baker
... aka Dead Simple (USA: video title)
18. A Glimpse of Hell (2001) (TV) .... Capt. Fred Moosally
19. Warden of Red Rock (2001) (TV) .... John Flinders
20. The Way of the Gun (2000) .... Joe Sarno
21. Luckytown (2000) .... Charlie Doyles
22. The Yards (2000) .... Frank Olchin
23. Mickey Blue Eyes (1999) .... Frank Vitale
24. Poodle Springs (1998) (TV) .... Philip Marlowe
25. This Is My Father (1998/I) .... Kieran Johnson
... aka Histoire de mon père, L' (Canada: French title: TV title)
26. Bulletproof (1996) .... Frank Colton
27. Eraser (1996) .... U.S. Marshal Robert Deguerin
28. Bottle Rocket (1996) .... Abe Henry (Mr. Henry)
29. Tashunga (1996) .... Sean McLennon
... aka Duello tra i ghiacci (Italy)
... aka Grand nord
... aka North Star (USA)
30. A Boy Called Hate (1995) .... Jim
31. Flesh and Bone (1993) .... Roy Sweeney
32. The Program (1993) .... Sam Winters
33. Honeymoon in Vegas (1992) .... Tommy Korman
34. The Godfather Trilogy: 1901-1980 (1992) (V) .... Santino 'Sonny' Corleone
... aka The Godfather Saga (USA)
... aka The Godfather Trilogy
35. For the Boys (1991) .... Eddie Sparks
36. The Dark Backward (1991) .... Doctor Scurvy
... aka The Man with Three Arms (UK)
37. Misery (1990) .... Paul Sheldon
38. Dick Tracy (1990) .... Spaldoni
39. Dad (1989)
40. Alien Nation (1988) .... Det. Sgt. Matthew Sykes
41. Gardens of Stone (1987) .... Sgt. Clell Hazard
42. "Uns et les autres, Les" (1983) (mini) TV Series .... Glenn Sr./Glenn Jr.
43. Kiss Me Goodbye (1982) .... Jolly Villano
44. Uns et les autres, Les (1981) .... Jack Glenn/Jason Glenn
... aka Bolero (USA)
... aka Within Memory
45. Thief (1981) .... Frank
46. Hide in Plain Sight (1980) .... Thomas Hacklin
47. Chapter Two (1979) .... George Schneider
48. 1941 (1979) (uncredited) .... Sailor in Fight
49. Comes a Horseman (1978) .... Frank 'Buck' Athearn
50. "The Godfather Saga" (1977) (mini) TV Series .... Santino 'Sonny' Corleone
51. Un autre homme, une autre chance (1977) .... David Williams
... aka Another Man, Another Chance (Philippines: English title) (USA)
... aka Another Man, Another Woman (UK)
52. A Bridge Too Far (1977) .... SSgt. Eddie Dohun
53. Harry and Walter Go to New York (1976) .... Harry Dighby
54. Celebration: The American Spirit (1976) (TV)
55. The Killer Elite (1975) .... Mike Locken
56. Gone with the West (1975) .... Jud McGraw
... aka Bronco Busters
... aka Little Moon and Jud McGraw (USA: reissue title)
57. Rollerball (1975) .... Jonathan E.
58. Funny Lady (1975) .... Billy Rose
59. Freebie and the Bean (1974) .... Freebie
60. The Godfather: Part II (1974) .... Sonny Corleone (special participation)
... aka Mario Puzo's The Godfather: Part II (USA: complete title)
61. The Gambler (1974) .... Axel Freed
62. Cinderella Liberty (1973) .... John Baggs Jr.
63. Slither (1973) .... Dick Kanipsia
64. The Godfather (1972) .... Santino 'Sonny' Corleone
... aka Mario Puzo's The Godfather (USA: complete title)
65. Brian's Song (1971) (TV) .... Brian Piccolo
66. T.R. Baskin (1971) .... Larry Moore
... aka A Date with a Lonely Girl (UK)
67. Rabbit, Run (1970) .... Rabbit Angstrom
68. The Rain People (1969) .... Jimmy Kilgannon (Killer)
69. "Get Smart"
- To Sire, with Love: Part 2 (1969) TV Episode (uncredited) .... Rupert of Rathskeller
- To Sire, with Love: Part 1 (1969) TV Episode (uncredited) .... Rupert of Rathskeller
70. "The F.B.I."
- A Life in the Balance (1969) TV Episode .... Eugene David Holt
71. Journey to Shiloh (1968) .... Buck Burnett
72. Countdown (1968) .... Lee Stegler
73. Submarine X-1 (1968) .... Cmdr. Richard Bolton, RNVR
74. Games (1967) .... Paul Montgomery
75. El Dorado (1966) .... Alan Bourdillion Traherne ('Mississippi')
76. Red Line 7000 (1965) .... Mike
77. The Glory Guys (1965) .... Pvt. Anthony Dugan
78. "Wagon Train"
... aka Major Adams, Trail Master
- The Echo Pass Story (1965) TV Episode .... Paul
79. "The Alfred Hitchcock Hour"
- Memo from Purgatory (1964) TV Episode .... Jay Shaw/Phil Beldone
80. Lady in a Cage (1964) .... Randall Simpson O'Connell
81. "Channing"
... aka The Young and the Bold
- My Son, the All-American (1964) TV Episode .... Jeff Brubaker
82. "Kraft Suspense Theatre"
- The Hunt (1963) TV Episode .... Rick Peterson
83. "Combat!"
- Anatomy of a Patrol (1963) TV Episode .... Sgt. Beckman
84. "Death Valley Days"
... aka Call of the West (USA: syndication title)
... aka The Pioneers (USA: syndication title)
... aka Trails West (USA: syndication title)
... aka Western Star Theater (USA: syndication title)
- Deadly Decision (1963) TV Episode .... Jim McKinney
- Shadow of Violence (1963) TV Episode .... Bob
85. "Ben Casey"
- Justice to a Microbe (1963) TV Episode .... Dr. Keith Gregory
86. Irma la Douce (1963) (uncredited) .... Soldier with radio
87. "Dr. Kildare"
- The Mosaic (1963) TV Episode .... Charley Johnson
88. "The Wide Country"
- A Cry from the Mountain (1963) TV Episode .... Buddie Simpson
89. "The Untouchables"
- A Fist of Five (1962) TV Episode .... Keir Brannon
90. "Alcoa Premiere"
- The Masked Marine (1962) TV Episode .... Arch Williams
91. "Route 66"
- And the Cat Jumped Over the Moon (1961) TV Episode .... Johnny
92. "Naked City"
- Bullets Cost too Much (1961) TV Episode (as Jimmy Caan)
Soundtrack
1. City of Ghosts (2002) (performer: "Bong Srilang")
2. Mickey Blue Eyes (1999) (performer: "You're Nobody 'Til Somebody Loves You")
3. Funny Lady (1975) (performer: "It's Only A Paper Moon/I Like Her", "Me And My Shadow")
Director
1. Hide in Plain Sight (1980)