Alamo Village
Part One
Brackettville,Texas
Obviously
The Alamo
was filmed here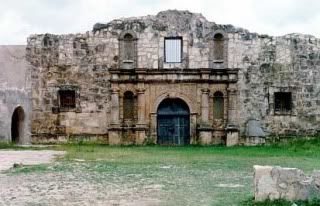 ..
(Click on photos for enlargements)
Alamo Village
is a movie set and was untill 2009
a tourist attraction north of Brackettville, Texas, United States,
It can be found just north of Brackettville itself, on Route 674.
It was once Texas' most active and versatile movie set
and also one of the largest and most complete
(no false fronts here) backlots in the world.
The full-sized facsimile, which took two years to complete,
used the original plans,
the traditional adobe techniques and – without any apparent irony –
a largely Mexican workforce of 5,000.
It was the first movie location built in Texas',
and It was claimed at the time
to be the biggest movie set outside Hollywood
...
Built for
John Wayne's The Alamo,
Alamo Village
has played host to more than 200 major feature films,
TV movies, mini-series,documentaries, commercials, and music videos.
Barbarosa
with Willie Nelson,
Lonesome Dove
with Robert Duvall and Tommy Lee Jones,
The Good Old Boys
, starring Sissy Spacek, Tommy Lee Jones,
and Matt Damon,
Bad Girls
with Andie MacDowell
and Drew Barrymore and the modern day millennial comedy thriller,
The Bullfighter
with Willem Defoe have all been
filmed here.
...
Part One
History
The set was built by rancher and businessman
James T. "Happy" Shahan of Brackettville,
who in 1995 was named the "Father of the Texas movie industry"
by Governor George W. Bush.
Why Kinney County?
because Shahan convinced J
ohn Wayne's
Batjac Productions
to film
The Alamo
here.
..
John Wayne's
lumbering epic, a long, long way from the historical truth,
actually began filming in Mexico – there's not much of the real Alamo left
– but this proved too expensive.
...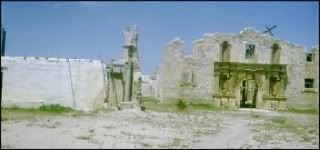 Even so, at $7,500,000, The Alamo was the costliest movie made at the time.
The production was closed down and restarted at Brackettville on Highway 90,
about 100 miles west of San Antonio toward Del Rio, West Texas,
where Wayne leased 400 acres of a 22,000 acre ranch belonging to one
JT 'Happy' Shahan, and the Alamo was rebuilt.
Shahan began building the set
on his ranch in September, 1957 for
Wayne
,
who had tried for years to make a movie about the
Battle of the Alamo for Republic Pictures,
before finally breaking away to form
Batjac Productions.
Filming in Bracketville began in August, 1959.
Since, hundreds of other production companies
have used our one-of-a-kind set located in the middle
of a 30 square mile working ranch.
Compiled by ethanedwards
with information from
Alamo Village,
Movie Locations of the World and Wikipedia
Best Wishes
Keith
London
-
England