COLORADO
Ridgeway
Uncompahgre Valley ,Colorado
Many Scenes from
True Grit
were shot at these locations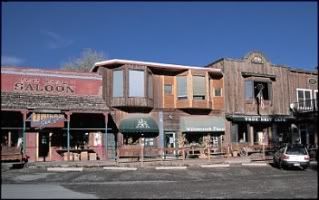 Ridgeway.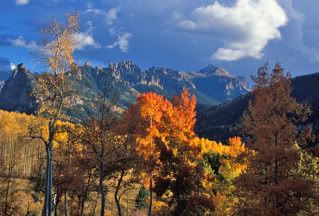 Owl Creek Pass
Located in the picturesque Uncompahgre Valley
Ridgeway is surrounded by majestic snow-capped peaks of the Cimarron
and San Juan Mountains, Ridgway is the "Gateway to the San Juans."
This "gateway" position was recognized over 100 years ago
when the Rio Grande Southern established Ridgway as a
railhead center servicing the nearby mining towns of Ouray and Telluride.
The town was named for railroad superintendent Robert M. Ridgway
who established the town in 1891.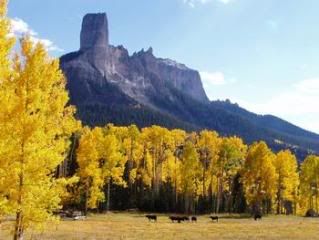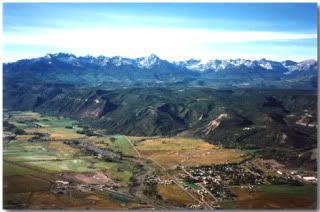 ( (c) 2003 James Pettengill, used by permission, all rights reserved)
Kate's Meadow, where the shoot out took place
Ridgway- Wikipedia
_________________________________________________________________
Ouray Court House
Ouray, Colorado
The courtroom was used in
True Grit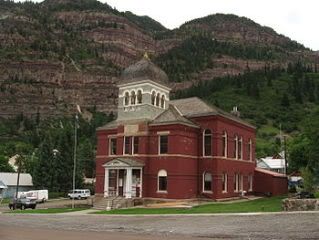 The Ouray County Courthouse, constructed in 1888,
is the seat of government of Ouray County, Colorado.
It is located at the corner of 6th Avenue and 4th Street in Ouray, Colorado.
This structure has been placed on the United States National Register of Historic Places.
Infoprmation from Wikipedia
_________________________________________________________________
Buckskin Joe's Frontier Town
Canon City, Nevada
Scenes from
True Grit
and
The Cowboys
were shot here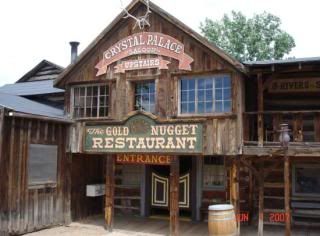 Nestled in the heart of Royal Gorge Country,
you'll feel like you jumped out of the 21st century back into old west
where the name of the game was fast guns and slow travel.
At Buckskin Joe Frontier Town and Railway,
we have provided millions of guests a unique experience
and have helped create a ton of fun memories, since 1958.
Buckskin Joe closing after 53 years
The (Colorado Springs), Gazette,
Sep 3, 2010 | by ANDREW WINEKE
Buckskin Joe Frontier Town and Railway,
a staple of Canon City tourism for 53 years,
will close Sept. 12.2010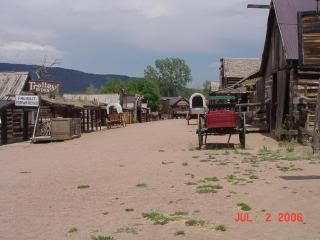 Owner Greg Tabuteau, who has owned the attraction for 25 years,
sold the 805-acre property to a man he says wishes to remain anonymous.
Tabuteau said the new owner is an Old West buff who was more interested
in the buildings than the land and plans to move the structures to a new location.
It's unknown what will happen to the land.
Tabuteau, 63, said he's ready to relax a little.
"I've been in tourism all my life and never had a summer vacation,"
Tabuteau said. "My wife and I want to have a little fun before
I don't have the health to do it anymore."
Buckskin Joe's employs 45 people, all but five of those seasonal employees.
Mike Bandera, general manager of the Royal Gorge Bridge and Park,
said Buckskin Joe has been a good partner and that losing
one of the gorge's attractions makes it harder to bring visitors to the area.
"Very sorry to see them go," Bandera said.
"Obviously, the more you have, the greater you're likely
to be the destination for a family."
Buckskin Joe was built in 1957 as a set for Western movies
and 30 authentic buildings were moved in from ghost towns around the region,
including one building from the real Buckskin Joe,
a mining camp outside of Alma that enjoyed a brief heyday in the 1860's.
The Royal Gorge Buckskin Joe was the setting for
1965's "Cat Ballou" and John Wayne's "The Cowboys" (1972),
along with many other films.
For more information:-
Buckskin Joes- Wikipedia
_________________________________________________________________
Bent's Old Fort
Otero County ,Colorado
Some scenes from
How the West Was Won
were shot here.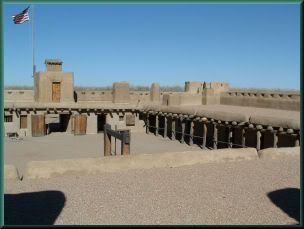 Bent's Old Fort is an 1833 fort located in Otero County in southeastern Colorado, USA.
William and Charles Bent, along with Ceran St. Vrain, built the fort to trade
with Southern Cheyenne and Arapaho Plains Indians and trappers for buffalo robes.
For much of its 16-year history, the fort was the only major permanent settlement
on the Santa Fe Trail between Missouri and the Mexican settlements.
It was destroyed under mysterious circumstances in 1849.
The area of the fort was designated a National Historic Site
under the National Park Service on June 3, 1960.
It was further designated a National Historic Landmark
later that year on December 19, 1960.
The fort was reconstructed and is open to the public.
Information from Wikipedia
True Grit Locations, then and now
[extendedmedia]
[/extendedmedia]
[extendedmedia]
[/extendedmedia]
For more information and photographs:-
Bents Old Fort- Wikipedia
Bents Old Fort