HANGMAN'S HOUSE
DIRECTED AND PRODUCED BY JOHN FORD
FOX FILM CORPORATION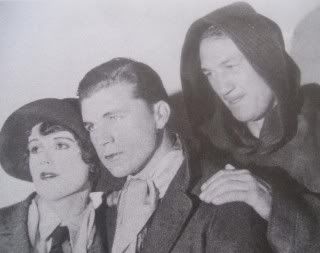 Information from IMDb

Plot Summary
As "Hanging Judge" James O'Brien approaches death,
he prepares for his daughter's welfare by arranging
her marriage to the wealthy John Darcy, whom she despises.
Meanwhile, an exiled patriot named Hogan returns
to Ireland to kill the man who caused his sister's suicide.
That man is Darcy.
Written by Jim Beaver
Full Cast
Victor McLaglen .... Citizen Denis Hogan
June Collyer .... Connaught 'Conn' O'Brien
Earle Foxe .... John D'Arcy
Larry Kent .... Dermot McDermot
Hobart Bosworth .... Lord Chief Justice James O'Brien:
Joseph Burke .... Neddy Joe, Dermot's Servant (uncredited)
Mary Gordon .... The Woman at Hogan's Hideout (uncredited)
Eric Mayne .... Colonel Of Legionnaires (uncredited)
Jack Pennick .... Man bringing Dermot to Hogan (uncredited)
Belle Stoddard .... Anne McDermott (uncredited)
Duke Morrison .... Horse Race Spectator/Condemned Man in Flashback (uncredited)
Writing Credits
Malcolm Stuart Boylan titles
Brian Oswald Donn-Byrne (novel) (as Donn Byrne)
Philip Klein adaptation
Willard Mack uncredited
Marion Orth
Original Music
Tim Curran
Cinematography
George Schneiderman
Second Unit Director or Assistant Director
Philip Ford .... assistant director (uncredited)
Other crew
William Fox .... presenter
Trivia
Set in Ireland and notable today as the movie,
in which John Wayne was first clearly visible.
It is now known that this was indeed
the first visible apperance of Duke in a John Ford movie,
however its is now considered that Duke
first visible appearance was in
the Ham Hamillton Comedy.
Careful Please
released earlier in the year of 1926.
Filming Locations
Unknown