A new Star Trek film for 2008 sounds interesting with it concentrating on early lives of Kirk & Spock.

Mike



Star Trek film gets release date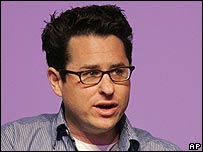 Abrams said the new film would "chart its own course"
The 11th Star Trek film, to be directed by Lost creator JJ Abrams, will be released in the US on Christmas Day 2008, Paramount Pictures has announced.

The film, which will focus on the early lives of Captain James T Kirk and Mr Spock, will begin shooting this autumn.
No further details have been announced and the movie has yet to be cast.
But Abrams - who directed the third Mission: Impossible film last year - said he wanted "to make a picture for life-long fans and the uninitiated".
"Needless to say I am honoured and excited to be part of this next chapter of Star Trek," he added.

'Brilliance and optimism'

The original Star Trek TV series, created by Gene Roddenberry, ran from 1966 to 1969.
It went on to spawn 10 feature films, numerous spin-offs and a billion-dollar industry of books, computer games and consumer products.



PREVIOUS TREK FILMS
The Motion Picture (1979)
The Wrath of Khan (1982)
The Search for Spock (1984)
The Voyage Home (1986)
The Final Frontier (1989)
The Undiscovered Country (1991)
Generations (1994)
First Contact (1996)
Insurrection (1998)
Nemesis (2002)
The last Trek film, Star Trek: Nemesis, was released in 2002 and featured the stars of the Next Generation TV series.
The most recent TV spin-off, Star Trek: Enterprise, came to an end in 2005.

The latest feature, which has yet to be named, will tell of Kirk and Spock's first meeting at Starfleet Academy and their first outer space mission.
Alex Kurtzman and Roberto Orci, who worked with Abrams on Mission: Impossible III, have written the screenplay.

"If there's something I'm dying to see, it's the brilliance and optimism of Roddenberry's world brought back to the big screen," said Abrams.
"Alex and Bob wrote an amazing script that embraces and respects Trek canon but charts its own course."
Paramount Pictures chairman and CEO Brad Grey said he "could not be more thrilled to be back in business with JJ Abrams". As well as directing the film, Abrams will co-produce with Lost co-creator Damon Lindelof.