HAVE GUN- WILL TRAVEL
CBS TELEVISION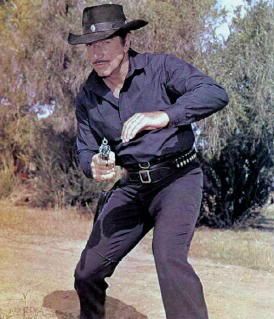 Information From IMDb
Plot Summary
Professional gunfighter Paladin was a West Point graduate who, after the Civil War,
settled into San Francisco's Hotel Carlton were he awaited responses to his business card:
over the picture of a chess knight
"Have Gun, Will Travel ... Wire Paladin, San Francisco."
Written by Ed Stephan
Series Cast
Richard Boone ... Paladin / ... (226 episodes, 1957-1963)
Kam Tong ... Kim "Hey Boy" Chan / ... (96 episodes, 1957-1963)
Hal Needham ... Bartender / ... (27 episodes, 1959-1963)
Stewart East ... Townsman / ... (16 episodes, 1959-1963)
Lisa Lu ... Hey Girl / ... (14 episodes, 1958-1961)
Harry Carey Jr. ... Ben Murdock / ... (14 episodes, 1958-1963)
Edward Faulkner ... Ben / ... (11 episodes, 1958-1962)
and many, many more, including,
Ben Johnson, Chuck Roberson, Denver Pyle,
Lon Chaney, John Mitchum, George Kennedy,
James Coburn, Lee Van Cleef and even Duane Eddy
Series Directed by
Andrew V. McLaglen (99 episodes, 1957-1963)
Richard Boone (18 episodes, 1960-1963)
Buzz Kulik (11 episodes, 1958-1961)
Lamont Johnson (10 episodes, 1958-1959)
Ida Lupino (7 episodes, 1959-1960)
Richard Whorf (5 episodes, 1958-1959)
William Conrad (4 episodes, 1962)
and more...
Creators:
Herb Meadow
Sam Rolfe
Trivia
* Paladin's horse was Rafter.
* Although the series title had a hyphen, Paladin's business card did not.
* Parts of the first season episode "The Colonel and the Lady" were filmed on sets used for the television show "Gunsmoke" (1955). The Long Branch Saloon is very minimally redecorated to stand in for a saloon Paladin visits in a Nevada mining town. Shots of people walking the streets of the town were also taken from Gunsmoke.
* Filling out Paladin's back story in the early episodes, it is mentioned that he was a West Point graduate and former professional soldier before the Civil War. Paladin never mentions directly which side he was on during the war.
* While many television series are taken from radio shows, the radio show "Have Gun Will Travel" with John Dehner as Paladin appeared after the television show.
Filming Locations
Agua Dulce, California, USA
Alabama Hills, Lone Pine, California, USA
Apache Junction, Arizona, USA
Apacheland Movie Ranch, 4369 S. Kings Ranch Road, Gold Canyon, Arizona, USA
Bend, Oregon, USA
Bronson Canyon, Griffith Park - 4730 Crystal Springs Drive, Los Angeles, California, USA
Corriganville, Ray Corrigan Ranch, Simi Valley, California, USA
Gallup, New Mexico, USA
Golden Oak Ranch - 19802 Placerita Canyon Road, Newhall, California, USA
Iverson Ranch, Chatsworth, Los Angeles, California, USA
Jack Ingram Ranch - 22255 Mulholland Drive, Woodland Hills, Los Angeles, California, USA
Johnson Canyon, Kanab, Utah, USA
Kanab Movie Ranch - 5001 Angel Canyon Road, Kanab, Utah, USA
Lone Pine, California, USA
Melody Ranch - 24715 Oak Creek Avenue, Newhall, California, USA
Old Tucson - 201 S. Kinney Road, Tucson, Arizona, USA
Paramount Ranch - 2813 Cornell Road, Agoura, California, USA
Red Rock Canyon State Park - Highway 14, Cantil, California, USA
Squaw Valley, California, USA
Tucson, Arizona, USA
Vasquez Rocks Natural Area Park -Agua Dulce, California, USA