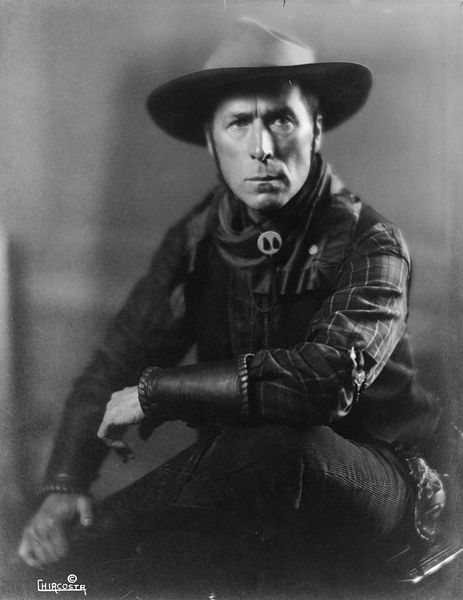 WILLIM S. HART
Information From IMDb
Date of Birth
6 December 1864,
Newburgh, New York, USA
Date of Death
23 June 1946,
Newhall, California, USA
Birth Name
William Surrey Hart
Nickname
Two-Gun Bill
Height
6' 2" (1.88 m)
Spouse
Winifred Westover (1921 - 1927) (divorced) 1 child
Trivia
Donated his estate to the City of Los Angeles, on the condition they install a fountain and use the park for the arts. Today, the internationally renowned Actors Studio has its West Coast branch at the William S. Hart Park, in West Hollywood, in Hart's old estate.
Inducted into the Hall of Great Western Performers of the National Cowboy and Western Heritage Museum in 1975.
Hart High School located in Newhall, California is named after him. The entire school district is also named the William S. Hart school district. [William S.]
An interesting footnote, the famous prohibition lawman (also once a bodyguard for the President Of The United States) "Two Gun Hart" changed his name to that of this famous actor and in some ways patterned his life after him. The real-life lawman Two Gun Hart seldom revealed his birth name, which was James Vincenzo Capone. He was the older brother of Alphonse "Big Al" Capone. See "Capone: The Man And The Era" by Laurence Bergreen
In March of 1923, Hart, already being sued for divorce by wife Winifred, was accused by her of fathering a child by another woman. This hurt his already declining career and by 1924 and 1925 he would release only two more films before retiring.
Was a friend of legendary wild west lawman Wyatt Earp, and along with fellow silent movie cowboy star Tom Mix, was a pall bearer at Earp's funeral in 1929.
Mini Biography
A storybook hero, the original screen cowboy, ever forthright and honest, even when (as was often the case) he played a villain. Hart lived for a while in Dakota Territory, then worked as a postal clerk in New York City. In 1888 he began to study acting. In 1899 he created the role of Messala in "Ben-Hur", and he received excellent reviews for his lead part in The Virginian (1907). His first film was a 2-reeler, His Hour of Manhood (1914). In 1915 he signed a contract with Thomas Ince and joined Ince's Triangle Film Company. Two years later he followed Ince to Famous Players-Laskey and received a very lucrative contract from Adolph Zukor. His career began to dwindle in the early twenties due to the publicity surrounding a dismissed paternity suit. He made his last film, Tumbleweeds (1925) for United Artists and retired to a ranch in Newhall, CA. By that time audiences were more interested in the antics of a Tom Mix or Hoot Gibson than the victorian moralizing of W.S. Hart. He is buried in Greenwood cemetery, NY.
IMDb Mini Biography By: Ed Stephan
Filmography
Actor
1. Tumbleweeds (1925) .... Don Carver
2. Hello, 'Frisco (1924)
3. Singer Jim McKee (1924) .... 'Singer' Jim McKee
4. Wild Bill Hickok (1923) .... Wild Bill Hickok
5. Travelin' on (1922) .... J.B., The Stranger
6. White Oak (1921) .... Oak Miller, a gambling man
7. Three Word Brand (1921) .... Three Word Brand/Gov. Marsden/Ben Trego
8. The Whistle (1921) .... Robert Evans
9. O'Malley of the Mounted (1921) .... Sergeant O'Malley
10. The Testing Block (1920) .... 'Sierra' Bill
11. The Cradle of Courage (1920) .... 'Square' Kelly
12. Sand! (1920) .... Dan Kurrie
13. The Toll Gate (1920) .... Black Deering
14. John Petticoats (1919) .... 'Hardwood' John Haynes
15. Wagon Tracks (1919) .... Buckskin Hamilton
16. Square Deal Sanderson (1919) .... Square Deal Sanderson
17. The Money Corral (1919) .... Lem Beason
18. The Poppy Girl's Husband (1919) .... Hairpin Harry Dutton
... aka Poppy Girl (UK)
19. Breed of Men (1919) .... Careless Carmody
20. Branding Broadway (1918) .... Robert Sands
21. The Border Wireless (1918) .... Steve Ransom
22. Riddle Gawne (1918) .... Jefferson 'Riddle' Gawne
23. Shark Monroe (1918) .... Shark Monroe
24. Selfish Yates (1918) .... 'Selfish' Yates
25. The Tiger Man (1918) .... Hawk Parsons
26. Blue Blazes Rawden (1918) .... Blue Blazes Rawden
27. The Lion of the Hills (1918)
28. Staking His Life (1918) .... Bud Randall
29. Wolves of the Rail (1918) .... 'Buck' Andrade
30. The Narrow Trail (1917) .... Ice Harding
31. The Silent Man (1917) .... 'Silent' Budd Marr
32. The Cold Deck (1917) .... Jefferson 'On-the-Level' Leigh
33. Wolf Lowry (1917) .... Tom 'Wolf' Lowery
34. The Square Deal Man (1917) .... Jack O'Diamonds
35. The Desert Man (1917) .... Jim Alton
36. The Gun Fighter (1917) .... Cliff Hudspeth
37. Truthful Tulliver (1917) .... Truthful Tulliver
38. All-Star Production of Patriotic Episodes for the Second Liberty Loan (1917)
39. The Devil's Double (1916) .... 'Bowie' Blake
40. The Return of Draw Egan (1916) .... 'Draw' Egan/William Blake
41. The Dawn Maker (1916) .... Joe Elk
42. The Patriot (1916) .... Bob Wiley
43. The Captive God (1916) .... Chiapa
44. The Apostle of Vengeance (1916) .... David Hudson
45. The Primal Lure (1916) .... Angus McConnell
46. The Aryan (1916) .... Steve Denton
47. Hell's Hinges (1916) .... Blaze Tracy
48. Between Men (1915) .... Bob White
49. The Disciple (1915) .... Jim Houston
50. Keno Bates, Liar (1915) .... Keno Bates
... aka The Last Card
51. Pinto Ben (1915) .... Boss Rider
... aka Horns and Hoofs
52. Knight of the Trail (1915) .... Jim Treen
... aka Prowlers of the Plains
53. Cash Parrish's Pal (1915) .... Cash Parrish
... aka Double Crossed
54. The Ruse (1915) .... 'Bat' Peters
... aka A Square Deal
... aka Square Deal Man
55. Tools of Providence (1915) .... Dakota Dan
... aka Dakota Dan
... aka Every Inch a Man
... aka The Struggle in the Steeple
56. The Conversion of Frosty Blake (1915) .... Frosty Blake
... aka The Convert
57. The Darkening Trail (1915) .... Yukon Ed
... aka The Hell-Hound of Alaska (USA: reissue title)
58. 'Bad Buck' of Santa Ynez (1915) .... Bad Buck Peters
... aka A Desperate Chance
... aka Revolver Bill
... aka The Bad Man
59. The Man from Nowhere (1915) .... Buck Varley
... aka His Duty
... aka The Silent Stranger
60. The Taking of Luke McVane (1915) .... Luke McVane
... aka The Fugitive
61. On the Night Stage (1915) .... 'Silent' Texas Smith
... aka The Bandit and the Preacher (USA: reissue title)
62. The Roughneck (1915) .... Dave Page
... aka The Gentlemen from Blue Gulch
63. The Sheriff's Streak of Yellow (1915) .... Sheriff Hale
64. The Grudge (1915) .... Rio Ed
... aka The Haters
65. Mr. 'Silent' Haskins (1915) .... Lon Haskins
... aka Dealing for Daisy
... aka His Royal Flush
... aka Man Against Man
... aka The Marked Deck
66. The Scourge of the Desert (1915) .... Bill Evers
... aka Reformed Outlaw
67. Grit (1915)
68. In the Sage Brush Country (1914) .... Jim Brandon
... aka Mr. Nobody
69. Two-Gun Hicks (1914) .... Two-Gun Hicks
... aka Taming the Four-Flusher
... aka The Passing of Two-Gun Hicks (USA: reissue title)
70. The Bargain (1914) .... Jim Stokes
... aka The Two-Gun Man in the Bargain (USA: reissue title)
71. Jim Cameron's Wife (1914) .... Andy Stiles
72. His Hour of Manhood (1914) .... Pete Larson
73. The Gringo (1914)
74. The Bad Buck of Santa Ynez (1914)
75. Ben Hur (1907) .... Messala
76. The Man Killer (????)
Director
1. Tumbleweeds (1925) (uncredited)
2. The Cradle of Courage (1920)
3. Square Deal Sanderson (1919)
4. The Money Corral (1919)
5. The Poppy Girl's Husband (1919)
... aka Poppy Girl (UK)
6. Branding Broadway (1918)
7. The Border Wireless (1918)
8. Riddle Gawne (1918)
9. Shark Monroe (1918)
10. Selfish Yates (1918)
11. The Tiger Man (1918)
12. Blue Blazes Rawden (1918)
13. A Bullet for Berlin (1918)
14. Wolves of the Rail (1918)
15. The Narrow Trail (1917)
16. The Silent Man (1917)
17. The Cold Deck (1917)
18. Wolf Lowry (1917)
19. The Square Deal Man (1917)
20. The Desert Man (1917)
21. The Gun Fighter (1917)
22. Truthful Tulliver (1917)
23. The Devil's Double (1916)
24. The Return of Draw Egan (1916)
25. The Dawn Maker (1916)
26. The Patriot (1916)
27. The Apostle of Vengeance (1916)
28. The Primal Lure (1916)
29. The Aryan (1916)
30. Hell's Hinges (1916) (uncredited)
31. Between Men (1915)
32. The Disciple (1915)
33. Keno Bates, Liar (1915)
... aka The Last Card
34. Pinto Ben (1915)
... aka Horns and Hoofs
35. Knight of the Trail (1915)
... aka Prowlers of the Plains
36. Cash Parrish's Pal (1915)
... aka Double Crossed
37. The Ruse (1915)
... aka A Square Deal
... aka Square Deal Man
38. Tools of Providence (1915)
... aka Dakota Dan
... aka Every Inch a Man
... aka The Struggle in the Steeple
39. The Conversion of Frosty Blake (1915)
... aka The Convert
40. The Darkening Trail (1915)
... aka The Hell-Hound of Alaska (USA: reissue title)
41. 'Bad Buck' of Santa Ynez (1915)
... aka A Desperate Chance
... aka Revolver Bill
... aka The Bad Man
42. The Man from Nowhere (1915)
... aka His Duty
... aka The Silent Stranger
43. The Taking of Luke McVane (1915)
... aka The Fugitive
44. The Roughneck (1915)
... aka The Gentlemen from Blue Gulch
45. The Sheriff's Streak of Yellow (1915)
46. The Grudge (1915)
... aka The Haters
47. Mr. 'Silent' Haskins (1915)
... aka Dealing for Daisy
... aka His Royal Flush
... aka Man Against Man
... aka The Marked Deck
48. The Scourge of the Desert (1915)
... aka Reformed Outlaw
49. Grit (1915)
50. In the Sage Brush Country (1914)
... aka Mr. Nobody
51. Two-Gun Hicks (1914)
... aka Taming the Four-Flusher
... aka The Passing of Two-Gun Hicks (USA: reissue title)
52. The Gringo (1914) (unconfirmed)
53. The Bad Buck of Santa Ynez (1914)
[extendedmedia]
[/extendedmedia]