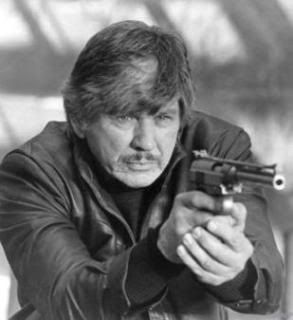 CHARLES BRONSON
Information From IMDb
Date of Birth
3 November 1921, Ehrenfeld, Pennsylvania, USA
Date of Death
30 August 2003, Los Angeles, California, USA (pneumonia and Alzheimer's disease)
Birth Name
Charles Dennis Buchinsky
Nickname
Il Brutto (Italy)
Le Sacre Monstre (France)
Trade Mark
Frequently played violent characters
His voice
Height
5' 10" (1.78 m)
Spouse
Kim Weeks (22 December 1998 - 30 August 2003) (his death)
Jill Ireland (5 October 1968 - 18 May 1990) (her death) 1 daughter
Harriet Tendler (1949 - 1967) (divorced) 2 children
Trivia
Shared a room with Jack Klugman in a New York boarding house in the 1940s.
He had two children with his first wife, Tony and Suzanne. He then married Jill Ireland, who had two sons with her first husband, David McCallum. One adopted son (Jason) died of an accidental drug overdose in 1989. He and Ireland had a daughter named Zuleika.
Perhaps the biggest late bloomer in Hollywood history, he did not get the marquee treatment he deserved until his late 40s. He was already 53 when Death Wish (1974) premiered.
The name Bronson is said to taken from the "Bronson Gate" at Paramount Studios, at the north end of Bronson Avenue.
Spoofed in an episode of "The Simpsons" (1989) in which the Simpson family mistakenly travels to Bronson, Missouri, instead of Branson. In Bronson, such lines of dialogue as these are spoken by its citizens: "No dice.", "This ain't ovah."
Changed his stage name in the early 1950s in the midst of the McCarthy "Red Scare" at the suggestion of his agent, who was fearful that his last name (Buchinsky) would damage his career.
Actor Dick Van Dyke received a lemon cake every Christmas from Bronson, who lived nearby in Malibu for 16 years
In 1949 he moved to California, where he signed up for acting lessons at the Pasadena Playhouse
In 1954 on the Mexican set of Vera Cruz (1954), he and fellow cast member Ernest Borgnine--who were playing American gunfighters involved in the Mexican fight against the French--had some spare time on their hands and decided to go to a nearby town for cigarettes. They saddled up in costume, sidearms and all, and began riding to town. On the way they were spotted by a truck full of Mexican "federales"--national police--who mistook them for bandits and held them at gunpoint until their identities could be verified.
Was drafted into the army in 1943 and assigned to the Air Corps. At first he was a truck driver, but was later trained as a bomber tail gunner and assigned to a B-29. He flew 25 missions and received, among other decorations, a Purple Heart for wounds incurred in battle.
"I am not a Casper Milquetoast," Bronson told The Washington Post in 1985, recalling the time he was visiting Rome and felt someone stick a gun in his side. "A guy in broken English asked me for money. I said, 'You give ME money.' He turned around and walked away."
Director John Huston once summed him up as "a grenade with the pin pulled"
Was by all accounts a very quiet and introspective collaborator, often sitting in a corner for much of a shoot and listening to a director's instructions and not saying a word until cameras were rolling.
Was the first actor considered for the role of Snake Plissken in Escape from New York (1981)
He grew privately frustrated by the declining quality and range of roles over his career, being pigeonholed as a violent vigilante after the commercial success of Death Wish (1974). His own favorite of his "vigilante" movies was C'era una volta il West (1968) (aka Once Upon a Time in the West).
In 1963 Sergio Leone asked him to star in his western Per un pugno di dollari (1964) (A Fistful of Dollars). Bronson turned the role down, so Leone asked Clint Eastwood.
His father died when he was 10, and at 16 he followed his brothers into the mines to support the family. He was paid $1 per ton of coal and volunteered for perilous jobs because the pay was better.
Responding to critics' complaints, he said: "We don't make movies for critics, since they don't pay to see them anyhow."
Called West Windsor, Vermont his home for more than three decades (Bronson Farm), and was buried in nearby Brownsville Cemetery, near the foot of Mt. Ascutney.
Appeared with Steve McQueen and James Coburn in two films, both of which were directed by John Sturges: The Magnificent Seven (1960) and The Great Escape (1963).
With his death on August 30, 2003, Robert Vaughn and Eli Wallach are the only two of the seven main stars of the The Magnificent Seven (1960) who are still alive as of November 2005.
His stepson, Jason McCallum Bronson, the adoptive son of David McCallum and Jill Ireland, died of an accidental drug overdose in 1989.
Was introduced to his second wife, Jill Ireland, by her then-husband David McCallum during the filming of The Great Escape (1963).
Spoke fluent Russian, Lithuanian and Greek.
Owned homes in Europe, including Lithuania and Greece.
Had hip replacement surgery in August 1998.
The voice of the sarcastic store clerk in "The Simpsons" (1989) is based on him.
Sergio Leone once called him "the greatest actor I ever worked with". Leone had wanted Bronson for all three of what became known as the "Man with No Name" trilogy, but Bronson turned him down each time.
The term "Charles Bronson" is frequently uttered in Reservoir Dogs (1992) in reference to a hard-man.
He was very active in raising funds for the John Wayne Cancer Institute.
Advertised Mandom hair oil.
Capable of essaying a variety of types, from Russian to American Indian, from homicidal villain to tight-lipped hero, Bronson suddenly became a star at the age of 50. Following the success of Death Wish (1974) he repeated, with little variation, his role as a vengeful urban vigilante.
In the latter part of his career, he worked predominantly with The Guns of Navarone (1961) director J. Lee Thompson. They made nine films together in just over a decade between 1977 and 1989: 10 to Midnight (1983), Caboblanco (1980), Death Wish 4: The Crackdown (1987), The Evil That Men Do (1984), Kinjite: Forbidden Subjects (1989), Messenger of Death (1988), Murphy's Law (1986), St. Ives (1976) and The White Buffalo (1977).
From a Lithuanian family, he grew up in a western Pennsylvania coal-mining town. Like all the men in his family, he worked in the mines, but hated it and used a variety of means to escape it (including the military and, eventually, acting). His expertise with tunneling and working underground turned out to be quite helpful when making The Great Escape (1963) in the role of "Tunnel King" Velinski. However, even though the "tunnel" he was working in was a cutaway set, he could only stay in it for a few minutes at a time before he had to get up and leave. As a boy working in the mines, he was caught in a cave-in and almost died before he was finally rescued. Ever since that time he had had a deathly fear of enclosed spaces.
Made six films with director Michael Winner: Chato's Land (1972), The Mechanic (1972), The Stone Killer (1973), Death Wish (1974), Death Wish II (1982) and Death Wish 3 (1985).
In the '90s a lady whom he'd never met left him her estate worth well over a million dollars. She was a big fan of his. Her family sued and he ended up settling with them out of court.
Diagnosed with Alzheimer's disease in 2000 after suffering ill health for the previous two years.
Retired from acting after undergoing hip replacement surgery in 1998.
The Japanese manga artist Buronson, famed for the "Fist of the Northstar" manga, took the name in honor of Bronson (his real name is Yoshiyuki Okamura) and sports a similar mustache.
He and wife Jill Ireland adopted Katrina Holden Bronson after her mother Hilary Holden died in 1983.
Only actor to star in both The Magnificent Seven (1960) and The Dirty Dozen (1967).
Growing up without much money for newer clothes, as a boy he often wore his older sister's hand-me-downs.
He was considered for the role of Snake Plissken in Escape from New York (1981), but director John Carpenter felt Bronson was too old and too tough, and cast Kurt Russell instead.
Tested and read for Christopher Reeve's role in Superman (1978).
He was considered for Gene Hackman's Oscar-winning role in The French Connection (1971).
Personal Quotes
"I guess I look like a rock quarry that someone has dynamited."
"Acting is the easiest thing I've done, I guess that's why I'm stuck with it."
"Someday I'd like a part where I can lean my elbow against a mantlepiece and have a cocktail."
"I don't look like someone who leans on a mantelpiece with a cocktail in my hand, you know. I look like the kind of guy who has a bottle of beer in my hand."
"Maybe I'm too masculine. Casting directors cast in their own, or an idealized image. Maybe I don't look like anybody's ideal." (1971)
"I am not a fan of myself."
Nobody stays on top forever. Nobody!
[1977 comment on Robert Aldrich] A very good director. Beyond that, he has one fault: he is inflexible. He's horrified if you give him ideas; he only appreciates his own. He wants to use his own brain for everything. That's his greatest fault. If he wasn't so inflexible he would be very great. He refuses to give in. Well, it's impossible for one man to know everything.
Mini Biography
The archetypal screen tough guy with weatherbeaten features - one film critic described his rugged looks as "a Clark Gable who had been left out in the sun too long" - Charles Bronson was born Charles Buchinski, one of 14 children of struggling Lithuanian immigrant parents in Pennsylvania (his father was a coal miner). He completed high school and joined his father in the mines (an experience that resulted in a lifetime fear of being in enclosed spaces) and then served in WW II. After his return from the war, Bronson used the GI Bill to study art (a passion he had for the rest of his life), then enrolled at the Pasadena Playhouse in California. One of his teachers was impressed with the young man and recommended him to director Henry Hathaway, resulting in Bronson making his film debut in You're in the Navy Now (1951). He appeared on screen often early in his career, though often uncredited. However, he made an impact on audiences as the evil assistant to Vincent Price in the 3-D thriller House of Wax (1953). His sinewy yet muscular physique got him cast in action-type roles, often without a shirt to highlight his manly frame. He received positive notices from critics for his performances in Vera Cruz (1954), Target Zero (1955) and Run of the Arrow (1957). Indie director Roger Corman cast him as the lead in his well-received low-budget gangster flick Machine-Gun Kelly (1958), then Bronson scored the lead in his own TV series, "Man with a Camera" (1958). The 1960s proved to be the era in which Bronson made his reputation as a man of few words but much action. Director John Sturges cast him as half Irish/half Mexican gunslinger Bernardo O'Reilly in the smash hit western The Magnificent Seven (1960), and hired him again as tunnel rat Danny Velinski for the WWII POW big budget epic The Great Escape (1963). Several more strong roles followed, then once again Bronson was back in military uniform, alongside Lee Marvin and Ernest Borgnine in the testosterone-filled The Dirty Dozen (1967). European audiences had taken a shine to his minimalist acting style, and he headed to the Continent to star in several action-oriented films, including Bataille de San Sebastian, La (1968) (aka "Guns for San Sebastian"), the cult western C'era una volta il West (1968) (aka "Once Upon a Time in The West"), Passager de la pluie, Le (1969) (aka "Rider On The Rain") and, in one of the quirkier examples of international casting, alongside Japansese screen legend Toshirô Mifune in the western Soleil rouge (1971) (aka "Red Sun"). American audiences were by now keen to see Bronson back on US soil, and he returned triumphantly in the early 1970s to take the lead in more hard-edged crime and western dramas, including The Valachi Papers (1972) and the revenge western Chato's Land (1972). After nearly 25 years as a working actor, he became an overnight sensation. Bronson then hooked up with British director Michael Winner to star in several highly successful urban crime thrillers, including The Mechanic (1972) and The Stone Killer (1973). He then scored a solid hit as a Colorado melon farmer-done-wrong in Richard Fleischer's Mr. Majestyk (1974). However, the film that proved to be a breakthrough for both Bronson and Winner came in 1974 with the release of the controversial Death Wish (1974) (written with Henry Fonda in mind, who was disgusted by the script). The US was at the time in the midst of rising street crime, and audiences flocked to see a story about a mild-mannered architect who seeks revenge for the murder of his wife and rape of his daughter by gunning down hoods, rapists and killers on the streets of New York City. So popular was the film that it spawned four increasingly inferior sequels over the next 20 years.
Action fans could not get enough of tough guy Bronson, and he appeared in what many fans, and critics, consider his best role - as Depression-era streetfighter Chaney alongside James Coburn in the superb Hard Times (1975). That was followed by the somewhat slow-paced but beautifully photographed western Breakheart Pass (1975) (with wife Jill Ireland), the light-hearted romp (a flop) From Noon Till Three (1976), and as Soviet agent Grigori Borsov in director Don Siegel's decent Cold War thriller Telefon (1977). Bronson remained busy throughout the 1980s, with most of his films taking a more violent tone, and he was pitched as an avenging angel eradicating evildoers in films like the mediocre 10 to Midnight (1983), the nearly unwatchable The Evil That Men Do (1984), Assassination (1987) and Kinjite: Forbidden Subjects (1989). Bronson jolted many critics with his forceful work as murdered United Mine Workers leader Jock Yablonski in the TV movie Act of Vengeance (1986) (TV), gave a very interesting performance in the Sean Penn-directed The Indian Runner (1991), and surprised everyone with his appearance as compassionate newspaper editor Francis Church in the family film Yes Virginia, There Is a Santa Claus (1991) (TV).
Bronson's final film roles were as police commissioner Paul Fein in a well-received trio of crime/drama TV movies Family of Cops (1995) (TV), Breach of Faith: Family of Cops II (1997) (TV) and Family of Cops III: Under Suspicion (1999) (TV). Unfortunately, ill health began to take its toll; he suffered from Alzheimers disease for the last few years of his life, and finally passed away from pneumonia at Los Angeles' Cedars-Sinai Medical Center in August 2003. Bronson was a true icon of international cinema; critics had few good things to say about his films, but he remained a fan favorite in both the US and abroad for 50 years, a claim few other film legends can make.
IMDb Mini Biography By:firehouse44
Filmography
Actor
1. Family of Cops III: Under Suspicion (1999) (TV) .... Paul Fein
2. Breach of Faith: Family of Cops II (1997) (TV) .... Commissioner Paul Fein
... aka Family of Cops II (Canada: English title) (Canada: French title)
3. Family of Cops (1995) (TV) .... Paul Fein
... aka Une famille de flics (Canada: French title)
4. Death Wish V: The Face of Death (1994) .... Paul Kersey
... aka Death Wish 5: The Face of Death (UK: video box title)
... aka Death Wish: The Face of Death (USA: DVD box title)
5. Donato and Daughter (1993) (TV) .... Sgt. Mike Donato
... aka Dead to Rights
... aka Under Threat (UK)
6. The Sea Wolf (1993) (TV) .... Capt. Wolf Larsen
7. Yes Virginia, There Is a Santa Claus (1991) (TV) .... Francis Church
8. The Indian Runner (1991) .... Mr. Roberts
... aka Indian Runner (Japan: English title)
9. Kinjite: Forbidden Subjects (1989) .... Lt. Crowe
10. Messenger of Death (1988) .... Garret Smith
11. Death Wish 4: The Crackdown (1987) .... Paul Kersey
12. Assassination (1987) .... Jay Killion
13. Act of Vengeance (1986) (TV) .... Joseph 'Jock' Yablonski
14. Murphy's Law (1986) .... Jack Murphy
15. Death Wish 3 (1985) .... Paul Kersey
16. The Evil That Men Do (1984) .... Holland/Bart Smith
17. 10 to Midnight (1983) .... Leo Kessler
18. Death Wish II (1982) .... Paul Kersey
19. Death Hunt (1981) .... Albert Johnson
20. Borderline (1980) .... Jeb Maynard
21. Caboblanco (1980) .... Gifford Hoyt
... aka Caboblanco... Where Legends Are Born (International: English title: long title)
22. Love and Bullets (1979) .... Charlie Congers
23. Telefon (1977) .... Major Grigori Borzov/Greg
24. The White Buffalo (1977) .... Wild Bill Hickok (James Otis)
... aka Hunt to Kill (USA: TV title)
25. Raid on Entebbe (1977) (TV) .... Brig. Gen. Dan Shomron
26. From Noon Till Three (1976) .... Graham
27. St. Ives (1976) .... Raymond St Ives
28. Breakheart Pass (1975) .... Deakin
29. Hard Times (1975) .... Chaney
... aka Street Fighter (Philippines: English title)
... aka The Streetfighter (UK)
30. Breakout (1975) .... Nick Colton
31. Death Wish (1974) .... Paul Kersey
32. Mr. Majestyk (1974) .... Vince Majestyk
... aka Mister Majestyk (International: English title: poster title)
33. "The F.B.I." .... Earl Clayton (2 episodes, 1966-1974)
- The Animal (1974) TV episode .... Earl Clayton
- The Animal (1966) TV episode .... Earl Clayton
34. Valdez, il mezzosangue (1973) .... Chino Valdez
... aka Chino (France) (USA)
... aka Caballos salvajes (Spain)
... aka The Valdez Horses
... aka Valdez the Halfbreed (UK)
... aka Wild Horses
35. The Stone Killer (1973) .... Detective Lt. Lou Torrey
... aka Assassino di pietra, L' (Italy)
36. The Mechanic (1972) .... Arthur Bishop
... aka Killer of Killers
37. Chato's Land (1972) .... Pardon Chato
38. The Valachi Papers (1972) .... Joe Valachi
... aka Carteggio Valachi (Italy)
... aka Cosa Nostra
... aka Dossier Valachi, Le (France)
... aka Joe Valachi - I segreti di Cosa Nostra (Italy)
39. Quelqu'un derrière la porte (1971) .... The Stranger
... aka Brainkill (UK: video title)
... aka Someone Behind the Door (USA)
... aka Two Minds for Murder (UK)
40. Soleil rouge (1971) .... Link Stuart
... aka Red Sun (USA)
... aka Sol rojo (Spain)
... aka Sole rosso (Italy)
... aka The Magnificient Three (Philippines: English title)
41. The Bull of the West (1971) (TV) .... Ben Justin
... aka Hot Lead
... aka Vengeance Is the Spur (USA)
42. De la part des copains (1970) .... Joe Martin a.k.a. Joe Moran
... aka Cold Sweat (USA)
... aka Uomo dalle due ombre, L' (Italy)
... aka Vrienden laten groeten, De (Belgium: Flemish title)
43. Città violenta (1970) .... Jeff Heston
... aka Violent City (UK) (USA)
... aka Cité de la violence, La (France)
... aka The Family (USA)
44. You Can't Win 'Em All (1970) .... Josh Corey
... aka Soldiers of Fortune (USA: video title)
... aka The Dubious Patriots
45. Passager de la pluie, Le (1969) .... Col. Harry Dobbs
... aka Rain (USA: video title)
... aka Rider on the Rain (USA)
... aka Uomo venuto dalla pioggia, L' (Italy)
46. Twinky (1969) .... Scott Wardman
... aka Lola (USA)
... aka London Affair (USA)
... aka Statutory Affair
47. C'era una volta il West (1968) .... Harmonica
... aka Once Upon a Time in the West (UK) (USA)
... aka There Was Once the West (USA: literal English title)
48. Adieu l'ami (1968) .... Franz Propp
... aka Due sporche carogne (Italy)
... aka Farewell, Friend (USA)
... aka Honor Among Thieves (USA: reissue title)
... aka Tecnica di una rapina (Italy)
49. Villa Rides (1968) .... Rodolfo Fierro
50. Bataille de San Sebastian, La (1968) .... Teclo
... aka Cañones de San Sebastián, Los (Mexico)
... aka Cannoni di San Sebastian, I (Italy)
... aka Guns for San Sebastian (USA)
51. "Dundee and the Culhane" .... Horton Reagen (1 episode, 1967)
- The Cat in the Bag Brief (1967) TV episode .... Horton Reagen
52. "The Virginian" .... Ben Justin / ... (2 episodes, 1965-1967)
... aka The Men from Shiloh (USA: new title)
- Reckoning (1967) TV episode .... Harge Talbot
- Nobility of Kings (1965) TV episode .... Ben Justin
53. The Dirty Dozen (1967) .... Joseph Wladislaw
54. "The Fugitive" .... Ralph Schuyler (1 episode, 1967)
- The One That Got Away (1967) TV episode .... Ralph Schuyler
55. This Property Is Condemned (1966) .... J.J. Nichols
56. "The Legend of Jesse James" .... Cheyney (1 episode, 1966)
- The Chase (1966) TV episode .... Cheyney
57. Battle of the Bulge (1965) .... Maj. Wolenski
58. "Rawhide" .... Del Lingman (1 episode, 1965)
- Duel at Daybreak (1965) TV episode .... Del Lingman
59. "The Big Valley" .... Tate (1 episode, 1965)
- Earthquake! (1965) TV episode .... Tate
60. Luke and the Tenderfoot (1965) (TV) .... John Wesley Hardin
61. The Sandpiper (1965) .... Cos Erickson
62. "Combat!" .... Velasquez (1 episode, 1965)
- Heritage (1965) TV episode .... Velasquez
63. "Bonanza" .... Harry Starr (1 episode, 1964)
... aka Ponderosa (USA: rerun title)
- The Underdog (1964) TV episode .... Harry Starr
64. "The Travels of Jaimie McPheeters" .... Linc Murdock (23 episodes, 1963-1964)
- The Day of the Reckoning (1964) TV episode .... Linc Murdock
- The Day of the Dark Deeds (1964) TV episode .... Linc Murdock
- The Day of the Pretenders (1964) TV episode .... Linc Murdock
- The Day of the 12 Candles (1964) TV episode .... Linc Murdock
- The Day of the Picnic (1964) TV episode .... Linc Murdock
(18 more)
65. Guns of Diablo (1964) .... Linc Murdock
66. 4 for Texas (1963) .... Matson
67. "Dr. Kildare" .... Harry Gregg (1 episode, 1963)
- Whoever Heard of a Two-Headed Doll? (1963) TV episode .... Harry Gregg
68. The Great Escape (1963) .... Flight Lt. Danny Velinski "The Tunnel King"
69. "Empire" .... Paul Moreno (10 episodes, 1962-1963)
... aka Big G (UK)
- The Convention (1963) TV episode .... Paul Moreno
- Between Friday and Monday (1963) TV episode .... Paul Moreno
- Duet for Eight Wheels (1963) TV episode .... Paul Moreno
- 65 Miles Is a Long, Long Way (1963) TV episode .... Paul Moreno
- Nobody Dies on Sunday (1963) TV episode .... Paul Moreno
(5 more)
70. "Ripcord" .... Korvich (1 episode, 1963)
- Jump to Freedom (1963) TV episode .... Korvich
71. Kid Galahad (1962) .... Lew Nyack
72. "The Untouchables" .... Janos Colescou (1 episode, 1962)
- The Death Tree (1962) TV episode .... Janos Colescou
73. "Alfred Hitchcock Presents" .... Det. Krovitch / ... (3 episodes, 1956-1962)
- The Woman Who Wanted to Live (1962) TV episode .... Ray Bardon
- There Was an Old Woman (1956) TV episode .... Frank Bramwell
- And So Died Riabouchinska (1956) TV episode .... Det. Krovitch
74. "Have Gun - Will Travel" .... Ben Jalisco / ... (5 episodes, 1957-1962)
- Brotherhood (1962) TV episode .... Jim Redrock
- Ben Jalisco (1961) TV episode .... Ben Jalisco
- A Proof of Love (1961) TV episode .... Henry Grey
- The Man Who Wouldn't Talk (1958) TV episode .... Chris Sorenson
- The Outlaw (1957) TV episode .... Manfred Holt
75. This Rugged Land (1962) .... Paul Moreno
76. "Adventures in Paradise" .... Dan Morton (1 episode, 1961)
- Survival (1961) TV episode .... Dan Morton
77. X-15 (1961) .... Lt. Col. Lee Brandon
78. "The New Breed" .... Jerry Bergason (1 episode, 1961)
- Valley of Three Charlies (1961) TV episode .... Jerry Bergason
79. "Alcoa Premiere" .... Yank Dawson (1 episode, 1961)
- The Last Round (1961) TV episode .... Yank Dawson
80. "Cain's Hundred" .... Hank Conrad (1 episode, 1961)
- Dead Load (1961) TV episode .... Hank Conrad
81. A Thunder of Drums (1961) .... Trooper Hanna
82. "The Twilight Zone" .... The Man (1 episode, 1961)
... aka The Twilight Zone: The Original Series (Australia)
... aka Twilight Zone (USA: new title)
- Two (1961) TV episode .... The Man
83. Master of the World (1961) .... John Strock
84. "Hennesey" .... Lt. Cdr. Steve Ogrodowski / ... (2 episodes, 1960-1961)
- The Nogoodnik (1961) TV episode .... Lt. Cdr. Steve Ogrodowski
- Hennesey à La Gunn (1960) TV episode .... Ogrodowski
85. "Laramie" .... Cory Lake / ... (2 episodes, 1960-1961)
- Run of the Hunted (1961) TV episode .... Cory Lake
- Street of Hate (1960) TV episode .... Frank Buckley
86. "Letter to Loretta" .... Eugene Walters (1 episode, 1961)
... aka The Loretta Young Show (USA: new title)
... aka The Loretta Young Theatre (USA: rerun title)
- Woodlot (1961) TV episode .... Eugene Walters
87. "Alcoa Presents: One Step Beyond" .... Yank Dawson (1 episode, 1961)
... aka Alcoa Presents (USA)
... aka One Step Beyond (USA: syndication title)
- The Last Round (1961) TV episode .... Yank Dawson
88. "General Electric Theater" .... Henry / ... (3 episodes, 1955-1961)
... aka G.E. Theater (USA: informal short title)
... aka G.E. True Theater (USA: new title)
- Memory in White (1961) TV episode .... Soldier Conlon
- The Honest Man (1956) TV episode .... Henry
- Prosper's Old Mother (1955) TV episode .... Pike
89. "Riverboat" .... Crowley (1 episode, 1960)
- Zigzag (1960) TV episode .... Crowley
90. "The Aquanauts" .... Hector Morrison (1 episode, 1960)
... aka Malibu Run
- The Cavedivers (1960) TV episode .... Hector Morrison
91. The Magnificent Seven (1960) .... Bernardo O'Reilly
92. "Playhouse 90" .... Andy Kovaric / ... (3 episodes, 1958-1960)
- The Cruel Day (1960) TV episode .... Sgt. Meras
- The Rank and the File (1959) TV episode .... Andy Kovaric
- No Time at All (1958) TV episode .... Wolf Hagan
93. "Man with a Camera" .... Mike Kovac (28 episodes, 1958-1960)
- Kangaroo Court (1960) TV episode .... Mike Kovac
- Fragment of a Murder (1960) TV episode .... Mike Kovac
- Hot Ice Cream (1960) TV episode .... Mike Kovac
- Touch-Off (1960) TV episode .... Mike Kovac
- The Picture War (1960) TV episode .... Mike Kovac
(23 more)
94. "The Islanders" .... Dutch Malkin (1 episode, 1960)
- The Generous Politician (1960) TV episode .... Dutch Malkin
95. "U.S. Marshal" .... Pvt. 'Guardhouse' Ravenal / ... (2 episodes, 1959)
- Honeymoon (1959) TV episode .... Ravenal
- Pursuit (1959) TV episode .... Pvt. 'Guardhouse' Ravenal
96. Never So Few (1959) .... Sgt. John Danforth
... aka Campaign Burma (USA: alternative title)
97. "Yancy Derringer" .... Rogue Donovan (1 episode, 1959)
- Hell and High Water (1959) TV episode .... Rogue Donovan
98. When Hell Broke Loose (1958) .... Steve Boland
99. "Gunsmoke" .... Ben Tiple / ... (2 episodes, 1956-1958)
... aka Gun Law (UK)
... aka Marshal Dillon (USA: rerun title)
- Lost Rifle (1958) TV episode .... Ben Tiple
- The Killer (1956) TV episode .... Crego
100. "Tales of Wells Fargo" .... Butch Cassidy (1 episode, 1958)
- Butch Cassidy (1958) TV episode .... Butch Cassidy
101. Gang War (1958) .... Alan Avery
102. Machine-Gun Kelly (1958) .... George R. 'Machine Gun' Kelly
103. "Sugarfoot" .... Cliff Raven / ... (2 episodes, 1958)
... aka Tenderfoot (UK)
- The Bullet and the Cross (1958) TV episode .... Cliff Raven
- Man Wanted (1958) TV episode .... Sandy Randall
104. Ten North Frederick (1958) (uncredited) .... Bit Part
105. Showdown at Boot Hill (1958) .... Luke Welch
... aka Shadow of Boot Hill
106. "M Squad" .... Eddie Loder (1 episode, 1958)
- The Fight (1958) TV episode .... Eddie Loder
107. "The Court of Last Resort" .... Steve Hrdilka (1 episode, 1958)
- The Steve Hrdilka Case (1958) TV episode .... Steve Hrdilka
108. "The Walter Winchell File" .... Eggers (1 episode, 1958)
- Fight Night (1958) TV episode .... Eggers
109. "Sheriff of Cochise" .... Zenogalache a.k.a. Apache Kid (1 episode, 1957)
- Apache Kid (1957) TV episode .... Zenogalache a.k.a. Apache Kid
110. "Suspicion" .... Cal (1 episode, 1957)
- Doomsday (1957) TV episode .... Cal
111. "Colt .45" .... Danny Gordon (1 episode, 1957)
- Young Gun (1957) TV episode .... Danny Gordon
112. "Richard Diamond, Private Detective" .... Dan Rocco (1 episode, 1957)
... aka Call Mr. D.e
- The Pete Rocco Case (1957) TV episode .... Dan Rocco
113. Run of the Arrow (1957) .... Blue Buffalo
... aka Hot Lead (USA: video title)
114. "Those Whiting Girls" .... Martin Carroll (1 episode, 1957)
- Family Skelton (1957) TV episode .... Martin Carroll
115. "Hey, Jeannie!" .... Rocky (1 episode, 1957)
- Jeannie the Policewoman (1957) TV episode .... Rocky
116. "The Millionaire" .... Jerry Bell (1 episode, 1957)
... aka If You Had a Million
- The Jerry Bell Story (1957) TV episode .... Jerry Bell
117. "Studio 57" .... Dawson (1 episode, 1956)
... aka Heinz Studio 57 (USA: alternative title)
- Outpost (1956) TV episode .... Dawson
118. "Wire Service" .... Sam Adams (1 episode, 1956)
... aka Deadline for Action (USA: rerun title)
- The Avengers (1956) TV episode .... Sam Adams
119. "Warner Brothers Presents" .... Brodsky / ... (2 episodes, 1956)
- Deep Freeze (1956) TV episode .... Vic
- Explosion (1956) TV episode .... Brodsky
120. Jubal (1956) .... Reb Haislipp
121. "Medic" .... Alexis St. Martin / ... (2 episodes, 1954-1956)
- Who Search for Truth (1956) TV episode .... Alexis St. Martin
- My Brother Joe (1954) TV episode .... Dr. John Bircher
122. "Crusader" .... Mike Brod (2 episodes, 1955-1956)
- Freezeout (1956) TV episode .... Mike Brod
- The Boxing Match (1955) TV episode .... Mike Brod
123. Have Camera Will Travel (1956) (TV) .... Reese
124. Target Zero (1955) .... Sgt. Vince Gaspari
125. "Cavalcade of America" .... John Staniszewski (1 episode, 1955)
... aka DuPont Presents the Cavalcade Theatre (USA: fourth season title)
... aka DuPont Theater (USA: fifth season title)
- A Chain of Hearts (1955) TV episode .... John Staniszewski
126. "The Pepsi-Cola Playhouse" .... Joe Krossen (1 episode, 1955)
... aka Action Tonight (USA: syndication title)
- Woman in the Mine (1955) TV episode .... Joe Krossen
127. "Treasury Men in Action" .... Frankie Ames / ... (3 episodes, 1954-1955)
... aka Your Treasury Men in Action
- The Case of the Shot in the Dark (1955) TV episode .... Vince Sanderson
- The Case of the Deadly Dilemma (1955) TV episode .... Frankie Ames
- The Case of the Escaped Convict (1954) TV episode
128. "Stage 7" .... Jerry Donn / ... (2 episodes, 1955)
- The Time of the Day (1955) TV episode .... Jerry Donn
- Debt of Honor (1955) TV episode .... Murray Forman
129. Big House, U.S.A. (1955) .... Benny Kelly
130. "The Man Behind the Badge" (1 episode, 1955)
- The Case of the Invisible Mark (1955) TV episode
131. "Lux Video Theatre" .... Sergeant Borth (1 episode, 1955)
... aka Summer Video Theatre (USA: summer title)
- A Bell for Adano (1955) TV episode .... Sergeant Borth
132. Vera Cruz (1954) (as Charles Buchinsky) .... Pittsburgh
133. Drum Beat (1954/I) .... Kintpuash, aka Captain Jack
... aka Delmer Daves' Drum Beat (USA: complete title)
134. Apache (1954) (as Charles Buchinsky) .... Hondo
135. Riding Shotgun (1954) (as Charles Buchinsky) .... Pinto
136. "The Public Defender" .... Nobby Bullaid (1 episode)
- Cornered (????) TV episode .... Nobby Bullaid
137. Tennessee Champ (1954) (as Charles Buchinsky) .... Sixty Jubel aka The Biloxi Blockbuster
138. "Waterfront" (1 episode)
- Trestle Point (????) TV episode (as Charles Buchinski)
139. Crime Wave (1954) (as Charles Buchinsky) .... Ben Hastings
... aka The City Is Dark (UK)
140. "The Lineup" (1 episode, 1954)
... aka San Francisco Beat
- The Paisley Gang (1954) TV episode
141. "Schlitz Playhouse of Stars" .... Sgt. Roy Smith (2 episodes, 1953-1954)
... aka Herald Playhouse (USA: syndication title)
... aka Schlitz Playhouse (USA: new title)
... aka The Playhouse (USA: syndication title)
- Adventure in Java (1954) TV episode
- The Long Shot (1953) TV episode .... Sgt. Roy Smith
142. "The Joe Palooka Story" .... Eddie Crane (1 episode)
- Two Rings for Eddie (????) TV episode .... Eddie Crane
143. Miss Sadie Thompson (1953) (as Charles Buchinsky) .... Pvt. Edwards
144. "Four Star Playhouse" .... Frank Dana (1 episode, 1953)
... aka Best in Mystery (USA: syndication title)
... aka Four Star Theatre (UK: new title)
... aka Singer Playhouse (USA: syndication title)
... aka Star Performance (USA: rerun title)
- The Witness (1953) TV episode (as Charles Buchinsky) .... Frank Dana
145. House of Wax (1953) (as Charles Buchinsky) .... Igor
146. Off Limits (1953) (uncredited) .... Russell
... aka Military Policemen (UK)
147. Torpedo Alley (1953) (uncredited) .... Submariner
... aka Down Periscope (USA)
148. "The Doctor" (2 episodes, 1952-1953)
... aka The Visitor (USA: syndication title)
- Take the Odds (1953) TV episode
- The Guest (1952) TV episode
149. The Clown (1953) (uncredited) .... Eddie, Dice Player
150. "The Roy Rogers Show" .... Willie 'Killer' Conley (1 episode, 1952)
- The Knockout (1952) TV episode .... Willie 'Killer' Conley
151. "Biff Baker, U.S.A." .... Czech spy / ... (2 episodes, 1952)
- Alpine Assignment (1952) TV episode (as Charles Buchinsky) .... Wilhelm
- Koblen (1952) TV episode .... Czech spy
152. Bloodhounds of Broadway (1952) (uncredited) .... Phil Green, aka 'Pittsburgh Philo'
153. Battle Zone (1952) (uncredited) .... Private
154. Diplomatic Courier (1952) (uncredited) .... Russian agent
155. Pat and Mike (1952) (as Charles Buchinski) .... Henry 'Hank' Tasling
156. My Six Convicts (1952) (as Charles Buchinsky) .... Jocko
157. The Marrying Kind (1952) (uncredited) .... Eddie
158. Red Skies of Montana (1952) (uncredited) .... Neff
... aka Smoke Jumpers (USA: review title)
159. "The Red Skelton Show" .... Perky (1 episode, 1952)
... aka The Red Skelton Hour (USA: new title)
- Fancy Footwork (1952) TV episode .... Perky
160. The Mob (1951) (uncredited) .... Jack, a longshoreman
... aka Remember That Face (UK)
161. The People Against O'Hara (1951) (uncredited) .... Angelo Korvac
162. You're in the Navy Now (1951) (uncredited) .... Wascylewski
... aka U.S.S. Teakettle (USA)