DRUMS ALONG THE MOHAWK
DIRECTED BY JOHN FORD
PRODUCED BY RAYMOND GRIFFITH
EXECUTIVE PRODUCER DARRYL F. ZANUCK
20th. CENTURY FOX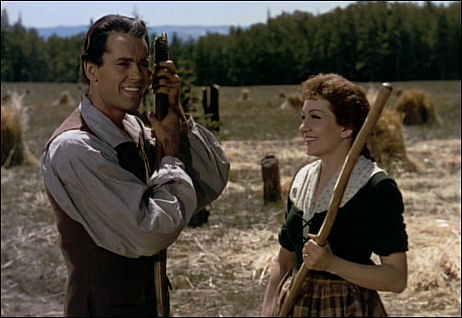 Information From IMDb
Plot Summary
Gilbert 'Gil' Martin, a civilized man from the East coast colonies, finds himself a loving bride,
Magdelana 'Lana', and takes her West to start a homestead in the Mohawk Valley (in Upstate New York).
Gil joins the minutemen, but when the Indians it's named after attack the rebellious colonists,
instigated by the British, their home and belongings go up in flames, Lana looses their baby.
Destitute they move and find a wealthy old widow, who is happy to put them up in her fine estate
in exchange for help from both of them, but the horrors of war catch up, even the fort isn't guaranteed safe...
Written by KGF Vissers
Full Cast
Claudette Colbert ... Magdalena 'Lana' Martin
Henry Fonda ... Gilbert 'Gil' Martin
Edna May Oliver ... Sarah McKlennar
Eddie Collins ... Christian Reall
John Carradine ... Caldwell
Dorris Bowdon ... Mary Reall
Jessie Ralph ... Mrs. Weaver
Arthur Shields ... Rev. Rosenkrantz
Robert Lowery ... John Weaver
Roger Imhof ... Gen. Nicholas Herkimer
Francis Ford ... Joe Boleo
Ward Bond ... Adam Hartman
Kay Linaker ... Mrs. Demooth
Russell Simpson ... Dr. Petry
Spencer Charters ... Innkeeper
Si Jenks ... Jacob Small
Jack Pennick ... Amos Hartman (as J. Ronald Pennick)
Arthur Aylesworth ... George Weaver
Chief John Big Tree ... Blue Back (as Chief Big Tree)
Charles Tannen ... Dr. Robert Johnson
Paul McVey ... Capt. Mark Demooth
Tiny Jones ... Mrs. Reall (as Elizabeth Jones)
Beulah Hall Jones ... Daisy
Edwin Maxwell ... Rev. Daniel Gros
Robert Greig ... Mr. Borst - Lana's Father
Clara Blandick ... Mrs. Borst - Lana's Mother
Frank Baker ... Commander of Colonial Troops (uncredited)
Noble Johnson ... Native American (uncredited)
Mae Marsh ... Pioneer Woman (uncredited)
Lionel Pape ... General (uncredited)
Tom Tyler ... Capt. Morgan (uncredited)
Clarence Wilson ... Paymaster (uncredited)
Writing Credits
Walter D. Edmonds (novel)
Lamar Trotti (writer) and
Sonya Levien (writer)
William Faulkner uncredited
Original Music
Alfred Newman
Trivia
John Ford's first film in color.
Clarence Wilson in the role as "Paymaster" and Lionel Pape in the role of "General"
are in studio records/casting call lists as cast members, but they did not appear or were not identifiable in the movie.
Goofs
* Continuity: When Gil is running to the next fort for help he crosses a stream with the 3 Indians in hot pursuit.
The next scene shows him running into the woods and his pant legs are completely dry.
* Revealing mistakes: When the Indians first attack the settlers during the land clearing,
the first Indian to shoot at the fleeing settlers fires a musket shot and then falls down as
though shot before anyone returns fire.
Filming locations
Duck Creek, Kanab, Utah, USA
Kanab, Utah, USA
Wasatch Range, Utah, USA