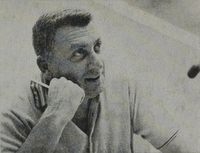 WALTER SCHARF
Information From IMDb
Date of Birth
1 August 1910, New York, New York, USA
Date of Death
24 February 2003, Brentwood, California, USA (heart failure)
Spouse
Betty Scharf (? - 24 February 2003) (his death) 2 children
Trivia
Child: daughter Susan.
Mini Biography
Born and raised in New York City, the son of Polish-Jewish immigrants,
Walter Scharf started playing music at an early age, helping his uncle play the piano for silent films.
He got his first real Broadway gig at the age of 17, orchestrating George Gershwin's "Girl Crazy."
He also played in several college shows written by Richard Rodgers and Lorenz Hart.
Later, he worked as a session musician in the early years of recording, along with Glenn Miller
and the Dorsey brothers. He took his earnings and studied at New York University,
even spending a year and a half studying in Berlin, witnessing the rise of the Nazis in 1932.
Back in New York, he became the accompanist for the legendary chanteuse Helen Morgan,
who introduced him to the world of film with "Manhattan Melodrama." Her sometime substitute, Alice Faye,
coaxed Walter to join Rudy Vallee's orchestra, playing at the Embassy Club,
and eventually going to Hollywood with them to make "Sweet Music" at Warner Brothers.
His film music career continued through six decades working extensively with stars such as
Shirley Temple, Al Jolson, Irving Berlin, Bing Crosby, Danny Kaye, Martin and Lewis, Frank Sinatra,
Elvis Presley, Barbra Streisand, and Michael Jackson.
IMDb Mini Biography By: Gregg Wager
Filmography
Composer
The Love Boat (TV series)
– Egypt: Part 1 (1986)
– Egypt: Part 2 (1986)
– My Mother, My Chaperone/Present, The/Death and Life of Sir Alfred Demerest, The/Welcome Aboard: Part 1 (1984)
– My Mother, My Chaperone/Present, The/Death and Life of Sir Alfred Demerest, The/Welcome Aboard: Part 2 (1984)
– Vicki and the Fugitive/Lady in the Window/Stolen Years/Dutch Treat: Part 1 (1984)
all 6 episodes »
1983 Casablanca (TV series)– Master Builder's Woman (1983)
1982 Twilight Time
1981 This Is Elvis
1981 Midnight Offerings (TV movie)
1980 The Long Days of Summer (TV movie)
1980 The Scarlett O'Hara War (TV movie)
1980 From Here to Eternity (TV series)
1979 Blind Ambition (TV mini-series)
1979 Salvage 1 (TV series)
– The Haunting of Manderley Mansion (1979)
– Shelter Five (1979)
– Shangri-la Lil (1979)
– Salvage (1979)
1979 From Here to Eternity (TV mini-series)
1979 The Triangle Factory Fire Scandal (TV movie)
1978 A Real American Hero (TV movie)
1978 Hawaii Five-O (TV series)
– A Death in the Family (1978)
– Invitation to Murder (1978)
1978 When Every Day Was the Fourth of July (TV movie)
1977 Final Chapter: Walking Tall
1965-1976 National Geographic Specials (TV series documentary)
– Search for the Great Apes (1976)
– This Britain: Heritage of the Sea (1975)
– Bushmen of the Kalahari (1974)
– The Big Cats (1974)
– Wind Raiders of the Sahara (1973)
all 16 episodes »
1975 Legend of the Lawman
1975 Backbone
1974 Journey Back to Oz
1973 Walking Tall
1968-1973 The Undersea World of Jacques Cousteau (TV series documentary)
– The Forgotten Mermaids (1973)
– The Smile of the Walrus (1972)
– A Sound of Dolphins (1972)
– Those Incredible Diving Machines (1970)
– The Return of the Sea Elephants (1970)
all 11 episodes »
1973 Strange Creatures of the Night (TV documentary)
1972 Ben
1972 Plimpton! At the Wheel (TV documentary)
1971 Plimpton! The Man on the Flying Trapeze (TV documentary)
1970 Plimpton! Shoot-Out at Rio Lobo (TV documentary)
1970 Uncle Sam Magoo (TV movie)
1970 The Cheyenne Social Club
1970 A Storm in Summer (TV movie)
1969 The Mystery of Animal Behavior (TV documentary)
1969 If It's Tuesday, This Must Be Belgium
1969 Pendulum
1966-1967 Mission: Impossible (TV series)
– The Bank (1967)
– The Survivors (1967)
– The Ransom (1966)
– Old Man Out: Part 2 (1966)
– Old Man Out: Part 1 (1966)
1967 The Wild Wild West (TV series)
– The Night of the Assassin (1967)
1966 That Girl (TV series)
– Break a Leg (1966)
– Rich Little Rich Kid (1966)
– Anatomy of a Blunder (1966)
– I'll Be Suing You (1966)
– Never Change a Diaper on Opening Night (1966)
all 7 episodes »
1965 Tickle Me
1964-1965 The Man from U.N.C.L.E. (TV series)
– The Gazebo in the Maze Affair (1965)
– The Love Affair (1965)
– The See-Paris-And-Die Affair (1965)
– The Deadly Decoy Affair (1965)
– The Terbuf Affair (1964)
all 10 episodes »
1965 Guns of Diablo
1964 Where Love Has Gone
1964 Honeymoon Hotel
1963-1964 The Travels of Jaimie McPheeters (TV series)
– The Day of the Reckoning (1964) (music score)
– The Day of the Dark Deeds (1964) (music score)
– The Day of the Pretenders (1964) (music score)
– The Day of the Picnic (1964) (music score)
– The Day of the Lame Duck (1964) (music score)
all 11 episodes »
1963 Breaking Point (TV series)
– The Bull Roarer (1963)
1963 Funny Side of Life (documentary)
1963 The Nutty Professor (music scored by)
1963 My Six Loves
1961-1963 Bonanza (TV series)
– The Hayburner (1963)
– The Deadly Ones (1962)
– Land Grab (1961)
– The Lonely House (1961)
– The Honor of Cochise (1961)
1962 It's Only Money
1962 World of Comedy (documentary)
1961 Pocketful of Miracles
1961 The Errand Boy
1961 The Ladies Man
1960-1961 Shirley Temple's Storybook (TV series)
– The Terrible Clockman (1961)
– The House of the Seven Gables (1960)
1960 Cinderfella
1960 The Bellboy
1959 Don't Give Up the Ship
1958 The Geisha Boy
1958 Rock-a-Bye Baby
1958 King Creole
1958 The Jerry Lewis Show (TV movie)
1957 The Sad Sack
1957 The Joker Is Wild
1957 Loving You (uncredited)
1956 Three Violent People
1956 Hollywood or Bust (uncredited)
1956 Three for Jamie Dawn
1956 The Birds and the Bees
1956 Time Table
1955 The Court Jester (uncredited)
1955 Artists and Models (uncredited)
1955 You're Never Too Young (uncredited)
1954 3 Ring Circus
1954 Living It Up (uncredited)
1953 The French Line (uncredited)
1951 Two Tickets to Broadway
1950 East of Java
1950 Deported (uncredited)
1950 Peggy (uncredited)
1950 Panther's Moon (uncredited)
1950 Sierra
1950 Take the Stage
1950 Buccaneer's Girl
1950 Francis (uncredited)
1949 Yes Sir, That's My Baby
1949 Take One False Step
1949 Red Canyon
1949 City Across the River
1948 Mexican Hayride (uncredited)
1948 The Countess of Monte Cristo
1948 The Saxon Charm
1948 Casbah (uncredited)
1948 Are You with It? (uncredited)
1946 Concerto (uncredited)
1946 Murder in the Music Hall (uncredited)
1945 Dakota (uncredited)
1945 The Cheaters (music score)
1945 Earl Carroll Vanities (uncredited)
1944 Lake Placid Serenade (uncredited)
1944 Brazil (uncredited)
1944 Atlantic City (uncredited)
1944 The Lady and the Doctor
1944 The Fighting Seabees (musical score)
1943 In Old Oklahoma
1943 Sleepy Lagoon (uncredited)
1943 Nobody's Darling (uncredited)
1943 Someone to Remember (uncredited)
1943 Thumbs Up (uncredited)
1943 Chatterbox (uncredited)
1943 Shantytown (uncredited)
1943 Hit Parade of 1943 (uncredited)
1942 The Glass Key (uncredited)
1941 Henry Aldrich for President (uncredited)
1941 Mercy Island (uncredited)
1941 Judy Goes to Town (uncredited)
1941 Sis Hopkins (uncredited)
1941 The Gay City (uncredited)
1940 Hit Parade of 1941 (uncredited)
1939 The Adventures of Sherlock Holmes (uncredited)
1939 Frontier Marshal (uncredited)
1939 Return of the Cisco Kid (uncredited)
1938 Josette (uncredited)
1938 Sally, Irene and Mary (uncredited)
1937 Lovely to Look at (uncredited)
1937 You Can't Have Everything (uncredited)
1933 Poppin' the Cork (short)