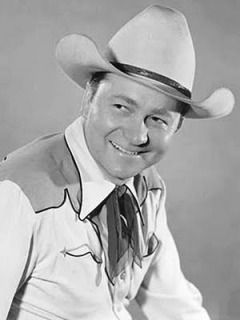 TEX RITTER
Information From IMDb
Date of Birth
12 January 1905,
Murvaul, Texas, USA
Date of Death
2 January 1974,
Nashville, Tennessee, USA (heart attack)
Birth Name
Woodward Maurice Ritter
Nickname
America's Most Beloved Cowboy
Spouse
Dorothy Fay (14 June 1941 - 2 January 1974) (his death) 2 children
Trivia
Perhaps best remembered for his haunting vocalization of the theme song in High Noon (1952).
Singer, father of John Ritter.
His spouse, Dorothy Fay, was his leading lady in many of his western features.
In his later years, he was a disk jockey on Nashville radio.
In 1970, he ran unsuccessfully in Tennessee for the Republican nomination for U.S. Senate.
Inducted into the Country Music Hall of Fame in 1964.
Grandfather of Jason Ritter.
Had a long string of hit singles on Billboard's country charts -- including the No. 1 hits "I'm Wasting My Tears on You" (1944); "You Two-Timed Me Once Too Often" (1945); and "You Will Have to Pay" (1946). Other famous hits included "Deck of Cards" (1948) and "I Dreamed of a Hillbilly Heaven" (1961).
"You Two-Timed Me Once Too Often" was Billboard's No. 1 country hit of the year in 1945.
Inducted into the Hall of Great Western Performers of the National Cowboy and Western Heritage Museum in 1980.
Veteran character actor Morgan Woodward's uncle, Dr. S. A. Woodward, lived in the San Angelo, Texas area. One day, he was called to help in the birth of a male child. The family, not knowing what gender was expected, had not chosen a name, so in honor of the good doctor's service, they named him Woodward Ritter. Later, he would be known more widely as "Tex" Ritter.
Profiled in "Back in the Saddle: Essays on Western Film and Television Actors", Gary Yoggy, ed. (McFarland, 1998).
His horse in his earlier movies was called White Flash.
Father of Tom Ritter
Grandfather of Stella Ritter.
Buried in Port Neches, Texas.
Mini Biography
Singing-cowboy star of "B" westerns during the 30's and 40's and later country-music recording star.
He was born Woodward Maurice Ritter in Murvaul, Texas, the son of James Everett Ritter and Martha Elizabeth Matthews.
He grew up on his family's farm in Panola County and attended grade school in Carthage. He then attended South Park High School in Beaumont. After graduating with honors, he entered the University of Texas at Austin; he studied pre-law, majoring in government, political science and economics.
One of the early pioneers of country music, Ritter soon became interested in show business. In 1928, he sang on KPRC Radio in Houston, a thirty-minute show featuring cowboy songs. In that same year, he moved to New York City and quickly landed a job in the men's chorus of the Broadway show The New Moon (1928).
He appeared as "The Cowboy" in the Broadway production Green Grow the Lilacs (1930), which was the basis for the later musical Oklahoma!. He also played the part of Sagebrush Charlie in The Round Up (1932) and Mother Lode (1934).
Ritter also worked on various radio programs. In 1932, he starred on the WOR Radio show The Lone Star Rangers, which was New York's first broadcast western. He sang songs and told tales of the Old West. Ritter wrote and starred in Cowboy Tom's Roundup on WINS Radio in New York in 1933. This daily children's cowboy radio program aired over three stations on the East Coast for three years. These shows marked the beginning of Ritter's popularity in radio, which paved the way for his upcoming singing career. He also performed on the radio show WHN Barndance and sang on NBC Radio.
He appeared in several radio dramas, including CBS's Bobby Benson's Adventures and Death Valley Days.
Ritter began recording for American Record Company (Columbia Records) in 1933. His first released recording was "Goodbye Ole Paint." He also recorded "Rye Whiskey" for that label. In 1935, he signed with Decca Records, where he recorded his first original recordings, "Sam Hall" and "Get Along Little Dogie."
In 1936, he moved to Los Angeles, California. His motion picture debut was in Song Of The Gringo (1936) for Grand National Pictures. He starred in twelve movies for Grand National, "B" grade Westerns, which included Headin' For The Rio Grande (1936), and Trouble In Texas (1937) co-starring Rita Hayworth (then known as Rita Cansino).
After starring in Utah Trail (1938), Ritter left the financially troubled Grand National. Between 1938 and 1945, he starred in around forty "singing cowboy" movies, mostly to critical scorn.
Ritter made four movies with actress Dorothy Fay at Monogram Pictures: Song of the Buckaroo (1938), Sundown on the Prairie (1939), Rollin' Westward (1939) and Rainbow Over the Range (1940).
He recorded a total of twenty-nine songs for Decca, the last being in 1939 in Los Angeles as part of Tex Ritter and His Texans.
Tex helped start United Cerebral Palsy Associations, Inc, after his son, Thomas, was found to have cerebral palsy. Tex, Thomas, and John spent a great deal of time raising money and public awareness to help others with cerebral palsy.
Ritter was the first artist signed with the newly-formed Capitol Records as well as being their first Western singer. His first recording session was on June 11, 1942. His music recording career began what was his most successful period.
He achieved significant success with "Jingle, Jangle, Jingle," and in 1944, he scored another hit with "I'm Wastin' My Tears On You," which hit #1 on the country charts and #11 on the Pop charts. "There's A New Moon Over My Shoulder" was a country charts #2 and Pop charts #21. In 1945, he had the #1, #2 and #3 songs on Billboard's "Most Played Jukebox Folk Records" poll, a first in the industry. Between 1945 and 1946, he registered seven consecutive Top 5 hits, including "You Two Timed Me One Time Too Often," a country #1 written by Jenny Lou Carson, which spent eleven weeks on the charts. In 1948, "Rye Whiskey" and his cover of "Deck Of Cards" both made the Top 10 and "Pecos Bill" reached #15. In 1950, "Daddy's Last Letter (Private First Class John H. McCormick)" also became a hit.
In 1952, Ritter recorded the movie title-track song "High Noon (Do Not Forsake Me Oh My Darlin')", which became a hit. He sang "High Noon" at the first Academy Awards ceremony to be televised in 1953, and he recorded the song a number of times. It received an Oscar for Best Song that year.[1]
Ritter first toured Europe in 1952, where his appearances included a starring role in the Texas Western Spectacle at London's famous Harringay Arena. In 1953, he began performing on Town Hall Party on radio and television in Los Angeles. He formed Vidor Publications, Inc., a music publishing firm, with Johnny Bond, in 1955. "Remember the Alamo" was the first song in the catalog.
In 1957, he released his first LP album, Songs From the Western Screen. He starred in his own television music series, Ranch Party, televised for four years, starting in 1959.
Even after the peak of his performing career, Ritter would be recognized for his contributions to country and western music and for his artistic versatility. He became one of the founding members of the Country Music Association in Nashville, Tennessee. In 1964, he became the fifth person and first singing cowboy to be inducted into the Country Music Hall of Fame. He moved to Nashville in 1965 and began working for WSM Radio and the Grand Ole Opry. He also received a lifetime membership to the Opry. His family remained in California temporarily so that son John could finish high school there. For a time, Dorothy was an official greeter at the Opry. During this period, Ritter co-hosted a late night radio program with famed country disc jockey Ralph Emery.
In 1970, Ritter surprised many people by entering the Republican primary for United States Senate. Despite high name recognition, he lost overwhelmingly to Chattanooga, Tennessee Congressman Bill Brock, who then went on to win the general election over veteran U.S. Senator Albert Gore, Sr.
From Wikipedia
Filmography
Actor
1. Sing a Country Song (1973)
2. The Marshal of Windy Hollow (1972) .... Windy Hollow Mayor
3. The Girl from Tobacco Row (1966) .... Preacher Bolton
4. Nashville Rebel (1966) .... Tex Ritter
5. "Tom and Jerry" (1965) TV series (voice) (uncredited)
6. "Five Star Jubilee" (1961) TV series .... Alternate Host (1961)
7. "The Rebel" .... Marshall (1 episode, 1961)
- The Ballad of Danny Brown (1961) TV episode .... Marshal
8. "Ranch Party" (1958) TV series .... Regular (1958)
9. "Zane Grey Theater" .... Reydo (1 episode, 1958)
... aka Dick Powell's Zane Grey Theater (USA: complete title)
... aka The Westerners (USA: rerun title)
- Sundown at Bitter Creek (1958) TV episode .... Reydo
10. Down Liberty Road (1956)
... aka Freedom Highway (USA)
11. The First Bad Man (1955) (voice) .... Narrator
12. Apache Ambush (1955) .... Traeger
13. Wichita (1955) (uncredited) .... Singer
14. Holiday Rhythm (1950) .... Tex Ritter
15. Flaming Bullets (1945) .... Texas Ranger Tex Haines
16. Frontier Fugitives (1945) .... Texas Ranger Tex Haines
17. Three in the Saddle (1945) .... Tex Haines
18. Enemy of the Law (1945) .... Tex Haines
19. Marked for Murder (1945) .... Tex Haines
20. The Whispering Skull (1944) .... Tex Haines
21. Dead or Alive (1944) .... Tex Haines aka Idaho Kid
22. Gangsters of the Frontier (1944) .... Tex Haines
... aka Raiders of the Frontier (UK)
23. Oklahoma Raiders (1944) .... Steve Nolan
... aka Midnight Raiders (UK)
24. Cowboy Canteen (1944) .... Tex Coulter
... aka Close Harmony (UK)
25. Marshal of Gunsmoke (1944) .... Marshal Ward Bailey
... aka Sheriff of Gunsmoke (UK)
26. Arizona Trail (1943) .... Johnnie Trent
27. Frontier Badmen (1943) .... Jerry Kimball - Cattle Buyer
28. The Lone Star Trail (1943) .... Fargo Steele
29. Raiders of San Joaquin (1943) .... Gil Blake
30. Cheyenne Roundup (1943) .... Steve Rawlins
31. Tenting Tonight on the Old Camp Ground (1943) .... Bob Courtney
32. The Old Chisholm Trail (1942) .... Montana Smith
33. Little Joe, the Wrangler (1942) .... Sheriff Bob Brewster
34. Deep in the Heart of Texas (1942) .... Brent Gordon
35. Vengeance of the West (1942) .... California Ranger Captain Tex Lake
36. Prairie Gunsmoke (1942) .... Tex Terrell
37. The Devil's Trail (1942) .... Marshal Tex Martin
... aka Devil's Trail (USA: TV title)
... aka Rogue's Gallery
38. North of the Rockies (1942) .... Tex Martin
39. Bullets for Bandits (1942) .... Sheriff Tex Martin
40. Lone Star Vigilantes (1942) .... Tex Martin
... aka The Devil's Price (UK)
41. Roaring Frontiers (1941) .... Tex Martin (listed as Tex Rawlings)
42. King of Dodge City (1941) .... Tex Rawlings
43. The Pioneers (1941) .... Tex
44. Ridin' the Cherokee Trail (1941) .... Texas Ranger Lt. Tex Ritter
... aka Arizona Ranch Hands (USA: alternative title)
45. Rolling Home to Texas (1940) .... Tex Reed
... aka Ridin' Home to Texas (UK: new title)
46. Take Me Back to Oklahoma (1940) .... Tex Lawton
47. Arizona Frontier (1940) .... Tex
48. Roll Wagons Roll (1940) .... Tex Masters
... aka Roll Covered Wagon (UK)
49. Rainbow Over the Range (1940) .... Tex Reed
50. The Golden Trail (1940) .... Tex Roberts
51. Cowboy from Sundown (1940) .... Sheriff Tex Rockett
52. Pals of the Silver Sage (1940) .... Tex Wright
... aka The Colorado Trail (USA: alternative title)
53. Rhythm of the Rio Grande (1940) .... Tex Regan
54. Westbound Stage (1939) .... Tex Wallace
55. Riders of the Frontier (1939) .... Tex Lowery posing as Ed Carter
... aka Ridin' the Frontier (UK)
56. Down the Wyoming Trail (1939) .... Tex Yancey
57. The Man from Texas (1939) .... Tex Allen
58. Rollin' Westward (1939) .... Tex
... aka Rollin' West (UK)
59. Sundown on the Prairie (1939) .... Tex
... aka Prairie Sundown (UK)
60. Song of the Buckaroo (1938) .... Texas Dan
61. Where the Buffalo Roam (1938) .... Tex Houston
62. Starlight Over Texas (1938) .... Tex Newman
... aka Moonlight Over Texas (UK)
63. The Utah Trail (1938) .... Tex Stewart, posing as the Pecos Kid
64. Rollin' Plains (1938) .... Tex Lawrence
65. Frontier Town (1938) .... Tex Lansing, alias Tex Rawlins
66. Tex Rides with the Boy Scouts (1937) .... Tex Collins
67. The Mystery of the Hooded Horsemen (1937) .... Tex Martin
68. Riders of the Rockies (1937) .... Tex Rand
69. Sing, Cowboy, Sing (1937) .... Tex Archer
70. Hittin' the Trail (1937) .... Tex Randall
71. Trouble in Texas (1937) .... Tex Masters
72. Arizona Days (1937) .... Tex Malinson
73. Headin' for the Rio Grande (1936) .... Tex Saunders
74. Song of the Gringo (1936) .... Tex
... aka The Old Corral (UK)
Soundtrack
1. Opry Video Classics: Pioneers (2007) (V) (performer: "High Noon")
2. Neal Cassady (2007) (performer: "We'll Rest at the End of the Trail")
3. "Ramona" (2003) TV mini-series (performer: "High Noon")
4. Ready to Rumble (2000/I) (performer: "Wayawrd Wind")
5. Varsity Blues (1999) (performer: "The Wayward Wind")
6. I'll Be Home for Christmas (1998) (performer: "Christmas Carols By The Old Corral")
7. American Strays (1996) (performer: "(I Got Spurs) Jingle Jangle Jingle")
8. Canadian Bacon (1995) (performer: "God Bless America Again")
9. The Great Outdoors (1988) (performer: "Paul Bunyan Love")
10. Born Reckless (1958) (writer: "SONG OF THE RODEO")
11. Trooper Hook (1957) (performer: "Trooper Hook")
12. Westward Ho the Wagons! (1956) ("Green Grows the Lilacs")
13. The Marshal's Daughter (1953) (performer: "The Marshal's Daughter")
14. The 25th Annual Academy Awards (1953) (TV) (performer: "High Noon (Do Not Forsake Me, Oh My Darlin')")
15. Cangaceiro, O (1953) (performer: "Ole O Cangaceiro")
... aka Cangaceiro (USA)
... aka The Bandit
... aka The Bandit of Brazil (Canada: English title)
16. High Noon (1952) (performer: "High Noon" (1951))
17. Flaming Bullets (1945) (performer: "I Hang My Head and Cry", "Be Honest With Me")
18. Frontier Fugitives (1945) (performer: "Too Late To Worry, Too Blue To Cry", "I'll Wait For You, Dear")
19. Three in the Saddle (1945) (writer: "I've Done the Best I Could") (performer: "I've Done the Best I Could", "Try Me One More Time")
20. Enemy of the Law (1945) (writer: "Teach Me To Forget", "You Will Have To Pay") (performer: "Teach Me To Forget", "You Will Have To Pay")
21. Marked for Murder (1945) (writer: "Long Time Gone") (performer: "Long Time Gone", "Tears of Regret")
22. The Whispering Skull (1944) (writer: "In Case You Change Your Mind", "It's Never Too Late") (performer: "In Case You Change Your Mind", "It's Never Too Late")
23. Dead or Alive (1944) (writer: "I'm Gonna Leave You Like I Found You", "Don't Care Since You Told Me Goodbye") (performer: "I'm Gonna Leave You Like I Found You", "Don't Care Since You Told Me Goodbye")
24. Oklahoma Raiders (1944) (performer: "I'll Be a Cowboy 'Till I Die", "Roll On, Little Dogies, Roll On")
... aka Midnight Raiders (UK)
25. Cowboy Canteen (1944) (performer: "Goin' To Lasso a Rainbow")
... aka Close Harmony (UK)
26. Marshal of Gunsmoke (1944) (performer: "Git Along Little Dogies") ("Git Along Little Dogies")
... aka Sheriff of Gunsmoke (UK)
27. Arizona Trail (1943) (performer: "Stay Away From My Heart")
28. The Lone Star Trail (1943) (performer: "I Gotta See Texas Just Once More")
29. Tenting Tonight on the Old Camp Ground (1943) (performer: "Riding Home")
30. The Old Chisholm Trail (1942) (performer: "Out On The Lone Star Trail", "The Rovin' Gambler") (arranger: "The Rovin' Gambler")
31. Deep in the Heart of Texas (1942) (performer: "Deep In The Heart Of Texas", "Cowboy's Lament") ("Cowboy's Lament")
32. Vengeance of the West (1942) (performer: "Along The Trail Somewhere", "Only Yesterday")
33. Prairie Gunsmoke (1942) (writer: "Where The Buffalo Roam") (performer: "Where The Buffalo Roam", "Someone To Call Darling")
34. Lone Star Vigilantes (1942) (performer: "Headin' Home to Texas", "When the Moon is Shinging on the Old Corral", "Going to Join the Rangers")
... aka The Devil's Price (UK)
35. Roaring Frontiers (1941) (performer: "You've Got To Come And Get Me Boys", "You're A Part Of The West", "Judge Morrow Will Find The Truth")
36. Ridin' the Cherokee Trail (1941) (performer: "Dynamite Dan", "Song of the Coyotes", "Old Pete the Bandito")
... aka Arizona Ranch Hands (USA: alternative title)
37. Roll Wagons Roll (1940) (lyrics: "Oh! Susanna")
... aka Roll Covered Wagon (UK)
38. The Golden Trail (1940) (performer: "Clementine") ("Gold Is Where You Find It", "Clementine")
39. Cowboy from Sundown (1940) (writer: I've Done the Best I Can") (performer: "Symphony of the Prairie", I've Done the Best I Can", The Craw-dad Song")
40. Pals of the Silver Sage (1940) (performer: "Prairie Fairyland")
... aka The Colorado Trail (USA: alternative title)
41. Rhythm of the Rio Grande (1940) (performer: "Rhythm of the Rio Grande", "Mexicali Moon")
42. Westbound Stage (1939) (performer: "It's All Over Now", "Trail To Mexico")
43. The Man from Texas (1939) (performer: "Men Who Wear the Stars", "Prairie Lights")
44. Rollin' Westward (1939) (performer: "Out In The Golden West", "Bold Vaquero")
... aka Rollin' West (UK)
45. Sundown on the Prairie (1939) (writer: "Dust On My Saddle") (performer: "Dust On My Saddle", "Cactus Pete", "My Love Is A Rider") (arranger: "My Love Is A Rider")
... aka Prairie Sundown (UK)
46. Song of the Buckaroo (1938) (writer: "I Promise You") (performer: "Texas Dan", "Little Tenderfoot', "I Promise You")
47. Where the Buffalo Roam (1938) (writer: "Where the Buffalo Roam", "Troubador of the Prairie") (performer: "Where the Buffalo Roam", "Troubador of the Prairie", "Longside of the Sana Fe Trail", "Home on the Range", "Shoot the Buffalo")
48. Starlight Over Texas (1938) (performer: "Starlight Over Texas", "Ah! Viva Tequila", "A Garden in Granada") ("Starlight Over Texas")
... aka Moonlight Over Texas (UK)
49. The Utah Trail (1938) (performer: "Utah Trail", "Give Me Back My Saddle", "A Mighty Good Horse", "A'Roamin' I'll Be")
50. Rollin' Plains (1938) (performer: "Me, My Pal and My Pony", "Rollin' Plains")
51. Frontier Town (1938) (writer: "Old Caysue", "Give Me a Horse, a Saddle and You") (performer: "Old Caysue", "Yip, Yow, I'm an Eagle", "Give Me a Horse, a Saddle and You", "The Cowboy's Lament (Streets of Laredo)", "The Brass Wagon")
52. Tex Rides with the Boy Scouts (1937) (performer: "I'm Headin' For My Texas Home", "The Gal I Left Behind Me")
53. The Mystery of the Hooded Horsemen (1937) (performer: "Ride, Ride, Ride", "I'm A Texas Cowboy", "Ride Around Little Dogies", "Rosita", "A'Ridin' Old Paint")
54. Riders of the Rockies (1937) (writer: "Song of the Open Range", "Arizona Rangers", "Riders of the Rockies") (performer: "Song of the Open Range", "Arizona Rangers", "Riders of the Rockies", "Home on the Range")
55. Sing, Cowboy, Sing (1937) (performer: "Goodbye Old Paint, I'm a-Leavin' Cheyenne", "Get A Horse and Saddle", "Sing, Cowboy, Sing")
56. Hittin' the Trail (1937) (performer: "Hittin' the Trail", "Blood on the Saddle", "Headin' For Town", "The Vagabond Song" (aka "The Renegade Song"), "I'm A Natural Born Cowboy") ("Hittin' the Trail")
57. Trouble in Texas (1937) (writer: "The Rodeo Song") (performer: "Down the Colorado Trail", "The Rodeo Song", "A Cowboy's Lament")
58. Headin' for the Rio Grande (1936) (writer: "Headin' For the Rio Grande", "The Night Herding Song", "A Campfire Love Song", "Jailhouse Lament") (performer: "Headin' For the Rio Grande", "The Night Herding Song", "A Campfire Love Song", "Jailhouse Lament")
59. Song of the Gringo (1936) ("Out on the Old Prairie", "My Sweet Chiquita", "Sam Hall", "Rye Whiskey")
... aka The Old Corral (UK)
Music Department
1. Gangsters of the Frontier (1944) (composer: song "Remember Me")
... aka Raiders of the Frontier (UK)
2. Home in Wyomin' (1942) (music arranger: special arrangements, "Clementine") (uncredited)
3. Ridin' the Cherokee Trail (1941) (composer: song music)
... aka Arizona Ranch Hands (USA: alternative title)
4. Roll Wagons Roll (1940) (composer: songs)
... aka Roll Covered Wagon (UK)
5. Riders of the Rockies (1937) (composer: songs) (lyricist: songs)
6. Arizona Days (1937) (composer: songs "High, Wide and Handsome" and "Tombstone, Arizona" and "Arizona Days")
Watch Tex Ritter Full Movies:-
Here's one of them:-
http://www.imdb.com/video/internet-archive/vi2841315097/The Mystery of the Hooded Horsemen http://www.imdb.com/video/internet-archive/vi2841315097/