JESSE JAMES
DIRECTED BY HENRY KING/ IRVING CUMMINGS (uncredited)
PRODUCED BY DARRYL F. ZANUCK/ NUNALLY JOHNSON/ BEN SILVEY
20th. CENTURY FOX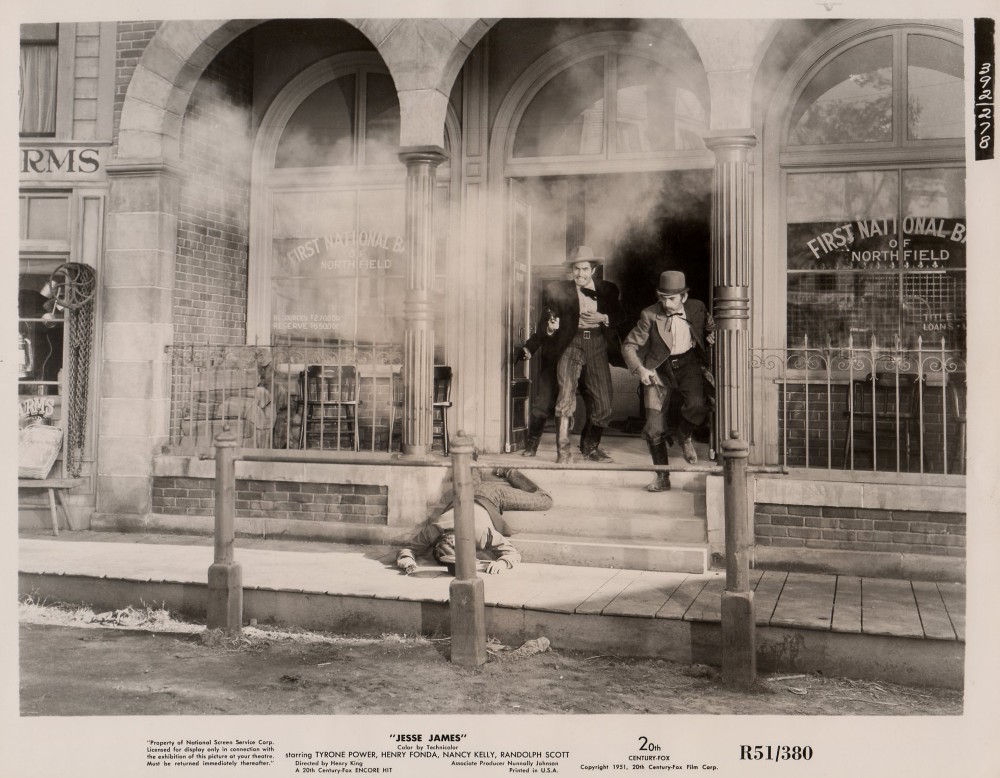 Photo with the courtesy of lasbugas

Information From IMDb
Plot Summary
The railroads are squeezing farmers off their land.
When a railroad agent kills their mother, Frank and Jesse James take up robbing banks and trains. The public regard them as heroes. When Jesse retires his erstwhile friend Robert Ford shoots him in the back to get the reward.
Written by Ed Stephan
Cast
Tyrone Power ... Jesse Woodson James
Henry Fonda ... Frank James
Nancy Kelly ... Zerelda 'Zee' Cobb, later Zerelda 'Zee' James
Randolph Scott ... Marshall Will Wright
Henry Hull ... Major Rufus Cobb
Slim Summerville ... Jailer
J. Edward Bromberg ... Mr. Runyan
Brian Donlevy ... Barshee
John Carradine ... Bob Ford
Donald Meek ... Mc Coy
Johnny Russell ... Jesse James Jr. (as John Russell)
Jane Darwell ... Mrs. Samuels - Jesse's mother
Charles Tannen ... Charles Ford
Claire Du Brey ... Mrs. Bob Ford
Willard Robertson ... Clarke
Harold Goodwin ... Bill
Ernest Whitman ... Pinkie
Eddy Waller ... Deputy
Paul E. Burns ... Hank (as Paul Burns)
Spencer Charters ... Minister
Arthur Aylesworth ... Tom Colson
Charles Middleton ... Doctor
Charles Halton ... Heywood (Credits) / Layworth
George Chandler ... Roy
Harry Tyler ... Farmer
Virginia Brissac ... Boy's Mother
Edward LeSaint ... Judge Rankin (as Ed Le Saint)
John Elliott ... Judge Mathews
Erville Alderson ... Old Marshal
George P. Breakston ... Farmer Boy (as George Breakston)
Lon Chaney Jr. ... One of James Gang
And many others
Writing credits
Nunnally Johnson (original screenplay)
Hal Long (story contributor) uncredited
Gene Fowler (contributing writer) uncredited and
Curtis Kenyon (contributing writer) uncredited
Trivia
* A scene in which a horse falls to its death from a cliff, and the subsequent public outcry, led to the American Humane Association (AHA) overseeing filmmaking through its new Film and TV Unit. Eventually they introduced the now-familiar AHA certification, "No animals were harmed in the making of this motion picture."
* Irving Cummings filled in as director from 14 October 1938 to 24 October 1938, when Henry King was bed-ridden from a swelling in his ear.
* The film shows both Jesse and Frank going off the cliff on horseback. In reality the stunt was performed once and shot with two cameras.
* In the scene where a wagon and its two horses go over the edge of a 75-foot cliff into the river below, the stuntman driving the wagon wasn't hurt, but the two horses were killed.
* While shooting his role in the Ozarks, Lon Chaney Jr. fell off his horse during a chase and was trampled by the horse behind him. He was not injured badly - he managed to finish his scenes that day. But director Henry King, blaming Chaney's nightly drinking for the mishap, fired him, and he was dropped by his studio (20th Century Fox.)
Goofs
* Crew or equipment visible: After they get Jesse out of jail, in the head-on shot of Frank and Jesse riding while being chased by the posse, road dust from the camera truck is visible ahead of them.
* Factual errors: The movie shows a bomb killing Frank and Jesse's mother. In reality, the "bomb" thrown through the window by the Pinkertons killed their little brother and seriously wounded their mother. She survived, however, although she lost an arm in the attack.
* Continuity: On the river bank, when Jesse James bids farewell to Pinkie, the latter changes place, from beside the mule, with his hand on its back, to the front of the mule, holding the rein, between shots.
Filming locations
Lake Ozark, Missouri, USA
Noel, Missouri, USA
Pineville, Missouri, USA