BARDELYS THE MAGNIFICENT
DIRECTED BY KING VIDOR
METRO-GOLDWYN-MAYER

Plot Summary
Bardely is a notorious ladykiller of the court, handing out lockets with snippets
of his hair (which really come from a wig) like there's no tomorrow.
When his abilities to win any woman are challenged,
Bardely masquerades as a wanted rebel in order to win the damsel's hand.
Unfortunately, he also wins the attention of the law,
who want to hang him for his crimes against the king.
by ethanedwards
Information from IMDb
Full Cast
John Gilbert ... Bardelys
Eleanor Boardman ... Roxalanne de Lavedan
Roy D'Arcy ... Chatellerault
Lionel Belmore ... Vicomte de Lavedan
Emily Fitzroy ... Vicomtesse de Lavedan
George K. Arthur ... St. Eustache
Arthur Lubin ... King Louis XIII
Theodore von Eltz ... Lesperon
Karl Dane ... Rodenard
Edward Connelly ... Cardinal Richelieu
Fred Malatesta ... Castelrous
John T. Murray ... Lafosse
Joe Smith Marba ... Innkeeper (as Joseph Marba)
Daniel G. Tomlinson ... Sergeant of Dragoons
Emile Chautard ... Anatol
Max Barwyn ... Cozelatt
Gino Corrado ... Duellist (uncredited)
Lou Costello ... Extra (uncredited)
Lon Poff ... Prison Friar (uncredited)
Carl Stockdale ... Judge of the Tribunal (uncredited)
Duke Morrison ... Guard (uncredited)
Writing credits
Rafael Sabatini- (novel "Bardelys the Magnificent")
Dorothy Farnum- (adaptation and scenario)
Original Music
William Axt (uncredited)
R.H. Bassett (uncredited)

Cinematography
William H. Daniels
Trivia
Movie Status
Long thought lost, a print of this film was discovered
in a private collection and restored for a DVD release.
It was missing its third reel, but scenes from the trailer
and production stills were edited in via a continuity script
According to Turner Classic Movies host Robert Osborne,
the reason this film was (almost) lost was that Rafael Sabatini,
the author of the book, didn't sell the movie rights to MGM outright.
Instead, he leased them for 10 years, and in 1936 MGM
chose not to renew the lease because it decided that a silent film
with a now-dead star no longer had commercial value.
So, according to the terms of Sabatini's contract,
MGM destroyed the negative and all known prints.
This Movie has now as a result of restoration,
become available.
Filming Locations
Metro-Goldwyn-Mayer Studios - 10202 W. Washington Blvd., Culver City, California, USA
Watch this Clip
[extendedmedia]
[/extendedmedia]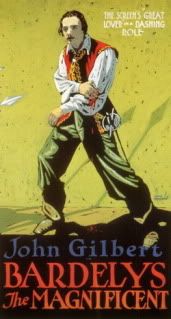 ..