THE GREAT K & A TRAIN ROBBERY
DIRECTED AND PRODUCED BY LEWIS SEILER
FOX FILM CORPORATION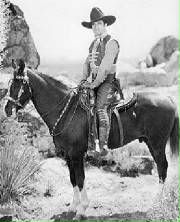 Information From IMDb
Plot Summary
Cullen wants to to try and stop the robberies on his railroad.
He hires Tom, even though he knows Cullen's secretary
Holt is tipping off the gang,
Tom poses undercover as a highwayman,
and enlists the help of the hobo DeLuxe Harry,
To help him bring in the gang
Written by ethanedwards
Full Cast
Tom Mix ... Tom Gordon
Tony the Horse ... Tony, Tom's Horse (as Tony the Wonder Horse)
Dorothy Dwan ... Madge Cullen
Will Walling ... Eugene Cullen (as William Walling)
Harry Gripp ... DeLuxe Harry (as Harry Grippe)
Carl Miller ... Burton Holt
Edward Peil Sr. ... Bill Tolfree (as Edward Piel)
Curtis 'Snowball' McHenry ... Snowball (as Curtis McHenry)
Sammy Cohen ... Man in upper berth of train (uncredited)
Duke Morrison... Extra (uncredited)
Writing Credits
Paul Leicester Ford (novel)
John Stone (scenario)
Original Music
William P. Perry
Cinematography
Daniel B. Clark (as Daniel Clark)
Art Department
Duke Morrison .... property boy (uncredited)
Other crew
Malcolm Stuart Boylan .... title designer
William Fox .... presenter
Karl Malkames .... restorer (1977 re-release)
Trivia
* In July 1926, silent film star Tom Mix arrived by train in Glenwood Springs, Colorado,
for the shooting. He was accompanied by his family, 55 cast and crew members and 22 horses,
including Tony the Horse, who was just as popular as his human counterpart.
Two Pullman cars and two special baggage cars conveyed Mix's company and equipment.
* Each day for three weeks spectators lined the Glenwood Canyon road to watch Tom Mix,
Tony the Horse and the rest of the troupe complete the exterior shots for the movie.
Mix performed all of his own stunts, including rappelling down the walls of Glenwood Canyon.
Mix and his horse also galloped the length of Shoshone Dam in one of the movie's chase scenes.
* First ever narrated film released
Filming Locations
Glenwood Springs, Colorado, USA
Royal Gorge, Colorado, USA
Shoshone Dam, Glenwood Springs, Colorado, USA