Not that it's much help but these are the Photoplay magazines Duke was in during that period.




August 1976
August 1975
August 1974
February 1974
Film Yearbook - 1973
December 1973
November 1973
May 1973
December 1972
August 1972
February 1971
July 1970
May 1970
March 1970




The Yearbook could be the one as none of the others seem to mention The Train Robbers on the cover which is strange. Hope you track it down!

Display More

Peter thanks for this information, as we didn't have Photoplay profiled.
I have now updated
Duke's Movie Books- Part 3
PHOTOPLAY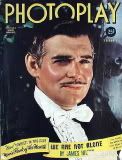 Duke Cover not available
Photoplay was one of the first American film fan magazines.
It was founded in 1911 in Chicago, the same year that J. Stuart Blackton founded a similar magazine
entitled Motion Picture Story. For most of its life, it was published by Macfadden Publications.
Photoplay merged with another fan magazine, Movie Mirror, in 1941;
and with TV-Radio Mirror in 1977, when the name became Photoplay and TV Mirror.
The magazine ceased publication in 1980 and its staff were moved to Us magazine.
A British version of Photoplay debuted in 1950, featuring an equal mix of
American and British films and stars, and ceased publication in 1989.