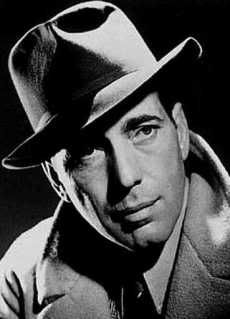 HUMPHREY BOGART
Information From IMDb
Date of Birth
25 December 1899, New York City, New York, USA
Date of Death
14 January 1957, Los Angeles, California, USA (throat cancer)
Birth Name
Humphrey DeForest Bogart
Nickname
Bogie
Trade Mark
Typically played smart, playful, courageous, tough, occasionally reckless characters who lived in a corrupt world, anchored by a hidden moral code.
Almost always played a hard-boiled cynic who ultimately shows his noble side.
Low-key, distinctive nasal voice.
Often wore bow ties.
Roles in film noirs.
Height
5' 8" (1.73 m)
Spouse
Lauren Bacall (21 May 1945 - 14 January 1957) (his death) 2 children
Mayo Methot (21 August 1938 - 10 May 1945) (divorced)
Mary Philips (3 April 1928 - 21 June 1937) (divorced)
Helen Menken (20 May 1926 - 18 November 1927) (divorced)
Trivia
The older of two children with Lauren Bacall, Stephen H. Bogart, discussed his relationship with Bogie in 1996 book, "Bogart: In Search of My Father".
New York Times reported on 12/25/2000 that "Humphrey Bogart was born on 23 January 1899, but Warner Brothers publicity decided that a Christmas birthday would be far more advantageous because 'a guy born on Christmas can't be all bad.'" However, copies of two 1900 census forms prove this to be incorrect.
Ranked #9 in Empire (UK) magazine's "The Top 100 Movie Stars of All Time" list. [October 1997]
Bogart's speech defect (lisping) does not appear in the German dubbings of his voice, which is also lower.
There is some dispute as to how Bogey's lip injury occurred. One story is that when Bogart was in the Navy, a prisoner he was escorting attempted to escape and hit Bogart in the face with his shackles. Bogart, fearing that he would lose his position and be severely punished for letting a prisoner escape, chased down the man and brought him successfully to the Portsmouth Naval Prison. However, because the surgeon who stitched up his face did not do a very good job, Bogart was left with his trademark lisp. Another version has it that he caught a large wood splinter in his lip at the age of 12, but the combat story is more exciting - a legend, indeed.
Named his daughter, Leslie Bogart, "Leslie" to show his gratitude to Leslie Howard, who got him his big break in The Petrified Forest (1936).
Interred at Forest Lawn, Glendale, CA, in the Garden of Memory, Columbarium of Eternal Light (not accessible to the general public).
Played chess by mail with GIs during WWII.
In Key Largo (1948), Bogie takes the helm of a boat called the Santana. In real life, Santana was the name of Bogie's yacht, which he purchased from June Allyson and Dick Powell.
His coffin contains a small, gold whistle, put there by his wife, Lauren Bacall.
Was nicknamed "The Last Century Man" because he was born on Christmas Day 1899 (based on the popular belief that the 19th Century ended in 1899, not 1900 as it really was).
Decades after his death, Bogie made a guest appearance on the TV horror series "Tales from the Crypt" (1989). Footage from several movies was computer enhanced and combined with a voice and body double to allow Bogart to receive top billing for the episode "You, Murderer." Guest starring with "Bogie" were John Lithgow and Isabella Rossellini, performing an eerie (and hilarious) parody of her mother, Ingrid Bergman.
Related to screenwriter Adela Rogers St. Johns; his grandfather and her grandmother were brother and sister.
Distantly related to the late Princess Diana, Princess of Wales, through her American relations.
Ranked #1 on the American Film Institute's list of the greatest screen actors.
Maud Bogart's drawing of her baby Humphrey appeared in a national advertising campaign for Mellin's Baby Food, not as often erroneously reported, for Gerber.
Pictured on a 32¢ US commemorative postage stamp in the Legends of Hollywood series, issued 31 July 1997.
Co-starred not only in Casablanca (1942), the film rated No. 1 on American Film Institute's list of Top 100 U.S. love stories (2002), but in four other films on AFI romance list: The African Queen (1951), ranked at #xx; Dark Victory (1939), ranked at #32; Sabrina (1954),ranked at #54; and To Have and Have Not (1944), ranked at #60.
Starred with his wife Lauren Bacall in the syndicated radio program "Bold Venture" (1951-1952). His character's name was Slate Shannon.
Was of English, Dutch, Spanish and Welsh heritage.
His preferred brand of cigarettes was Chesterfield.
Although usually considered a quiet and accommodating actor by most of his collaborators, he became disliked by William Holden and Billy Wilder during the filming of Sabrina (1954). A good friend before they made the film, Wilder later said that Bogart, near the end of his life, apologized for his behavior on the set and said it was due to his personal problems. Even so, Audrey Hepburn got along with him despite his criticism of her.
At 5'8", he was almost exactly the same height as his beloved wife Lauren Bacall.
He had just turned 57 and weighed only 80 pounds when he died on January 14, 1957.
Off the set, he and Ingrid Bergman hardly spoke during the filming of Casablanca (1942). She said later, "I kissed him, but I never knew him." Years later, after Ingrid Bergman had become involved with Italian director Roberto Rossellini, and borne him a child, he bawled her out for it. "You used to be a great star," he said. "What are you now?" "A happy woman," she replied. Bogart's coolness towards Bergman was later revealed to have been caused by the violent jealousy of his wife at the time, Mayo Methot, whose fears were realized when Bogart entered an affair with future wife Lauren Bacall.
Though a poor student, he was a lifelong reader. He could quote Plato, Pope, Ralph Waldo Emerson and over a thousand lines of Shakespeare. He admired writers, and some of his best friends were screenwriters.
He was voted the Greatest Movie Star of all time by Entertainment Weekly.
Almost all of the roles that made him a star (after a decade of toiling in minor films) were roles he got because George Raft had turned them down, from High Sierra (1941), in which Bogie was first noticed as a viable box office draw, to Casablanca (1942), which made him a true international star. Ironically, after having been overshadowed by Raft the whole first half of his career, Bogart is today by far the better-known star and is considered the superior actor of the two.
His marriage to Lauren Bacall occurred at the Pleasant Valley area of Richland County, Ohio, known as Malabar Farm, the home of Pulitzer Prize-winning author Louis Bromfield (4 miles southeast of Lucas within Monroe Township). The home is now an Ohio State Park.
He had many famous visitors as he grew ill from cancer during the year before he died, including but not limited to Katharine Hepburn, Spencer Tracy, George Cukor, Peter Ustinov, Billy Wilder and Kirk Douglas.
Although Frank Sinatra's Rat Pack had a very different group of members, Bogart was the official founder and leader of the Holmby Hills Rat Pack, as he called them, comprising a group of hard-drinking buddies in Hollywood. Sinatra, a friend, was a member and, when Bogart died in 1957, borrowed the title for his own Rat Pack, which (of course) had Sinatra as their Chairman.
He was voted the 13th Greatest Movie Star of all time by Premiere Magazine.
So as to not look short next to co-stars like Ingrid Bergman and Paul Henreid, through most of the shooting of Casablanca (1942) (and in a few of his other films) Bogart wore platforms under his shoes that added nearly 5 inches of height to his frame.
Is mentioned, along with wife Lauren Bacall, in the hit 1980s song "Key Largo" ("We had it all, just like Bogie and Bacall").
Father: Belmont Bogart (1867-1934), mother: Maud Humphrey (March 30, 1865 in Rochester, NY-1940), sisters: Frances Bogart (1901-?) and Catherine "Kay" Bogart (1903-?).
His performance as Fred C. Dobbs in The Treasure of the Sierra Madre (1948) is ranked #24 on Premiere Magazine's 100 Greatest Performances of All Time (2006).
His performance as Sam Spade in The Maltese Falcon (1941) is ranked #50 on Premiere Magazine's 100 Greatest Performances of All Time (2006).
Thomasville Furniture launched a line of classic furniture which draws inspiration from Bogart's films, known as The Bogart Collection.
His performance as Sam Spade in The Maltese Falcon (1941) is ranked #80 on Premiere Magazine's 100 Greatest Movie Characters of All Time.
His performance as Rick Blaine in Casablanca (1942) is ranked #19 on Premiere Magazine's 100 Greatest Movie Characters of All Time.
Has three films on the American Film Institute's 100 Most Inspiring Movies of All Time. They are: Dark Victory (1939) at #72, The African Queen (1951) at #48, and Casablanca (1942) at #32.
On June 24th, 2006, a section of West 103rd Street in the Upper West Side of New York City was renamed "Humphrey Bogart Place" in his honor. He had grown up at 245 W. 103rd Street (which is now public housing), and a plaque was put there to commemorate the event.
Is portrayed by Kevin O'Connor in Bogie (1980) (TV).
Is portrayed by Jerry Lacy in Play It Again, Sam (1972).
For years, a 16mm print of the Janet Gaynor/Fredric March version of A Star Is Born (1937) would be screened at the Bogart household each and every Christmas Day (Bogart's birthday) while Bogart would sit watching the film and weeping. Finally, one year, director Richard Brooks, a long-time friend of Bogart's asked him why. "Because," Bogart explained, "I expected a lot more of myself. And I'm never going to get it.".
Frank Sinatra's group of friends known as The Rat Pack was actually originally a group of Bogart's friends, including Sinatra, who enjoyed drinking heavily. They referred to themselves as The Holmby Hills Rat Pack, derived from the Holmby Hills section of Hollywood where the Bogarts lived. The origin of the term The Rat Pack was this: One morning, after a night of heavy drinking by Bogart and his friends, Bogart's wife Lauren Bacall walked into the room, looked at the group and flatly stated, "You look like a God-damned rat pack." Bogart enjoyed the term, and a legend was born.
Like his friends John Huston and Spencer Tracy, Bogart was a heavy smoker and a heavy drinker, allegedly sustaining two packs of Chesterfields a day.
He was involved in a serious automobile accident late in the production of Beat the Devil (1953). Several of his teeth were knocked out in the accident, hindering his ability to speak clearly. Director John Huston hired a young British actor noted for his mimicry skills to re-record some of Bogart's dialog during post-production looping. And although the talent of the young impersonator is such that the difference is undetectable while viewing the film today, it is a young Peter Sellers who provides Bogart's voice during some of the scenes.
He was a friend of the English actor Jack Hawkins, who also suffered from throat cancer nine years after Bogart's death.
In her essay "Humphrey and Bogie," Louise Brooks, who knew Bogart early in his career, said that the role she felt most closely personified Bogart's personality was Dixon "Dix" Steele in In a Lonely Place (1950): "In a film whose title perfectly defined Humphrey's own isolation among people, In a Lonely Place (1950) gave him a role that he could play with complexity because the film character's, the screenwriter's, pride in his art, his selfishness, his drunkenness, his lack of energy stabbed with lightning strokes of violence, were shared equally by the real Bogart.".
He was a close friend of Richard Burton, and once confessed to the Welsh actor that his ambition had always been to act in a Shakespearean play on stage. He regretted that the public probably would not be able to take him seriously in such a role, due to his screen image as the tough guy.
Salary for 1942: $114,125.
In 1952, he campaigned for Democratic Presidential candidate Adlai Stevenson after initially supporting Republican candidate Dwight D. Eisenhower.
All four of his wives were actresses.
Was an outstanding chess player. At a time when many stores had a professional chess player who could be challenged by anyone, Bogie would challenge and win almost every game. The challenger would pay 50 cents. If he won, he got $1.00. Many stores wanted Bogie to turn pro, but he declined because he was making more money as a non-pro. Eventually he did turn pro and would beat 40 or more people a day. (Source: Paul Harvey, Jr.'s, "The Rest of the Story.").
In late 1947, was to be a partner with producer Mark Hellinger in a proposed new company, Mark Hellinger Productions. Bogart invested $25,000 and was contracted to do two films a year. Hellinger owned the rights to Willard Motley's best selling novel "Knock on Any Door". However, Hellinger died in Dec. 1947. The rights to the novel passed to Bogart, and it became the first film of his own new independent production company, Santana Pictures Corporation: Knock on Any Door (1949).
Lauren Bacall once recalled that while John Wayne and Fred Astaire hardly knew her husband Humphrey Bogart at all, they were the first to send flowers and good wishes after Bogart was diagnosed with esophageal cancer in January 1956.
After undergoing a nine-and-a-half hour operation for esophageal cancer on 1 March 1956, Bogart began smoking filtered cigarettes for the first time in his life.
Although he and wife Lauren Bacall initially protested the House Un-American Activities Committee, they both eventually succumbed to pressure and distanced themselves from the Hollywood Ten in a March 1948 Photoplay Magazine article penned by Bogart titled "I'm No Communist".
Was best friends with John Huston.
Is mentioned in the Bon Jovi song "Captain Crash and the Beauty Queen of Mars" along with his wife Lauren Bacall.
In the episode of "The Simpsons" (1989) entitled "Sideshow Bob Roberts", Bogart's name is spoofed when Lisa mentions a famous snake named 'Humphrey Boa-Gart".
While he was married to fiery actress Mayo Methot he discovered that she suspected him of cheating on her -- he wasn't -- and had hired a private detective to follow him. Bogart found out the name of the agency the PI worked for, and called them up. When he reached the man's boss he said, "You got a man on my tail. Would you check with him and find out where I am?".
He and Bacall are immortalized in Suzanne Vega's song, Freeze Tag.
Salary
Sabrina (1954) $300,000
Deadline - U.S.A. (1952) $17,500/week
The African Queen (1951) $125,000 + 30% of gross
Sirocco (1951) $133,000 + % of gross
Two Guys from Milwaukee (1946) $5,000
To Have and Have Not (1944) $2,750/week
Casablanca (1942) $2,200/week
Men Are Such Fools (1938) $1,100/week
Swing Your Lady (1938) $1,000/week
The Petrified Forest (1936) $750/week
Three on a Match (1932) $750/week
Up the River (1930) $400/week
Personal Quotes
The trouble with the world is that it's always one drink behind.
Acting is experience with something sweet behind it.
"It's been misspelt a lot. He decided on it. It's not Bog-ey. He signed with an -ie. And that's good enough for me." -
[On Lauren Bacall] "She's a real Joe. You'll fall in love with her like everybody else."
[attributed last words] "I should never have switched from scotch to martinis."
[On the House Un-American Activities Committee] "They'll nail anyone who ever scratched his ass during the National Anthem."
I came out here with one suit and everybody said I looked like a bum. Twenty years later Marlon Brando came out with only a sweatshirt and the town drooled over him. That shows how much Hollywood has progressed.
A hotdog at the ballpark is better than a steak at the Ritz.
When the heavy, full of crime and bitterness, grabs his wounds and talks about death and taxes in a husky voice, the audience is his and his alone.
[about himself] "Democrat in politics, Episcopalian by upbringing, dissenter by disposition."
I can't say I ever loved my mother, I admired her.
I don't approve of the John Waynes and the Gary Coopers saying 'Shucks, I ain't no actor -- I'm just a bridge builder or a gas station attendant.' If they aren't actors, what the hell are they getting paid for? I have respect for my profession. I worked hard at it.
The only good reason to have money is this: so that you can tell any SOB in the world to go to hell.
I hate funerals. They aren't for the guy who's dead. They're for the guys who are left alive and enjoy mourning.
The whole world is three drinks behind. If everybody in the world would take three drinks, we would have no trouble.
Acting is like sex: you either do it and don't talk about it, or you talk about it and don't do it. That's why I'm always suspicious of people who talk too much about either.
The only thing you owe the public is a good performance.
You're not a star until they can spell your name in Karachi.
I made more lousy pictures than any actor in history.
[On the untrained beefcake stars of the early 1950s, many of them picked up for screen tests from sidewalks and gas stations] "Shout 'gas' around the studios today, and half the young male stars will come running."
Do I subscribe to the [Laurence Olivier] school of acting? Ah, nuts. I'm an actor. I just do what comes naturally.
I don't hurt the industry. The industry hurts itself, by making so many lousy movies - as if General Motors deliberately put out a bad car.
[On Ingrid Bergman] "I didn't do anything I've never done before, but when the camera moves in on that Bergman face, and she's saying she loves you, it would make anybody feel romantic."
[on Warner Brothers] This studio has more suspensions than the Golden Gate Bridge.
[on Katharine Hepburn] She talks at you as though you were a microphone. She lectured the hell out of me on temperance and the evils of drink. She doesn't give a damn how she looks. I don't think she tries to be a character. I think she is one.
[On Bette Davis] Even when I was carrying a gun, she scared the be-jesus out of me.
It is at least worth arguing that there is a modicum of the creative novelist in all of us, and that this absorption with how men get out of difficulties, single-handedly and alone if possible, is the stuff of which we weave the warp and woof of our own better dramatic imaginings.
[while visiting the set of A Streetcar Named Desire (1951)] This guy [Marlon Brando] - he'll be doing Hamlet when the rest of us are selling potatoes.
Mini Biography
The son of a moderately wealthy Manhattan surgeon (who was secretly addicted to opium) and a famed magazine illustrator, Humphrey Bogart was educated at Trinity School, New York City, sent to Phillips Academy in Andover, Massachusetts, in preparation for medical studies at Yale. He was expelled from Phillips and joined the U.S. Naval Reserve. From 1920 to 1922, he managed a stage company owned by family friend William A. Brady (the father of actress Alice Brady), performing a variety of tasks at Brady's film studio in New York. He then began regular stage performances. Alexander Woollcott described his acting in a 1922 play as inadequate. In 1930, he gained a contract with Fox, his feature film debut in a ten-minute short, Broadway's Like That (1930), co-starring Ruth Etting and Joan Blondell. Fox released him after two years. After five years of stage and minor film roles, he had his breakthrough role in The Petrified Forest (1936) from Warner Bros. He won the part over Edward G. Robinson only after the star, Leslie Howard, threatened Warner Bros. that he would quit unless Bogart was given the key role of Duke Mantee, which he had played in the Broadway production with Howard. The film was a major success and led to a long-term contract with Warner Bros. From 1936 to 1940, Bogart appeared in 28 films, usually as a gangster, twice in Westerns and even a horror film. His landmark year was 1941 (often capitalizing on parts George Raft had stupidly rejected) with roles in classics such as High Sierra (1941) and as Sam Spade in one of his most fondly remembered films, The Maltese Falcon (1941). These were followed by Casablanca (1942), The Big Sleep (1946), and Key Largo (1948). Bogart, despite his erratic education, was incredibly well-read and he favored writers and intellectuals within his small circle of friends. In 1947, he joined wife Lauren Bacall and other actors protesting the House Un-American Activities Committee witch hunts. He also formed his own production company, and the next year made The Treasure of the Sierra Madre (1948). Bogie won the best actor Academy Award for The African Queen (1951) and was nominated for Casablanca (1942) and as Captain Queeg in The Caine Mutiny (1954), a film made when he was already seriously ill. He died in his sleep at his Hollywood home following surgeries and a battle with throat cancer.
Biography By: Ed Stephan
Filmography
Actor
1. The Harder They Fall (1956) .... Eddie Willis
2. The Desperate Hours (1955) .... Glenn Griffin
3. The Left Hand of God (1955) .... James 'Jim' Carmody
4. We're No Angels (1955) .... Joseph
5. "Producers' Showcase" .... Duke Mantee (1 episode, 1955)
- The Petrified Forest (1955) TV episode .... Duke Mantee
6. The Barefoot Contessa (1954) .... Harry Dawes
7. A Star Is Born (1954) (voice) (uncredited) .... Drunk in 'Peanut Vendor' Number
8. Sabrina (1954) .... Linus Larrabee
9. The Caine Mutiny (1954) .... Lt. Cmdr. Philip Francis Queeg
10. Beat the Devil (1953) .... Billy Dannreuther
11. "The Jack Benny Program" .... Babyface Bogart (1 episode, 1953)
... aka "The Jack Benny Show" - USA (informal title)
... aka "The Lucky Strike Program" - USA (alternative title)
- Humphrey Bogart Show (1953) TV episode .... Babyface Bogart
12. Battle Circus (1953) .... Maj. Jed Webbe
13. Road to Bali (1952) (uncredited) .... Charlie Allnut
14. Deadline - U.S.A. (1952) .... Ed Hutcheson
15. The African Queen (1951) .... Charlie Allnut
16. Sirocco (1951) .... Harry Smith
17. The Enforcer (1951) .... Dist. Atty. Martin Ferguson
18. In a Lonely Place (1950) .... Dixon Steele
19. Chain Lightning (1950) .... Lt. Col. Matthew "Matt" Brennan
20. Tokyo Joe (1949) .... Joseph 'Joe' Barrett
21. Knock on Any Door (1949) .... Andrew Morton
22. Key Largo (1948) .... Frank McCloud
23. The Treasure of the Sierra Madre (1948) .... Dobbs
... aka "Treasure of Sierra Madre" - USA (poster title)
24. Dark Passage (1947) .... Vincent Parry
25. The Two Mrs. Carrolls (1947) .... Geoffrey Carroll
26. Dead Reckoning (1947) .... Capt. 'Rip' Murdock
... aka "John Cromwell's Dead Reckoning" - UK (complete title), USA (copyright title)
27. The Big Sleep (1946) .... Philip Marlowe
28. Conflict (1945) .... Richard Mason
29. To Have and Have Not (1944) .... Harry 'Steve' Morgan
... aka "Ernest Hemingway's To Have and Have Not" - UK, USA (complete title)
30. Passage to Marseille (1944) .... Jean Matrac
31. Sahara (1943/I) .... Sgt. Joe Gunn
32. Action in the North Atlantic (1943) .... Lt. Joe Rossi
33. Casablanca (1942) .... Richard 'Rick' Blaine
34. Across the Pacific (1942) .... Rick Leland
35. The Big Shot (1942) .... Joseph 'Duke' Berne
36. All Through the Night (1941) .... Gloves Donahue
37. The Maltese Falcon (1941) .... Sam Spade
38. The Wagons Roll at Night (1941) .... Nick Coster
39. High Sierra (1941) .... Roy Earle
40. They Drive by Night (1940) .... Paul Fabrini
41. Brother Orchid (1940) .... Jack Buck
42. It All Came True (1940) .... Grasselli/Chips Maguire
43. Virginia City (1940) .... John Murrell
44. Invisible Stripes (1939) .... Chuck Martin
45. The Return of Doctor X (1939) .... Dr. Maurice Xavier, aka Marshall Quesne
46. The Roaring Twenties (1939) .... George Hally
47. Dark Victory (1939) .... Michael O'Leary
48. You Can't Get Away with Murder (1939) .... Frank Wilson
49. The Oklahoma Kid (1939) .... Whip McCord
50. King of the Underworld (1939) .... Joe Gurney
51. Angels with Dirty Faces (1938) .... James Frazier
52. The Amazing Dr. Clitterhouse (1938) .... 'Rocks' Valentine
53. Racket Busters (1938) .... John 'Czar' Martin
54. Men Are Such Fools (1938) .... Harry Galleon
55. Crime School (1938) .... Deputy Commissioner Mark Braden
56. Swing Your Lady (1938) .... Ed Hatch
57. Stand-In (1937) .... Doug Quintain
58. Dead End (1937) .... 'Baby Face' Martin
... aka "Dead End: Cradle of Crime" - USA (reissue title)
59. San Quentin (1937) .... Joe 'Red' Kennedy
60. Kid Galahad (1937) .... Turkey Morgan
... aka "The Battling Bellhop" - USA (TV title)
61. Marked Woman (1937) .... David Graham
62. The Great O'Malley (1937) .... John Phillips
63. Black Legion (1937) .... Frank Taylor
64. Isle of Fury (1936) .... Valentine 'Val' Stevens
65. China Clipper (1936) .... Hap Stuart
66. Two Against the World (1936) .... Sherry Scott
... aka "One Fatal Hour" - USA (TV title)
67. Bullets or Ballots (1936) .... 'Bugs' Fenner
68. The Petrified Forest (1936) .... Duke Mantee
... aka "Petrified Forest" - USA (poster title)
69. Midnight (1934) .... Gar Boni
... aka "Call It Murder" - USA (reissue title)
70. Three on a Match (1932) .... Harve
71. Big City Blues (1932) (uncredited) .... Shep Adkins
72. Love Affair (1932) .... Jim Leonard
73. A Holy Terror (1931) .... Steve Nash
74. Women of All Nations (1931) (scenes deleted) .... Stone
75. The Bad Sister (1931) .... Valentine Corliss
76. Body and Soul (1931) .... Jim Watson
77. A Devil with Women (1930) .... Tom Standish
78. Up the River (1930) .... Steve Jordan
79. Broadway's Like That (1930) .... Ruth's Fiance
... aka "Ruth Etting in Broadway's Like That" - USA (copyright title)
80. The Dancing Town (1928) .... Leading Role
... aka "Prancing Prune" - USA (alternative title)
Soundtrack
1. The Left Hand of God (1955) (performer: "A LOAF OF BREAD")
2. Sabrina (1954) ("Boola Boola")
3. "The Jack Benny Program" (1 episode, 1953)
... aka "The Jack Benny Show" - USA (informal title)
... aka "The Lucky Strike Program" - USA (alternative title)
- Humphrey Bogart Show (1953) TV episode (performer: "Lucky Strike Jingle")
4. Casablanca (1942) (performer: "Perfidia" (1939) (uncredited))
5. It All Came True (1940) ("The Fountain in the Park" (uncredited))
6. Black Legion (1937) ("The Lady in Red" (uncredited), "I've Been Working on the Railroad" (uncredited))
Producer
1. Beat the Devil (1953) (producer) (uncredited)
Miscellaneous Crew
1. The Man Who Came Back (1931) (voice coach: Charles Farrell) (uncredited)
Self
1. "Hollywood and the Stars" .... Himself (2 episodes, 1963)
- How to Succeed as a Gangster (1963) TV episode (also archive footage) .... Himself
- The Man Called Bogart (1963) TV episode
2. The 27th Annual Academy Awards (1955) (TV) .... Himself - Nominee: Best Actor in a Leading Role & Presenter: Best Cinematography, Black-and-White
3. "Person to Person" .... Himself (1 episode, 1954)
- Episode #2.1 (1954) TV episode .... Himself
4. The Love Lottery (1954) (uncredited) .... Himself: Cameo Appearance
5. "The Jackie Gleason Show" .... Himself (1 episode, 1953)
... aka "The Honeymooners: The Lost Episodes" - USA (rerun title)
- Episode dated 6 May 1953 (1953) TV episode .... Himself
6. "Toast of the Town" .... Himself (2 episodes, 1951-1953)
... aka "The Ed Sullivan Show" - USA (new title)
- Episode #6.25 (1953) TV episode .... Himself
- Episode #5.6 (1951) TV episode .... Himself
7. U.S. Savings Bonds Trailer (1952) .... Himself
8. Screen Snapshots: Photoplay Gold Medal Awards (1948) .... Himself
9. Always Together (1947) (uncredited) .... Himself
10. Two Guys from Milwaukee (1946) (also archive footage) (uncredited) .... Himself
11. Hollywood Victory Caravan (1945) .... Himself
12. Report from the Front (1944) .... Himself/Narrator
13. I Am an American (1944) (uncredited) .... Himself
14. Thank Your Lucky Stars (1943) .... Himself
15. Breakdowns of 1941 (1941) (uncredited) .... Himself
16. For Auld Lang Syne (1938) (uncredited) .... Himself
... aka "For Auld Lang Syne #3" - USA (series title)
17. Breakdowns of 1938 (1938) (uncredited) .... Himself (Swing Your Lady/Kid Galahad outtakes)
18. Swingtime in the Movies (1938) (uncredited) .... Himself
Archive Footage
1. Johnny Mercer: The Dream's on Me (2009) (TV) .... Himself
2. Hollywood sul Tevere (2009) .... Himself
3. 1939: Hollywood's Greatest Year (2009) (TV)
4. Warner at War (2008) (TV)
5. Public Enemies: The Golden Age of the Gangster Film (2008) (TV)
6. "The O'Reilly Factor"
- Episode dated 8 July 2008 (2008) TV episode .... Rick Blaine
7. I.O.U.S.A. (2008) .... Himself
8. "On the Lot"
- Auditions #2 (2007) TV episode
- Auditions #1 (2007) TV episode
9. "La rentadora"
- Coses d'ahir i avui (2006) TV episode
10. "Headline News"
- Episode dated 13 July 2006 (2006) TV episode (uncredited) .... Harry 'Steve' Morgan
11. Billy Wilder Speaks (2006) (TV) .... Himself
12. ¿De qué te ríes? (2006) (TV) .... Rick Blaine
13. Boffo! Tinseltown's Bombs and Blockbusters (2006) (uncredited) .... Rick Blaine
14. Bullets Over Hollywood (2005) (TV)
15. "Private Screenings"
- Lauren Bacall (2005) TV episode .... Himself
16. Cineastas contra magnates (2005) (uncredited) .... Sam Spade (in "The Maltese Falcon")
17. Behind the Tunes: Looney Tunes Go Hollywood (2004) (V) (uncredited) .... Fred C. Dobbs
18. "Biography"
- The Barrymores (2004) TV episode .... Frank McCloud
- Bette Davis: If Looks Could Kill (1994) TV episode
19. Imaginary Witness: Hollywood and the Holocaust (2004)
20. As Time Goes By: The Children Remember (2003) (V) .... Himself
21. Marilyn Monroe: The Final Days (2001) (TV) .... Himself
22. Pulp Cinema (2001) (V) .... Himself
23. The Audrey Hepburn Story (2000) (TV) .... Himself
24. Humphrey Bogart and Lauren Bacall (2000) (TV) .... Himself
25. ABC 2000: The Millennium (1999) (TV)
26. The 71st Annual Academy Awards (1999) (TV) (uncredited) .... Rick Blaine
27. "The Rat Pack" (1999) .... Himself
28. "The 20th Century: A Moving Visual History" (1999) .... Himself
29. The Best of Film Noir (1999) (V) .... Himself
30. Warner Bros. 75th Anniversary: No Guts, No Glory (1998) (TV) (uncredited)
31. The Man Who Had Everything (1998) (TV) .... Himself
32. "Cold War"
- Reds (????) TV episode (uncredited) .... Himself
33. Humphrey Bogart on Film (1998) (V) .... Himself
34. "The Fifties" (1997) (uncredited) .... Himself (concerned about HUAC)
35. Off the Menu: The Last Days of Chasen's (1997) (uncredited) .... Himself
36. Great Romances of the 20th Century: Humphrey Bogart & Lauren Bacall (1997) (TV) .... Himself
37. Sports on the Silver Screen (1997) (TV) (uncredited) .... Himself
38. Humphrey Bogart: You Must Remember This... (1997) (TV) .... Himself
39. Bogart: The Untold Story (1996) (TV) .... Himself - Subject of This Documentary
40. Humphrey Bogart: Behind the Legend (1995) .... Himself
41. "Tales from the Crypt"
- You, Murderer (1995) TV episode .... Lou Spinelli
42. Legends of Entertainment Video (1995) (V) .... Himself
43. Entertaining the Troops (1994) .... Himself
44. One on One: Classic Television Interviews (1993) (TV) .... Himself
45. Katharine Hepburn: All About Me (1993) (TV) .... Himself
46. "Muppet Babies"
- Eight Flags Over the Nursery (1991) TV episode .... Himself
47. Barbara Stanwyck: Fire and Desire (1991) (TV) .... Himself
48. Here's Looking at You, Warner Bros. (1991) (TV) .... Himself
49. Death in Hollywood (1990) (V) .... Himself
50. John Huston: The Man, the Movies, the Maverick (1989) .... Himself
51. "Great Performances"
- Bacall on Bogart (1988) TV episode .... Himself
52. Going Hollywood: The War Years (1988) .... Himself
53. Hollywood Out-takes and Rare Footage (1983) (as Bogart) .... Himself
54. Showbiz Goes to War (1982) (TV)
55. Dead Men Don't Wear Plaid (1982) .... (in "The Big Sleep"/"In a Lonely Place"/"Dark Passage")
56. James Cagney: That Yankee Doodle Dandy (1981) (TV) (uncredited) .... Himself
57. Starring Katharine Hepburn (1981) (TV)
58. Bob Hope's Overseas Christmas Tours: Around the World with the Troops - 1941-1972 (1980) (TV) .... Himself
59. America at the Movies (1976) .... Sam Spade/Fred C. Dobbs
60. It's Showtime (1976) (uncredited) .... Himself
61. Brother Can You Spare a Dime (1975)
62. Hooray for Hollywood (1975) .... Himself
63. The Men Who Made the Movies: Howard Hawks (1973) (TV) (uncredited) .... Himself
64. Tribute to Bogart (1972) (TV) .... Himself
65. Dynamite Chicken (1971) .... Himself
66. Inside Daisy Clover (1965) (uncredited) .... Himself
67. Hollywood Without Make-Up (1963) .... Himself
68. Hollywood: The Fabulous Era (1962) (TV) .... Himself
69. "Toast of the Town"
- Episode #9.41 (1956) TV episode .... Himself
- Episode #8.22 (1955) TV episode .... Himself
70. Oklahoma Outlaws (1943) (uncredited) .... McCord
Watch Humphrey Bogart Full Movies, Clips and Trailers on:-
Going Hollywood: The War Years