UNCONQUERED
DIRECTED AND PRODUCED BY CECIL B DeMILLE
PARAMOUNT PICTURES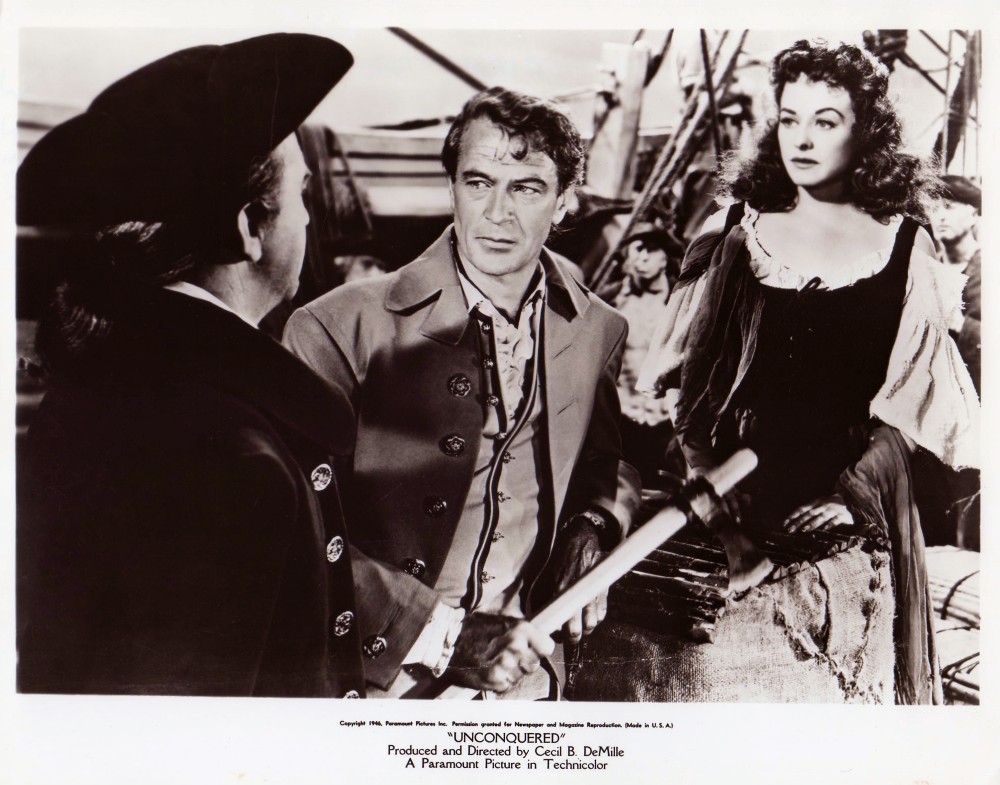 Photo with the courtesy of lasbugas

Information From IMDb
Plot Summary
In 1763, felon Abby Hale is sentenced to slavery in America. In Virginia, heroic Capt. Holden buys her, intending to free her, but villain Garth foils this plan, and Abby toils at Dave Bone's tavern. Garth is fomenting an Indian uprising to clear the wilderness of settlers, giving him a monopoly of the fur trade. Holden discovers Garth's treachery, but cannot prove anything against him. Can Holden and Abby save Fort Pitt from the Senecas? Many hairbreadth escapes.
Written by Rod Crawford
Full Cast
Gary Cooper ... Captain Christopher Holden
Paulette Goddard ... Abby
Howard Da Silva ... Garth (as Howard da Silva)
Boris Karloff ... Guyasuta - Chief of the Senecas
Cecil Kellaway ... Jeremy Love
Ward Bond ... John Fraser
Virginia Campbell ... Mrs. John Fraser
Katherine DeMille ... Hannah
Henry Wilcoxon ... Captain Steele
C. Aubrey Smith ... Lord Chief Justice (as Sir C. Aubrey Smith)
Victor Varconi ... Captain Simeon Ecuyer
Virginia Grey ... Diana
Mike Mazurki ... Bone
Porter Hall ... Leach
Richard Gaines ... Colonel George Washington
Gavin Muir ... Lieut. Fergus McKenzie
Jane Nigh ... Evelyn
Alan Napier ... Sir William Johnson
Marc Lawrence ... Sioto - Medicine Man
Raymond Hatton ... Venango Scout
John Mylong ... Colonel Henry Bouquet
George Kirby ... Charles Mason - London Astronomer
Leonard Carey ... Jeremiah Dixon - London Astronomer
Frank Wilcox ... Richard Henry Lee (as Frank R. Wilcox)
Davison Clark ... Mr. Carroll of Virginia
Griff Barnett ... Brother Andrews of Pennsylvania
Lloyd Bridges ... Lieut. Hutchins
Oliver Thorndike ... Lieut. Baillie
Ninetta Sunderland ... Mrs. Pruitt (as Nan Sunderland)
Rus Conklin ... Mamaultee
Iron Eyes Cody ... Red Corn
and many, many more, notably Jack Pennick, Jay Slverheels
Writing Credits
Charles Bennett (screenplay) &
Fredric M. Frank (screenplay) and
Jesse Lasky Jr. (screenplay)
Neil H. Swanson (novel "The Judas Tree")
Jeanie Macpherson uncredited
Original Music
Victor Young
Cinematography
Ray Rennahan (director of photography
Trivia
* The famous Swedish actor Edvard Persson was travelling through the US to make Jens Månsson i Amerika (1947) when he came to Hollywood and made a cameo appearance in this film. The director, Cecil B. DeMille, reciprocated with a cameo appearance in Persson's movie.
* The film went $394,000 over budget.
* Features 25 name players and 4,325 costumed extras.
* Gary Cooper got a salary of $300,000, double then what he usually made. Plus he got percentage of profits: 5% of the gross to $6 million, and 10% above $6 million. With a minimum guarantee of $300,000
* Production was nicknamed "The Perils of Paulette" on the Paramount lot.
* Film marked the 20th anniversary of Gary Cooper being a Paramount contract player. It was also his last film for the studio.
* One of over 700 Paramount Productions, filmed between 1929 and 1949, which were sold to MCA/Universal in 1958 for television distribution, and have been owned and controlled by Universal ever since.
Goofs
Unconquered (1947) More at IMDbPro »
advertisement
* Continuity: When Capt. Holden and Abigail are escaping from the Senecas by boat they are unarmed. Without explanation both are armed one scene later.
Filming Locations
Ashton, Idaho, USA
Paramount Studios - 5555 Melrose Avenue, Hollywood, Los Angeles, California, USA (studio)
Pennsylvania, USA (forest scenes)
Pittsburgh, Pennsylvania, USA
Snake River, Idaho, USA (canoe sequence)