THE DEPUTY
TOP GUN PRODUCTIONS/NBC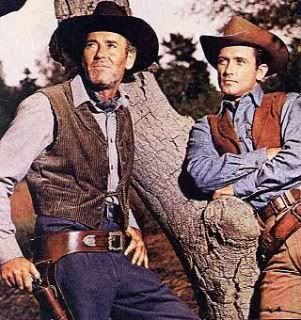 Information From IMDb
Plot Summary
"That was the Arizona territory in 1880, and I was its chief marshal."
So began this western series starring Henry Fonda as Simon Fry.
Unfortunately, Fonda's character was fully integrated into the plot
in only six of the episodes of the first season and thirteen in season two.
In all other episodes he appeared only briefly,
generally at the start of the episode and again at the close.
Fonda did narrate most episodes. Fonda worked for ten weeks on season one,
for example, shooting all of his scenes during that time,
which left the rest of the year free for film and theater work.
While Allen Case tried hard as the title character, Clay McCord,
the series is well- known for the substantial differences in quality
between what the series producers (and Fonda himself)
came to call the "Fonda" and "Non- Fonda" episodes.
Written by rtvf
Series Cast
Henry Fonda ... Marshal Simon Fry (76 episodes, 1959-1961)
Allen Case ... Clay McCord / ... (75 episodes, 1959-1961)
Read Morgan ... Sergeant Hapgood Tasker / ... (35 episodes, 1959-1961)
Betty Lou Keim ... Fran McCord (23 episodes, 1959-1960)
Wallace Ford ... Herk Lamson (22 episodes, 1959-1960)
Phil Tully ... Bartender / ... (10 episodes, 1960-1961)
Addison Richards ... Doc Landy (8 episodes, 1960-1961)
Vito Scotti ... Jose (6 episodes, 1960)
and many more including
Denver Pyle ... Akins / ... (2 episodes, 1959-1961)
Series Directed
David Butler (15 episodes, 1959-1961)
Tay Garnett (12 episodes, 1960-1961)
Sidney Lanfield (10 episodes, 1960)
and more including, one of Duke's directors
Arthur Lubin (3 episodes, 1959-1960)
Series Produced
William Frye .... executive producer / producer (76 episodes, 1959-1961)
Henry Fonda .... executive producer (75 episodes, 1959-1961)
Michael Kraike .... producer (75 episodes, 1959-1961)
Series Writing Credits
Roland Kibbee (76 episodes, 1959-1961)
Norman Lear (76 episodes, 1959-1961)
and many more...
Series Original Music
Jack Marshall (76 episodes, 1959-1961)
Trivia
Henry Fonda's first television series was this western, set in the Arizona territory in 1880 (as Fonda's character often said during an opening narration on many episodes.) Fonda's sequences were shot all at once each season so that he would be free the rest of the year to pursue film and theater work.
An album of songs sung by Allen Case titled "The Deputy Sings" was released in 1960.
The following two episodes have fallen into the public domain: "The Deputy: The Hard Decision (#2.18)" (1961) and "The Deputy: The Return of Widow Brown (#2.30)" (1961).
Filming Locations
Backlot, Universal Studios - 100 Universal City Plaza, Universal City, California, USA
(western streets)
Corriganville, Ray Corrigan Ranch, Simi Valley, California, USA