Founded
John Wayne
Robert Fellows
1953
Originally
Wayne/Fellows Productions.
Headquarters
Beverly Hills, California, United States
Owner
Gretchen Wayne (Owner/ President)
For more information;-
Batjac Productions- Wikipedia
Batjac Productions. Inc.
is an independent film production company
founded by John Wayne in the early 1950s as a vehicle
for Wayne to produce as well as star in movies.
Its first release was Big Jim McLain with Warner Brothers in 1952,
and its final film was also with Warner Brothers, McQ, in 1974.
Today, Gretchen Wayne, wife of the actor's late son,
Michael Wayne, who managed and owned the company
for over 30 years before his death in 2003, is its owner and president.
About the Company
Wayne and producer Robert Fellows founded Batjac in 1952 as
Wayne/Fellows Productions.
When Fellows left the company several years later,
Wayne re-named the corporation after a fictitious trading company
mentioned in the 1948 film Wake of the Red Witch.
The company name in Wake of the Red Witch was spelled Batjak,
but Wayne's secretary misspelled it as Batjac on the corporation papers,
and Wayne let it stand.
Having his own company gave Wayne artistic control over the films he made.
The most famous of all Batjac's films is Wayne's 1960 version of The Alamo,
a project he had planned for several years.
It was an account of the battle of the Alamo during the Texas Revolution of 1836.
A labor of love for Wayne, The Alamo cost Wayne much of his personal fortune.
The "Lost" Wayne films
Because of a production/distribution deal with Warner Bros.
and United Artists, Batjac was allowed to retain all rights to four Wayne films:
the WB-distributed The High and the Mighty, Hondo, and Island in the Sky,
and the UA-distributed McLintock!.
It also held full copyright ownership in several non-John Wayne movies,
Seven Men From Now,
Man in the Vault,
Ring of Fear,
Plunder of the Sun,
Track of the Cat,
China Doll,
Escort West
Gun the Man Down.
After Wayne's death, his son Michael assumed full ownership
and managed the company for over 30 years.
He meticulously managed the release pattern of his films and restored
Hondo and McLintock! in the early 1990s for release on VHS and television.
His passion was to restore the other two films,
but water damage to the original elements made it impossible during his lifetime.
Taking advantage of the new digital restoration processes,
Michael's widow Gretchen restored these films in 2004
and released them through a distribution deal with Paramount Pictures in 2005.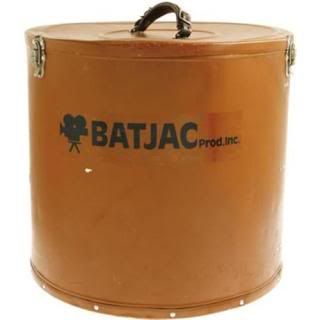 Production Company - Filmography
1. McQ (1974) ... Production Company (as A Batjac and Levy-Gardner Production)
2. Cahill (1973) ... Production Company
3. The Train Robbers (1973) ... Production Company
4. Big Jake (1971) ... Production Company
5. Rio Lobo (1970) ... Production Company (uncredited)
6. Swing Out, Sweet Land (1970) (TV) ... Production Company
7. Chisum (1970) ... Production Company (as A Batjac Production)
8. The Green Berets (1968) ... Production Company (as A Batjac Production)
9. "Hondo: Hondo and the Gladiators (#1.15)" (1967) ... Production Company
10. "Hondo: Hondo and the Death Drive (#1.13)" (1967) ... Production Company
11. "Hondo: Hondo and the War Hawks (#1.7)" (1967) ... Production Company
12. "Hondo: Hondo and the Superstition Massacre (#1.4)" (1967) ... Production Company
13. "Hondo" (1967) ... Production Company
14. Hondo and the Apaches (1967) (TV) ... Production Company
15. The War Wagon (1967) ... Production Company (as A Batjac Presentation)
16. Cast a Giant Shadow (1966) ... Production Company
17. McLintock! (1963) ... Production Company (presents) (as Batjac)
18. The Alamo (1960) ... Production Company
19. Escort West (1958) ... Production Company
20. China Doll (1958) ... Production Company
21. Legend of the Lost (1957) ... Production Company
22. Man in the Vault (1956) ... Production Company
23. Gun the Man Down (1956) ... Production Company
24. Seven Men from Now (1956) ... Production Company
25. Good-bye, My Lady (1956) ... Production Company
26. Blood Alley (1955) ... Production Company (as A Batjac Production)
27. Island in the Sky (1953) ... Production Company (uncredited)
Address:-
Batjac Productions Inc.
9595 Wilshire Blvd. Suite 610
Beverly Hills, CA 90212
Phone: (310) 278-9870
FAX: (213) 272-7381
For more information;-
Batjac Productions- Wikipedia