PART ONE
Melody Ranch Motion Picture Studio
As it is today see Melody Ranch Parts 3 & 4.
Previously-
The Gene Autry Ranch, Placeritos Ranch, Monogram Ranch
Placerita Canyon, Newhall, California
Many of Duke's early westerns, filmed here,
including
Dark Command
Famous singing cowboy and former
owner of Melody Ranch Gene Autry
pictured with Paul Valuzat, and current
owners Renaud and Andre Valuzat.
It is now the
Melody Ranch Motion Picture Studio
Other famous westerns TV and movies included,
The Lone Ranger, Wyatt Earp, Gunsmoke, Hopalong Cassidy,
Annie Oakly, Rin Tin Tin and the Cisco Kid
.etc.etc.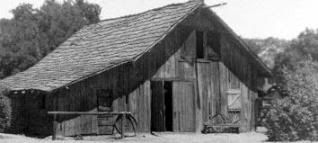 ..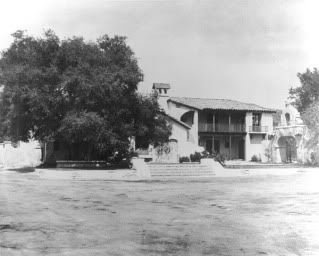 ..................The Famous Barn.........................................The Hacienda Set
Originally known as
Placeritos Ranch,
it was commonly
referred to as the
Monogram Ranch
prior to Gene Autry purchasing the property
and renaming it
Melody Ranch.
The property is now owned by the Veluzat family.
Part One
The
Melody Ranch
story really begins in 1922,
when Trem Carr came out West to make movies.
The 1920s saw him make several pictures in the Santa Clarita Valley,
particularly in Placerita Canyon, where he started Monogram Pictures
with a partner. There he hooked up with Ernie Hickson, an astute set designer,
historian and collector of Western Americana.
Hickson built a Western movie town for Monogram,
just east of the modern-day Placerita Canyon Road exit off of State Route 14
(where Disney's Golden Oak Ranch is located today).
When Carr's lease expired in 1936 Hickson bought a 10-acre parcel at Oak Creek
and Placerita Canyon roads and moved his movie town there.
..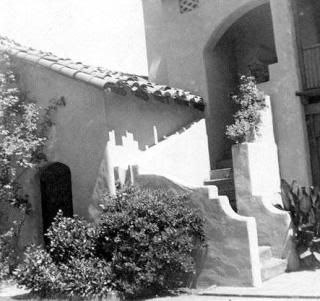 ................................................ Close up of stairs to one of the hacienda/mexican village buildings
In 1937, Monogram Studios signed a long term lease on the property
with a stipulation that the ranch be known as Monogram Ranch.
Known as the Monogram Ranch during the 1930s and renamed Placeritos Ranch
in the '40s, the town hosted its share of climactic Hollywood moments.
It was on one of the dusty Western streets at the ranch that "
High Noon's
"
immortal face-down played itself out
Just about every old celluloid cowboy to ride across the silver screen
ambled through this Monogram set at one time or another —
men like
John Wayne
,(who shot about 35 different movies).
Its Old West town served as the location for the finale
of the
John Wayne
classic,
"Stagecoach."
Harry Carey, Tom Tyler, Ken Maynard,
Hoot Gibson, Johnny Mack Brown, Bob Steele,
William S. Hart, Gary Cooper,
Tom Mix, Roy Rogers, Bill Boyd,
all filmed there, and of course the legendary
Singing Cowboy himself,
Gene Autry,
who shot many of his early Republic westerns here,
including his first film,
"Tumbling Tumbleweeds.
In 1952, Gary Cooper shot it out with the bad guys in the unforgettable
"High Noon"
.
..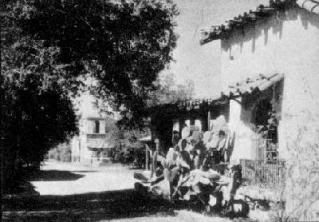 ................The mexican village. .................The mission in the distance and the hacienda closeup.
Ernie Hickson died on January 22, 1952.
Since 1915, when the studio was first opened for business,
an endless string of hard riding shoot-em-ups have been produced
at this location.
Monogram studios made 750 "B" westerns before selling the ranch
to singing cowboy
Gene Autry
in 1952.
..
The backside of one of the western streets.
Autry purchased his old stomping grounds, which he renamed "Melody Ranch,"
and moved into a farm house which still stands on the property.
Contrary to what one might assume, Autry's weekly television series
in the 1950s was not filmed at Melody Ranch,
but hundreds of other feature films and television programs were,
including
Gunsmoke
and
Wyatt Earp.
Legendary cowboy actors, filmed their westerns
here until 1962 when a fire swept through Placerita Canyon
destroying the main western street.
Compiled and edited by ethanedwards with information from various sources
including Leon Worden, Gene Autry and Renaud Veluzat.
Jerry L. Schneider, Melody Ranch Movie Studio
Photographs by Jerry L. Schneider, Melody Ranch Movie Studio
For more information:-
Monogram Ranch
Melody Ranch Motion Picture Studio
Click here for comprehensive list
Exterior-Locations
Best Wishes
Keith
London
-
England