HAMBURGER HILL
DIRECTED BY JOHN IRVIN
EXECUTIVE PRODUCER-JERRY OFFSAY
RKO PICTURES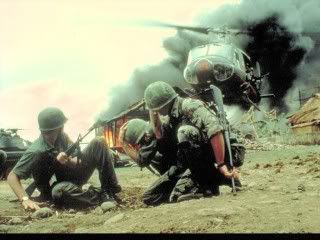 Information From IMDb
Plot Summary
A brutal and realistic war film focuses on the lives of a squad of 14 U.S. Army soldiers of B Company, 3rd Battalion, 187th Infanty Regiment, 101st Airborne Division during the brutal 10 day (May 11-20, 1969) battle for Hill 937 in the A Shau Valley of Vietnam as they try again and again to take the fortified hill held by the North Vietnamese, and the faults and casualties they take every time in which the battle was later dubbed "Hamburger Hill" because enemy fire was so fierce that the fusillade of bullets turned assaulting troops into shreded hamburger meat.
Written by Matthew Patay
Full Cast
Anthony Barrile ... Pvt. Vincent 'Alphabet' Languilli
Michael Boatman ... Pvt. Ray Motown (as Michael Patrick Boatman)
Don Cheadle ... Pvt. Johnny Washburn
Michael Dolan ... Pvt. Harry Murphy
Don James ... Pvt. Elliott 'Mac' McDaniel
Dylan McDermott ... Sgt. Adam Frantz
Michael A. Nickles ... Pvt. Paul Galvan (as M.A. Nickles)
Harry O'Reilly ... Pvt. Michael Duffy
Daniel O'Shea ... Pvt. Frank Gaigin
Tim Quill ... Pvt. Joe Beletsky
Tommy Swerdlow ... Pvt. Martin Bienstock
Courtney B. Vance ... Spc. Abraham 'Doc' Johnson
Steven Weber ... Sfc. Dennis Worcester
Tegan West ... Lt. Terry Eden
Kieu Chinh ... Mama San
Doug Goodman ... Lagunas
J.C. Palmore ... Healy
J.D. Van Sickle ... Newsman
Writing Credits
James Carabatsos
Produced
James Carabatsos .... producer
Marcia Nasatir .... producer
Jerry Offsay .... executive producer
Original Music
Philip Glass
Cinematography
Peter MacDonald
Trivia
After the May 17 battle, Dylan McDermott, as Sgt. Frantz, vehemently tells an Army photographer who shows up to "Unass my AO!" In the condensed language of GI slang, it is an order to move his ass out of the sergeant's Area of Operations, and in this context it expresses the infantry GI's contempt for soldiers who don't fight.
Some of the extras during filming were US Marines stationed in the Subic Bay, Philippines area.
An electrician was electrocuted and killed in front of the cast and crew. Because of this, production was almost shut down but eventually continued after a memorial service.
The paratroopers of U.S. Army's famous 101st Airborne Division, known as "The Screaming Eagles" due to their distinctive shoulder patch (a gold-beaked, red-tongued white-headed bald eagle on a black shield), were feared and respected by their North Vietnamese and Viet Cong enemies in Vietnam. The Vietnamese Communists called 101st troops "Chicken Men" because of the eagle shoulder patches, and had a cautious saying about them - "beware of the Chicken Men."
The film was released shortly after Oliver Stone's Vietnam film Platoon (1986) won Best Picture at the Oscars. The two films' releases were followed by Stanley Kubrick's Full Metal Jacket (1987).
Don James later acted in John Irvin's film Next of Kin (1989).
John Irvin had filmed a documentary in Vietnam during the war.
Screenwriter James Carabatsos had fought in the Vietnam war. One reason that producer Marcia Nasatir came on board is because her son had also fought in Vietnam.
The characters in the movie were named after men that writer James Carabatsos had fought alongside.
Theatrical breakthrough for many of the cast, including Don Cheadle (who would go on to star in Crash (2004/I) and Traffic (2000)), Dylan McDermott (who went on to be in Steel Magnolias (1989) and In the Line of Fire (1993)), and Courtney B. Vance (best known for his roles in Nothing But the Truth (2008) and "Law & Order: Criminal Intent" (2001)).
Both this film and Platoon (1986) were shot in the Philippines. Many of the actors hadn't been out of the United States before.
Based on true events that occurred in 1969 during the Vietnam War.
A number of Vietnamese advisers served to ensure the authenticity of the Vietnamese people. John Irvin in particular made sure that the film looked real.
Dylan McDermott lost 25 pounds during production.
Near the end of the film, there is a scene where a soldier, his face covered with bandages, is blindly reaching out to his comrades as they hurry past him. This is taken from a famous picture taken at the real Hamburger Hill.
The reception among Vietnam veterans was very positive towards the film's authenticity and brutality.
This movie's opening prologue states: "On 10 May 1969 Troops of the 101st Airborne Division engaged the enemy at the base of Hill 937 in the A Shau Valley. Ten days and eleven bloody assaults later, the Troops who fought there called it . . . HAMBURGER HILL."
This movie's closing afterword states: "Hamburger Hill was secured on 20 May 1969. The war for hills and trails continued, the places and names forgotten, except by those who were there."
The closing credits include a famous poem about the war written by Major Michael Davis O'Donnell on January 1, 1970. O'Donnell was declared missing in action on March 24, 1970 after piloting a helicopter on an extraction mission inside Cambodia. He was declared killed in action in 1978. His remains were recovered and identified with DNA testing many years later, and were interred at Arlington National Cemetery in 2001.
First cinema film of Courtney B. Vance.
The following poem is shown at the beginning of the credits:

If you are able,
save for them a place
inside of you
and save one backward glance
when you are leaving
for the places they can
no longer go.
Be not ashamed to say
you loved them,
though you may
or may not have always.
Take what they have left
and what they have taught you
with their dying
and keep it with your own.
And in that time
when men decide and feel safe
to call the war insane,
take one moment to embrace
those gentle heroes
you left behind.
Major Michael Davis O'Donnell
1 January 1970
Dak To, Vietnam
Goofs
Anachronisms: Although the practice of subduing unit shoulder patches was officially adopted during the Vietnam war, there were some units that refused to subdue their patches because of unit pride. The 101st Airborne Division was the major one that never subdued their shoulder patches. The 101st did not subdue the patch until BDUs started to be worn.
Factual errors: In the scene where Sgt Franz is calling in an arty strike, he repeats "Rounds out" every time he heard an arty piece being shot. The correct radio comm procedure would have been the arty unit to call "Rounds over". Franz would have responded "Rounds out". 2-3 seconds before the rounds impacted, the arty unit would have radioed. "Splash over". Franz would have responded, "Splash out". This lets friendly units know rounds are coming down range and time to get down.
Factual errors: By 1969, most US Army troops, as well as other branches of service during the Vietnam War, would have been issued and using the M16A1 (with bird-cage flash suppressor), instead of the XM-16 depicted in the movie.
Factual errors: Most ground combat forces in Vietnam were issued 20-round magazines for their M-16; not the 30-round, banana-clip style as depicted.
Anachronisms: In the scene at base camp, when the soldiers are playing in the water, the song "I Feel Like I'm Fixin' To Die Rag" by Country Joe & The Fish is playing in the background. While the studio version had been released by May '69, the version in the movie was recorded at the Woodstock Music Festival, which took place a few months later in August '69.
Filming Locations
Philippines
Vietnam Veterans Memorial - Constitution Ave. & Bacon Dr. NW, National Mall, Washington, District of Columbia, USA