VERA CRUZ
DIRECTED BY ROBERT ALDRICH
PRODUCED BY JAMES HILL/ HAROLD HECHT/ BURT LANCASTER
FLORA/ HECHT-LANCASTER PRODUCTIONS
UNITED ARTISTS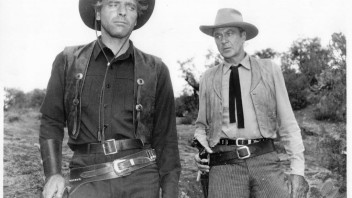 Photo with the courtesy of Gorch

Information from IMDb
Plot Summary
After the American Civil War, mercenaries travel to Mexico
to fight in their revolution for money
The former soldier and gentleman Benjamin Trane
meets the gunman and killer Joe Erin
and his men, and together they are hired by the
Emperor Maximillian
and the Marquis Henri de Labordere to escort the
Countess Marie Duvarre to the harbor of Vera Cruz.
Ben and Erin find that the stagecoach
is transporting US$ 3,000,000.00 in gold hidden below the seat
and they scheme to steal it. Along their journey, betrayals and incidents
happen changing their initial intentions.
Written by Claudio Carvalho, Rio de Janeiro, Brazil
Full Cast
Gary Cooper ... Benjamin Trane
Burt Lancaster ... Joe Erin
Denise Darcel ... Countess Marie Duvarre
Cesar Romero ... Marquis Henri de Labordere
Sara Montiel ... Nina (as Sarita Montiel)
George Macready ... Emperor Maximillian
Jack Elam ... Tex
Ernest Borgnine ... Donnegan
James McCallion ... Little-Bit
Morris Ankrum ... Gen. Ramírez
James Seay ... Abilene
Henry Brandon ... Capt. Danette
Archie Savage ... Ballard
Charles Bronson ... Pittsburgh (as Charles Buchinsky)
Charles Horvath ... Reno
Jack Lambert ... Charlie
Juan García ... Pedro
Ketty Clavijo ... Night Club Dancer (uncredited)
Writing Credits
Roland Kibbee (screenplay) and
James R. Webb (screenplay)
Borden Chase (story)
Produced
James Hill .... producer
Harold Hecht .... co-producer (uncredited)
Burt Lancaster .... co-producer (uncredited)
Original Music
Hugo Friedhofer
Cinematography
Ernest Laszlo (photography by)
Trivia
Charles Bronson and Ernest Borgnine decided to go for cigarettes during filming. This meant saddling up in costume, side arms and all, and riding to the nearest town. On the way, the pair was waylaid by a truck full of armed Federales who mistook them for bandits and held them at gunpoint.
The first film to be made in the SuperScope process.
One of the first major Hollywood films to be made on location in Mexico. Film-making legislation in Mexico meant that a local director had to be involved in the production in some capacity, though he wasn't actually used.
First film released in the "Superscope" wide screen process. Shot at a conventional 1.37:1 aspect ratio, the film was cropped to 2:1 in post production and then given a Cinemascope compatible (2x) squeeze and blown up to normal frame height. Superscope was designed to acheive anamorphic prints from standard flat 35mm negatives. The MGM dvd approximates the 2:1 release print aspect ratio. Superscope was the fore-runner to "Super 35".
One of Robert Aldrich's personal favourites of his films, he particularly enjoyed the fact that it had a hero and an anti-hero.
Produced by Burt Lancaster's own production company for $1.7 million, it went on to become a sizeable hit, grossing over $11 million.
Burt Lancaster was quite happy to cede top billing to Gary Cooper, knowing that the older actor had more box office pull than he did.
For a film made in the mid 1950's, this film has quite fast cutting rate. In 90 minutes of action, the film contains about 1130 edits and other transitions. This equates to an average shot length of just under 5 seconds.
Eli Wallach has said that the Mexican government was so upset about the negative portrayal of Mexicans in the film that they insisted that the making of The Magnificent Seven be monitored by censors.
This film is sometimes called the "first spaghetti western," due to its reputed influence on the Italian directors such as Sergio Leone who popularized the genre.
Burt Lancaster recalled that Gary Cooper would object to anything in the script that implied his character was anything other than good, and demand it be changed.
Clark Gable warned Gary Cooper not to work with Burt Lancaster, saying, "That young guy will blow you off the screen." Ironically, Gable himself later worked with Lancaster in Run Silent Run Deep.
Gary Cooper was taking so much medication that he was impotent for the duration of filming. He also hated working with Sara Montiel, whom he claimed smelled bad and never washed her hair.
The Mexican authorities were appalled at the way their citizens were depicted in the film so any subsequent Hollywood productions had to conform to some strict rules. This explains why in The Magnificent Seven, the locals are all wearing pristine white clothes.
Gary Cooper was badly hurt when he was struck by fragments from a bridge that had been blown up and the special-effects team had used too much explosives.
Although portrayed by 54-year-old George Macready, the real Emperor Maximilian I of Mexico was only 34 when he died.
Goofs
Anachronisms: Joe's saddle gun, a "new, Winchester repeating rifle", is an 1872 model; since the film is set "just after the American Civil War", to be correct, the gun should be a Henry "Yellowboy", circa 1864. (The earlier weapon had no wooden forearm stock and a brass receiver; the rifle Joe carries has a steel receiver and the wooden stock.)
Revealing mistakes: When the wagon train is ambushed by the Juarezistas in a town, they make a break for it, fanning out and riding over an expansive field. The wagon tracks from previous takes are all visible in the grass.
Continuity: When Emperor Maximillian is checking out the Winchester, his chest sash has a large golden Mexican eagle which repeatedly disappears and reappears between shots.
Audio/visual unsynchronized: Joe Erin says "Always did like kids. How about you, General?" to General Ramírez, who replies "Certainly" without opening his mouth.
Errors in geography: The very first scene was clearly shot in the town of Tepoztlan (State of Morelos), as apparently was a significant portion of the movie. Why the group would then choose to go north through Teotihuacan (past the Pyramids) in order to reach Veracruz (which is located on the East Cost) is beyond me, as it wouldn't make any sense at all. That's the equivalent of going from Des Moines to Minneapolis in order to reach Chicago.
Continuity: When the caravan stops overnight and Cooper guards the stagecoach with the gold in it, as Lancaster approaches the stagecoach we can see Cooper looking inside and then he closes the door and starts to turn toward Lancaster. However, the scene immediately cuts to Cooper still looking inside the stagecoach and turns around in surprise to find Lancaster right behind him.
Incorrectly regarded as goofs: The name of the Mexican city was originally two words, but now it is officially one word: Veracruz. However, at the time of the movie (in the late 1860s) both Vera Cruz and Veracruz were in common use.
Revealing mistakes: The French lancers are using what appear to be disguised Model 1904 U.S. Army MaClellan saddles.
Anachronisms: During the rifle marksmanship display at Maximillians ball, they use Pittsburghs rifle, a winchester 1894 which did not exist in 1866. Also the Americans carry colt SAA pistols not available until 1873.
Filming Locations
Chapultepec, Mexico City, Distrito Federal, Mexico
Cuernavaca, Morelos, Mexico
Estudios Churubusco Azteca, Mexico City, Distrito Federal, Mexico
Mexico City, Distrito Federal, Mexico