SEAS BENEATH
DIRECTED AND PRODUCED BY JOHN FORD
FOX FILM CORPORATION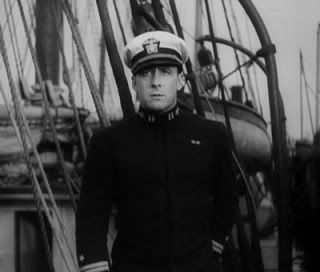 Information from IMDb
Plot Summary
In the waning days of WWI, a U.S. "Mystery Ship," sets sail for the coast of Spain towing a submarine. Their mission is to find and sink a U-boat that has been especially effective in attacking Allied shipping. Posing as a harmless schooner, the mystery ship is in fact fitted with a formidable gun capable of sinking a U-boat. Stopping in the Canary Islands to refuel, the crew interacts with locals involved with Germans, and with Germans themselves, including the sister of the U-Boat commander, who is lurking offshore waiting for the coming battle.
Written by Ron kerrigan
Full Cast
George O'Brien ... Cmdr. Robert 'Bob' Kingsley
Marion Lessing ... Anna Marie Von Steuben
Mona Maris ... Fraulein Lolita
Walter C. Kelly ... Chief Mike 'Guns' Costello
Warren Hymer ... 'Lug' Kaufman
Steve Pendleton ... Ens. Richard 'Dick' Cabot (as Gaylord Pendleton)
Walter McGrail ... Chief Joe Cobb
Larry Kent ... Lt. 'Mac' McGregor
Henry Victor ... Baron Ernst von Steuben (U-boat commander)
John Loder ... Franz Shiller
Philip Ahlm ... German Chief Petty Officer (uncredited)
Al Bennett ... Naval Reservist (uncredited)
Earl Wayland Bowman ... Naval Reservist / Swimmer and Diver (uncredited)
Bill Brande ... Naval Reservist (uncredited)
William Collier Sr. ... Mugs O'Flaherty (uncredited)
Leonard Davison ... Naval Reservist (uncredited)
Joseph Depew ... Naval Reservist (uncredited)
Francis Ford ... Eric - Captain of Trawler (uncredited)
Robert Ford ... Naval Reservist (uncredited)
Hans Fuerberg ... Fritz Kampf (Second Officer of U-172) (uncredited)
Curt Furburg ... Hoffman (uncredited)
Al Generaux ... Naval Reservist (uncredited)
Bob Gillette ... Naval Reservist (uncredited)
George Golden ... Naval Reservist (uncredited)
Ben Hall ... Elmer Harrigan (uncredited)
George Harris ... Naval Reservist / Swimmer and Diver (uncredited)
Bob Kyle ... Naval Reservist (uncredited)
Jack Martin ... Naval Reservist (uncredited)
Harry Mount ... Bugler on Gun Crew (uncredited)
Jack Murphy ... Naval Reservist (uncredited)
Maurice Murphy ... Merkel (uncredited)
Bob Nelson ... Naval Reservist (uncredited)
Edward Peil Jr. ... Naval Reservist (uncredited)
Nat Pendleton ... 'Butch' Wagner (uncredited)
Terrance Ray ... 'Skits' Reilly (uncredited)
Marvin Schecter ... Gunner (uncredited)
Harry Schultz ... German Officer (uncredited)
Ferdinand Schumann-Heink ... Adolph Brucker (uncredited)
Robert Shepherd ... Naval Reservist (uncredited)
Harry Strang ... Gunner and drill sergeant (uncredited)
Anton Tell ... German Chief Petty Officer (uncredited)
George Templeton ... Naval Reservist (uncredited)
Harry Tenbrook ... Winkler (uncredited)
T.J.F. von Blankerburg ... Naval Reservist / Swimmer and Diver (uncredited)
Frank Walton ... Naval Reservist / Swimmer and Diver (uncredited)
Harry Weil ... Levinsky (uncredited)
Hans Winterhalder ... German Chief Petty Officer (uncredited)
Writing Credits
William Collier Sr. dialogue (uncredited)
Curt Furburg dialogue (uncredited)
Dudley Nichols
James Parker Jr. story (as Comdr. James Parker U.S.N. ret'd)
Original Music
Peter Brunelli (uncredited)
Cinematography
Joseph H. August
Trivia
The Navy placed at John Ford's disposal a flotilla of destroyers, cruisers and submarines, as well as the services of naval personnel.
The three-masted schooner used as the decoy mystery ship was the same one used in the movies The Sea Wolf and The Painted Woman.
John Loder was paid an extra $1000 because he had to get a close haircut for his role.
Filming Location
Isthmus, Santa Catalina Island, Channel Islands, California, USA
Watch this Clip
[extendedmedia]
[/extendedmedia]