TORPEDO SQUADRON
Documentary
DIRECTED BY JOHN FORD
THE UNITED STATES NAVY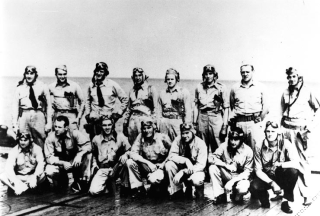 Torpedo Squadron is a 1942 short documentary film
shot by John Ford while he was on the island of Midway.
John Ford made this memorial film
for the families of members of Torpedo Squadron 8.
All but one of the members of the squadron perished
in its first combat mission in the Battle of Midway.
This documentary is apparently unreleased but:-